Will you play Google Play games on your Windows PC?
Google Play games are on their way to Windows PCs, but will you play them?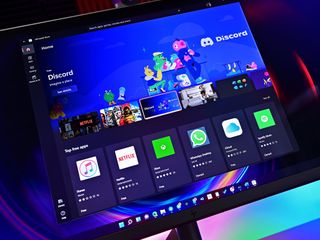 (Image credit: Daniel Rubino / Windows Central)
At the Game Awards 2021, Google announced that it's bringing Google Play games to Windows PCs. This addition will add a massive library of titles to PCs, including the best Android games. We'd like to know if the readers of Windows Central plan to play Android games on their PCs.
"Starting in 2022, players will be able to experience their favorite Google Play games on more devices: seamlessly switching between a phone, tablet, Chromebook, and soon, Windows PCs," said Product Director of Games on Android and Google Play Greg Hartrell to The Verge. "This Google built product brings the best of Google Play games to more laptops and desktops, and we are thrilled to expand our platform for players to enjoy their favorite Android games even more."
Google didn't share many details about how these games will run on PCs. We know that a Google Play games app will be available on Windows 11 and Windows 10 in 2022. Titles will run locally rather than being streamed. Google did not discuss the software that allows Android games to run on Windows, but the company did not work with Microsoft or any other companies such as BlueStacks.
Microsoft has its own method of getting Android apps to run on PCs, the Windows Subsystem for Android. Right now, only Android apps from the Amazon Play Store are available through the Microsoft Store. The selection of games in the Amazon Play Store is much smaller than that of the Google Play Store. You can sideload Android apps onto Windows, but that has its own limitations.
The question remains if PC gamers will warm up to mobile games running on a computer. There's often a divide between PC gamers and mobile gamers. Additionally, games built for phones don't always scale well to larger screens.
On the other hand, there are thousands of games on the Google Play Store. Even if only a few of them are a hit with PC gamers, it could be considered a win for Google.
Will you play Google Play games on your PC? Let us know in the poll above and explain your thoughts in the comments below.
News Writer and apps editor
Sean Endicott brings nearly a decade of experience covering Microsoft and Windows news to Windows Central. He joined our team in 2017 as an app reviewer and now heads up our day-to-day news coverage. If you have a news tip or an app to review, hit him up at sean.endicott@futurenet.com (opens in new tab).
Mostly my daughters who wonder all the time why all the games that everybody plays are never available on Windows... they will use it a lot. And on another note, I will not be surprised if the solution Google builds will work 10 times better than when you'd use the windows subsystem for android from MS. Annoyed yes, but not surprised.

Probably because Google is not actively trying to stop Google from implementing it.

Have you tried the Windows subsystem for Android on Windows 11?

I only have PUBG, All metal slugs and streets of rage games on my phone and dolphin emulator for GameCube and wii games. But yeah I will try this Google thing when it comes out.

You'd be better off using the native Windows version of Dolphin. It's more fully featured and won't be running an emulator within an emulator.

Yeah, not sure what is the benefit of running Dolphone Android app when native Windows version already exist and would be far more efficient to use.

Not when Its just something I have on my phone for when I'm on the road and want to play a quick random game, like Metal Slug or SOR. I use xCloud most of the time anyways. So It doesn't bother me how I use dolphin.

PUBG PC is going to F2P on 12 Jan 22.

Nope, no intention at all.

I will probably use it to give the otome games that never make it to PC a try if those are brought over. Same for older mobile MMOs. Asobimo has started porting some of their games over and I found that games that I thumbed my nose over because touch controls are horrid, are actually tolerable with keyboard and mouse. The innovation in some of these mobile games really shine when they aren't locked to a phone. Auto-play gacha games are a hard pass though.

Do I want to enlarge my phone games to a PC monitor when I can launch PC Game Pass in one click? No thanks from me. Apps might have been useful though.

Some of that "phone" games may actually scale well to larger screen. If your concept of these phone games are just all vertical card games and Candy Crush, well sure. But number of games in Android are almost like console-like games, some already ported natively to Windows even. Though there is no reason to redownload games that is already has native Windows version.

I can only think of some of the Ace Attorney games that are only available for the 3DS and Android/iOS, so easily playing the far superior mobile versions is cool, but besides that, phone games are mostly garbage, so I have no interest. Phones playing windows games through something like wine or proton with x86 emulation would be WAAAAAAAAAAAAAAY more interesting, could you imagine playing all of those 7th gen games and light indie games on your phone?

While i like the idea, those game/app publishers should consider supporting the MS store natively, so they could get a consumer base directly from Windows instead of letting google monetize them for googles own gains.

So off the bat there's Final Fantasy First Soldier, Megaman X Dive. and Contra Returns, and the upcoming Castlevania mobile game, so there is legit stuff to play

I have a decent array of Android games already so this would be sweet to play on my PC. More accessibility options.

No interest in Phone games.
But I might give the Android version of KOTOR from the amazon store a look.
It looked okay on an HD tablet.

Having KOTOR 1 and 2 on both PC and Mobile I can tell you that I'd prefer the mobile versions if the performance was equivalent. Touch controls, controller support, and widescreen support all make the mobile versions a more enjoyable experience, even on a PC. They even work with PC mods. But again, the real issue is performance. Are they going to run well on an Ultrabook when running in an emulator?

Hard to overstate how underserved the toddler age group is in Desktop OS', and how much better the support is in Mobile OS'. Now if only there was a way to make my Store purchases available to > 1 user in the PC (if there is a way I'd love to be proven wrong!)

This is such a good point. I have kids who are at the toddler stage and having access to some of those early learning games and apps on PC would be awesome.

If you go to the Microsoft store in another user's windows account (a child for example) and log them out of the store, and you then log in to the store with your own credentials (when it asks for pin, you type their pin), you can install games you bought in their windows profile. Then you log yourself out of the store in their Windows profile, and log them back in. After that they can still play that game. That's how I and my daughters play Minecraft together while I bought it once. They log into Minecraft with their own Microsoft accounts.

Nope, don't particularly like using Google services or Android, and can't stand IOS either. Will keep my Windows clean of Android.

Are you still on windows phone? 😂

idk what Craig is up to but I have a few windows phones that are like 5-10 years old each, all of them run fine.... still smooth(due to its amazing memory optimization), so yeah if a Windows phone user doesn't need much they could actually keep using that phone for much longer than an android and iPhone combined, which is a fact that I know cause I have owned WP/WM's, however I wont go through all that effort, cause im not that techy to mod the system or sideload modified apps so they still remain fully functional... or anyone could just use it for calls/messaging/2FA/emails & skype ?.

I can't even get win11 because of my Gen 6 😭

Still on Windows 10, to many problems with Windows 11 not convincing enough to upgrade, plus the strict hardware requirements as well, yes they can be bypassed but for how long.

I have a feeling the bypass may remain. Tbh nothing much to really rush to get Windows 11 for now especially if you need the features that are missing in W11. Well if you really really need this WSL, and don't care the rest at all, then this may be a legit thing to upgrade. So far this WSL is either get released with next W11 release which will have more missing features returned or maybe they can push WSL as an update to current W11 public build.

I'm running W10/11 on two partitions, and I find myself more on Windows 10 than 11, cause while Windows 11 is great, in terms of audio first of all cause I love the advancements on that end, and the UI looks nice and "finished" least more than Windows 10 was at its release, however! there is no real customization freedom, this is ruining my workflow entirely... Cant even set the time to appear on the taskbar for multiple monitors, such a simple option that should have been there, doesn't even exist anymore... its that bad.

Windows 11 isn't really at its peak at the moment, you'd probably feel irritated by the lack of freedom on its UI customization when coming from Windows 10, so I'd say while you might feel left out, it might be best to wait it out until Microsoft grows some sense to fix this or make Windows 12 and prove to their users yet again that there's a cycle of "bad then good" in their release order just like every other time when MS released an OS.

Nope, I'll be playing PC games on my PC not mobile games. Plus with cloud streaming such as xcloud most people don't need mobile games on low end hardware. There are about three/four exceptions is where users have low end hardware and crappy internet infrastructure. The other scenario is being able to install games for children on a windows laptop which provides another option for parents. Since the bean counters at Microsoft are really squeezing out UWA. Then there are those who don't know anything beyond mobile games. Or those who prefer mobile retro emulators.

If the game is worthy then why not. Specially on windows tablets and hybrids Android games can be handy during play time.

sure i dont mind trying some of them

Probably will play some. For sure Zynga poker. I see this as a good thing for the MS store

This depends on games, since not all Android games will have controller or proper Keyboard+Mouse support despite the game seems meant to have it like RPGs. We don't know yet if these Google Play games on Windows will showcase all of the games in the store or just curated ones that can be played well on PC. For now, we just have to wait what exactly this is. We don't even know the performance of this own Google's implementation compared to WSL.

would love to play COC, Ludo,plants vs zombies(android version is free, desktop version is not) on a large screen...but more than games, i am looking forward to apps. apps such as shopping apps(amazon, flipkart), food apps (swiggy, zomato, dominos) cab apps (uber, rapido, ryde, ola) and banking apps. these are apps for which there is no proper website support or even if there is a website, these companies make many features "app-only" when you try to access it on your laptop browser. These would be significant help. And if you have a surface device with LTE (i don't) it would cool to have google maps offline support to use with long drives in your car- it will be like those cars from future movies which have big screens as dashboard- in this case your surface pro will your dashboard. so cool!

I dunno, maybe? I appreciate the option being there but I've never known mobile gaming to be much more than a predatory scheme for the general masses who don't know any better.

Mario Kart Tour 🏎️ is a game I'd try on my PC
Windows Central Newsletter
Thank you for signing up to Windows Central. You will receive a verification email shortly.
There was a problem. Please refresh the page and try again.