Windows Phone Store shuts down today, Windows 10 Mobile support extended to January
Today is your last chance to download apps from the Windows Phone Store.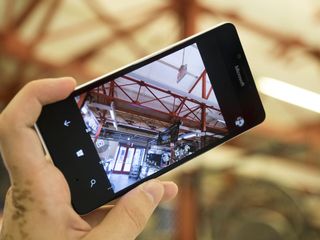 (Image credit: Windows Central)
What you need to know
The Windows Phone Store shuts down today
After the shutdown, you will no longer be able to download apps through the store.
Windows 10 Mobile recently received an extension of its support.
The Windows Phone Store officially shuts down today (via Neowin). Following the shutdown, you will no longer be able to download apps from the store. Windows Phone 8.1 has been out of official support for well over a year, but the shut down of the Windows Phone Store kills the operating system off even more. Devices running Windows Phone 8.1 will still run after today, as will apps currently installed on them, but you won't be able to add any new apps to the devices.
It's important to note that the Windows Phone Store is shutting down, not the Windows 10 Mobile Store, which is on a different schedule. There is a bit of news regarding Windows 10 Mobile, though. Instead of Windows 10 Mobile reaching end of support last week, Microsoft extended its support until January 14, 2020 (via Windows Latest). That change makes January a busy month for Windows users, as it officially marks the end of Windows 10 Mobile and Windows 7.
If you're still using Windows Phone 8.1, you'll need to upgrade your device to Windows 10 Mobile to download more apps, but with Windows 10 Mobile out of support next month, you'll likely have to move away from the device in the future.
News Writer and apps editor
Sean Endicott brings nearly a decade of experience covering Microsoft and Windows news to Windows Central. He joined our team in 2017 as an app reviewer and now heads up our day-to-day news coverage. If you have a news tip or an app to review, hit him up at sean.endicott@futurenet.com (opens in new tab).
What about apps and games people have purchased? Can these still be accessed via my library?

I had this same question to myself. I assume there is some legal work around in place so that folks are not able to get what money they might be owed back. I personally could care less. I am still waiting for them to get with the picture on many things mobile...maybe then I could even start caring more about what they are doing with mobile. For the past 4 years all we can do is sit on the sidelines and watch, because at one point we were invested. Not all consumers are enterprise aware, or stock chasers, or cloud devs, etc....

I want a refund for my 950
I don't know what everyone saw in that phone.

The WM10 store is still accessible this EOL for Windows Phone 8.x . The office mobile apps for WM10 will get support until 2021 although windows 10 mobile patches officially ended this month. The hardware is actually really good it was only let down with both mismanagement and sh***y software optimisations as it had crazy amount of bugs at launch. The software got better afterawhile then it started getting funky as Microsoft focused on their competition instead. I still use my L950 XL (I bought it off ebay not at launch) and the one thing that bugs me to no end is emails themselves are not shown in dark mode but light mode so you end up getting blinded when you open up an email when you wake up - it's pretty dim in the mornings as it's winter here.

The L950 might be the worst flagship hardware ever. No joke.

The hardware was amazing, the software sucked.

To be frank I found the 950 lacking but I did found the 950 XL to be flagship worthy except for the battery life (but that is probably related to the software too). The 950 XL felt noticeable faster to me and I got better camera results with the XL.

Ok yeah, to be fair I had the XL which I could not fault in the hardware department.

It was creaky plastic, the worst snapdragon ever, and totally lifeless design. Name one flagship since 2015 that was worse...

Hmm outlook works fine in dark mode for me.

Maybe should have tried that a little bit sooner than two years after the phone stopped production.

Disappointing that this is the end of the track. Any ideas on what to do with the phones that we still have? Thinking we will recycle them.

Wp8.x phones are only good for portable media now and if your phone supports it portable storage.

My current android only has one sim so I use my 950 XL as a mobile hot-spot when overseas with a local data sim.

Lies. That's not the only thing they are good for. They're great paperweights too. Debate me if you think I'm wrong

Plastic phones like the ones they made towards the end are too light to actually hold the papers down

Keeping it as a backup phone is always good, for when something happens to your main phone. I definitely wouldn't recycle them, unless they are broken.

I mean, it's still a phone.

As backups phones (/feature phones), mp3 player, alarm clock, photo viewer, browsing (to save battery life on your primary phone or such).

Click Bait. The headline should have included Windows 8.
Pathetic.

Nothing and I mean NOTHING in this article refers to windows 8. What it does pertain to is the Windows Phone Store but just judging by the title I can't te... Oh wait! I absolutely CAN tell this is about the Windows Phone Store by the headline

I have no idea what you're trying to say here lol.

It would be pretty dope if there was still a way to emulate on pc the mobile environment for S&Gs or testing/migration. I'm currently now on my McLaren 5G and not minding it one bit except for the god awful keyboard experience which none will ever hold a candle to windows phone in a million years

Another change. Windows central UI design is gone as of today. The site is only shown in basic html, the rest of the UI design is barebones. Not all sites do this on Edge for Windows 10 mobile. Only yesterday the windows central site rendered with complete UI elements.

So I'm not the only one. Loads fine in Chrome but not in Edge.

Surprised it lasted this long

@Sean Endicott, Even though the title is not wrong it is confusing for WP 10 users; it should mention WP 8.1 store or something like that.

There is no such thing as WP10. Windows 10 Mobile has never been branded as a Windows Phone (capital P). I agree that the headline is misleading if you don't understand that distinction.
Windows Central Newsletter
Get the best of Windows Central in in your inbox, every day!
Thank you for signing up to Windows Central. You will receive a verification email shortly.
There was a problem. Please refresh the page and try again.