On Windows 10's fifth anniversary, we look to the past — and the future
Five years of Windows 10. What could possibly be next?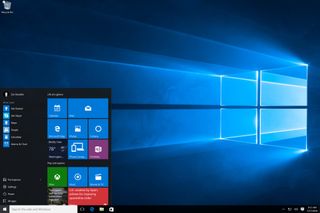 (Image credit: Windows Central)
Windows 10 is officially five years old today. Five long years of the latest version of Windows, without a successor to pass on the baton. Of course, this isn't really true. These days, there's a new version of Windows every six months, but they all fall under the same "Windows 10" banner thanks to Microsoft's push to transform Windows into a platform that's constantly updated.
Windows as a Service has been in effect since Windows 10's debut on this day five years ago. We've had a total of nine versions of Windows 10 since then, with the tenth version expected later this year. It's easy to forget how far Windows 10 has come since it launched, with the nine feature updates introducing many features and changes that make the product much better.
Looking back
I look at Windows 10 today and think it really hasn't changed much since 2015, but actually going back and using the 2015 version of Windows 10 proves me wrong entirely. Almost every part of the OS has been touched with improvements and changes since 2015. The Windows Shell, including the Start menu, Taskbar, and Action Center have all been updated with changes and UI enhancements.
Let's take a closer look at the Start menu, which is almost entirely different today compared to its 2015 version. The Start menu in 2015 was a basic launcher that made some weird design choices. The apps list was hidden behind a button, showcasing your most used apps in the left-hand list instead. The live tiles were very basic, with weirdly formatted context menus.
Going back to the 2015 Start menu after using the 2020 Start menu makes the original one feel unfinished, and that's probably because it was. Today's Start menu puts your apps list front and center, has a much cleaner live tile interface with way more customization options, a hamburger menu for quick access to different areas of your PC, and cleaner looking context menus.
It doesn't end there, either. The out of box setup experience has also been redesigned since the original 2015 version, as have most of the in-box apps. Even the File Explorer has been updated with a new search interface and dark mode support. Windows 10 in 2015 feels unfinished compared to today's version of Windows 10, and that's probably because it was.
But that's the nature of software development these days. Nothing is ever truly finished. Windows 10 will never be done, and even five years in, Microsoft is still finding things to update and improve. Admittedly, changes to the forefront of Windows 10 have slowed in the last couple of years, but that seems to be picking up again now that Panos Panay is in charge.
Looking forward
It's about time Microsoft started focusing on the Windows 10 UI once again. Although things have come a long way since 2015, it's fair to say that Windows 10 hasn't had a major UI refresh yet. I think that's going to change with the next few releases of Windows 10. Later this year, Microsoft will release Windows 10 20H2 with an improved live tile interface and notification UI.
This is just the start, I'm told. Microsoft will continue to bring the Windows 10 UI forward with more changes and enhancements, including things like rounded corners, new sounds, updated animations, improved in-box apps, and more, with Windows 10 releases next year. Microsoft is reinvesting in Windows 10 big time, and it starts at the interface and user experience.
I think we should be thinking about the next versions of Windows 10 as something that looks to the future, instead of something that builds on the past. So, on Windows 10's fifth anniversary, we can celebrate knowing that there's much more to come for Windows in this space. Microsoft has some big plans for Windows 10 in 2021 and beyond, and I'm excited for it.
There's also Windows 10X, and Microsoft's Windows Core OS efforts in general. I personally class any Windows Core OS products as separate from Windows 10, but in the grand scheme of things, they all fall under the Windows umbrella. Windows 10X is the future of Windows, but that's the far future. We're not there yet and won't be for a while.
That's why Windows 10X is launching on a subset of low-cost PCs next year, instead of PCs from every price bracket. Microsoft's Windows 10X platform will play a much bigger role further down the line. But before that happens, Microsoft will continue to cater to the existing version of Windows 10, as that's where all one billion Windows 10 users are today.
What are your thoughts about Windows 10 five years on? Where do you think Windows will be in five years from now? Let us know in the comments.
Get the Windows Central Newsletter
All the latest news, reviews, and guides for Windows and Xbox diehards.
Zac Bowden is a Senior Editor at Windows Central. Bringing you exclusive coverage into the world of Windows on PCs, tablets, phones, and more. Also an avid collector of rare Microsoft prototype devices! Keep in touch on Twitter: @zacbowden.