Windows 10 Anniversary Update still far behind original release adoption for PC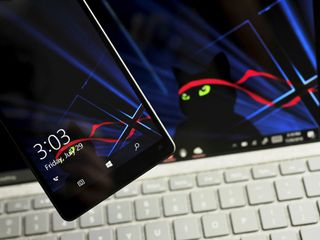 Microsoft released the Windows 10 Anniversary Update on August 2. The massive refresh brought many new features and a lot of smaller tweaks as well. Redmond noted that the update was "rolling" meaning not everyone would see the 3.5 GB update on that Tuesday. Instead, devices that shipped with Windows 10 would get the update first, with older devices coming later.
Those numbers are reflected in the latest AdDuplex numbers for August. A staggering 77.2 percent of all PCs, tablets, and laptops are still on the 1511 branch (Threshold 2) from 2015 and have not taken the Anniversary Update just yet. Those running the Anniversary Update account for 16.2 percent of all PCs and two-in-ones according to AdDuplex with 0.6 percent on Redstone 2 as Insiders – the next iteration due in 2017.
It is not clear why so many PCs have not yet received the Anniversary Update. Users could delay the refresh, or many older PCs are just not eligible yet as Microsoft ensures stability and updated drivers are available. Some users may also not be aware that they can force the update instead of waiting on Microsoft.
How to get the Windows 10 Anniversary Update
Ironically, Windows 10 Mobile Anniversary Update already accounts for the majority of Windows 10 Mobile devices despite being two weeks behind in delivery to users.
We'll have to follow the uptake of the Windows 10 Anniversary Update for PCs over the new few months to see if there is a dramatic shift. At least developers know they have some time before they should start implementing new features into their apps like Chase-able Live Tiles and web-app links.
It should be noted that most companies are still on older versions of Windows, and those who are Windows 10 will likely sit out the Anniversary Update for a few months until the first significant cumulative update arrives to address any initial issues like the webcam driver problem.
About AdDuplex
The numbers from AdDuplex are collected through their in-app advertising that is prevalent in over 5,000 apps in the Windows Store. That data serves as an important metric within the Windows Phone ecosystem. The full AdDuplex report for August will be posted on their blog at https://blog.adduplex.com/ on Thursday (August 25).
Windows Central Newsletter
Get the best of Windows Central in in your inbox, every day!
Daniel Rubino is the Editor-in-chief of Windows Central, head reviewer, podcast co-host, and analyst. He has been covering Microsoft since 2007 when this site was called WMExperts (and later Windows Phone Central). His interests include Windows, laptops, next-gen computing, and for some reason, watches. Before all this tech stuff, he worked on a Ph.D. in linguistics, watched people sleep (for medical purposes!), and ran the projectors at movie theaters because it was fun.
It's good that they are taking their time. No need to rush it out and have massive amounts of frustration and headache it things don't work.

My 4-year old Dell is till waiting. Hopefully, they would fix all the bugs by the time I get mine.

I updated on day 1, but had to roll back. My Toshiba 1tb hard drive cannot be opened. It can detect the drive but I cannot access what's inside. And this is with Surface Pro 4. I dont even know if they will be fixing this.

What? That sounds weird -it's an USB drive right? Then perhaps it's just the permisions that got screwed up in the update, I've experienced that before.
You could try the solution here: http://www.tomshardware.co.uk/answers/id-2159003/external-hard-drive-acc...

We had to roll back too...caused major havoc with some Win32 apps (not 8.1 or higher apps)...important ones too. The updates so far helped but, didn't fix everything. Two other machines, no update available.

Funny enough, the exact same thing happened to my internal hard drive. I put my PC to sleep and guess what happened when I put it back on? It couldn't read the drive. All my files were on it but it couldn't just boot the drive and read files from it. I changed my HD to an SSD and hopefully it doesn't happen again cause if it does, I'll be using hackintosh on my PC instead of Windows. Cause, i love my PC so much. Posted via the Windows Central App for Android

Agreed. In my experience Win10 Anniversery update (normal production release) is very buggy. My Surface Pro 4 has a lot of quirky behavior (Edge freezing, Cortana popping up randomly, Edge extensions won't install, Lock Screen/Windows Hello issues) since the update was installed and my Lumia 950 has a few apps that no longer work (including MS own Gadget app). I'm sure MS will get it straightened out over the next several weeks, but for now they need to keep the update away from the masses.

I'm curious about the Cortana popping up randomly. So it just pops-up without you triggering it? Have you checked if it was bug caused by "Hey, Cortana" feature? Funny though, my Cortana on W10M kept crashing. I want my Cortana to pop-up when I needed but its kinda useless when it will just crash moments after.

MS is trying to get things right for more than a year...they are not capable of providing a bug free product. all we get is a broken crap

My bro got it and had some weird issues here and there. Most other people I know still don't see it in updates. My only issue is random keyboard lag. It's gotten better with the latest update where amount of occurrence seems to have dropped, but it's still annoying when it does happen.

One of my computers just got it yesterday. I'm in no hurry so haven't bothered to force it.

I just chose to wait for the update for my Surface Book and it still hasn't come in.

They need to get Windows Update working properly in 1607, it would not be good to get the anniversary update on every machine in the world if a large percentage then can't get updates.

My Microsoft Surface Pro4 i7 wouldn't even update. Rollback after 2nd reboot. I do not expect that I am the only one with this problem.

Sounds like a corrupted install. If your current is is corrupted / infected it could throw off the update...

It came with the package. My college has the same issue and his Surface (same model) was reinstalled 2 months ago and he experiences the same problem.

When I had that issue it was due to a needed driver update before the OS update. See if there are any outdated drivers prior to installing Anniversary Update. Good luck!

Thank you. Al my drivers are up to date.

I didnt got the 1607 update through windows update in setting. Got it through ISO

They porbably paused it, just to fix some newly discovered bugs that affects many people, like for example the login issue, or the webcam issue recently reported. I recall they said that it will take month, so probbaly by the end of September.

From what I've read they are pushing forward with the fix as-is, and will fix the USB camera and broken Powershell components in the next patch cycle.

Well, with 13 different companies working on this system things can only go wrong, and as it's Microsoft at the helm, it will be painful.
If this was any other platform without naming them incase it starts a battle of wits here it would have been sorted long ago. Half baked, half hearted and badly flawed, It's no wonder that this whole saga is going on so long. As I've said before, 10 will always be beta, bug infested totally unreliable and constantly bombarded with updates, quite literally forced on us, some of them good, but some really bad.
This all probably sounds really negative but it does begged belief that MS get so much wrong.
This had potential to be the best platform for mobile, but, not with the current company trying,( and trying being the operative word )at the head of it all. If I was the head at this point I would be so embarrassed I would step down, or sell it off.
All this, just my humble opinion as what forums are for.

Well, opinions can be retarded, that's, uhm, my opninion :p

I hope Microsoft fixes the freezing issues. The AU looks nice but I'm unable to use it on my PC.

Glad to say I've not had this problem Posted via the Windows Central App for Android

Microsoft need to first come out of denial mode. They have made it a more complex set OSes rather than a single OS. When you say windows it means windows 7,8.0,8.1, windows 10 mobile that too classified in three different categories fast, slow, release preview. It is very confusing for all those who do not belong to the IT sector. I have witnessed it live.... When I got a update on fast ring, my brother has a sad look on his face but still try to avoid shifting to fast ring because it is comparatively less stable. In the first year they had to set up a target to convert 50% windows phone to windows 10 mobile by substituting the satisfaction they are getting even with the older OSes. Microsoft have to admit Resistance for conversion is not intentional, people want to move to the newer OS but AU is still not capable to replace the older OS (whether PC or Mobile). P.S. Everyone is not a techie.

It should not be confusing to the end user. There is official and there is beta.

I'm not the one who using Windows 10 1511.

I think its because that a few articles were circulated on how the AU had some bugs, so people must be holding off a bit. On the mobile side, the AU was much needed as the initial release had its fare share of problems

I think it is, but that's understandable. People don't want to encounter any potential issues that will just lead to headaches. Even me the first time I read about the news of webcam bug, I literally stopped people upgrading to Windows 10 AU until I can personally confirmed that it gets fixed and so does other issues. I don't want to take a blame of recommending upgrading their machines to buggier software when the current ones serves them just fine. This is a similar reason why I wasn't enthusiastic about the first several months after the release of Windows 10 because of the amount of issues still exist. Microsoft really need to raise the bar of their quality assurance. The webcam bug though normal to have bugs on software (still we all hate to have it), the cause of it is what bothers me, as if they just take the risk way too lightly (on outside observer perspective). It even raised another question on how solid the foundation of the whole UWP really is, having this domino issues keeps popping up while MIcrosoft is promoting UWP to us for the future of Windows. It seems it gonna take a while before UWP will become rock solid, which I'm afraid because before that happens, the reputation of it likely are ruined. We don't want another running gag of UWP being buggy and other negative views about it.

I haven't seen anniversary come thru on any machine yet. Had to force install on SP3.

I updated my Toshiba Miix 300, no problems, its fast enough for work with 2gb of ram, but for windows is must be minim 64gb! Casually I play starcraft 2 , so i am very happy with this windows 10 2in1

My work computer, personal laptop and (as of yesterday) my Cricket Lumia 650 are all running the anniversary update. The only exception is my Dell Venue 8 Pro. No reason in particular. I'm just lagging on it. I forced the update on my laptop and work pc.

The Windows Central web app links doesn't work on my phone or PC. The links simply open up Edge instead of the app like it happened before the update. Both on the latest Anniversary Update.

That was an issue that should have been fixed with the last Windows Central updates yesterday and today, not the AU

Well you cant expect most people to update xD i asked a friend if he did and he said why? (well he doesnt even driver update so :P) but most people are like this!!!! well eventually they will all sit sometime and upgrade but yea maybe on RS2 too xD

Most people are like that unless they run Android. Then they can't wait to get the next update. My job has people calling in all the time clamoring for the latest updates even though they ended up hating the last update because it changed the way their device worked. Caller: "I want Gingerbread/Ice Cream Sandwich/Jelly Bean/Kit Kat/Lollipop/Marshmallow...what's taking so long!" One week later: "Am I able to rollback to the last version? I don't like this the way they changed this one. Why'd they change it? The old one worked fine!"

I downloaded the ISO to skip the queue and loaded all my pcs and laptops at home without a hitch, except for my tablet but got it to work.

Daniel, It is probably worth noting that enterprise clients won't be on the Anniversary Update until it is released for the Current Branch for Business (CBB). You can expect that to be 6-8 months out. For those on the Long Term Service Branch (LTSB), you can expect that to be even longer.

I've not updated a couple of mines. Not for any other reason than I forgot.

My 6 years old HP laptop got the juice.

Still waiting with my 9 year old desktop. Lol

Upgrading to the Anniversary Update broke Edge. Apparently the issue I am experiencing has been broken for well over a year without a response from microsoft: http://answers.microsoft.com/en-us/windows/forum/windows_10-performance/win-10-1511-post-upgrade-issues-start-cortana-edge/7d2af4ef-3dda-4261-8b41-471eb343094b?page=1 Have to use IE 11 on Windows 10 :(

My SP3 was updated first day without any issue. Other 3 win 10 machines weren't notified yet.

It broke Windows Media Center if you use cablecards.....

Use NextPVR or some other crap blowing WMC out of the water!

That only works if your cable provider has their content set to "copy freely". If they have any copy protection enabled WMC is the only option available. Everytime the topic of WMC comes up someone pops in and says, "just use x instead." Most don't understand that WMC is truely the ONLY software option for cable card with content protection. MS is the only company large enough (and previously interested enough) to get the approval of the Cable TV industry.

Hello guys... Maybe out of topic but I would like to ask someone.... I have a lumia 640xl for 1year which runs anniversary update correctly and smooth... I bought a new lumia 950 3 days ago and I try to update it into anniversary update but when I check for updates it's says there is no new update... What I can do? Posted via the Windows Central App for Android

"ironically"? more like obviously, w10m users are almost exclusively hard core fans and insiders at this point, whatever market share gains you see on w10m are due to 8.1 users deserting, not upgrading

My main desktop and my lumia 640xl have updated but the 3 windows 10 tablets I have, have yet to update.

I really don't understand the surprise over why AU is not more widely installed. You simply cannot expect the average user to hunt down a link to force the install. Until AU shows up in Windows Update, AU and all later updates that depend on it will not be installed on the vast majority of machines. If Microsoft is interested, I've got five tablets (including a Surface Pro) that still do not see AU in Windows Update.

I forced the AU update on two machines last week, including my Surface Pro 1, and it all went pretty smoothly. Just today my wife's Surface Pro 1, still on 1511, got the AU update prompt through Windows Update. So it is still rolling out...

My several years old ASUS laptop runs 1511 just fine but I started having BSOD's really frequently and doing a repair did not work. AS soon as I updated to the update again the BSOD's kept happening and when a restore happened I could not install Vipre Pro sucessfully. The only sollution was a clean install of 1511. I am now defering OS upgrades.

I just dont get why bugs from 10240 are back. UAC hiding behind the windows. Windows defender cannot be closed while running. in 10586 it was fixed, but 14393 the issues are back again. And at every boot, Defender says it needs to check the computer, even if i just rebooted 2 min after last scanning. :/

Even me. I didn't get the update, used the tool to get it

I have a small 16GB tablet (plus a MicroSD card). Windows alone leaves only 2GB of free space on the internal storage. I wonder how (or if) it will get the 3.5GB update.

My guess is that it download to the SD card.

I'd love to update but my PC always hangs when it restarts. When I reboot it reverts back. I did a full format and reinstall to get the last build. I am not prepared to do that again so I guess I am stuck

Means the one which we are getting are fake

There is no original. This is the original thing right there in your hand. Thats it

Dont keep your self in dark. ANDROID AND IOS 9.3 ROCK

The title of the article makes it seem like build 14393 is outnumbered by build 10240 which clearly is not the case.

Aug 25 no Annivsary Edition. This is a horrible slow release update.

I'm surprised by the problems reports here from 1607. I've put it on several very different computers, and all of them have and continue to work perfectly. I think Windows 10 is really started to feel polished with 1607. 1607 fixed some serious shortcomings for me (biggest being the inability to search network locations from Cortana -- now we can). I realize that doesn't help the people having problems, but at least for some of us, it worked out well and made our systems better.

We have 3 PC's running w10 here at home. While I rushed mine to get it through an insider branch, my friends' are still on TH2 and no sign of update. Well, one of them even received a TH2 cumulative update this week. This way it will never get fast adoption

I deferred upgrades on both my PCs and waiting for MS to get their **** together first.
Windows Central Newsletter
Thank you for signing up to Windows Central. You will receive a verification email shortly.
There was a problem. Please refresh the page and try again.