How to fix the webcam freezing issue on the Windows 10 Anniversary Update
If your PC webcam keeps freezing up, even when trying to make a Skype video call, use this guide to get around this issue after installing the Windows 10 Anniversary Update.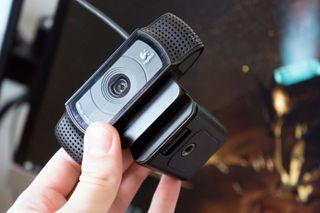 Microsoft recently released the Anniversary Update bringing a lot of new features and improvements to Windows 10. Aside from all the good that brought the update, during the rollout, many users also reported a number of issues after installing the update, and today, unfortunately, we also have to add a problem with webcams.
According to various reports from customers, some PC webcams are not working correctly after installing the Windows 10 Anniversary Update. Microsoft says that is aware of the problem, but the company won't be issuing a permanent fix until sometime in September.
On a support thread at the Windows Dev Center (opens in new tab), some users explained that their webcams are freezing up, even when trying to make a simple Skype video call. The bigger problem is that this isn't just affecting home users, but it is also impacting many enterprise customers.
Fortunately, it looks like there is a possible temporary workaround to fix the freezing issue on webcams as posted by Rafael Rivera (@WithinRafael) on Twitter. In this Windows 10 guide, we'll walk you through the steps to modify the registry to try to resolve this problem until Microsoft releases a permanent fix.
How to resolve the freezing issue on webcams on the Windows 10 Anniversary Update
Important: Before you make any changes to the registry, make sure to understand that these changes may cause irreversible damage to your current installation if they're not done properly. It's recommended that you do a full backup of your computer before proceeding. You've been warned!
Use the Windows key + R keyboard shortcut to open the Run command.
Type regedit, and click OK to open the Windows registry.
Browse the following path: HKEY_LOCAL_MACHINE\SOFTWARE\WOW6432Node\Microsoft\Windows Media Foundation\Platform
Right-click on the right side, select New, and click DWORD (32-bit) Value.
Name the new key EnableFrameServerMode.
Click OK.
Double-click the newly created key and make sure it set to 0.
Click OK.
Restart your computer to complete the task.
Once your computer restarts test your USB camera one more time, perhaps making a Skype video call, and now you should no longer experience the freezing issue. Make a note of this change for later in September when the official fix comes out so you can undo this fix if necessary.
According to one member of the Microsoft's Windows Camera team, the problem is caused by the Anniversary Update removing support for two video compression formats, including MJPEG and H.264 codecs on Windows 10, and opting to support YUY2 encoding instead.
The company claims that the decision was made to prevent performance issues due to the change on how Windows Store apps can now access the camera features with the Anniversary Update.
Are you experiencing freezing issues on your webcam? Did the workaround work on your Windows 10 PC? Let us know in the comments below.
More Windows 10 resources
For more help articles, coverage, and answers on Windows 10, you can visit the following resources:
Windows 10 help, tips, and tricks
Windows Central Newsletter
Get the best of Windows Central in your inbox, every day!
Mauro Huculak is technical writer for WindowsCentral.com. His primary focus is to write comprehensive how-tos to help users get the most out of Windows 10 and its many related technologies. He has an IT background with professional certifications from Microsoft, Cisco, and CompTIA, and he's a recognized member of the Microsoft MVP community.
W10 what a great quality software...not!

Meet the new Windows team. Rafael Rivera.

Ik they need to fix the bugs. I am aware that there are so many types of devices but when Microsoft changes a feature they need to look at the context surrounding it. So since they removed those 2 video formats they should of been like "Let's ask someone on our team if there is somehow anything else related to this that might mess up." So if another developer was like "Hey if we do that my app won't work" they would be more careful. But here it seems like MS just does things without giving a crap. Posted via the Windows Central App for Android

When they lack a good QA team it's obvious why these issues appear. Such mess was much less present when Ballmer was CEO. I do not remember Windows 7 being so messed up. Even Vista was more stable than 10.

Check out my video tutorial for this! https://www.youtube.com/watch?v=tzSX9JXXk64

Does Microsoft's change to codecs also affect capture devices such as Hauppauge PCIe capture cards if they show up as a webcam in the Adobe Flash settings?

It does. But it all depends on what kind of stream the Flash application is trying to get from the webcam. If it's an uncompressed video stream, fine. If it's the encoded one (e.g h264) there will be problems.

I was just giving an example of it showing up as a webcam (because I always disable microphone and camera access in browsers.) What I use it for is transferring VHS tapes to my computer using either OBS Multiplatform (if it'll work) or Hauppauge Capture (it crashes during recording and gradually uses up my RAM so that's why I'm planning on using OBS MP. Also HC only wants to record to TS for me.)

The hilarious part of this is that Skype compatible cameras and software are required to support MJPEG and H.264

Which makes me think if they ever review devices that Microsoft ever certified in the first place before making the decision. What's intersting is the main decision why they remove those codes is because of Windows Store apps having performance issue with it, so the decision is to remove the codec altogether rather than finding the root issue of the overall Windows Store apps framework on why its having an issue in the first place. I hope they're already doing to fix the actual root cause. Microsoft really needs to raise-up the bar on quality standard to UWP to lessen these domino effect issues. If MS wants UWP to be the primary platform for Windows in the future, they have to make sure its quality not to be "just enough". Gladly, even my old 2010 laptop that I installed with Windows 10 AU doesn't have webcam problems. Still sucks for those experience these issues, which isn't just regular users but even on some enterprises according to the articles. MS have to be really careful and make sure the quality of every release and don't just release it to be "good enough", since media will going to sensationalize it. Windows 10 reputation is at stake here and MS in general.

Too expensive to verify and repair, Nadella wants costs down...

I have a Logitech Quickcam which since the AU is no longer being recognised. I guess this won't solve that problem.

Hi Herbert, In my case, when I went into Device Manager, my built-in and HP USB webcams appeared, so I know they were being recognized by my operating system. It's worth checking that. If your Logiterm webcam shows up under "Imaging devices," then I suggest you do the following: Hit Windows key + R and type \Skype Delete the Skype_db subfolder. Hit Windows key + R and type Find your Skype folder and rename it to Skype_old. Do a cold reboot. For what it's worth, my webcam has stopped freezing in Skype Preview (the Windows Store or universal Windows platform app). It still freezes in the desktop version. The Rivera registry workaround was necessary for me. Every time Microsoft rolls out a new build (I'm with Windows Insiders), I have to manipulate the two Skype folders (as explained above) ever time. Sometimes I have to reboot my computer several times before it "takes." I know that sounds hair-brained, but that's really how it's been since this frame server issue was manufactured by Microsoft. Hope that helps! Ian

Logging in doesn't seem as fast after the Anniversary update either. If these big Redstone updates require me to do a clean install every time, and if they're doing similar tactics for 7+ I think I'll switch back to Windows XP SP3.

So... What is the fix for mobile devices? My front camera errors out all the time when trying to launch. It says other apps are trying to use the camera, but says this even after closing all other apps or when opening the camera after a soft reset.

Did you try a hard reset? Posted via the Windows Central App for Android

Is there anything MS did not break with Anniversary Update? I had less issues with Vista than Windows 10.

They did not break anything :) because nothing was working as it should from the start. I've said it, and I'll say it again: this windows version is far worse than even Vista...

You'd think if they are going to subject us to more espionage than ever before at least they'd try to make the OS work nicely in order to bait us. But nope.

I have never seen such a worse update on mobile as AU. Its raining complaints. This is cost MS even more marketshare.

Please explain. All we update until now is working okay, around 34 devices, and 6 with Logitech 920 camera. And about Windows phones 10, we updated 640 XL, 930, 1520 - also without problems, they works well.

On my 930 I have no voice in Dutch in Maps. Solved that by installing Cortana. Cortana needs US or some other regions. Cortana worked fine. Deletet Cortana, switch back to Netherlands and voice is back Gadgets doesn't see DT903. Some apps don't have icons like Groove. Batterydrain like hell When chanching sound for apps in settings the mail app is called (5b04b775-356b.........) Need more?

The never ending OS beta testing...if this is what they call a public ready Os :)))...ZERO quality!

They don't give a damn about mobile so...

The registry trick works with my C930e, skype is using again the H264 hardware encoding when the call switches to 720p or 1080p.

I updated all my drivers on my Dell pc and seems to have fixed the issue

I want to add something very important: the registry path only applies to 64-bit installations. For 32-bit installations, you will not find that path. Instead, the registry path where the DWORD should be created is: HKEY_LOCAL_MACHINE\SOFTWARE\Microsoft\Windows Media Foundation\Platform

Check out my video tutorial! I made it soo simple! https://www.youtube.com/watch?v=tzSX9JXXk64

No, that's backwards. WOW6432Node paths = 32-bit, without = 64-bit.

I really don't have it backwards. The WOW64 subsystem is exclusive to 64-bit installations; it contains 32-bit elements which are needed for compatibility reasons - e.g. C:\Windows\SysWOW64. I have no idea what confused you, but my Dell Venue 8 Pro has a 32-bit version of Windows 10 and the key is where I posted. My Dell XPS 13 has a 64-bit version of Windows 10 and the key is the one you shared.

Does 64x build need to add a QWORD 64 instead of DWORD 32 ????!!!!!

Guys! I have made a video tutorial for this, so that you could share it among social medias! Have a look at it! https://www.youtube.com/watch?v=tzSX9JXXk64

I am using Lumia 640 xl running anniversary update and I am having lot of trouble with skype in mobile too recently. When I normally start a skype call, only audio works and no video, or both doesn't work.The only fix so far, is restarting the phone. But I don't want to restart my phone every time I want to skype call especially when people on the other side are eagerly waiting to talk to me.

Get rid of the phone and buy something else, another platform...or use WP 8.1 until Skype is removed from that OS.

With all respect to the one who made this, great work. But if DWORD values by default is 0, then step 7 and 8 makes no sense.

Yep. I've done about 5 hard resets now and the problem always comes back shortly after updating to the latest build. Also, it's been that way for the last several Fast Ring Builds, I've now dropped to the Slow Ring prior to the first RS2 builds, but maybe I will need one of those to fix the issue.

I use an older Microsoft Cinema Lifecam HD. Still works fine for video calls on Skype since the update.

My logitech 920 has been disabled since my upgrade to 10. the Launch.exe crashed and Logitech keeps saying they are going to fix it. Its been over a year and still no fix. I now use my Android phone for skype since it works. You owuld think that MS would have talked to Ligotech (They sell more web cams then 2/3 of the entire market). You owuld have thought that Logitech would have a solution before Widnows 10 was released. And I think Microsoft changed codecs so they wouldn't have to pay royalties on patents. They have done that before. If that is the case let me know I would pay for a lcience for my codec if I have to.

What appealing disrespect for customers. I called the Microsoft support line. They said there was no issue with the upgrade and that it was a problem with my hardware. I have figured a fix. I'm moving over to a Mac.

The Registry fix seems to have solved one compatibility problem introduced by the W10 upgrade to the "Anniversary Edition" bewtween the Microsoft Lifecam Softwate and the LifeCam Studio FHD camera. It did not, however, stop the Movava Video Suite from crashing each time the video camera is now initiated.. Any other possibilities worth trying?