Windows 10 April 2018 Update reaches full availability, now on 250 million devices
The April 2018 Update is now the fastest version of Windows 10 to hit 250 million devices.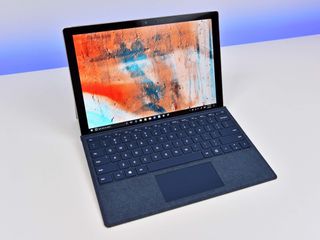 Microsoft today announced that the Windows 10 April 2018 Update has reached full availability. That means that every device that is running a prior version of Window 10, and is compatible with the April 2018 Update, should now be able to receive the upgrade via Windows Update.
In addition to reaching full availability, Microsoft says that the April 2018 Update is the fastest version to reach 250 million devices. In fact, the update managed to achieve that benchmark in less than half the time it took its predecessor, the Fall Creators Update, to do the same.
An AI-powered rollout
According to Microsoft, the speed with which is has been able to roll out the April 2018 Update comes down to an AI and machine learning approach that it initially piloted during the Fall Creators Update rollout.
Microsoft was able to train a model to specifically target devices that its data indicated "had a great update experience." With the April 2018 Update, Microsoft expanded this initiative in scope to better target devices as it continued its rollout.
From Microsoft:
As with prior updates, the April 2018 Update certainly hasn't been without its issues. However, the company touts that it has seen an overall reduction of 20 percent in issues related to system and driver stability.
What's next?
Currently, Microsoft is preparing its next major update, codenamed Redstone 5, for an expected release later this fall. While the rollout of Redstone 5 will likely take a similar approach as previous updates, targeting a small circle and expanding from there, it's likely Microsoft's AI efforts will continue to speed things up even further.
If your PC hasn't yet been updated to the April 2018 Update, then it should be available now via Windows Update.
Windows Central Newsletter
Get the best of Windows Central in in your inbox, every day!
Dan Thorp-Lancaster is the former Editor-in-Chief of Windows Central. He began working with Windows Central, Android Central, and iMore as a news writer in 2014 and is obsessed with tech of all sorts. You can follow Dan on Twitter @DthorpL and Instagram @heyitsdtl.
Is it safe to update my Surface Laptop with Intel SSD now? I initially updated it when 1803 dropped and it bricked my laptop.

Yes it it's been resolved

Hey Marty1774, Did this work for you?

edanco My partner has the same issue with his Surface Laptop...did you successfully update to 1803?

When you say 'bricked', do you mean, "It never worked ever again (Bricked)" or, "It broke the machine but I clean installed and all was fine again (Not bricked)"?

"the April 2018 Update is officially the fastest version of Windows 10 to reach 250 million devices, achieving that mark in less than half the time it took the Fall Creators Update!"

Yeah but the whole AI thing makes no sense though. If they used AI to select which PCs get the update and which not, based on the previous data about which PCs handled updates well, that would just mean that they don't serve updates to some PCs immediately, until they iron it out perfectly.
The previous approach was to just release it straight away to everyone, and then if it breaks your PC or not is up to your luck. While that may not be the smartest solution, it definitely is faster than this AI one.

Ahhh, but you fail to mention 2 important facts..
1. The "algorithm" specifically targets all the machines that have had a HISTORY of having smooth updates. That number could be much higher than the number they were able to roll out to update segments in the past.
2. MS has never done a blanket update to all machines at once (as you suggest). They have always been rolling updates to groups of machines at a time. The AI used could basically target larger groups because of the lower risk of a failed update.
Less risk + bigger groups = faster rollouts. That's all the article is saying.

Actually the article has not been saying that. And I am still not convinced that this will only mean a faster startup of the deployment. By the end the average will level out. But if it is only the start that we are talking about, then I get it.

Sorry, but no that was not the case for Windows updates. It was a very slow roll out. If you remember, anniversary update took almost half a year to reach 50%.
I think they switch from people manual Monitoring to AI monitoring that's it.

Yes, but since then the packages have become smaller and the method had been altered in so many ways if official communication can be trusted. So it is hard to compare. One would need to see how heavily the bandwidths were burning.

they update because they were forced to do....

@Rodney, Windows 10 Home CANNOT block updates, not even delay them, so don't give me the Huh? crap!

One could always use up the required free space. :)

Well that's your own fault for not buying another version 😉

Yes you can, just disable Windows Update service but would you be safe against hackers? I'd say only if you use Chrome, since Edge vulnerabilities cannot be patched with an upgraded Edge browser unless you turn on Window Update again and that would mean you'll have to upgrade all the rest of the system.

Get me off this semi annual upgrade cycle!!!
An 8.1 pro license is looking better and better.

Well if you have a pro edition you can always move to the business branch where you can choose to stay on a older update or wait 18 months before move to the next release

I did the update, now I can't get into my computer!
I have the same password since I got my computer, will not accept it.
Can't go online, the internet info was changed yesterday, but I can't get into it to update.
Now I have to put out money, to see if somebody can fix it.

Did it ask you to reset your password

Surely it's a algorithm rather than AI? Look through a dataset, sorted by machine type based on 1803 install feedback. If the number of errors is low, add to 'approved for update' list. Schedule to run periodically. I'm not sure how this construct is any different to any algorithm that has been running since computers were invented?
Windows Central Newsletter
Thank you for signing up to Windows Central. You will receive a verification email shortly.
There was a problem. Please refresh the page and try again.