Windows 10 PC bug fix released to help build 10130 users update to newer versions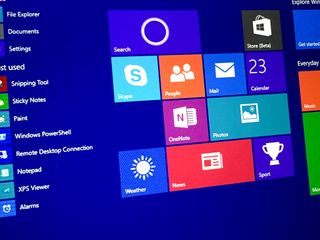 It's been nearly a month since Microsoft released the last official PC Windows 10 preview version, build 10130, but the company is still updating this version with bug fixes. This week, the company issued a bug fix for build 10130, specifically for users who might have issues updating to newer builds when they are eventually released.
The bug fix, KB3070677, deals with the specific scenario and issue with build 10130:
You install a Core Edition of Windows 10 Insider Preview.
You are running Build 10130 of this Core Edition of Windows 10 Insider Preview.
There are new preview builds available for your current preview build settings.
In this scenario, when you scan for new preview builds, Windows Update does not detect the available preview builds.
We are now in the home stretch as Microsoft now has just over a month before the RTM version of Windows 10 for the PC is scheduled to be released on July 29.
Source: Microsoft (opens in new tab); Via: WinSuperSite
Windows Central Newsletter
Get the best of Windows Central in your inbox, every day!
It takes to long for new build on fast! Why is that?

Programming is not an exact science. Okay, well.. literally speaking, it is a very precise science, since computers do what the programmer tells it to do. However, in terms of programming against a fixed date, humans tend not to solve problems on a scheduled basis. Problem solving is a matter of reaching that moment when you go: "Eureka! I found a solution". The only key difference between application developers and operating system developers is that operating system development is a lot more complex, with emphasis on "a lot". Also, Microsoft has tons of hardware they need to be compatible with. This is where companies like Apple has a tremendeously easy job in comparison: there are a fixed number of configurations for Mac computers out there and they know every and each one of them. Microsoft is unlikely to know more than a fraction of them. So, why do we keep assuming that they can solve these problems really fast? Mainly because Microsoft Windows is a really old operating system and they are super experienced with this, so they should really be able to solve almost any error that pops up. I am going to assume that the Windows NT as we know it today in terms of code goes back to at least Windows 2000 (NT 5 kernel), which means they should be really good at problem solving these days. Unless lots of the kernel code was rewritten from scratch in .NET when Vista came. I just have a feeling that the kernel is still going strong in C code while higher level applications are written in C# and C++. But, yeah ... programming an OS is complex and unexpected problems do occur from time to time. I also think the move from BIOS to BIOS Legacy support issues and UEFI support issues make this an even more complex matter in terms of getting the OS stable, but it's just speculation.

There are more builds made but they wont release them. Why they even made fast/slow when it's a test preview?. This works fine after rtm but it's useless now.

Man i think its fine. You dont get fast builds. Your unhappy. You got a build that is buggy as hell because they released it fast. You get unhappy

Not really, we applied to fast knowing the problems it might bring. If you want less risk you could use slow, or not use preview. This is a test remember.

Theoretically, you're right. Bit if you look at Gabe Auls twitterfeed or the comments here, most people don't get the concept and start crying because of bugs or broken systems after installing a new fast-ring-build. So I guess it's a challenge to find the right path between fast builds and safe/stable builds... Unless MS starts to require you passing some sort of test before being eligible to opt in for fast ring :P

A short reading comprehension exam would be deemed too hard for 70% of the Insiders (experience as an Insider forums user).

Not available yet for me here :-\

Does this fix the critical error has occuring the shell infrastructure host start menu issue?

Is this the one that practically forces us with a 'Sign-out' option?

That'd be the one. I've dug around numerous forums and tried tons of things. Nothing works for me.

I believe it is a known issue with sleep mode on some devices. I do a full shutdown now because my Dell Venue 8 Pro does it too if I allow it to go to sleep.

I used system restore point, kinda worked for me but I can't use xbox/store/music and may be more apps anymore.

This bug fix is only for the Core edition. Doesn't apply to Home, Pro or Enterprise. This article should have explained that. What's happening WPC? This and the earlier article saying Despicable Me has just got Xbox Live. Please review your articles before posting.

Just got the preview on my stream 7 yesterday, had no problems. Will update it though

Does anyone know how to revert back to Windows 7? I am running build 10130 right now and have a recovery partition for Windows 7 on my laptop. There is just an option to go to the previous build now.

Go to settings > update and recovery > recovery... there is a option for go back to previous version.. Posted via the Windows Central App for Android

There is an option only to go back to the previous build (which in my case is 10049), as I said above.

If you have a recovery partition you can use the recovery tool, usually it's a key you have to press while boting you laptop.

How about fix the bug where it blocks you from a bunch of websites because your in 'family safe mode'? Their is no way to disable it and its really, really, REALLY, annoying.

Wow I seriously thought I was the only one who had that bug. I think I got rid of the problem on my system though. I followed the Windows 8.1 instructions from this page: http://windows.microsoft.com/en-US/windows-live/family-safety-remove-uni... It took a few hours before the change took affect on my computer though. It seems to be gone though. I hope this helps you, sorry if it doesn't.

Go into your account settings & turn family settings off there.

Thing is its already off.

And those of us with Surface 3 are STILL Stuck on 10074! Come ON!!!

Amen, Brother! I'm so pissed off at MS right now.

What about those of us with S3's stuck on 10074?

You may be stuck there for a reason, the next build 10130 for me & many others is a nightmare,I go back to 10074 before I know where I'm at it's downloading & installing updates one being fbl 10130.

Seems new build is on the way

This latest update kb3070677 always fails to install on this latest build 10130. Everytime it tried to install, it fails at 67% then will undo the update and load back into Windows. No matter what I tried, this update keeps failing.... So I guess this update needs a fix before being able to fix all the other issues...

Yep, same experience. Gabe said the next build should fix as that build will not need this update.

The fix got installed on my PC tower but refuse to install on my tablet. Reboots every day to try to install it :-)

Please let this mean there's a new build coming later today.

RTM at end of July, seems laughable at best! To be fair I'll see what next weeks build brings but its going to have to be a serious step up! What we've had recently has been fine for preview testers but RTM is for kids to grandparents, homes to enterprise and everything in-between! It seems like it needs a lot of polish! I'm also curious to know what will actually happen with Cortana, will she just remain in permanent alpha/beta? I can't even use her in Australia unless I say I'm located in the US/UK and that screws with other regional requirements - PITA!

The latest leaked build addresses a lot of the Fit and Finish issues. Relax

I do believe I smell a fresh build in the air...

I really hope so. Otherwise whats the deal with "fast".. 1 month now sigh.

Build 10147 is quite stable as I'm using it right now. I believe if I understood right, Gabe said via Twitter one of the reasons 10147 wasn't released to the Fast ring was a persistent bug in which the Start menu failed to open under some conditions. Apparently they want this to be a 100% success rate before publishing. That being said, I smell a new build right around the corner, although I don't expect many changes from build 10147.

This update won't install for me. A few of us have been conversing with Gabe on the forums. He is thinking the next build will fix. With that, it does not seem to be stopping me from getting other updates. I had 3 yesterday.

My update history shows this was already installed on June 11. Did they make changes to or re-publish this update?

Why is it that these daft pseudo news sites don't even bother actually looking at the source before publishing articles? This update was available on the 11th according to KB3070677. Don't use Winsupersite as a source, it became rather shit and clickbaity once Thurrott left.

Funny. That seems like it's in the range of the same bug for WinMo 10

Oh, how I need the slideshow fixed..!

Im stuck att the login screen and cant sign in with my account. Only "other user". Which I don't have. Anyone experienced this?

I have had no problems, with any of the preview builds, untill it's time to update/upgrade from 10074 to version 10130 it just wont open past loading screen after restart. Had to updates loads restarts get Microsoft logo & loading circle that's it. I have even loaded with iso file on to disk still the same any ideas anyone would be appreciated

I've had this on a Samsung NC10 netbook trying ti install build 10130 from 10074 and also trying a clean install from the build 10130 ISO. Nothing else to do but wait for the next ISO.

I got the update for KB3070677 back on June 11. This update is nothing new. When I look at my update history it shows that it failed to install but so do all other updates which required a restart. In Control Panel ¦ Programs this update (and all others) show installed.

great a fix for the bug on 10130 that will help you to get future builds..has anyone realized just how many people can't get that bug fix because of a bug that keeps them from installing 10130??? There are scores of folks on the insider preiew page at microsoft comm forums that have been unable to install 10130 and have been stuck at 10074 or 10125 for over a month? I got tired of all the waiting and installed 10147 and it is quite stable...why not release that?