Windows 10 build 10158: Everything you need to know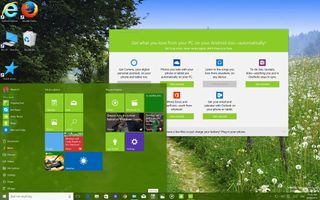 On June 29th, Microsoft decided to roll out yet another preview of Windows 10. This time was the turn for build 10158, and after just moments of using it, you can already feel that Microsoft is getting the operating system ready for primetime.
Microsoft is trying to get the new operating system ready for the July 29th release, and it's delivering on that promise.
Windows 10 build 10158 is one of the best previews Insiders have received. The new build looks and feels more complete, and there is a number of changes and improvements over previous builds. Perhaps the most important news is that build 10158 doesn't contain any known issues, which is fantastic.
In recent days, we have seen a few leaks of Windows 10 unveiling a number of changes and some if not all of those changes, can be found in Windows 10 build 10158. As we have been doing with previous official builds, today we're going to see everything Microsoft is including since the last official build (10130).
Below, you will find all the changes included in Windows 10 build 10158:
Start menu
As always, we're going to start digging the changes on the Start menu. In Windows 10 build 10158, the software maker is adding a few tweaks and changes. For example, the most noticeable improvement is how responsive the Start menu is. I don't have to hit the Start button multiple times and wait for the menu to open anymore.
Microsoft is also including new icons for places above Power options, so there are no more happy faces (placeholders) anymore. You'll see the icon for Downloads, Documents, Personal Folders, Videos, Music, etc. Also, "All apps" has a new icon as well.
Note: You can always change folders that appear on Start by going to the Start personalization settings on the Settings app.
As we have seen previously on leaks version of the operating system, the "New" label that pops up next to the "All apps" button, now takes the color from the theme. Also, the 3D flip Live Tile animation, which we have seen in previous builds is back for good.
In addition, Live Tiles now have smaller icons and there are new icons for Calendar, Mail, Music, Movie & TV, Photos, Search, Get Started, Store, Camera, Contact Support, and for the Alarms & Clock app.
Inside of "All apps", now you can highlight and press the letters to jump to the list of apps under a letter, and there is a new animation too.
Taskbar
Build 10158 also includes some changes happening on the taskbar. Now, users will see big white icons for certain apps without a tile background. Users will see this behavior more for the majority of the Microsoft apps, but it's likely that app developers will follow this design as well.
Also, the taskbar now shows a different color tone. It's darker than the color tone you see in the Start menu and flyouts.
When an app needs attention, it will flash orange with a new animation. When downloading or moving files, the progress animation has been changed back to green and to the horizontal loading animation.
(Image courtesy of Microsoft)
As we have previously seen, Jumplist menus have been updated. Now, you will see a dark background to separate different actions, and keeping a darker background for "Pinned" and "Frequent" items.
On touch-enabled devices, the System tray shows an updated keyboard icon, and the show/hide icons button has also been updated.
Officially in Windows 10 build 10158, Date & Time features transparency, blur, and it takes the color from Windows theme. Clicking the Date & time link will now direct you to the Date & Time settings.
Action Center
The Action Center looks fantastic in build 10158, as it has received some bug fixes and refinements, It now looks complete. There are also new icons, a third row of quick-access buttons. There is also now a "Note" button to open OneNote, and new icons for Quiet hours, Tablet mode, and Connect.
Tablet mode
Tablet mode hasn't been overlooked, this build shows a few improvements. In the new preview, users will see two new buttons on the bottom-left corner to access the "Power" options and "All apps".
Additionally, when clicking the hamburger button or "All apps" buttons brings up the left side, which also takes the color of the theme.
While in Continuum mode, users will see new animations. Microsoft says they've improved support for Windows 8.x apps and classic desktop apps. Users can also swipe from the left to open "All apps".
Cortana
In Windows 10 build 10158, Microsoft is making some tweaks to Cortana. In the new build, the left rail is no longer dark, and it takes the color scheme from Windows though Microsoft is also including a new dark theme for the assistant. The items in the left menu have been consolidated, and Cortana has a new animation when launching the app.
In addition, users will notice that the Microsoft digital assistant periodically will try to catch user's attention by jumping up and down in the search box asking questions, such as "What can I do for you?" or "Are you there?" This appears to be something Microsoft is trying to get people using Cortana as it's one of the biggest features in Windows 10. Now, the assistant will not do this every five minutes. Instead, it's programmed to offer its assistance at certain events like at start-up or resuming from sleep.
Another change is found in settings. Now on build 10158, you can configure Cortana to respond to "Hey Cortana" only with your voice. This is done by training Cortana to identify your voice.
So, the next time you're in Cortana's setting under "Hey Cortana", you'll see a new option called Respond best. By default, it's set to To anyone, but you can click the Learn my voice button, follow the training, and then you'll be able choose the To me option.
Furthermore, there is also a new Taskbar tidbits which you can enable or disable, to let Cortana pipe up from in certain occasions with thoughts and greetings in the Search box.
Microsoft is also enabling tracking flights, which now allows Cortana to keep you inform when you get emails about flights or packages information from supported providers.
In Windows 10 build 10158, you can also compose and send emails with Cortana. You can send emails to one or multiple people. To try out the feature, say something like "email Windows Central, this is an awesome build of Windows 10" and then say the message to want to submit.
Note: This feature works with an internet connection and it's limited to the United States for now.
Microsoft's digital assistant now has its Notebook on its final stage with a combined Profile and Settings experience. There a bunch of Notebook settings you can configure.
Settings
The new preview Microsoft has rolled out to Insiders also includes some changes for the Settings app. In Windows 10 build 10158, it seems that Microsoft won't have a few of previously seen features enabled at launch.
For example, on System, under the Storage options, you can't longer change the location to install new apps.
On Apps & features, you still can't move installed apps to an alternate location.
On Personalization, on the Start page, Microsoft is making some modifications and reducing the number of customization you can add to the Start menu. Now, you only see four options and link to choose what folder appear on Start.
On Accounts, on the Sign-in options, the Windows Hello option is no longer shown, but it doesn't mean that the feature isn't included. Perhaps it will only appear for devices with compatible hardware.
On Privacy, we can see that there is a new Background apps page. "Feedback" has also been renamed to Feedback and Diagnostics, and General no longer has options to show tips about Windows, which we have seen in previous builds.
Privacy also shows that the Other devices page has a number of new options. It includes: Sync with devices options, use trusted devices to let apps use your trusted devices such as Xbox One, TVs, projectors, etc., and External HDD, which is an option to let apps use external storage devices connected with the device.
On Update & security, under Advanced options, you can click to stop receiving builds, but it will not automatically stop the service. Instead, a pop-up will appear with an online link that includes the instructions to disable the device to receiving new builds.
Also, in the "Advanced options", Microsoft has removed the "Let Microsoft try features on this build".
Insiders can see a new animation while moving between setting pages, and you can pin settings to Start by right-clicking the page from the left pane and clicking "Pin to Start".
Desktop
One of the areas that still needs a lot of polish is the desktop environment. While the title bar on the File Explorer and Win32 apps now matches the same design you see in the Windows apps, it's still not consistent when you maximize File Explorer or desktop apps, as you can see in the image below. The close button shows different sizes when maximized or windowed.
In Windows 10 build 10158, the context menus now include bigger and thinner arrows and check marks.
The menus are still inconsistent throughout the operating system, as you can see the desktop menu and context menu on Start.
Officially in this build, the desktop context menu include updated icons for the "Display settings" and "Personalize".
Users will also notice new icons across the operating system and in the Control Panel.
Apps
Microsoft is now completing the Windows Store. In build 10158, the company is finally removing the "Beta" label and it's simply calling it "Store", and you can no longer access the old Store. Other than that, the actual Store hasn't changed much, but users will see that the Featured Apps section has been updated with a new carousel.
Insider Hub: Microsoft mentioned this previously, but moving forward, the "Insider Hub" app is no longer installed by default. Users are encouraged to enable and use the app with the following steps:
1- Open Settings > System > Apps & features.
2- Click Manage optional features then Add a feature.
3- Select the Insider Hub entry and click Install.
Phone Companion: Previously, Microsoft announced that they're releasing a new app called "Phone Companion" which lets users connect any Windows Phone, iOS, or Android phones to Windows 10, by helping users to install a number of apps, such as OneNote, Skype, Office, Outlook, Music, and Photos. And even Cortana, as you know Microsoft has officially announced its personal assistant will be arriving at Android and iOS devices.
We have seen the Phone Companion app in Windows 10 build 10147, which has recently leaked, but it did not work. In build 10158, the app works with the ability to set up your device.
It worth noting that if you have a Windows Phone, you don't have to do anything extra as all the features Microsoft wants you to connect are already part of Windows Phone. In order for everything to work properly, you will need to be signed in with your Microsoft Account.
While clicking Windows (phone) button, you'll also see a description of how you can connect with Windows 10. When you click the Android phone button, you will see a list of apps and services you can install to connect better your phone with the new operating system. At this moment, you can set up OneDrive, OneNote, Skype, Office, and Outlook, as Cortana and Music have the "Coming soon" label.
Keep in mind that this is not a syncing app. It's not like you have to plug in your phone to connect the device with Windows 10. You connect your phone with the Phone Companion app for few basic tasks, such as to access basic information about the phone, storage, and the ability to import photos and videos, and transfer files using File Explorer.
Photos app: In the new preview, there is an updated Photos app that brings performance and reliability improvements, and other changes like support for GIFs. There is also now an "Open with" option in the photo viewer.
Snipping too: Yes, the Snipping tool has been updated, and Microsoft has added a new delay option to take screenshots.
Microsoft Wi-Fi: This build also include a new app that is the rebranded Skype Wi-Fi app. It enables users to pay for Wi-Fi access in public wireless spots around the world. (For more information about the Microsoft Wi-Fi app, check this previous article.)
Microsoft Edge
The software giant has finally rebranded its web browser to Microsoft Edge. Microsoft warns that after upgrading you'll lose your favorites, cookies, history, and Reading list items you have saved on Project Spartan. Make sure to export all these data if you want to add them back after the upgrade.
Since the last official preview release, Microsoft is adding quite a few changes and features, including:
New dark theme and an option to add a "home" button to the address bar
On Settings, users have the option to import favorites/bookmarks from other web browsers. There is an option to change what appears when you launch Microsoft Edge. You can also customize the "New Tab" page, and you can choose which pages start with Edge.
Perhaps the most noticeable change is the addition of the password manager, which allows you to save login information from websites around the internet. (For information, check my previous write-up on Microsoft Edge.)
Microsoft is now allowing to play audio when Edge is minimized or in the background. You can drag and drop tabs to open new windows, but the experience still inconsistent, as dragging the tab back to the original window will not work correctly.
Wrapping things up
We can see today that Microsoft is adding a lot of changes to Windows 10 since the last official build (10130). Windows Insiders can download Windows 10 build 10158 via the Fast ring of updates now.
The majority of users will notice that this is a great build, more stable, packed with some changes, and more importantly now feels that it will be ready for the July 29th release.
Finally, in build 10158, Microsoft has fixed various issues to improve the battery life on Surface Pro 3, and it has fixed an issue that was preventing Surface 3 to upgrade using previous builds.
What do you think about the new changes? Tell us what you think in the comments below.
Mauro Huculak is technical writer for WindowsCentral.com. His primary focus is to write comprehensive how-tos to help users get the most out of Windows 10 and its many related technologies. He has an IT background with professional certifications from Microsoft, Cisco, and CompTIA, and he's a recognized member of the Microsoft MVP community.
They are kidding with those title bars for the windows right? They need to blur

No it looks good the way it is right now

I used to think that too, until I started using Windows 7 again and got reminded of how amazing windows aero effects were. At least they could give it some colour, geez.

I agree! If they aren't going to bring back Aero to windows they should at least have the theme color on them.

I agree with you, but really they should let the user decide whatever they want, and include the option to change stuff :)

I agree. Blur would be nice. And I don't like that they are white, it gets confusing because it used to be that the active window (or the one your clicking on stuff in) would have a colored title bar, and then all the others would be white.

Why did the take snapping away?

The new apps can resize to any size now. I wonder what they'll do about the ones from 8.1

They really should also implement Snap Resizing on desktop mode too, not just for tablet mode. Currently you can't resize already snapped Windows which is an oversight for me. Posted via the Windows Central App for Android

Windows 8.1 style snapping is still there in tablet mode.

I like the new title bars

Except for that ugly Music icon! They should bring back the Xbox Music icon.

The new record player icon is by far cooler than a pair of headphones.

Agreed! I understand that they want to represent a music disc, but that's hard to do as a single coloured icon. I would too prefer the music note icon

Who cares? The first thing I did when I installed the W10 Preview was to set Windows Media Player and Windows Photo Viewer as default for videos, music, and photos (respectively). I can't stand those stupid "apps".

Can we all agree, the RTM version will be build 10200 / Windows 10.2 (to replace Windows 8.2)

I think they are aiming for that, yes

No, RTM (from Vista onwards) has been a build number divisible by 100 and 16, hence 400.

So far the fan and heat is still bad on my Surface Pro 3 like it has been with all previous builds.

Win 10 is still debug bits for testing so there is alot of telemetry and task running under the covers that will not be there/turned off in the RTM. I'm guessing that is why the Pro 3 is working so hard.

By far best Windows 10 TP build. Pretty much fully functioning on my 2.5 year old Acer Laptop except the Hey Cortana doesn't work right with my microphone. Not to mention Hey Cortana still leaves an audiostream open in the background which prevents my computer entering sleep mode meaning Hey Cortana is still pretty much useless for my computer. Not a deal breaker for me though:)

Thanks for the great coverage article!
Tried to update from 10130 but the upgrade rolled back after the laptop became unresponsive during the upgrade and I rebooted the poor thing, so I have to try again later... :-(

I like the green collection!!
Can you please share the backgrounds :)

It really looks a nice build, but a recurring issue, seen also by others according to the feedback app, is Edge's inability to sync settings and favorites between multiple systems.

Yup Posted via the Windows Central App for Android

Still stuck on 10130, I'm set on fast ring, but getting no new update

I had the issue. Try restarting PC. It didn't work for me though. Then, I noticed a failing "System hardware update" was preventing new build from downloading. So, I just uninstalled last 2-3 updates, restarted and then it pulled the new build. Hope this helps.

Where can I see if there is a failing system hardware update?

Loving Windows 10. Class act Microsoft.

When the build gets push to the the Slow ring, you'll get the official ISO files. Thanks,

I am not able to see any new updates. I am in fast ring too

Failed to install, but I got brave and put it on a tablet smart PC. All drivers wiped out and can no longer use my touch screen. Let the troubleshooting begin. Screen shots look great though...this with the latest build on the phone...vision is getting real clear.

Windows 10 is looking great! I can't wait for the final build. It looks like Microsoft really is going to have a polished OS for release.

One other change I noticed is the active window now has a very thin border that's the color of the system theme. I haven't decided if I like it or not yet but depending on the color it might be more or less noticeable (I use red and it really stands out)

Good catch. It's more subtle when your highlight matches your desktop colour but I like it.

Waiting for its ISO release as I downloaded 10130 but showed me error while installing :(

waiting on ISO as Windows Update won't find this one.

The problem is most likely due to a previous update (KB3070677) not being installed. I had this problem, as I'd been trying to install 677 for about a week, but it always aborted after the restart and reboot. The solution is to download the 10130 build ISO, go the folder where you saved it and right click on the file and select Mount. Then upgrade 10130 via the 10130 ISO (yeah, I know this sounds dumb). In the early stages of the update process you will be prompted with the option to download and install recent updates and you should allow it to do that. From there, proceed with installation of 10130 over 10130. When it is completed, you can check to see that update 677 was installed (Control Panel -> Programs and Features -> View Installed Updates). Next you should go to Update and check that you're still in the Fast Ring. If not, change it to Fast Ring and then check for the new build. It should be there and you should be able to install it. Good luck...

@Dweil, thank you so much for the in depth suggestion. Unfortunately, 677 is already installed successfully.

i use windows 10 on an old laptop(ready to collapse). the biggest problem i had was when i shut down the device. the software was off but the laptop was on, i had to unplug to turn the device off. But with the latest build my problem was fixed :) well done Microsoft :D

Is it an HP? Because I have seen that issue with several HPs that were build for Windows 7 or Windows 8 and when they upgrade to 8.1 or 10 they won't shut down properly. I think it is a problem with the HP UEFI and not Windows.

already using it, noted that in some cases, the Edge browser or the Store shows no text at all, also in the browsers sometimes not even the incons apear. everything else is really nice, with no errors whatsoever.

realized that the text problem desappeared when i increased the size of the text, apps and other elements in the settings menu.

Is anybody using this on hp stream 7?

First-gen Dell Venue 8 Pro here, working (almost) flawlessly. Make sure to run Disk Cleanup (including system files) to free up space after every install.

I'm just curious. Could you post a video of it running? I can't find any videos of it running on small tablet... well none in English anyway.

Venue 8 Pro? Hmm.. How did you get the preview on that? I have all available Windows Updates on my Venue 8 Pro, yet I still have no "Get Windows 10" on my taskbar, nor do I have an option to try out the preview.

Edge better have no lag when opening/closing tabs anymore. If that is still present on launch, it'll definitely fail

Wow, why does the Edge logo look so bad on the taskbar? It's like too dark of a blue or something. It's hard to see and just looks off. It would look better white, like the Store shortcut.

Ik reminds me of Windows 95 xD Posted via the Windows Central App for Android

A paler blue or white would be better I agree

The only thing I want is to install apps to Sd.... Posted via the Windows Central App for Android

CTRL C and CTRL V them into your SD card.... Unless you're talking about the horrible "Metro apps"? I have no idea, I don't use them.

Everything you need to know is that it still sucks on a tablet. Tablet mode is garbage compared to Windows 8.1.

Really? By 'Nope' do you mean they've finally sorted it in this build so it works as well as Win8? How so? Tell us, as many are keen to hear of such developments!

In tablet mode, I would like to have pinned app folders like in WP. So that, the fullscreen Start becomes more 'immersive' ie desktop-less.

I hate it. Still. All Apps is a joke compared to Windows 8.1. They will NEVER get this right. Hamburger menus are hideous no matter what they try. And Settings? You have to go on a search-and-destroy mission just to find settings for any given app/program. On Windows 8 it was always on the Charm. Windows 10 is still ridiculously slow on a machine that I ran Windows 8 VERY smoothly on. It takes ten minutes to boot to a usable state now. It certainly didn't help my opinion that, after 10158 loaded, I had to go back and reaccomplish all of my settings to make apps run in what laughlingly passes as immersive and the Start Menu to emulate a Start Screen. This is just bad, very, very, bad.

What do you think if taskbar acts like a charm tab. Swipe in and there you go. Like virtual navigation bar in some WP. From tablet mode POV, Insider Preview is still a long journey.

Yes they need to bring back the charms bar in Tablet mode to replace the disjointed Notifications Tab ?

Please no. You are in the minority on that one. Charms bar was ugly, awkward and most people just didn't get it.

Mail and calendar are both still horribly unstable for me - both apps will often crash immediately after starting, and when they do finally start up they don't stay open for long. Everything else with the OS seems pretty solid.

I had to refresh my SP3 to fix that problem. Every universal app had stopped opening for me.

What do you mean by "refresh your SP3'' as in nuke the whole install?

This is version is far superior than 10130.. I didn't think the quality and the amount of bugs in 10130 that MS would make the 29th release date. This version completely changed my mind.

Not so much. There have been a lot of sound problems with this build, more than 10130.

10158 - still does not show my start menu "metro" type icons...grrrr

I have a suggestion, please demo the start scree with 30-50 or even more pinned apps, sure with less apps it looks good in tablet mode, my main complaint was it dind't look good as much it looks with fewer apps.

Did you that theme from this build or personal pictures?

The right click/context menus and buttons on Win32 apps have been restyled to closer match universal apps in this new build

Gabe just said there's a new build coming today Build 10159.

Yeah, the music icon is a bit off. Not a big deal though it might take me sometime to get used to it. This icon is also present in the Windows 10 for phone build 10149. At first, I got lost where's my Music. I didn't know that's the one.

I dont like the new auto colors. They are too bright... The older ones were more exact.

THIS is the polish I've been waiting for! Very beautiful build Posted via the Windows Central App for Android

Hate the new (old!) progress bar, everything is going up and the progress bar the only one that going right.

3d tiles are back?, strange, i dont have them, i have the 2d tiles form the previous build.. maybe theres still some AB testing going on

Loving the Icons in the Task Bar

Still can't forgive Microsoft for the horrible desktop icons.

UI looks awesome but still did not like the start menu...it looks like windows 8.1 again ( that sharp edge) ....also title bar doesnt have the tranceprecy.

My Dell Inspiron 3420 is on Build 10130 and Fast Ring but Can't update to Build 10158 and Windows keep saying device is up to date. Please help

New build out today. Coming together nicely.

the current theme(style) for the desktop mode is very similar to windows 7. nd it looks out dated would like to see the new setting type theme applied to the desktop mode, the right click menu, the title bar. the icons for music folder nd file explorer folder nd may other desktop icons are old in design sense i.e., similar to windows7, it would be nice if the style of d windows 10 settings is applied to all the icons, this will definitely give the whole desktop mode a next-gen feel. since i dont use insider program on my laptop, people who like my idea could bring it to microsoft's notice.. will help improve the overall look of the operating system in the long run.. Cheers!

Lol "wrapping things app"

Easter egg :-P The writing got long and sometimes things like that happens... BTY, the post is not fixed. Thanks,

And after 10 years and several build of Win10, MS still thinks weeknumbers in the Date/Time flyout is a waste of time to add...... :-\

Definitely more responsive. Not just the start menu, but also Edge. Still waiting for the ability to make the start menu narrower.

I have eror to update 10159: 0x80246017 :(

Earlier i was facing the issue where i was unable to update to latest build from 10130, windows keep saying device is up to date.Same was resolved by modifiing some register values. Check this out this might help : http://www.neowin.net/news/failing-to-update-to-the-latest-builds-of-windows-10-here-are-5-fixes-to-your-problem

Windows 10 looks amazing and all but, for me, I find it quite annoying that Control Panel is still being implemented into Windows 10 despite the Settings app. Don't you think end users will be confused with the hassle of going back and forth, on both apps, just to find a particular setting? I hope they just use the Settings app in the coming weeks, as, first of all, the design fits in with the rest of the OS and users wont have to be confused on which "settings app" to use.

Of course they will. They will be confused, just like users were confused when W8 first came out, and there was the difference between "apps" and regular programs. MS needs to learn that nobody likes their stupid "apps", including the new, simplified "Settings". I really want my Control Panel back, along with my traditional Windows Updates options....

I'm still waiting on the option to change Windows Updates settings...... I'll be pretty pissed if MS doesn't give us that option by RTM.

This post is probably where I got the most useful information for my research. Also I would like to share one of the best recent article with u http://www.lifehack.org/articles/productivity/12-real-reasons-some-people-never-seem-have-enough-time.html

Free learning polish on Skype class... polish as a second language is a nice choice to be learned.. Great tutor available and provided me nice sessions for polish learning courses over Skype and learned a lot from him resulting in improved polish language... The program available on Skype is completely good for improving and learning polish language... Must try this here to learn polish... http://preply.com/en/polish-by-skype

This build has been relased. I'm insider and i turned on Fast Ring Preview Build. Why Windows Update doesn't update me?? It just have Definition Update.
Windows Central Newsletter
Get the best of Windows Central in in your inbox, every day!
Thank you for signing up to Windows Central. You will receive a verification email shortly.
There was a problem. Please refresh the page and try again.