Windows 10 build 10158: Everything you need to know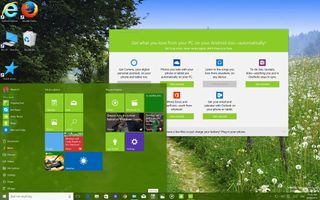 On June 29th, Microsoft decided to roll out yet another preview of Windows 10. This time was the turn for build 10158, and after just moments of using it, you can already feel that Microsoft is getting the operating system ready for primetime.
Microsoft is trying to get the new operating system ready for the July 29th release, and it's delivering on that promise.
Windows 10 build 10158 is one of the best previews Insiders have received. The new build looks and feels more complete, and there is a number of changes and improvements over previous builds. Perhaps the most important news is that build 10158 doesn't contain any known issues, which is fantastic.
In recent days, we have seen a few leaks of Windows 10 unveiling a number of changes and some if not all of those changes, can be found in Windows 10 build 10158. As we have been doing with previous official builds, today we're going to see everything Microsoft is including since the last official build (10130).
Below, you will find all the changes included in Windows 10 build 10158:
Start menu
As always, we're going to start digging the changes on the Start menu. In Windows 10 build 10158, the software maker is adding a few tweaks and changes. For example, the most noticeable improvement is how responsive the Start menu is. I don't have to hit the Start button multiple times and wait for the menu to open anymore.
Microsoft is also including new icons for places above Power options, so there are no more happy faces (placeholders) anymore. You'll see the icon for Downloads, Documents, Personal Folders, Videos, Music, etc. Also, "All apps" has a new icon as well.
Note: You can always change folders that appear on Start by going to the Start personalization settings on the Settings app.
As we have seen previously on leaks version of the operating system, the "New" label that pops up next to the "All apps" button, now takes the color from the theme. Also, the 3D flip Live Tile animation, which we have seen in previous builds is back for good.
In addition, Live Tiles now have smaller icons and there are new icons for Calendar, Mail, Music, Movie & TV, Photos, Search, Get Started, Store, Camera, Contact Support, and for the Alarms & Clock app.
Inside of "All apps", now you can highlight and press the letters to jump to the list of apps under a letter, and there is a new animation too.
Taskbar
Build 10158 also includes some changes happening on the taskbar. Now, users will see big white icons for certain apps without a tile background. Users will see this behavior more for the majority of the Microsoft apps, but it's likely that app developers will follow this design as well.
Also, the taskbar now shows a different color tone. It's darker than the color tone you see in the Start menu and flyouts.
When an app needs attention, it will flash orange with a new animation. When downloading or moving files, the progress animation has been changed back to green and to the horizontal loading animation.
(Image courtesy of Microsoft)
As we have previously seen, Jumplist menus have been updated. Now, you will see a dark background to separate different actions, and keeping a darker background for "Pinned" and "Frequent" items.
On touch-enabled devices, the System tray shows an updated keyboard icon, and the show/hide icons button has also been updated.
Officially in Windows 10 build 10158, Date & Time features transparency, blur, and it takes the color from Windows theme. Clicking the Date & time link will now direct you to the Date & Time settings.
Action Center
The Action Center looks fantastic in build 10158, as it has received some bug fixes and refinements, It now looks complete. There are also new icons, a third row of quick-access buttons. There is also now a "Note" button to open OneNote, and new icons for Quiet hours, Tablet mode, and Connect.
Tablet mode
Tablet mode hasn't been overlooked, this build shows a few improvements. In the new preview, users will see two new buttons on the bottom-left corner to access the "Power" options and "All apps".
Additionally, when clicking the hamburger button or "All apps" buttons brings up the left side, which also takes the color of the theme.
While in Continuum mode, users will see new animations. Microsoft says they've improved support for Windows 8.x apps and classic desktop apps. Users can also swipe from the left to open "All apps".
Cortana
In Windows 10 build 10158, Microsoft is making some tweaks to Cortana. In the new build, the left rail is no longer dark, and it takes the color scheme from Windows though Microsoft is also including a new dark theme for the assistant. The items in the left menu have been consolidated, and Cortana has a new animation when launching the app.
In addition, users will notice that the Microsoft digital assistant periodically will try to catch user's attention by jumping up and down in the search box asking questions, such as "What can I do for you?" or "Are you there?" This appears to be something Microsoft is trying to get people using Cortana as it's one of the biggest features in Windows 10. Now, the assistant will not do this every five minutes. Instead, it's programmed to offer its assistance at certain events like at start-up or resuming from sleep.
Another change is found in settings. Now on build 10158, you can configure Cortana to respond to "Hey Cortana" only with your voice. This is done by training Cortana to identify your voice.
So, the next time you're in Cortana's setting under "Hey Cortana", you'll see a new option called Respond best. By default, it's set to To anyone, but you can click the Learn my voice button, follow the training, and then you'll be able choose the To me option.
Furthermore, there is also a new Taskbar tidbits which you can enable or disable, to let Cortana pipe up from in certain occasions with thoughts and greetings in the Search box.
Microsoft is also enabling tracking flights, which now allows Cortana to keep you inform when you get emails about flights or packages information from supported providers.
In Windows 10 build 10158, you can also compose and send emails with Cortana. You can send emails to one or multiple people. To try out the feature, say something like "email Windows Central, this is an awesome build of Windows 10" and then say the message to want to submit.
Note: This feature works with an internet connection and it's limited to the United States for now.
Microsoft's digital assistant now has its Notebook on its final stage with a combined Profile and Settings experience. There a bunch of Notebook settings you can configure.
Settings
The new preview Microsoft has rolled out to Insiders also includes some changes for the Settings app. In Windows 10 build 10158, it seems that Microsoft won't have a few of previously seen features enabled at launch.
For example, on System, under the Storage options, you can't longer change the location to install new apps.
On Apps & features, you still can't move installed apps to an alternate location.
On Personalization, on the Start page, Microsoft is making some modifications and reducing the number of customization you can add to the Start menu. Now, you only see four options and link to choose what folder appear on Start.
On Accounts, on the Sign-in options, the Windows Hello option is no longer shown, but it doesn't mean that the feature isn't included. Perhaps it will only appear for devices with compatible hardware.
On Privacy, we can see that there is a new Background apps page. "Feedback" has also been renamed to Feedback and Diagnostics, and General no longer has options to show tips about Windows, which we have seen in previous builds.
Privacy also shows that the Other devices page has a number of new options. It includes: Sync with devices options, use trusted devices to let apps use your trusted devices such as Xbox One, TVs, projectors, etc., and External HDD, which is an option to let apps use external storage devices connected with the device.
On Update & security, under Advanced options, you can click to stop receiving builds, but it will not automatically stop the service. Instead, a pop-up will appear with an online link that includes the instructions to disable the device to receiving new builds.
Also, in the "Advanced options", Microsoft has removed the "Let Microsoft try features on this build".
Insiders can see a new animation while moving between setting pages, and you can pin settings to Start by right-clicking the page from the left pane and clicking "Pin to Start".
Desktop
One of the areas that still needs a lot of polish is the desktop environment. While the title bar on the File Explorer and Win32 apps now matches the same design you see in the Windows apps, it's still not consistent when you maximize File Explorer or desktop apps, as you can see in the image below. The close button shows different sizes when maximized or windowed.
In Windows 10 build 10158, the context menus now include bigger and thinner arrows and check marks.
The menus are still inconsistent throughout the operating system, as you can see the desktop menu and context menu on Start.
Officially in this build, the desktop context menu include updated icons for the "Display settings" and "Personalize".
Users will also notice new icons across the operating system and in the Control Panel.
Apps
Microsoft is now completing the Windows Store. In build 10158, the company is finally removing the "Beta" label and it's simply calling it "Store", and you can no longer access the old Store. Other than that, the actual Store hasn't changed much, but users will see that the Featured Apps section has been updated with a new carousel.
Insider Hub: Microsoft mentioned this previously, but moving forward, the "Insider Hub" app is no longer installed by default. Users are encouraged to enable and use the app with the following steps:
1- Open Settings > System > Apps & features.
2- Click Manage optional features then Add a feature.
3- Select the Insider Hub entry and click Install.
Phone Companion: Previously, Microsoft announced that they're releasing a new app called "Phone Companion" which lets users connect any Windows Phone, iOS, or Android phones to Windows 10, by helping users to install a number of apps, such as OneNote, Skype, Office, Outlook, Music, and Photos. And even Cortana, as you know Microsoft has officially announced its personal assistant will be arriving at Android and iOS devices.
We have seen the Phone Companion app in Windows 10 build 10147, which has recently leaked, but it did not work. In build 10158, the app works with the ability to set up your device.
It worth noting that if you have a Windows Phone, you don't have to do anything extra as all the features Microsoft wants you to connect are already part of Windows Phone. In order for everything to work properly, you will need to be signed in with your Microsoft Account.
While clicking Windows (phone) button, you'll also see a description of how you can connect with Windows 10. When you click the Android phone button, you will see a list of apps and services you can install to connect better your phone with the new operating system. At this moment, you can set up OneDrive, OneNote, Skype, Office, and Outlook, as Cortana and Music have the "Coming soon" label.
Keep in mind that this is not a syncing app. It's not like you have to plug in your phone to connect the device with Windows 10. You connect your phone with the Phone Companion app for few basic tasks, such as to access basic information about the phone, storage, and the ability to import photos and videos, and transfer files using File Explorer.
Photos app: In the new preview, there is an updated Photos app that brings performance and reliability improvements, and other changes like support for GIFs. There is also now an "Open with" option in the photo viewer.
Snipping too: Yes, the Snipping tool has been updated, and Microsoft has added a new delay option to take screenshots.
Microsoft Wi-Fi: This build also include a new app that is the rebranded Skype Wi-Fi app. It enables users to pay for Wi-Fi access in public wireless spots around the world. (For more information about the Microsoft Wi-Fi app, check this previous article.)
Microsoft Edge
The software giant has finally rebranded its web browser to Microsoft Edge. Microsoft warns that after upgrading you'll lose your favorites, cookies, history, and Reading list items you have saved on Project Spartan. Make sure to export all these data if you want to add them back after the upgrade.
Since the last official preview release, Microsoft is adding quite a few changes and features, including:
New dark theme and an option to add a "home" button to the address bar
On Settings, users have the option to import favorites/bookmarks from other web browsers. There is an option to change what appears when you launch Microsoft Edge. You can also customize the "New Tab" page, and you can choose which pages start with Edge.
Perhaps the most noticeable change is the addition of the password manager, which allows you to save login information from websites around the internet. (For information, check my previous write-up on Microsoft Edge.)
Microsoft is now allowing to play audio when Edge is minimized or in the background. You can drag and drop tabs to open new windows, but the experience still inconsistent, as dragging the tab back to the original window will not work correctly.
Wrapping things up
We can see today that Microsoft is adding a lot of changes to Windows 10 since the last official build (10130). Windows Insiders can download Windows 10 build 10158 via the Fast ring of updates now.
The majority of users will notice that this is a great build, more stable, packed with some changes, and more importantly now feels that it will be ready for the July 29th release.
Finally, in build 10158, Microsoft has fixed various issues to improve the battery life on Surface Pro 3, and it has fixed an issue that was preventing Surface 3 to upgrade using previous builds.
What do you think about the new changes? Tell us what you think in the comments below.
Get the Windows Central Newsletter
All the latest news, reviews, and guides for Windows and Xbox diehards.
Mauro Huculak is technical writer for WindowsCentral.com. His primary focus is to write comprehensive how-tos to help users get the most out of Windows 10 and its many related technologies. He has an IT background with professional certifications from Microsoft, Cisco, and CompTIA, and he's a recognized member of the Microsoft MVP community.