Windows 10 build 14257 now available for Fast ring Insiders — here's what's new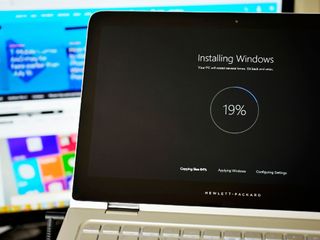 Microsoft has pushed out a fresh Windows 10 build for Insiders on the fast ring. The latest release moves up to build number 14257, and brings along a number of fixes and improvements. According to Windows Insider chief Gabriel Aul, the development team is preparing to begin a new development cycle for new features, and this build is mostly about laying the foundation for that work. With that in mind, here's a look at what's fixed in this build:
The issue of periodic app crashes or other memory related app errors due to a memory management change has been resolved. If you were having issues launching the Git client for Windows, you should now be able to launch it in this build.
The Connect button now shows up again in Action Center.
F12 Developer Tools will now load correctly Microsoft Edge.
We fixed an issue where suggested apps were being shown on the Start menu even though "Occasionally show suggestions in Start" was turned off under Settings > Personalization > Start.
We fixed an issue where if you try to change the Lock screen picture with "Get fun facts, tips, tricks and more on your lock screen" turned on it will revert back to the default.
We fixed an issue where the positions of desktop icons get jumbled up after switching DPI settings from 100% to 150% or 175%.
We also fixed an issue where pasting files into a new .zip file (compressed folder) in File Explorer by either right-clicking or Control-V would not work. You should be able to paste tiles into new .zip files just fine now.
And here's a rundown of the known issues tagging along in build 14257:
If you choose "Reset This PC" under Settings > Update & Security > Recovery – your PC will be in an unusable state. There is no workaround if your PC gets into this state and you will need to reinstall Windows. This issue will be fixed in the next build. You can still rollback to the previous build if for some reason this build doesn't work out for you. This bug also existed in Build 14251 so please avoid resetting your PC on these builds.
You might see a WSClient.dll error dialog after logging in. We're working on a fix for this but as a workaround, you can run the following in Command Prompt with administrative rights: schtasks /delete /TN "\Microsoft\Windows\WS\WSRefreshBannedAppsListTask" /F. This issue will be fixed in the next build.
The front-facing camera is unusable on PCs with Intel RealSense resulting in being unable to use Windows Hello or any other apps that utilize the front-facing camera.
After logging in to your PC, you may hit a UI issue in which Airplane Mode will incorrectly show as "on" even though your PC's Wi-Fi is powered on. This is due to a timing issue between how the UI communicates and waits for the underlying platform to respond. The UI for Airplane Mode essentially does not wait long enough for the device's physical radios to power on before reporting the current state. You can toggle the Airplane Mode on and off to get Airplane Mode back to showing the correct state.
Source: Microsoft
Dan Thorp-Lancaster is the Editor in Chief for Windows Central. He began working with Windows Central as a news writer in 2014 and is obsessed with tech of all sorts. You can follow Dan on Twitter @DthorpL and Instagram @heyitsdtl. Got a hot tip? Send it to daniel.thorp-lancaster@futurenet.com.
Wow, that was quick! My XPS 13 had already downloaded the whole package when I got the toast from Insider Hub.

yeah was just reading somewhere that it may be the next build and then checked wu and its available lol

Lol. The adware was a bug all along.

5 builds in and nothing interesting

There's plenty interesting. You just can't see it yet.

All the interesting stuff isn't visible.

Most things right now is under the hood. Features come at a later stage.

Basic stuff like real time mail app sync still not fixed. Mail app still now showing many attached documents, won't download them... just the flowing dots endlessly. Calendar still no drag to select, drag to move capability. The OS itself it pretty good, I'm sure the 'under the hood' stuff needs contant and tons of fixes, but for the every day user the basic necessary apps are far behind in funcionality. They need to knock email/calendar/PDF management out of the ball park before adding anything else to the Edge browser. Priorities are messed up. The PDF app that comes with w10 "Preview" is junk. Just bascially opens a PDF. Mac's Preview is a fully loaded PDF handler/editor from signatures, to rearranging, to adding and deleting pages, flattening, markup.. everything. With Windows if you want to do anything other than view a PDF you need to download and BUY a 3rd party app: Foxit, Adobe, etc.. The other free PDF solutions are all half a@@sed with many features missing. MS need to have concrete top of the linke CORE apps before working on the obscure stuff. I'll take workign email/calendar/pdf editing over Windows Hello, thank you very much.

I'm pretty sure there are different people working on all those things.

That's an early alpha, not even beta.
Adobe Reader is free.

Apps are updated fairly regularly and on their own, not a day goes by where I don't see Mail being updated...it is almost annoying but then again welcome. So rest assured, your fixes are coming, but for every fix there's a new bug to squash. =\

i think the problem comes down to "core" apps. what you consider core may not be the same as others. PDF is new to the idea of "core" apps. Windows didn't have one prior to 8. Now you want a full featured competitor to Adobe Acrobat. Windows probably has to play nice with Adobe to try and get them to push Windows over Mac to get into the creative industry. Core apps should never inlcude "everything you ever do on a computer other than games". In fact, I'd consider core apps to simply give you a core experience, not an extended one. Windows *wants* people to make mail apps and calendar apps etc. If they release one that is too good, you push away developers. The OS can't do *everything* especially when its in need of developers. This is probably just low hanging fruit to attract developers the more I think about it as I write this comment...

Gotta build the house before you paint it.

Some might say that the building should have been done before you sold the house.

Poor analogy to be honest. Software is ever evolving, and literally impossible to be bug free in something of this scope. It will never be finished, so therefore it would never be sold if you wait till it's done.

Aah... More issues than fixes...!

This is Fast ring. The Edge team have suggested nightly releases, so expect it to get even buggier (but for Slow ring to remain stable).

Don't use the fast ring if you don't want issues.

Then leave the insider preview.

Then stop testing it then if you're going to complain.
"Can I have a cheese burger?"
Gets handed a cheeseburger "They gave me a damn cheeseburger!!!##"

So "reset this pc" is actually a self destruct button lol

The button should be a red color! XD

Resetting is worse than how bad System Restore was on XP and Vista. Always caused more harm than than good, if it even worked...

The airplane mode bug is in 10586 too. Someone let me know if they can project to their One without issues with this build...

This. Saw the airplane mode issue today before the new build

yeah and they only noticed it now........ way to go!

Yup, it's been there since 10586...

What about the Games Crashing Bug, i ididnt download the last build because of this issue :(

That was fixed in the last build (14251)

Fallout 4 doesn't crash any longer for me when changing resolutions or windowed mode for this build for me........finally

This is the real fast ring, for hard core testers only!

"Hard core" testers are employed by Microsoft. Windows Insider is for unpaid beta testers.

I love MS they always listen to us and fix stuff. Posted via the Windows Central App for Android

Lol they managed to fix most of the stuff that they broke in last build... And introduced new bugs. On the other hand, the fact that so much is breaking per build is actually encouraging to me because that means they're going down to lower-level areas of the OS and improving it.

Anyone having explorer issues? My ui isn't refreshing. Things are very unstable.

I do :/ I believe that something is going on with how they manage explorer.exe to work because there are things related to it coming soon like the universal version.

I love how the guy using Android love Microsoft.

Finally a build that doesn't contain any broken stuff that would affect me much (11102 had the game crashing bug and 14251 had the memory errors/app crashing bug).


The advice given for the airplane mode was interesting, as I have found in the 14251 build, that this never worked for bluetooth, my physical indication, ie the illuminated symbol, stayed on no matter what I did with the tile, has this been fixed in 14257?

'Aul' you are good people.

That Airplane Mode issue has been present on my PC since RTM

There is actually NOTHING "NEW". only fixes and more problems. WHERE IS THE WORD "NEW" ????

Sounds like a useless build...

Is RSAT working again in this build?

Just an aside, Windows Phone is not dead. I've been using the OS for a year now and flippin love it. Ok it's got bugs and the store is nowhere near the app availability of iOs or android, but nevertheless keep it up, it will get better.

What's the point of releasing this? Those new bugs are huge.

Seriously? Don't use reset. Eh, its a bug, but honestly, if you're in the insider preview, you probably shouldn't be relying on that anyway (unless you're testing it). A message at login that you can get rid of with a command? Super terrible. The camera issue will only affect people with Intel RealSense cameras, not really sure how big that population is. And an icon that is out of sync with whether you are in airplane mode or not. That's aesthetic. Which ones do you consider huge and why?

Hopefully the Realtek/Intel SST no sound issue has been resolved. It's pretty annoying not having any doing from your tablet. Sound only works though Bluetooth, speakers and even the headphone jack does not work. And when I try to test the speakers, it says failed to playback.... Also when I use the sound troubleshooter it said that audio services failed. So far no workaround. Changing frequency does not work because you can't select an alternate and there is no Enhancements tab.

Go to devicemanager and under "sound, video and games" right click the Realtek High Definition Audio. From there you need to update the driver > driver from pc > choose from a list > select the standard Microsoft driver (High Definition Audio-device). After a reboot your sound should work! Bummer after booting and Windows Update installed the latest Realtek version, that can't be solved...but doing the stuff i descriped will fix it until Realtek will install again ;-)

Does this mean windows hello will not work on SP4 with this build due to the real sense camera bug?

Correct Posted via the Windows Central App for Android

Wait... I thought the SP4 *didn't* include a RealSense camera (hence the additional turn your head for security feature which I don't think realsense needs as it's 3D).

This build fixed issues with some of my apps being unusable/uninstallable

Edge render is not good... Outlook render improved .

Usually the release on the fast ring is world wide. But what now? I still don't see the build on my test computer and I have tried for two hours. Anyone else who have seen this as well?

The last issue is present in non preview build also. Airplane mode always falsely shows on when window starts up.

This is the 2nd insider build that did not work and required me to restore a backup to my drive. Windows button broken, cortana broken, grey screen after logging into windows the 2nd time.

my guess is you may have some file corruption that is causing the builds to fail to install. its possible you may never fix the issue until doing a clean install first. not positive, but its a possibility.

Hopefully this addresses a bug that forced me to roll back last week. Encountered an issue with Steam's EAC and how memory was being addressed. Thankfully the rollback to a prior build is super easy

Has MS announced anywhere what the major features that are to make it into "redstone" are to be? Specifically, is fixing Onedrive one of those features?

That airplane mode bug is NOT new to this build :/

WSClient.dll error was in the last two builds as well.

I tweeted the powershell to fix at Gabe, because I can't believe they're still pushing cmd utils instead of PowerShell.

That problem with Airplane Mode showing as on, I've been having that since Windows 10 Official Update from Microsoft. Crazy stuff.

This build sucks. computer hangs for about 10 seconds regularly whenever/whatever I am doing, e.g. using browser or looking through pdf file, or using Office.

Oh nice! Now if you take a screenshot by pressing the print screen button on your keyboard, it automatically saves the screenshot to OneDrive.

Takes a Long time to log in !!!

I found a new feature in Settings>Update & Secuirity> Backup, now you can backup details such as start menu,layout accounts and passwords to OneDrive

Why have I received this as an email alert today (5th May 2016)?!
Windows Central Newsletter
Get the best of Windows Central in in your inbox, every day!
Thank you for signing up to Windows Central. You will receive a verification email shortly.
There was a problem. Please refresh the page and try again.