Windows 10 build 14332 now available for Fast ring Insiders on PC and Mobile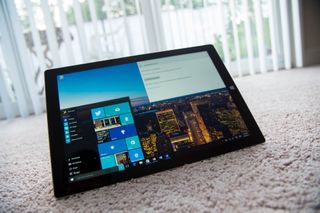 Hot on the heels of last week's big update for Windows 10 Insiders, Microsoft is pushing yet another new build to Fast ring users on both PC and Mobile. The latest release comes in at build number 14322, and also happens to kick off the special "Bug Bash" event through which Microsoft will be posting special quests to the Feedback Hub for Insiders to complete over the next four days.
Here's how Windows Insider chief Gabriel Aul describes the Bug Bash:
The quests will also be split into two categories: Limited Time and Advanced. As alluded to, Limited Time quests will only be available for 24 hours, while Advanced quests will be on the slightly more technical side. You'll be able to get started on the Bug Bash quests through the Feedback Hub once you've installed build 14332.
Dan Thorp-Lancaster is the former Editor-in-Chief of Windows Central. He began working with Windows Central, Android Central, and iMore as a news writer in 2014 and is obsessed with tech of all sorts. You can follow Dan on Twitter @DthorpL and Instagram @heyitsdtl.
Three builds in a week. Why does Microsoft hate Windows 10 Mobile so much???!!!1111!!!!!11!!!1!!1!1!!! Send from Bikini Bottom via my ShellPhone 950 XL

They only likely to release bugs.... No bug free OS for non insiders yet.... ~ Windows 10 on Nokia Lumia 730

Microsoft should stop releasing builds for Windows Phone 10, Windows Phone is DEEAAD, did you not read the news???????

Why are you being down voted? People never heard of sarcasm?

Over the course of years, I've come to terms with the fact that many fellow Windows Central members aren't very sharp. LOL. Posted from Bikini Bottom via my Pineapple PineBook XPS 13"

They were sharp but the insider bugs have ruined their IQ haha

As if MSFT should have name it Windows Bugsider, for them to fully understand what it means to be an insider. So much for this sharp IQ haha ,

Agha. E chagaizee . I have been a MSFT user since windows 98. Till today I would say nothing yet can touch MSFT products. I am using it on my old laptop 2007 model Lenovo N200-3000. On my Lumia 950xl dual sim and on hp Omni tab. I would say check me any android product e.g, some 4 years old. Running well on android Marshmellow? Perhaps none. I also am owning note5 but I believe next year it will be thrown on a shopkeepers' shelf for resale on half price. To, Janan mobile. Windows and apple means high fidelity android other than HTC and nexus means throwing money in gutters. I salute team MSFT.

Really!!! 10586.218 is pretty bug free. even the 14295.1004 is awsome when it comes to daily use.

Lol , stop joking, i think you don't use phone much, there is no single app which does not crash if you use it moderate to high, battery backup is just avg with moderate use, i disabled my second SIM and using only one because it drains like Hell when both are ON, I stay in city so do coverage for both SIMs, but still battery sucks, i stopped playing games much because of battery draining issue, but still watching videos.... A moderate use only gives 12hr charging..... Navg bar doesn't hide for lot of apps....
so on etc.... ~ Windows 10 on Nokia Lumia 730(10586.218)

Did firmware update and two times hard rest, still battery draining like hell ~ Windows 10 on Nokia Lumia 730

Yes, no use... Battery is draining even the phone is in idle mode, i sleep 6hrs daily night, it is to discharge 30% battery..... Word flow keyboard is utter waste, it takes some other words ~ Windows 10 on Nokia Lumia 730

Well... I agree with you on WordFlow.

Haha! Absolutely brilliant!

Waiting for the famous and usually incomplete whats fixed and whats broken article

I'm waiting on this too. I'd like to know the big things that are broken and hope some important things got fixed. The slow ring feels too safe. Haha....plus I want to SMS/text from my laptop.

thats already out on the 14328 builds for phone/pc

So you don't think anything got fixed between the builds?

Text from laptop is present on the .218 build too...just tried it yesterday...!!

For Messaging Everywhere to work, both have to be on 14328 or later... At the very least one of them has to be on 14328. What builds do you have on your PC & Phone?

Both, my phone awa my laptop have .218. I missed a cl on my phone. Cortana showed the notification on my pc. I replied through the notification in the action center on the pc. Received a cortana notification on my phone that the msg was sent to ******(number). Is this how messaging everywhere works...??

That's kinda how it works, but it shouldn't function on 10586.xxx builds (e.g. 218), read this article: http://www.windowscentral.com/messaging-everywhere-beta-windows-10

Well was a surprise to me too....!!
Rechecked os version on pc using the winver command. It showed .218

No, that was been partof win 10 for a while. Messaging everywhere means you also RECEIVE texts on your pc.

Just verified this.....works fine.

Dunno, will try it myself at some point I guess, makes little sense though.

Only works for missed calls though....didn't get any notification for msgs on pc

What I did was simply cortana sending a text for a missed call. Messaging everywhere is a different app itself which allows to compose msgs and syncs them on any device without any dependency on cortana.

Yup, sounds about right...

The bug bash is an awesome idea. Windows Central for Windows 10-Microsoft Lumia 640

Phone is downloading, no sign of PC yet. Anyone else?

Phone just finished installing, PC still preparing to install. Posted from Bikini Bottom via my Pineapple PineBook XPS 13"

i have the same problem, the previous build took 6 days to show up on pc where as phone recieves emediatly. there is also no fix to make new builds show up in update, its really frustating

WoW, the Fast just got Faster, keep it coming MSFT. BUG BASH is a great idea. lets make the Aniversary Update a Superhit!!

Still not showing for phone or PC. Will try back again in the morning. These things are always staggered.

Still waiting for Lumia Icon updates :(

This of Verizon you're talking about.... It isn't going to happen dude! Posted via Windows Central app for Windows 10!
Proudly rocking my Lumia 1520!

There are fairly easy methods to receive these updates on your Icon

How come 14332 won't successfully install in my 1520? It downloads alright but the install stops with the error 0x70080002!!!

Sorry, it's error 0x80070002

sadly my poor 1320 had never received an update since build 10586. I think it will never be updated ever. Sigh

This is the old partition, originlly windows 7 ...but still...the 14322 has been 'preparing to instal' for 60 min, and event monitoe is full of the installer reading all the files on the drive but writing almost nothing...

I got 0x80070002 after installing it on my Lumia 830
Is there any solution??

I get the same error lumia 1520 Posted via the Windows Central App for Android

Anyone know a fix for it? Posted via the Windows Central App for Android

lumia 830 after download of 14332, reboots it says latest update not successfully installed then gives me error code.. WTF? screw it I will stay with 14328 build

Ultima actualizare Reston nu a rezolvat redarea video facute cu camera,pilpiie in continuare daca atingi ecranul s=au butonul de volum.

videoclipurile facute cu camera pilpiie si dupa ultima actualizare Reston

updated my 940xl with no issue. If finally fixed an app that was showing pending for the last few builds. No issues yet, but have not used it a lot yet. I had a couple of crashes with the last update, but it was otherwise pretty stable. so will see how this version goes over the next several days. So far battery performance has been good today.

When will be available on the Slow ring? :(
I want it, but I can't install updates from Fast ring because when I try the update fails and I get a ":-(" face after the rolling gears and I need to recover my phone with the WDRT. :( ~Sent via Windows Central app from Bikini bottom via my ShellPhone 735 W10M Slow Ring

I hit check for updates on my PC but it doesn't show these updates, it didn't show the 14328 build either, I am stuck in build 14316, can someone help me?

I am confused and maybe someone can help me out. I just signed up for the Insider Program, went to settings, advance settings and then set the slider to "fast". Rebooted, shut down, and the way I understood it was that it would then show up as an update when "check for new updates"--but I get nothing . Am I doing something wrong?

Everytime fails to download

I'm using Lumia 720 and unable to download fast ring preview .....I used it before bt now unable to download plz help me
Windows Central Newsletter
Thank you for signing up to Windows Central. You will receive a verification email shortly.
There was a problem. Please refresh the page and try again.