Windows 10 Build 14393.105 available for Release Preview on PC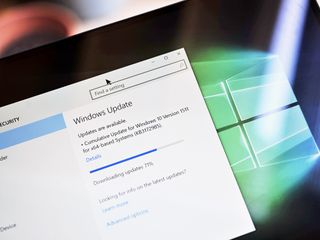 A small cumulative update is now available for those on Release Preview of the Insider program. Windows 10 Build 14393.105 is the new update following the re-installation of KB3176938. We say re-installation only because KB3176938 also delivered 14393.103 on August 25 to the same Release Preview and Slow Rings.
Downloading KB3176938 will require a system restart to update your PC to 14393.105. No changelog is posted as of yet.
Right now, we see the update rolling out only for PC, but we would not be surprised if Mobile takes effect at some point. We'll keep checking and update this post if any new information comes in about Mobile or changes.
To be clear, this is simply a cumulative update (fixes and patches) to the existing Anniversary Update branch and not Windows 10 Redstone 2. All PCs and Mobile phones will get a similar update once Microsoft signs off on testing and feedback from Insiders likely next Tuesday or the week after.
Daniel Rubino is the Executive Editor of Windows Central, head reviewer, podcast co-host, and analyst. He has been covering Microsoft here since 2007, back when this site was called WMExperts (and later Windows Phone Central). His interests include Windows, Microsoft Surface, laptops, next-gen computing, and arguing with people on the internet.
Thanks for letting us know.

Everyday update never final version

Windows as a service.....

You can easily stop that everyday update by not being an insider.

Everyday? Never will be a final version...Windows as a service.

Then if stopped you'd be asking will it ever be updated??? Such stupid statements. If only more intelligent people followed the Windows OS.

You use software that stops getting updates? That is called: Abandonware

Is there a way to uninstall the last Mobile fast ring build? I wasn't planning on 2 weeks on this flawed build. I apologize for going off topic, but I would appreciate feedback.

You need too use the recovery tool and factory reset. If you weren't planning on running flawed builds, why are you on fast ring?

I have no problem running flawed builds as I have been on the fast ring for a very long time, but we usually don't wait this long for a new release. When the announcement came from MS that we will be getting 2 major releases next year and that the previews will be coming often, I believed them. My bad.

You forgot Gabe's time with almost 2 months without release..

Before RS2 started rollout they said that mobile builds initially would be slower.

Mobile build please (smile)

Old news. Got it 4 hours ago. Only on PC so far.

Old news? This was posted over 3 hours ago...you're just late. Unless being ahead by 30 minutes now is the new fad of calling things "old".

Lol, had to chuckle with Dan's response. The OP reminds me how a child views time, "Are we there yet?" Or how my mom can't understand the 8 hour time difference between us works.

I got the same build on mobile on 23 aug (release preview)

All I know is that I got it at 545pm. And I didn't see anything posted about it until almost 9. That is what I meant by old news. I went looking and didn't see anything. I also didn't see anything posted about the shload of Office Updates, Office Lens, Realarm, OneDrive.

Well I hope you used those hours to do good with your "early" update powers.....

Dude, you're not the epicenter of updates.... I'm sure I got my drivers license before you, so the day you got yours was??? You guess it. Old news.... The day you lost your virginity??? Old news....

Haha freakin Rod Posted via the Windows Central App for Android (LG V10 or Nexus 5x)

Daniel, I appreciate windows central for posting great stuffs about windows for keeping us up to date. I have one suggestion though can you post some great breaking news and tutorials through xda developer forums and keeping it simple and understandable? I know the posts on xda forums are hard to understand by normal consumer or users, but if possible can windows central post those news simplify to be understandable by normal users ?

No, the stuff they do over at xda is in no way understandable by normal humans no matter how hard they try.

If you can't understand the stuff on XDA, you shouldn't be doing it. That's like asking how to do brain surgery in an easily understandable way for the average person.

1. Take your scalpel.
2. Using even pressure... oh wait, did we do the anaesthetic bit yet?

I hope this fixes the domain security breakage that happened with 14393.103.

Thanks for the update! That's all I need :)

Finally - they fixed the seriously broken .103 - Settings options were totally misplaced on .103 (incredible that it could make it through all testing rings with such broken UI - I thought it was just in my language, but changed to English and it was the same there) - this update, however, is running very well, and much faster!

Does it fix #webcamgate and kindle??

Webcamgate? People are seriously using that still? Five years later?

I just want an update on phones that fixes Hey Cortana.

Redstone 2 is good on mobile yet many things went wrong on PC that's why everyone's waiting on a new build to come out i guess not that we are inpatient just we all hoping for thing that weren't broken until RS2 to be working ok again. Like for instance all the settings and the start menu. That aside RS2 runs fast and we just cant wait for those said things to be fixed.

There is a fix for the settings though. You have to find and download the .dll called lockdownutil (something like that) and paste it in to your system32 folder. Makes it a little more bear able.

Ahhh thank you for this help full information Giddora

No problem. The file is missing in the Home SKU, but if you have a computer running Pro you can find the file there. ☺

My pc is updated by this build but now pc speaker not producing any sound!
Now what to do
Although sound card is upgraded by this build

I got windows mobile 14393.103 last week on 23 aug

I had to opt out of the insider program as any update never finishes installing. It gets to 45% and hangs. I even rebuilt with the anniversary update but no change. At least the updates for non-insiders are posted so you can manually update. Not so for insider builds. Anyone else have this issue?

Anna, I'm assuming PC? When it hangs that long just force a restart and see if that works. One of my PC's did that and restarting (after 30 mins of hanging) fixed it. My other PC did not; also clean install. I started removing hardware and found it was my graphics card causing it to hang. It would be nice if MS gave some type of status display other than % of completion of what it's working on so we know where the issue is stuck at.

Installed this on a couple of my PCs and they now feel sticky one on a SSD and others on normal HDDs and the OS now seems a bit sluggish so I guess I will be updating them back to RS2 as at least RS2 felt very fast and responsive compared to what they are now.

Try to restart the PC few times..2 or 3 times. After this update my OS got slow, but it was OK after i restarted twice.

I finally joined the insiders program on mobile. Getting the .103 build now. I suppose the .105 will be along soon. I was kinda chicken tho as im on release preview. Anyway i cam now brag that I'm an insider.
Windows Central Newsletter
Get the best of Windows Central in in your inbox, every day!
Thank you for signing up to Windows Central. You will receive a verification email shortly.
There was a problem. Please refresh the page and try again.