Windows 10 build 15058 now rolling out to Fast ring Insiders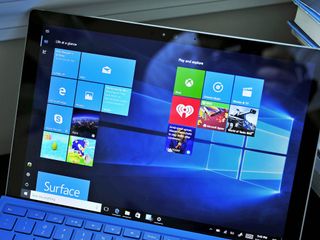 Another fresh Windows 10 Insider Preview build is now rolling out to PC Insiders on the Fast ring as development on the Creators Update continues to wrap up. Clocking in at build 15058, this latest release sports a similar theme we've seen in other recent releases, containing a spate of bug fixes and tweaks but no new features. That said, here's a look at what's new in build 15058.
What's New for PC
We fixed the issue causing a number of inbox apps to fail to launch (such as Store) and preventing any app updates from the Store from installing.
We fixed another issue causing some UWP apps would unexpectedly appear with their app package name in the title bar as opposed to the app name.
We fixed an issue where going to fullscreen or maximizing Microsoft Edge when Microsoft Edge's window was snapped to a size smaller than half the screen would trigger back navigation.
We fixed an issue resulting in the mouse pointer staying visible when watching a video fullscreen in Microsoft Edge.
We fixed a crash Insiders may have sometimes experienced in recent builds when accessing the Wi-Fi Settings page via Settings > Network & Internet > Wi-Fi.
We fixed an issue where the desktop session sometimes crashed for Insiders after locking if the PC was set to lock on sleep. After this happened, trying to unlock the computer could result either seeing an unexpected "Can't log in: The number of connections to this computer is limited and all connections are in use" error on the login screen, or a successful login only to find all open apps had been closed.
We fixed an issue where renaming an encrypted PDF would reset the default PDF reader if it was not currently set to Microsoft Edge.
We have improved video playback quality on the target device when using Miracast to wirelessly connect from a high DPI PC to another high DPI device.
Known Issues for PC
Some PCs may fail to update to Build 15002 and higher due to SYSTEM_PTE_MISUSE error.
Some apps and games may crash due to a misconfiguration of advertising ID that happened in a prior build. Specifically, this issue affects new user accounts that were created on Build 15031. The misconfiguration can continue to persist after upgrading to later builds. The ACL on the registry key incorrectly denies access to the user and you can delete the following registry key to get out of this state: HKCU\Software\Microsoft\Windows\CurrentVersion\AdvertisingInfo
There is a bug where if you need to restart your PC due to a pending update like with the latest Surface firmware updates, the restart reminder dialog doesn't pop up. You should check Settings > Update & security > Windows Update to see if a restart is required. [GAMING] Certain hardware configurations may cause the broadcast live review window in the Game bar to flash Green while you are Broadcasting. This does not affect the quality of your broadcast and is only visible to the Broadcaster.
Issues may occur when exploring pages using the F12 Developer Tools in Microsoft Edge with cross-origin iframes (e.g. the DOM explorer shows only the iframe DOM, the Console frame selector doesn't list the iframes, etc.).
Surface Pro 3 and Surface 3 devices will fail to update to new builds if a SD memory card is inserted. To take a new build, remove the SD memory card. You can re-insert the SD memory card after the latest build is installed.
Windows Central Newsletter
Get the best of Windows Central in your inbox, every day!
Dan Thorp-Lancaster is the former Editor-in-Chief of Windows Central. He began working with Windows Central, Android Central, and iMore as a news writer in 2014 and is obsessed with tech of all sorts. You can follow Dan on Twitter @DthorpL and Instagram @heyitsdtl.
yep. donna said so on twitter.

More fixes needed on Edge. For example: I can't type in comments on windowscentral. :/
I had to open Chrome to type this.

I'm screaming it from a mountain top.

That's a known issue with Windows Central, nothing to do with Edge otherwise other sites would be affected as well. You could use an ad blocker but the best way is to use the app.

Nothing for Mobile as usual

This isnt released software. If your not happy then disconnect from the Insiders builds

It got released today to the fast ring what are you talking about 😂

ya this is for PC's but mobile is different. So stop complaining

They usually roll together

And yet, you say "nothing for mobile as usual" make up your mind 😁

I'd like to complain about your complaint about his complaining.

They released a new production mobile build today dude.

This article not about the production ring it's about the fast ring and only the fast ring pc got a build not Mobile that's what I'm complaining about

How convenient. You just forgot how Mobile got a build last time but not PC...

And how many times have there been pc builds but no Mobile?

Mobile has gotten a few fast ring lately. One the other day!

Dona said, that now only PCs get a new build, mobiles will follow afterwards 😉

I'm looking for mobile first over my Surface Pro 2 as well but I know how this works and mobile will always come after. Creators Update will be released a few weeks officially before mobile and possibly XBox so it makes sense that PC should and would have the Insider Updates rolled out first to help squash the bugs before release

Does it matter.
Who needs their downdates.
They'll just continue relentless and remove another feature... Apps corner, kids corner, WiFi sense etc... Bing apps, MSN, FM radio... I can't remember the last time an update came through with new features.
I'm tired of these downdates.

15051 for Mobile got released 4 days ago, my phone needs breathing space, besides 4 days is not enough to gauge new bugs introduced. Need to chill out a bit.

Love mobile support, Microsoft...

I'm seeing a trend of selective memory loss in these comments...

That's right! I had totally forgotten.

After 80% I get an error, so I can't upgrade to the new build :/

Im having the same issue, at 80% the update is cancelled

Have you gotten past this? I have the same problem.

After mobile build 15055 apps were no longer updating in Store like, Maps, Mail, Calendar and Store, and came back with error 0x80070002. Groove app was not finding music on device or OneDrive , feedback hub was not opening... Had to do a hard reset to original Lumia 950XL software. Keep away from insider builds now... Again this is for mobile not PC.
Thanks

You can rest most of those app in setting/app

Why keep away? You suppose use those buggy build and report the bug. Not running away. What the point joining beta tester @ insider if you just want bug free build.

I don't have such store problem in my 950

Not experiencing problem's like yours. Working pretty good here.

Known issue list isn't to bad, but some still serious bugs. Let's hope by release date the list is zero.

Looks pretty minimal to me. They'll definitely be on time.

Maybe minimal,but they have the habit of introducing last minute bugs.

My ex-girlfriend's cootch did the same thing. Didn't stop me, though, seeing bugs crawling out of the cavern.

Last build made the phone unstable for me back to random reboots. Hope a new update comes out soon. PC seemed ok apart from issue with the store getting stuck.

Hopefully Dynamic Lock will start to work. I haven't been lucky as of now.

That surface 3/pro 3 bug has been around for awhile wonder why they haven't fixed it yet wiped my sp3 because of it and it turned out to be the sd card wasn't fun.

It's never fun to wipe with an SD card, especially a Micro-SD. Use a dollar bill next time.

Nothing shows up for my 950XL yet. But apparently this is a non-mobile build according to other sources? Oops! Never mind. It is only for PC. My bad. <crawls into dark corner>

ha don't do that still a nice week to go.

And im seeing a lack of developer support

Is that why your ta-ta's are sagging down past your hips?

I'm tempted to get my daily drive Pro 4 on the fast ring but I'm not certain.

Mine is, all good up to and including this build 15058

I can understand being tempted by CRACK or something as tasty, but by a daily drive Pro 4? Get out from behind that computer screen already..

Not even going to bother booting up the test laptop for this build. Waiting until one gets released side-by-side with a current ISO.

What about otg support
When it comes to windows phone

It' already in the OS. But only 950, 950XL and HP's Flagship can do it (alcatel's as well, i'm not sure). It's disabled in lower tier phones.

For mobile, there is no OTG support for devices that require USB Audio Class 2 if that's what your after. upvote all the requests for it on Insiders Feedback Hub.

Anyone else seeing their download stuck on 78% or is it just me?

I think it's just you seeing your download stuck there unless someone is in the room with you

I fixed it by running the Windows Update troubleshooter (Settings > Update & security > Troubleshoot).

Did the person in the room with you recommend that?

Everyone forgets that there would not be too much features in RS1 and RS2 on windows mobile 10, as it was mentioned by Microsoft at the begin Sorry for my bad English

Please MS, don't release Creator's update on PC without enabling the ability to edit the name of the live tile folders. It will create another UX inconsistency for Windows 10. Yes, it could be patched up later on but it needs to be available right out of the gate.

It's a crying shame they can't hear what you are saying, but I guess that's because they aren't listening.

No watermark, this is a release candidate build

The watermark has been gone for a few builds now.

no, the one before 15058 has the watermark on it.

I'm currently running 15042, and it has no watermark. There have been several builds since then. If some or all of them have the watermark, they must have added it back, for some reason.

Not gone, it's been all over my girlfriend's face every night after I get through with her.

Waiting for next mobile build with fixed store bug...

I'm waiting for a girl with huge honkers and no vocal cords.

This update has the #RTMFeels in it :D Hoping for a candidate release soon!

The election is over. The candidates are through working for a while, they're only releasing gas these days.

updates are great :D love them!!!

So why do you still have those glasses from 1997 then?