Windows 10 build 15063 rolling out for Insiders on PC and Mobile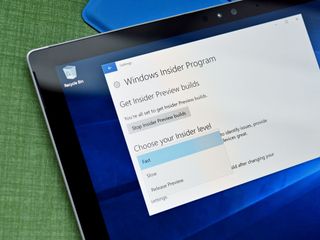 (Image credit: Windows Central)
Microsoft is rolling out yet another new Windows 10 build for Insiders in the Fast ring today, featuring yet more bug fixes and under the hood improvements.
What's improved for PC?
We fixed a reliability issue from Build 15061 resulting in Microsoft Edge hanging and becoming completely unresponsive.
We fixed an issue for Insiders where the localized files and registry keys associated with any additional language packs on the system would not be installed after enabling .NET Framework 3.5.
What's improved for Mobile?
We fixed the bug causing a number of inbox apps to fail to launch (such as Store) and also preventing any app updates from the Store from working. Thank you all for sending us feedback around this.
We fixed the bug causing background tasks to not run in the background like they should such as OneDrive's camera roll sync feature. Background tasks should be working again as expected and your camera roll will sync to OneDrive again.
We fixed the issue where in some cases you may lose your call, text, and email history may be lost if your device experiences an unexpected reboot.
Speech Packs should download and install normally.
We fixed an issue for Insiders with certain cars resulting in connection failures after pairing Bluetooth.
We fixed an issue where replacing the default APN for LTE on the phone wouldn't work.
Zac Bowden is a Senior Editor at Windows Central. Bringing you exclusive coverage into the world of Windows 10 on PCs, tablets, phones, and more. Also an avid collector of rare Microsoft prototype devices! Keep in touch on Twitter: @zacbowden.
Awesome, small list means little bugs, right?

Not really. They don't always *divulge* all the info... For example that annoying Automatic brightness reduction in x50 phones was fixed in the Creators update but they never openly said it.

Landscape mode on the start screen?..... Maybe next time, or next time, or next time, or the time after that.

They will not implement it because iphone doesn't have thus feature

iPhone does have that feature

I think the time after the time after that is very much probable.

May be on Redstone 23.. #Windows4Ever

Thank god there won't be Redstone build after 4

There are plans for Redstone 7 already

Landscape mode will come 10 years from the day Joe Belfiore left Microsoft on his vacation!

That is one of the features that I never get. I'd prefer that they implement landscape typing in all apps. As for the start screen, never had a need for it myself. Incidentally, I didn't down vote, as I know some people do want it. Just never had a need.

With Tiles, and especially on larger devices, I just makes sense. So much sense that I naturally find myself trying to use it that way... It would make for a more fluent OS experience, because you wouldn't have to orientate the phone nearly as much.. So, you're in an app that has Landscape mode, and you hit the start button. You have to flip the phone around to navigate the start menu properly, where if the start screen had landscape mode you could leave your hand in one position. Everyone is different, and some don't notice how much they are flipping the phone back, and fourth. It's not a huge inconvenience, and really a first world problem, but it's inefficient, and would be an easy way for MS to make their OS that much more fluent.
.....
Another thing that needs to be implemented is pen support... I use my Surface, and phone, at the same time. The pen becomes so natural to me on the Surface that without thinking I move from my Surface to my phone, and start trying to navigate the phone with the Surface pen, just be reminded it doesn't work. We really need this on upcoming mobile hardware.

Fair points.wish the damned update would download. My phone can't even see it..... Hmmm.

Don't download this build!!!!!! Causes blue screen o death.

Encryption is not your friend when on insider builds..

I'm encrypted, no issues. Not saying there aren't any -- clearly there are -- but encryption is not something to steer clear of in the Insider Programme.

Can you explain how it helps? Don't think it can save you from G/BSOD. Or did you mean from recovery?

I didn't say it helped. I said it doesn't necessarily cause the screen of death in most cases.

Yes! I'm excited for this on my w10m!

"Assuming direct control"

It would be nice if one of these mobile builds would restore Outlook notifications. They've been gone for something like the past 4 updates! Bloody hell!

Try a hard reset. But be careful regarding encryption ON. I did an update on a L535 on 14393.693 to .953 and it showed the BitLocker recovery key issue.
This build has some crazy issues and resetting might cause problems. This can happen with the Insider builds too.

Mobile was on 15055 and desktop on 15061. Hardly a big difference.

Don't mind him. He's always complaining that Mobile gets no love.

What's supposed to be the timeframe for a "consumer" release of the update for mobile?

Well, the desktop release is supposedly in early to mid-April, and apparently the Mobile and Xbox release shouldn't be far behind. I'm guessing mid to late April for us consumers?

Any knows if this solves the issue of apps like Skype for Business, LinkedIn and MS Teams from hanging at startup?

What's new on windows 10 creators update for windows phone pls explain in list thanx :)

Windows 10 Mobile RS2: 1. New stock sounds
2. Stock apps can be uninstalled
3. Remove words from the Dictionary
4. Edge 15 – Book support, better HTML standards
5. Settings app: new Apps section, more Icons for a few settings, a few things moved here and there, some new options
6. You can reset Apps now, in case they misbehave
7. New Bluetooth GAAT profile
8. Glance Screen can be turned off during charging
9. You can lock the phone when using Continuum
10. Windows Hello – the animation is shorter
11. Cortana knows a few new tricks
12. UUP for faster updates downloads and installations
13. OS is up to 20% faster on CPUs such as SD808/810/820
14. 3rd party Alarm apps now break through Quiet Hours

Thanks for this description.

Can't forget the new share icon

Thats the most ground breaking feature from MS in a long time

Well,,,, it does make more sense, and look better, than the old one........

The Windows Hello animation isn't actually changed in the Creators Update.

improvements in wifi too and start screen is more responsive than RS1

Wooioooooooooooo. Ignore that "i" in the middle. I'm too lazy to fix it.

But not too lazy to write a whole sentence after that?

Hopefully they have fixed blank screen issue of lock screen and green flickering issue while playing a video in edge or skype chat

Just installed on my Lumia Icon. Now was able to update apps like people, photos, store, etc., so far so good. Keeping fingers crossed.

I still have Bluetooth issues on mobile... Is it just me?

What kind of issues? Maybe you should ask this question in the Forums.

I haven't done this new release, but I've certainly had issues with BTon moble ever since getting W10. Lumia 950. Have to toggle BT on and off often several times to get a conneciton to my Skoda Yeti or my Bose 35's. A real pain. By comparison when on W8.1 on 1020 it was seamless. I was just about to leap back into insider build given this report, but now I'm not so keen having dseen your post. Used to be an avid fast ring insider, but got a bit burmed and sick of hard rests. Just on slow now.

Mobile folks: What apps work with this build, that didn't work on earlier 15000-level builds?

Everything works fine. Now you can uninstall default apps too

Great improvements! Enough to make me wanna switch to Fast Ring, although the Slow ring isn't THAT slow lately...

Really hope those spontaneous reboots get fixed... it's extremely annoying. 950XL

Be careful. Updating to 15063 bricked my Lumia 950. The update went flawlessly, until I was prompted that Windows Insider needed to be reconfigured, which required a reboot. Upon that 2nd reboot, my device no longer booted. It would display the MS logo, but then a blue screen. No text, just a blue screen. After a min or two, it would automatically reboot. I needed to recover using the WDRT. Now I'm needing to rebuild it back.

Got the same message on my Lumia 830, but no blue screen. Sorry to hear that it didn't work for you bud. EDIT: Just saw the messages associating your issue to Bitlocker. Damn :-(

Exactly what just happened to me on my 950xl. So annoyed

I was having really bad reboot issues. I even hard reset and still had same problems. Turned out my battery was dying. Ever since I got a replacement battery my L950 has been sold.

Where did you get a replacement battery?? My battery life has been REALLY poor and I don't think the blame is 100% on living the "Fast Ring" Life! :)

So you think my issues will be solved replacing the battery? It still does the random rebooting. When it reboots, it drops battery percentage significantly.

Also,how did you discover you had a battery issue?

Windows 10 mobile users, be careful. Updating to 15063 bricked my Lumia 950. The update went flawlessly, until I was prompted that Windows Insider needed to be reconfigured, which required a reboot. Upon that 2nd reboot, my device no longer booted. It would display the MS logo, but then a blue screen. No text, just a blue screen. After a min or two, it would automatically reboot. I needed to recover using the WDRT. Now I'm needing to rebuild it back.

U have enabled device encryption option from settings thats why you are facing blue screen bit locker key error. Only wdrt can fix it. :(

Well, Device Encryption has not been an issue with every RS2 update I have applied, and I have been on the Fast Ring well before RS1. And Device Encryption (aka BitLocker) was enabled, as it is a corp policy.

I have faced this blue screen error while encryption was enabled. Now its ok after couple of builds on fast ring.

My Lumia 735 got bricked 6 months ago because I had encryption on. Never again...

Got the same damn thing and its 11pm, too late to WDRT it. Wondering why it prompted to restart to use insider as in already on it.

Because there is new option in insider i.e release preview

Same for me. Never happened before today. I am just seeing the BSOD. I am installing WDRT now. I hope this works. Yuck! -Rich

Speech packs was a good fix.The install of new speech packs had been prevented for months... This enables me to finally do a Hard Reset without a Restore on my phone, because I know that I will be able to download the other languages I need afterwards. Maybe I'll just wait another couple of builds.... Store App, Outlook, OneNote being able to successfully update again is a good fix too. Will look to see if WhatsApp performance/behavior improves... Fellow with the BlueTooth Issue.... I had that fixed back in 15058...

This is the last week folks. Who else thinks either this or 15065 is RTM?

😥 🤤 😭 Error 0x80070273 in my Lumia 1520. Previous 15051 in slow ring also end up in same error. Any solution?

Soft reset. Check Insider settings. Tap on your account. Reselect your account. Go back to Check for Updates. It should work now.

No I tried that already. Soft reset many times and checked. Unlinked insider account and relinked. Right now in Slow 15047. There is no option to opt out from insider like 1607 builds. I don't want to go with hard resetting.

WDRT!!! I had to do it on my icon when upgrading to 15051 last week...

After skipping 2 builds, I think I 'll get this one.

Edge bug still not fixed. Same bug reported 4 times now... The video playback flicking one.

If you're going to say edge has a bug at least mention what bug you're referring too!

Yes green flickering bug in skype video call and edge browser video playback still exist.. Even on insta too

The problem of some apps loading without opening should be ironed out through these builds, we just can't keep rolling back to 8.1 due to an app or two.

Don't restart if it prompts you too to be on insider build cause you'll be looking at a nice blue screen till it shuts off.

I did and no blue screen for me please check your device encryption settings and turn it off

You can't check once the blue screen comes on. Its in a reboot cycle and not possible unless you use WDRT.

Those who are having problems with wdrt or stucked in a restart cycles
Follow the steps:
1) download your lumia firmware from
Lumiafirmware.com
2)download windows internal tool
http://www.wpinternals.net/index.php/downloads
3)Run the windows internal tool and put your .ffu file in flash section.
Now it will detect your phone and flash it successfully.

Kinal, do I just need to download the FFu file? I am not even sure which variant of the 950 I own. I don't have the original box with me. I think it may be this one - Phone model: Lumia 950 Dual SIM PackageTitle: RM-1118 GLOBAL BLACK SWAP
Product Code: 059X4F5
manufacturerHardwareModel: RM-1118 I guess I should verify which variant first? -Rich

Download your country variant it contains your language as default

OK, inside my L950 I can se the code - 059X5G2 - RM-1118 VAR NAM 4R CV Do I download just this file? RM1118_1078.0053.10586.13169.15358.034F06_retail_prod_signed.ffu -Rich

Yes thats the one for you

Ok, I have the ffu file anf now the WPInternals.exe cannot connect to my L950. I have tried a soft reset while the phone is still plugged in. -Rich

ok, now run windows internal.exe and select flash option and then select (flash orignal FFU) then select the ffu file and connect your phone via USB restart it and then click on flasf ffu image buttton

still if you have any problem then go to manual mode in phone catagory and boot it into FLASH mode. then try further steps i mentioned below

you can also backup your main OS partition so that you can flash your phone easily to the current latest build :) enjoy bro

This software is better than wdrt in many ways

my phone is stuck on the red screen with the 2 arrows that make a box. I got everything else ready but it doesn't recognize the phone. when I do a reboot it doesn't make it to the first windows logo.

Oh your phone is stuck on flash mode. Try to connect to windows internal tool and reboot to the normal mode.

I can't if it doesn't give the pc enough time to recognize it. this phone is...fawked and no way to have it stay on long enough to get recognized. Off to att device repair center I go tomorrow.

It is somewhat tricky. You have to press flash button as soon as your phone gets recognized. Thus trick work on my lumia 540

I'd done it before but it's just not working on this phone. I don't have time to mess with it any more cause I use it for work. I gotta use my tablet for now. But I have all that other set up if something goes wrong again.

Beware this build. My 950xl worked fine. My desktop got BSOD and could not be recovered. Cannot boot into Normal Mode desktop. BSOD after password is entered. Was able to boot to safe mode with networking. But cannot go back to previous build, nor refresh. Says missing those. Attempting to uninstall software and programs to get past boot crashing. Edit: After disabling all non-MS items in msconfig and startup items under task manager, I was able to boot to Normal Mode. Attempting to do new build again.

Pretty excited about this one. For mobile I mean, they seem to have fixed a few persisting annoying problems such as bluetooth, speech and deleting histories and texts (HORRIBLE!) Hope it's true! Installing.

AVOID ON LUMIA 950!!!!!!!!!!!!!!!! BLUE SCREEN after update........****

Dont turn on device encryption

Updates went fine on our 1020, 640, 650, PC and Laptop. No issues. Except that I cannot get Dynamic Lock to work.

Oh you still have a 1020 on W10M? I got a 1020. (not using it) I would like to try w10m on it. :)

No issues after updating my 950. Hoping battery life is close to normal with this build.

Button resetting doesn't even work. Anybody able to fix the blue screen problem? Now I'm super fùckin passed.

Still think i should install on my 950 xl??

Dunno man, 3 or so of us 950's already took the hit.

Was waiting for this one, the Store was bugging me a bit.
On a side note, has anyone noticed when switching apps Windows Central be like "I volunteer as a tribute" and is the first one to get dumped from memory, like 90% of the time

You can change that by using interop tools to increase your page file from 256mb to 1024mb. Somehow Microsoft has it 256mb for all devices. (even a 3GB RAM phone has 256mb pagefile :/)

I've already done that, I can even switch to Facebook relatively fast if it's already open in the background but for some reason WC just gives up way too fast :D I think the issue might be with WC rather than the OS though

How do you do that?. I really want to do it on my phone. 950

I got the info from this forum post - http://forums.windowscentral.com/windows-10-mobile-how-guides/452772-3.h... You might need some googling too

Has anyone Backup then Restored? at least with L950 14939.953 does NOT backup any VPN accesspoints created. THIS needs to be fixed: all VPN accesspoint that user has created needs to be restored as well.. FeedBack hub > yep..

Store problem fixed! Language packs problem fixed! But sadly 3 important problem stay same. 1) After taking photo you can't open picture through the camera app. When you click thumbnail pic, black screen comes first. This is very annoying and long time problem. Please fix this issue Microsoft. 2) Notification and Actions page loads very slow. You can't scroll down at first 5-6 seconds. 3) Apps like WhatsApp, Facebook and Messenger opens very slow. Many time loading or resuming warning comes. This 3 major problem is very important. Please fix them for the next update.

Those 3 apps are not UWP apps and optimized for windows 10

This Mobile build 15063 Causing BSOD on Lumia 640 after restart and then keeps restarting, but working just fine on Lumia 640 XL LTE. Please post it so more users can avoid this situation.

Worked fine our 640. And 650 and 1020. No issues.

This is absoutely unacceptable from Microsoft at this stage, Insider Preview or not, to release an update that bricks our phones. 950XL; the phone recovery tool does not work, soft and hard resets do not work. There had better be a fix for this or I'll be driving to Redmond to get a new phone.

Unacceptable why? You knew the risks of going Insider. You were warned about not doing this on a daily driver. You were well aware of the possibility of having to format your device, or having it brick on you. And if you didn't, well, too bad. This is development software, for testing only. If production level software has bugs, imagine software that's actively being worked on.

Thanks for the pep talk Hannibal Lecture. I have several test phones that I use, but that doesn't negate the fact that Microsoft's internal testing ring is lacking on many levels and obviously doesn't review and publish critical (and obviously crippling) settings before they push the releases out to the Fast Ring. It's hard to test phones for them and provide feedback when they send out code that destroys a $500 phone's ROM. That's what I find unacceptable.

Now I'm going to receive hell of downvotes. This will be reaction to your post but also it is going to be meant generally. I'm tired of neverending excusses that this is Insider program and blabla. You know that one of coming soon builds will get status RTM? It is going to happen from this branch. Not from some other magical, hidden, not bugged. And at this point, one or two weeks before final release, it is definitely unacceptable to release a build which will cause phone brick. They should be now at stage, fixing some minor bugs like icon is not showing, some UI glitches and so on. Bugs like unable to boot, phone brick, unable to download updates and so on are totally unacceptable at stage one week before final release. Even it is Insider program, there must be point that all serious bugs are fixed. And not always excussing, that "This is Insider program that's okay". No, its not okay. And please don't start telling me, like, you know what it is to write OS and so on. I know that. This is not their first OS build ever. Just remember back, when 7 was developed. There wasn't such thing like Insider program. I'm big fan of MS and their technologies, but I hate the company leaders, and compay leadership generally last 5+ years. Their thinking is that we will release middling software and since we are in internet era, we will provide update few weeks/months later. But often this is not going happen. I hate nowdays managers. They are making too big pressure on programmers, by giving unrealistic deadlines and number of features that thay have to implement. And that will produce halfbaken softwares, which will be fixed later. This is the main idea of managers, "Will be fixed later".

Updated my 950 and got the request to reboot due to new insider settings. Now I can also select Release Preview - so this seem to be the final release. Works like a charm, really snappy. Whatsapp and Telegram (re)start instantly. Good job MS and the direction is absolutely right!!!!!!!

You wouldn't be doing your happy dance if your encryption setting had been enabled.

On my 950 and working fine so far. I've done the BSOD before and it scared the crap outa me. But it all had to do with device encryption issue. Fixed with WDRT.

WDRT doesn't work this time unless you know something we don't, some incantation perhaps?

Not sure if it will work for you but try removing the device drivers for your phone from your PC. This allowed my PC to see my 950XL and allow WDRT to work and reset the phone for me.

I got it to work for my by doing a soft reset on the phone whilst connected to WDRT on the pc. When it restarted it saw the phone and downloaded the software. Then I had to do the same when it was time to install it

Just got the dreaded "We need to restart your phone before . . .". Not sure what to do now.😒

Good luck, I've had none so far and have tried everything.

If you don't have encryption turned on, you shouldn't worry, I got the same message, just restarted the phone and was back to using in in less than a minute

Watermark status on PC: Absent This looks like it might be the RTM build.

Also you have the option of Release preview insider, only the production releases have that option

Evertything fine on my L950XL. Except that the Insiders setting request this reboot. Didn't touch it yet. Anybody did this on a L950XL without problem? (No encryption here)

950XL with Device Encryption ON, SD encryption OFF.
No problem, even after confirming Insiders.

Alright, I'll give it a shot.... tonight.

Still blank screen bug exist while unlocking phone ...please do something for it MS its really annoying
Let me know if anyone still have this random blank screen bug.

Had this on production, yet to see it on the current slow ring build.

RTM is by the corner: after install, we are now asked to confirm the ring we want to stay/be in : FR/SR or RP. This wasn't possible on Fast Ring for a very long time.

If it's giving the Release preview option then it 99.9% must be rtm

So wich option is the best now?

According to Sarkar and others, the guy was talking out his ass. It isn't on Release preview. However it does add that option. Don't get too excited. RTM for mobile is a ways off. Which is fine. Because there are obviously still some issues that need addressed.

Seeing Release Preview is a little suggestive though, don't you think? Is this fast ring build good as a DD? Only need browsing search calls and texts, emails to work 100%.

Yes lots of minor bugs and glitches are there

Yes its suitable as a Daily Driver? Maybe ill upgrade my 1520 and Test drive it with that.