Windows 10 build 17035 now available for Insiders in the Fast ring with new features
A new Insider Preview build with new changes and features is rolling out to Insiders now. Here's what's new!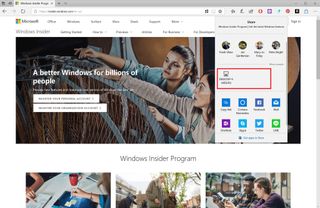 Microsoft is rolling out a brand new Insider Preview build of Windows 10 to Insiders in the Fast and Skip Ahead ring today that introduces a plethora of new changes, features and enhancements over the last preview builds.
Today's build is 17035 and is rolling out now. No build for Mobile today, which isn't much of a surprise. Let's dive into what's new in the PC build.
What's new in build 17035?
Microsoft Edge
Mute-a-Tab! This build introduces a new experience for muting a tab playing audio. The audio icon that displays when a tab is playing media is now clickable and will mute the audio streams that tab is playing when clicked. The tabs audio will unmute when clicked again. This feature is also available from the context menu via the right click action on the tab.
Save free EPUB books: If you're reading a free EPUB book from the web in Microsoft Edge and want to save it, you can now do that.
New context menu options for books: For your convenience, we've added a few new options when you right-click books in the Book pane, including View in Microsoft Store, Pin to Start, and Refresh books. Remove from here has been renamed Remove from device.
Windows Shell
Near Share: Say you're in a meeting with your boss and need to quickly send them the report you're looking at on your screen? Or you and a sibling are hanging out on the couch using your laptops, and you want to send him a screenshot of your latest Minecraft creation? You can now wirelessly share files and URLs to nearby PCs using the new Near Share feature.
Touch Keyboard with Acrylic: With this build we've updated the touch keyboard to now have an acrylic background. This change is reflected in all keyboard layouts hosted in the XAML touch keyboard, including the wide layout, the one-handed layout, and the handwriting panel.
Streamlined text insertion: In this release, we've added some slick new animations and changed the button layout of the handwriting panel based on your feedback. Ink some words in the panel and watch them appear in your selected text field!
Use a gesture to create more space between words: Draw a "split" gesture between two words in the handwriting panel by drawing a vertical line between them. More space will be created where you drew the line so that you can write more in the newly-created space.
We're introducing the ability to see text suggestions while typing on a hardware keyboard. You can see three text suggestions near caret while typing and choose candidates in text suggestions if you find a word you want to insert. Set focus to the first suggestion by tapping the up arrow key on your keyboard and using the left/right arrow keys to change focus. To select the desired candidate, tap space or enter.
Settings
Windows Update Improvements: You can now limit the download bandwidth that is used in foreground downloads. Foreground downloads take place when you interactively start a download, for example – you click on "Check for updates" or start downloading an App from Windows Store.
Sound Settings are moving to Settings: You can now change some of your common sound settings, such as switching devices and troubleshooting, in Settings > System > Sound. Head on over for a preview of how sound settings are moving out of the legacy Control Panel and into the Settings app. We still have some things to add and fix on this page, so stay tuned!
Updated Ease of Access Settings: This build adds additional Ease of Access settings to further round out the revamping of settings which flighted for the first time with Build 17025. New sections on Display, Audio, Speech Recognition and Eye control (beta) have been added to group related settings. (NOTE: Eye control settings are not yet in this flight but coming soon.)
General fixes
ATTENTION DEVELOPERS: We fixed an issue from the previous flight where launching an app with a debugger attached caused it hang at the splash screen. Debugging UWPs now works again.
When the default location is set on your home or office PC, Cortana now knows to show you location-based reminders in the area on your PC. Your default location can be set in the Maps app.
We've updated Cortana Collections to now support light theme.
We're making some changes to the Data Usage settings page under Settings > Network & Internet — you'll notice some differences in this build. Not everything is working so stay tuned for an announcement in a later flight when everything is up and running.
We fixed an issue where some Store download errors were unexpectedly displaying on the Windows Update history page.
We've updated the Action Center to now use Fluent Design's Reveal. You'll also notice we've updated "Clear all" to now say "Clear all notifications" to improve discoverability.
We fixed an issue where it wasn't possible to swipe to clear notifications from the Action Center in the last few flights.
We fixed an issue where dismissing an alarm notification above lock resulting in the alarm sound continuing to play despite being dismissed.
We fixed an issue where after uninstalling an app, its pinned tile might still exist on the Start Menu.
We fixed an issue where after connecting via Remote Desktop the first local launch of Start menu would show Start briefly clipped to the top half before animating in the bottom.
We fixed an issue where after upgrading the Start Menu might contain multiple listings of apps with only the name "NoUIEntryPoints-DesignMode" and a grey tile.
We fixed an issue where it wasn't possible to rename files in File Explorer when using the Small Icons view.
We fixed an issue where using the File Picker from a UWP app would show an error saying "multiple selections aren't allowed" when attempting to pick multiple images from a phone connected to the PC via USB.
We fixed an issue resulting in "Occasionally show suggestions in Start" being reset after upgrading.
We fixed an issue resulting in a drop in Start menu reliability in the last two flights.
We fixed an issue where notifications with progress bars wouldn't update while the Action Center was open.
We fixed an issue where valid characters in the touch keyboard were unexpectedly disabled in password fields for certain keyboards.
We fixed an issue where you couldn't switch to alpha mode when using the touch keyboard using a third party Japanese IME since the key wasn't available.
We fixed an issue where the input indicator state wouldn't be preserved across reboot if set to something other than the default value.
We fixed an issue resulting in the touch keyboard coming up unexpectedly after setting focus to Start when in tablet mode.
We fixed an issue resulting in ink strokes in OneNote sometimes unexpectedly changing thickness after interacting with buttons in the app.
We fixed an issue resulting in the touch keyboard not coming up in certain text fields with the keyboard docked in tablet mode.
We fixed an issue where words would sometimes get duplicated when using the handwriting panel in certain apps.
We fixed an issue resulting in screen flickering in the last flight after bringing up the game bar, volume slider or other on-screen UI when playing fullscreen DirectX9 games.
We fixed an issue resulting in Forza Horizon 3 unexpectedly failing to run with an "unsupported graphics card" error on some laptop configurations.
We fixed an issue where pressing Shift + Del while editing the URL of a favorite would delete the favorite entry instead of performing a Cut action.
We fixed an issue from the previous flight where changes made to About:flags in Microsoft Edge wouldn't persist.
As always, you can check out the official Windows Blog for the complete changelog.
Get the Windows Central Newsletter
All the latest news, reviews, and guides for Windows and Xbox diehards.