Windows 10 build 17063 is now rolling out to Insiders in the Fast ring
Build 17063 is now rolling out to Insiders in the Fast ring. Here's all the noteworthy new changes!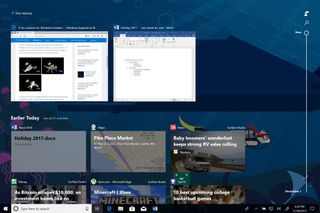 After almost a month of no new builds, Microsoft has finally released a brand new Insider Preview build for Insiders in the Fast and Skip Ahead rings. Today's build is 17063, and is a big one featuring a whole batch of new features, enhancements and changes. Let's take a look
What's new?
Windows Shell
Timeline is here! We know that it can be difficult to get back to stuff you were working on in the past. If you're like us, you might sometimes forget which site or app you were using or where you saved a file. Now you can finally close apps without worrying—with Timeline, you can get right back to where you left off. In Timeline, a user activity is the combination of a specific app and a specific piece of content you were working on at a specific time. Each activity links right back to a webpage, document, article, playlist, or task, saving you time when you want to resume that activity later.
In addition to resuming past activities through Timeline, your personal digital assistant Cortana will suggest activities you might want to resume to help you stay productive as you switch between your phone, laptop, and other Cortana-enabled devices. This experience is powered by the same activities that appear in Timeline.
Starting with today's build, Sets will be available to Insiders however because it is being introduced as a controlled study, not all Insiders will see Sets. For more on this – see my blog post here.
Bring on the Fluent! Today, Start and Action Center support acrylic to align with Fluent design principles. And now we're bringing the next wave of Shell UI to the party by applying acrylic to the taskbar, Share UI, Clock & Calendar flyout, Network flyout, Volume flyout, and Input flyout.
Save notification drafts: Notifications are inherently transient – one thing we've heard from you is how it can be frustrating to have started writing a response into a notification (such as one from Skype), only to have the response disappear if you didn't submit it before the notification went away. Well, no more! If a toast gets dismissed with unsubmitted text, we will now save the draft; open the action center and your text will now be saved with the notification.
Cloud states for the Navigation Pane: In an effort to further keep you informed about the state of your OneDrive files and folders on demand, we're looking at adding a state icon to use in File Explorer's Navigation Pane.
Improving your update experience: In an effort to keep you informed about the state of your PC, if Windows Update Settings shows a warning or alert, we will now echo that via a new Windows Update system tray icon. If you right click the icon, you will see options relevant to the current state, such as restart, schedule the restart, or go to Windows Update settings. If visible, this icon can be turned off from within Taskbar Settings.
Microsoft Edge
Fluent updates in Microsoft Edge: Microsoft Edge now supports an updated Dark theme, with darker blacks, and much better contrast with all colors, text, and icons. This addresses many accessibility contrast issues, making the Microsoft Edge UI easy to navigate and more visually pleasing. As well, Microsoft Edge now supports Reveal on our navigation buttons, action buttons, buttons in the tab bar, as well as on lists throughout Microsoft Edge (such as in the HUB: Favorites, Reading, History, Downloads), making navigating Edge UI even easier. We've heard your feedback and have also updated the Acrylic in the tab bar and in-active tabs, allowing more color to show through.
Offline web sites and push notifications: Microsoft Edge now supports Service Workers and the Push and Cache APIs. These new web standards allow web pages to send push notifications to your Action Center or refresh data in the background, even when the browser is closed. In addition, certain web pages can now work offline or improve performance, by using locally cached data when the cache is up to date, or when your device has a poor connection.
Web Media Extensions Package: This build installs the Web Media Extensions package for Microsoft Edge, which extends Microsoft Edge and Windows 10 to support open-source formats (OGG Vorbis and Theora) commonly found on the web.
Gesture Improvements for Precision Touch Pads: This build introduces a new gesture experience for Precision Touch Pads (found on Surface and other modern Windows 10 devices). You can now use gestures like pinch and zoom, or two-finger panning, to achieve the same interactions on web sites that you can do with a touch screen today.
Cortana
Cortana's Notebook has a new look: Notebook has undergone a UX transformation to be more responsive to Cortana's evolving capabilities and allow users to easily complete their tasks.
Account entry point in the navigation menu: To improve discoverability and consistency, we're moving the account entry point out of Cortana's Notebook and into the navigation menu (that's the side bar that contains elements like Home, Notebook, and Collections).
Lists and Collections – better together! Cortana Collections have been merged with Lists, so you get personalized suggestions and help with List creation – all in a rich, attractive interface. Cortana helps you track your To-Do's and manage Grocery lists. She also suggests items of interest – restaurants to try out, recipes to make, books to read, movies & shows to watch, things to shop for – and makes it easy to add them to your lists.
Cortana loves music: You can now use Cortana to control music playback on more of your favorite music apps (EN-US only). Starting with this build, we are enabling natural language compatibility for Spotify just like the Harman Kardon Invoke! This will work on both, above the lock screen (PC is locked) as well as below!
Settings
Settings gets a new look: You've already seen we say "bring on the Fluent!" in other areas of Shell, and Settings is no different. With today's build you'll find not only have we refreshed the Settings UI leveraging Fluent Design principles, but we've also taken a look at the Settings homepage and redesigned it with an eye for visual acuity. As you explore the plethora of new and improved settings below, take a moment to get a feel for the updated design as a whole and let us know what you think.
Security questions for local accounts: With the Fall Creators Update, we started working on self help solutions for password recovery from the Lock screen. Today, we're adding this functionality to local accounts as well, through the newly available use of security questions for local accounts.
View your display info in one convenient location: Beginning with Build 17060, you can now view detailed information about your display by visiting the new "Advanced display settings" page linked at the bottom of Settings > System > Display.
Improving your scaling experience: In this flight we've made it easier for you to fix apps that become blurry if you dock/undock, RDP, or change display settings. Some desktop apps can become blurry in these scenarios. When this happens, you have to log out and back in to Windows to have these apps render properly. In this flight, you can turn on a feature that will enable these apps to be fixed simply by re-launching them.
A new Keyboard Settings page: We're introducing a new Keyboard Settings experience on PC! Now found under the Time & Language Settings, you'll be able to easily add new keyboard layouts, switch between Japanese 106/109 and English 101/102 keyboard layouts, turn on and off settings like key sounds and autocorrect, and other advanced keyboard-related settings.
A new and improved Region & Language Settings page: As part of our ongoing effort to converge Settings and Control Panel, as well as improve Settings usability, you'll find with today's build that we have reimagined the Region & Language Settings.
Set data settings to prefer cellular usage: In Cellular Settings you can now choose to use cellular instead of Wi-Fi always or when Wi-Fi is poor. This updated Windows feature allows people with fast LTE connections and large/unlimited data plans to favor cellular whenever available and avoid being stuck on poor Wi-Fi connections.
That's all the biggest, noteworthy changes in this build. You can check out the full changelog at the Windows Blog!
Zac Bowden is a Senior Editor at Windows Central. Bringing you exclusive coverage into the world of Windows 10 on PCs, tablets, phones, and more. Also an avid collector of rare Microsoft prototype devices! Keep in touch on Twitter: @zacbowden.
Lots of new stuff, no wonder it's taken a month

Everything is fine except UI changes in EDGE. Settings UI & People UI can be updated in the same way as Cortana. That box along with depth effect in Cortana's Notebook section is brilliant.

Timeline not working for me. Have the new icon, can scroll backwards and forwards but no 'now' or any earlier information despite being on for 24 hours.

Such a shame. Really nice feature. Hope it works for you soon. Just a day in and I've really taken to it. Got home from work yesterday evening opened my Surface and boom there was my PowerPoint presentation I'd been working on in the office in my history. Perfect.

When will Edge recieve new tab page by choice exactly? Also why scroll wheel click on forward/back/refresh/home buttons doesn't work? How about indicators of search occurencies on the scrollbar in a page like Chrome and video/gif playback controls and slider?

I just want Cortana's Home to have useful info in it again... It's annoying to have to pick up my phone when I'm at my desk to look at my Cortana Home feed.

You do know that the "I've got more for you..." is clickable or you can just scroll and the Home Feed will show up?

Lots of changes. Will microsoft consider expanding the timeline limit beyond 30 days? Zack, what would be your impression how much of this windows UI is more consistent in design? Care to share it in the form of a guestimate percentage of total OS? I think the expression of color of a deeper black is an interesting one. Can black be blacker than itself? I now there are different shades of grey, but black? And what does this mean in relevant terms of everyday use. Can every monitor actually show a deeper black? As far as I know the "deepest blacks" only apply to OLED monitors. Would still like to see more user control of customization. It's currently quite limited to packages: you either choose fluent or don't, you either choose light or dark mode, you can choose one system color or you don't, you can choose a theme or not, You can only customize tiles in groups, not individual. Customization of live tiles is limited to only a few parameters, not a full gamut. And PC's are "PERSONAL computers" are they not? Timeline is interesting: is seems like a mixture of windows scheduler, -TRUE- actionable live tiles, set aside tabs in Edge, tabbed browsing in Edge, browsing history and task switcher in one. I could be the start of seeing the classic start menu and live tiles disappear if people gravitate towards this UI. It would only need a universal search bar at the top and the UI is done. App list could be as easy as a swipe from the bottom, like in windows 8.

Looks great, but why a Cortana Lists app, and not the Microsoft To-Do app itself, I ask?! Why won't they develop the To-Do app with Cortana integration, and make it the the facto Microsoft task solution? After all, it's being developed by the Wunderlist team, Wunderlist wich still has a Cortana link to this day! Seriously, why can't Microsoft see such obvious things..

Is there any news about People Hub getting more useful?

Check out the Windows Blog in the link

Unfortunately, nothing of use was added. These features are useless.

Well Cap'n Killjoy What are features of use in your obstinate opinion?

Not useful for YOU, don't speak for everyone!!!!

Mmmm...internet connection no longer working after the update. Trying some troubleshooting steps but nothing is fixing it so far... EDIT: Uninstalled network adapter and reinstalled it. It works now.

I like the update overall, but miss the 1 pixel border highlighting effect in the Start menu under 17046. It's still present almost everywhere else, but was cut in the start menu...

Loads of cool new stuff. ❤️🙌🏾

Did a clean install and i got sets on my build. Super buggy and not liking how when sets enable all uwp apps launches with a set tabs.

Not sure about these new features. I will have to try them out. I haven't been able to download insider previews since account linking was broken. The more fluent design added, the uglier everything becomes. Cortana's Notebook looks nice though.

You can turn it them off ( acrylic, reveal) in settings ( personalization/ color)

Not a fast ring insider here but would say this would have a lot of bugs. It was a big work and big progress to modernise Windows.

Looks like icons only option for the favourites bar disappeared, rendering Edge unusable. It has to be done manually, and I'm not going to edit it with every new build.

2018 is the official year of Windows 10, after this one is over then whatever comes next for Microsoft 3.0 will determine what they do with Windows from there on out

Unable to update. Rollback at 54%.

Hi, I had the same issue and it did help that I undocked my Surface Pro 3 and did the installation without any additional devices plugged in.

Does anyone know how to turn sets off?

I like this build. Most of all, performance is much better. For example, Edge scroll up and down smoothly

Edge in this version supports a new feature in CSS called backdrop-filter. Basically, we developers, can now use blur just like Crylic Material from Fluet Design. YES!!!!! Finally :3

I had trouble with a Cisco VPN product after this update.. Just a heads up. Still working through it. This has happened before with Windows 10 updates... but it's been a while.

Cool, but does performance suffer?

How activate product key?After install,windows not activate.

Anyone having an issue with touch not recognizing when you rotate the screen - ie registering touch in a different spot to where you're touching?

Apparently Windows Defender Application Guard is available on Windows 10 Pro in Stand Alone mode in this build.

I have some problems related to network.
1- The Windows Defender icon has always the yellow warning symbol. If I open settings I can't see nothing strange.
2- I can't connect to SSL connections on Gmail with external email programs.
Anyone?

Been going through looking for anything I have turned off that is affecting it but can't find anything.

activation issues the same here same problem for insiders 1709 == 17063.1000
Windows Central Newsletter
Get the best of Windows Central in in your inbox, every day!
Thank you for signing up to Windows Central. You will receive a verification email shortly.
There was a problem. Please refresh the page and try again.