Windows 10 Cumulative update 14986.1001 now rolling out to Insiders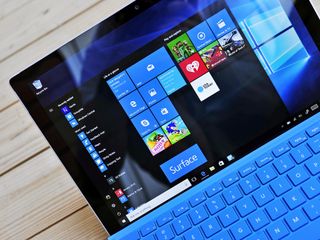 A new cumulative update is now rolling out to Windows 10 Insiders on build 14986, bringing the build number up to 14986.1001. It's not entirely clear what is new in the small update, but it likely contains a number of small fixes and tweaks.
Aside fro the 14986.1001 build number, the update carries knowledge base number KB3206309. However, Microsoft hasn't yet posted anything on the knowledge base (opens in new tab) for KB3206309, so the fine details of the update are still a mystery. Some users on the Windows Insider Microsoft Answers forum (opens in new tab) speculate that the cumulative update may have something to do with Windows Defender.
The update comes just under a week since Windows Insider chief Dona Sarkar said no new Insider builds would come until 2017 as the team takes a break for the rest of 2016. Apparently Microsoft still found time to slip a cumulative update through the cracks, though.
Have you snagged the update yet? Let us know if you've noticed anything new in the comments!
Thanks for the tips, frolian and Thamarai!
Windows Central Newsletter
Get the best of Windows Central in in your inbox, every day!
Dan Thorp-Lancaster is the former Editor-in-Chief of Windows Central. He began working with Windows Central, Android Central, and iMore as a news writer in 2014 and is obsessed with tech of all sorts. You can follow Dan on Twitter @DthorpL and Instagram @heyitsdtl.
And mobile is ****** as always

Why? No build?? It isn't the end of The world you know. More important things to worry about like life, conflicts, family.

Maybe it has the audio hotfix which has left hundreds of Sonar users stranded. But it's most like due to old Sonar code not working with the last Windows update.

There was an email, with details of a build, from Microsoft yesterday. Haven't confirmed if it was for this build.

Are you saying there is an audio issue in the latest official update or are you saying that hundreds of Sonar users are using an insider build which should be expected to break stuff?

New update I believe includes 'quality' improvements.

In mobile we are facing a mysteries bug whereby apps that were working just fine won't open, they load forever. I haven't used WhatsApp for 4 good days and it feels like 400yrs

Leave alone soft resets which I did close to a hundred of them, I have already done the HARD one without success.

Leave alone soft resets which I did close to a hundred of them, I have already done the HARD one without success.

I went back to Release Preview because of this issue. Frustrating, to say the least!

Ah, OK. I had a few that stopped working after the last build but have slowly come back to life.

Returned to normal without any work around? There are no signs on my around 7 commonly used apps. Most of them windows phone 8/8.1

It occurs occasionally when a new build is released. The answer is to do a complete reset and everything usually comes back to normal. But if a complete reset is not feasible, then wait for either the next app update, or next build. It was this issue I had to come off the fast track and move to the release preview.

I suggest walking up to someone and talking to them.. works every time

Even if we live countries apart?

I started having this issue with WhatsApp on 14393. I did a hard reset but it was still the same. Now I installed 14977 and still same. I plan to use WDRT tomorrow to see if it works.

WDRT will set you back to which build? I want it to be the last option, if it works inform me.

in my 640XL, it brings me back to win 8.1, and yes it solved the forever-loading apps problem

Are you back on W10M 14977? Because I can't use windows phone 8.1 that thing is many years behind. I want assurance that by rolling back to 8.1 then upgrading to 14977 won't lead to the above problem again

No I'm on 14393, release preview. And Whatsapp works again. I guess I'll stop using fast ring for a while.

WhatsApp broke for me on 14977. Hard reset on that build did not work. I had to do the same thing, reset via WDRT, and then upgrade to 14393 build. The only difference is my phone is newer, so naturally it was reset to W10M 10586. Good luck!

I can't access any Google sites using Edge with the last build, so here hoping that's fixed 😎

Same on some, but not all Google sites. YouTube, Maps

This patch didn't fix it for me. Still can't access youtube\gmail\google services with edge or install apps that uses googles api from windows store.

Try accessing them via InPrivate browsing. That seems to be the only way to access them in Edge or IE11 right now (or other browsers).

Same here, I hope that's fixed. I narrowed it down to Edge and IE11 apparently seeing an incorrect redirect from those sites (301 error, if you turn on the Developer Tools to watch what's happening). Other browsers don't have this problem. Edge and IE11 DO allow you to hit those sites if you access them via InPrivate browsing. However, it appears to have nothing to do with addons/extensions because A) I have no extensions installed and B) nothing changes if I disable all addons. So, InPrivate does something else that seems to allow it to get past this redirect error.

Probably it's cookie or cache related. That would explain why InPrivate works and normal windows don't

Ditto. Lost the ability to browse to Google and YouTube websites.

Use the "myTube!" or "Tubecast" app instead of the poor youtube mobile website. ;)

myTube & Tubecast don't load videos either.

Regarding WhatsApp, I'm using WhatsApp beta, which is being really stable and fast...also with the bonus of receiving updates several times a week. (in case some bug appears, a new installation is welcome)

Windows Hello is still broken. The RealSense 3D still doesn't work.

Yeah, annoying. Wonder if it's anything to do with the USB drivers in this build.

Don't think so. The regular cam part works fine.

didnt they announce no new updates a few days ago until 2017?

They said no new builds. This is just a patch, not an entire build.

New build from the beach... Donna in a swimsuit cool.

After my Surface 4 got updated today - Wi-Fi stopped working completely 😞. In insider slow ring.

Anyone got the issue where a website pinned to start opens a bing search page with metadata about the site, looking for that site, not the site itself?

Yep. Seen reported on reddit and unfortunately i'm hit by that. Both old and new pinned sites are affected.

My old pins still work ok. Just new ones affected.
Hope a fix comes around then...

Is anyone having an issue with the battery saver mode in the Insider previews?
My phone continue showing notifications and the brightness stay the same
I have to put my phone in Airplane mode if I want it to survive while is in 20%

You're welcome.. But it should be Froilan 😊

I'm on the production build and I'm having issues on that. This is very frustrating.

Is the ISO for the last build coming this week still?

Can anyone recommend this upgrade without reservations? Thanks!

Will any new Update come for W10M this year?

Download stuck at 2% on my slow ring laptop. Tried several times since yesterday. Used troubleshooter, but no use.

Try turning off 'get updates from multiple locations' under advanced settings in updates.

It's already switched off. Any other suggestion?

I had left the download running overnight and its still at 35%. My ISP report is showing increased data usage and at least one succesfull download of 3+ gb. I am afraid this download will play havoc with my data plan allocation.

This tiny update resolved an installation problem on an old HP Stream 8. The initial 14986 release would proceed normally and then crash just as reached the end, presenting an error message about inability to create a ramdisk. Oddly, the 14986 update would be listed as a successful Feature InstallI on the relevant Settings page, but the System>About page showed the previous version 14971 was still installed. I tried a variety of recommended command line resets and even ran Microsoft's old ramdisk error hotfix (which was just an automated version of the command-line stuff), but nothing worked. After 15 attempts, I gave up and chose to stay at 14971 until a later release could fix whatever wasn't working. It appears my patience has been rewarded, not that I use that limited old tablet for anything except seeing if it can be successfully updated.
Windows Central Newsletter
Thank you for signing up to Windows Central. You will receive a verification email shortly.
There was a problem. Please refresh the page and try again.