Windows 10 IoT Core Starter Pack announced, and new IoT build released for Insiders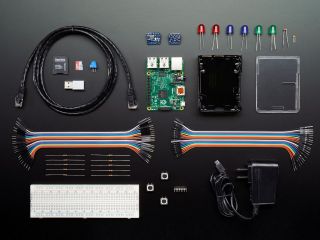 In August, Microsoft officially released Windows 10 IoT Core, with support for the Raspberry Pi 2 and Intel's MinnowBoard Max boards. Now the company has announced a new partnership that will allow people to quickly start on new projects based on the "Internet of Things" version of the OS:
Microsoft stated:
Microsoft also outlined some improvements it plans to add to Windows 10 ioT Core based on feedback from Windows Insiders:
Speaking of which, a new Windows 10 Iot Core build is now available for download from the Windows Dev Center, with the build number 10531.
Source: Microsoft, Windows Dev Center
I updated my Pi to this build last night and I was blown away by how rich the web-based tools are getting. It truly is an awesome time to be a developer and see such a tiny device running Windows! And it makes me glad to see that interest in this starter kit is so great that it was already sold out last night. (For those curious, I'm trying to wire up my garage to the cloud. There have been so many nights that it was left wide open and I want to attach some reed switches to the door to detect when it is left open and send text messages to our phones after 5 minutes as a reminder to close it. I'm planning on leveraging the AllJoyn framework to expose the sensors as endpoints and consume them in a UWP app that can also trigger a relay to remotely open and close the door.)

I can't wait to try this kit out!... Too bad it's out of stock.

That's awesome young programmer

make a video ... share your work :) I would like to know more

Thanks for the encouragement! I'd love to share when I'm done, but make no promises as my paying job has me working very long hours for the next month.

I understand ... same case with most of us. Good luck with your project mate :)

With PIR, you could automate the entire process.

Windows 10 IoT or Windows 10 Mobile upgrade for Windows RT please. If this doesn't happen in the future, I'll jump back to Ubuntu and throw my Surface RT in the dustbin. Even though Linux doesn't have as much support as Windows does, it never spits on the face as Microsoft. Last chance Microsoft. Last chance. Posted via the Windows Central App for Android

You wouldn't want IoT Windows in your RT. They should put W10M in it tho, but I don't think it's going to happen.

Replacing rt with mobile would mean no paint,PowerShell, flash or free full office.
Trust me, I found Linux has gotten worse.

Could you please elaborate on linux has gotten worse? I use linux more than windows yet I am admirer of Microsoft and .net framework. No way I am seeing Linux getting worse. So a bit technical description of it getting worse would give a greater insights on your train of thoughts. :)

Maybe he's a purist that doesn't like Microsoft's contributions to Linux, the kernel, and porting their .net core framework to server?

"Posted vía the Windows Central App for Android"

MS. Please add support for BeagleBone Black.

I have been playing with Arduino and have been having fun with it. This will be an awesome kit to add to my arsenal of microcontrollers and sensors. The imaginations are endless and very bright future for IoT. I am ready and building. Now Microsoft can add this to our DVLUP site.

lol, i still havent got my galileo, my roomate who irefered the program to had already received his... maybe it because i am a muslim and the muslim name scares the people over at microsoft.

Bruh they just opened up a store in Iran.

Nah, the clock kid got a bunch of swag from MS. You just need to show off your design and let someone call it a bomb.

Ha ha Nabeel Qareshi doesn't think so. His book is a great read.

It is out of stock. That is fast.
Windows Central Newsletter
Thank you for signing up to Windows Central. You will receive a verification email shortly.
There was a problem. Please refresh the page and try again.