Windows 10 Mobile 10136 gives you more control over your app backups
By Richard Devine published
Backing up app content to OneDrive isn't new to Windows Phone users, but in Windows 10 Mobile Microsoft is upping the ante a little bit and giving us even more control over them.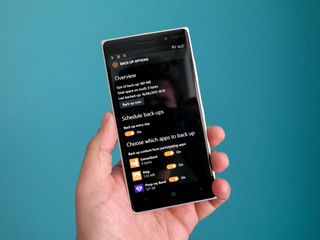 Besides scheduling a backup everyday if you like, the latest build of the Windows 10 Mobile Insider preview has added the option to dictate which apps you're backing up.
The new options in Windows 10 Mobile compared to what we see today in Windows Phone 8.1
It's as simple as scrolling through a list and setting a toggle to either "on" or "off" depending on which apps you want to backup. For example, you might want to make sure you preserve your Huetro app settings for your Hue lights, but are less bothered about Shazam. Whereas in Windows Phone 8.1 it was all or nothing, Windows 10 Mobile gives you greater control. Just hit the "more options" label under Backup settings to see the extra options.
It's a small, but useful touch, and besides controlling the backups it's also an easier way to actually see which apps are doing it. Removing backups still requires going to OneDrive, there's no way to do that on the phone as it currently stands.
A must-have for you or just nice to have around? Sound off in the comments below!
Richard Devine is an Editor at Windows Central. A former Project Manager and long-term tech addict, he joined Mobile Nations in 2011 and has been found on Android Central and iMore as well as Windows Central. Currently you'll find him covering all manner of PC hardware and gaming, and you can follow him on Twitter and Instagram.
Can anyone here having problem with build 10136 = no browser, no email, no calculator...

IE is dead, use Edge now. Email is dead, use Outlook now. Redownload Calculator from Store (beta). Hard reset from About screen to solve a lot of glitchy problems. Some apps won't download at all and hang (like Maps and Candy Crush). Mine is usable now but slow.

It won't install on my Lumia Icon. It just gave me the gears screen and rebooted every minute for 3 hours before I gave up on it and had to do a recovery to get WP8 back. Otherwise it basically bricked the phone.

This just what I want
This = Great

Better never late than late never better but late never better ever .!!! XD

Too late windows central.. U r loosing readers...

Yay! Alarm+clock now changes modes by swiping also! I created feedback for it, so... You're welcome? ;)

Well thank you! Could you also gave them feedback so hamburger menu can be swiped? ;-)

Absolutely. I have backing up, every app everytime.

Love it. Thanks Microsoft. This makes of it a much better OS.

I wish there was some option for what would basically be a full system image backup. Not sure if this would be made possible in W10 mobile, but it's a useful feature on desktop for sure.

Well the system does not allow it and yes - this is one of the big fails of the mobile plattform to not be able to backup the system and rely on the cloud and that the developers were kind enough to develop a backup functionality

Symbian devices didn't need the cloud hurhurhur

Yeah, system restore would rule. Even rolling back to a previous version of an app would help.

This is great but there appears to be no apps to backup on my lumia 520.

Most apps doesn't support it.

And no control over my custom notifications (except for a hack). They need to bring that back ASAP.

When complete version will released window 10

Insiders get W10 every month, not just the final version. And with the way they made it, it should be easier for carriers to make their firmware. I know I will not be rolling back to 8.1.2 starting with the last preview builds. Nothing happened to the device when installing the first builds and the last ones before final release will be almost as good as the final product

That is much needed and now its here. That's good.

Is there any other way of giving feedback without installing the preview OS ???

You might be able to do so on their uservoice accounts, but I'm not sure.

I send a feedback to the Windows Feedback app. I think that if we could use a website from PC it could be better. You just need to put your account from Insider and you can give feedback. It's hard to give feedback when you're trying to write and the apps closes :(

I don't mind all of my apps being backed up. I wish every app would get their settings and game saves backed up from an OS level. I'm tired of replaying levels because the developer was lazy and didn't include game progress backup.

Yes this completely sucks. Massive terarria worlds with no way to backup or take to a new phone. Rubbish.

Can i update my l520 directly to build 10136?

Yes... Currently that's the only way.

But, if you do just test it for a little while then revert back... It's the best build, BY FAR, yet, but still not good enough for daily use.... Going back to 8.1, from 10, is like going from Android 1.0, to WP8.1... A certain degree of polish makes a huge difference.

One of the annoyances of 8.1 was the lack a specific device name for each backup. It only listed the phone model number. Having three of the same phone model on one Microsoft account made it difficult to determine which backup went to which phone. Hopefully THAT has been fixed.

The backup is saved according to what you name your phone. Name your phones differently instead of leaving them the default "Windows Phone" and that will make it easy to determine which backup is from which phone. Example, my two 1520s are named "Deaconclgi's 1520" and "Deaconclgi's 2nd 1520" and also sometimes "Red 1520" or "1020 Windows 10". Name your devices and then back them up and the will show in the backup list with the easily identifiable name x.

It was fun while it lasted, but I just reverted back to 8.1.2..
......
I just could deal with the force closes, and the log in errors.. Nevertheless, 10136 is a huge improvement. Very stable, and a lot if new features. Waiting for the next build..
......
There's still one thing I can't forget.. During Build Joe said that there was something really big coming to Win10Mo... Still waiting to see what that is. Hopefully, it'll show up in the next few builds... What would you guys like to see❓❓

I don't know if it's big but did they abandon customizing the lock screen like Tetra and Live Lock Screen apps did?

And I wish to set any pic as start screen background, just as we can set lock screen from the the dot menu. Seems pretty tedious to change it currently.
Click it, pick it. Real cool!

IDK.. I sure hope not.. I hate when MS gives up so easily with much anticipated features.

The old way relied on Silverlight. It appears as though they are rejiggering the lock screen, as the current lock screen sits in the app list, and you can launch it, which makes me think they are going to replace the lockscreen. Possibly using the new one from desktop, but it would be nice if they would open it up for developers.

Bah. I tried build 10136 not too long ago and I was turned off immediately. It went so far as to delete Internet Explorer, AND the Settings app! You can bet I'm not going back, not until the OS goes final. Microsoft has a LONG way to go if they want to get it right.

There is an "A" and a "B" group, where only one had IE removed. You just happened to be in the group with it removed. IE will not be present or available on Windows 10 mobile, though.

Huh? I still have settings

Try to install again, IE was missing on my 735 as well but Spartan/Edge improved alot since the last build and was very good plus the dark theme. I was missing the Photos app(error when installing from the Store) and the navigation bar wouldn't move.

So if you choose to back up every day (probably a good idea), but you have to go into OneDrive to delete old backups, does that mean that you'll have daily backups piling up in OneDrive?

Thanks for that question...something I also wondered.

Maybe it's the backup for the current phone that gets updated every day

Another interesting thing to note is that your Windows 10 Mobile backup will be separate from your WP8.1 backup of the same device. I like the extra level of control, but it doesn't do me much good with build 10136 as my apps are slowly becoming unusable and I will likely have to hard reset soon. HERE Maps and HERE Drive+ worked fine on Saturday, then the new Store Beta must have tried to update them and broke them. I can't launch or uninstall the apps anymore and the update list shows the evil 80073cf9 error for more and more apps as time goes on, like a digital version of the Langoliers.

Mine broke too. I went to the 'Old Store' and reloaded them from there, now they work again!

Yes, the Store Beta is broken. It's bad, because just this made me go back :(

Not entirely broken like it was on build 10080, but it's the reason they still need the old store(which did few updates for me). They also need to fix app status in the new one and show 'update' instead of just 'install'

Now....if Miniclip would just add Beast Quest to the list of games that use OneDrive backup, the world would be little sweeter. In this day and age, Microsoft should offer a full backup of the contents of the drive to ensure that your game saves are kept regardless of the developer opting in or not. Backup should behave like Backup does on Windows, let the user backup their files completely if needed. All games should be able to be backed up or have a progress syncing option as most people do not like having to start over if they reset their phone or get a new phone.

A full back up would easily solve most peoples woes with the backup system in Windows phone. I miss the old Windows Mobile days, you could just use something like spc back up and do a on device back up to an msd card and transfer it to a pc later.

Apps back up is imp...but want app back up to share apps with wp to wp

Yeah, could be a nice option. I think a few apps offer a version of this. For example, I believe the Pocket Casts app will sync your podcast listening across devices so you can start on one device and seamlessly pick up on a different phone. But that app actually uses their own servers to maintain the sync information.

Irrelevant to W10 but even the texting/chatting apps (WhatsApp) should enable chat backup to choice of cloud storage. Just in case I switch platform it would be helpful to restore all text/media.

How about at least latest month or latest X number of messages. Maintaining a synchronous archive of every users' messages could be hugely expensive, no? Perhaps devs could offer that as a paid service?

Good to see that Microsoft is finally realizing the importance of fine tune functionality instead of all-or-none-we-will-do-it-for-you-approach they previously had. Will be glad to see this approach everywhere else.

Still no review video by Windows central team

I was thinking about that...

I have been waiting for this feature. Thankfully, it's here.

Will this include game save data? That's been my biggest gripe for backups and one of the reasons I stopped playing games on my Lumia devices. Once a year I end up needing a hard reset then have to start every game from scratch.

Same here, rarely play any games any more.

I think that's entirely up to developers. They can decide what they will/will not back up. Podcast Lounge for example will backup your playlists and subscriptions, which you can restore. But I don't think they backup listening position within podcasts. The Pocket Casts team takes a different approach, using their own servers to backup/sync everything so you can actually switch devices and pick up right where you left off. But users are ultimately paying for that.

Lol I cant even do a backup - it doesn't work for some reason

Yeah. Mine always fails. I've always wondered what it is...

Would be useful to be able to do full backup (except video etc), so if you roll back you don't lose apps that are no longer published

Yup and they incorporate such a feature in their phone companion app as well.... Not everyone wants to back everything up into the cloud.

Useless if the the app developers don't use that feature in their apps. I probably have, at the moment, only 1 or 2 apps that do that.

Awesome....simply...awesome

All I'm waiting for is interactive tiles. No feature can come close to that.

A few years late step in the right direction. Now add in some filters and sorts on this list for those of us with a ton of apps and I'll feel like it's finally functional. One of the main design issues I have with the OS, is that it's data driven, but you'e not always given ways to peruse your data. Almost everything is a long list, but few places are actually sorted in a coherrent way, then, you are offered no way to sort it yourself. What's worse then is previously (or currently if you prefer) going to some lists, like the backups section, required a full reload all the time. It wasn't/isn't async, so it's one of the most laborious tasks to do on the platform.

Still can't install it. That stupid resuming/loading bar and black screen stays there forever. I had to revert back to 8.1. I hope Microsoft fixes it in their next WP 10 release.

Random observation... My settings app displays this as "BACKUP OPTIONS", not "BACK-UP OPTIONS". A regional difference, perhaps?

When is the rest of us getting 10136... Those who don't want to downgrade to upgrade

Never. Maybe next build though, but there's no way they will redo this build for that.

Redo? ..I thought it was just fixing a bug

Richard, see that orange "Go to OneDrive.com" on the bottom of the center photo (right under 'Remove backups')? Tap that to go to "OneDrive.com" to manage your backups.

It would be a huge improvement if the backup really completed and worked. With WP8.1u2 it always stopps at 96-99%... (I have tried a lot to work around the issue, not much sucess)

That usually means that the backup is failing on a start screen background, lock screen background, or lock screen app. Mine failed like that for months, but the rest of the backup was successful and I didn't lose any data. Once I changed to a smaller background (less than 1MB in size) it worked fine. You can also try deleting your backups on OneDrive to fix it, as I've seen that fix the problem for many people in other threads.

Will the lock screen ever change?

Why would performing a backup change your lock screen?

Not happy about the build, there are many issues. Many that make the phone very bad to use. There are app issues, stability issues, crashing issues, freezing issues. The worse part was migrating from 8.1 to 10. I had to rest the the OS, not install the back up in order to get an okay experience. Over all, the build is okay, needs lots of work, does near close to release, feels very beta. I like where the IS is going. Some what, but its far from the feel of 8.1.. I ended up going back to 8.1 after a week of use.

It's a Technical Preview. Not even beta yet. It's not meant for your main device. I have a couple backup phones I use for it.

Can't even roll back my 1020, fails everytime. Stuck on old build guhh.

Erm, where is the hands on of this build?

10136 doesn't give you control of shit! That is because it's a one step lower POS than 10080 was.

What are you talking about?

The UI is nice and icons are bigger and more optomized for touch....but all the force closes and crashing, home screen resuming issues, camera app issues-wont allow you to select moments and battery drain makes this not even viable for fast ring. Take my advice, dont install.

I really don't like those iPhone-esque toggles. :(
The flatter ones are truer to the Windows UI aesthetics. :/

What about games! Most devs haven't incorporated Cloud saves or they want you to connect your facebook account.... Don't really use facebook, just messenger as some people I know they can't live without it.

If cost is the main concern, I wish more devs would just offer backup/sync as a paid add-on. For some apps I would gladly pay a small fee or tiny subscription to explicitly support backup.

Awesome, Fuck Android and iOS!

To get a lile bit more stability and performance on latest win10 phone build, enable Developer mode in Settings>Update & Security>For Developers and enable Develper mode... My L625 was really slow after installation and i accidentaly enabled dev. mode and now it works almost as 8.1...

Lots of bugs in this build still but I have to admit that W10M is growing on me. I was very negative towards it but these last two builds have won me over. Can't wait to see it in its final version. I think it will be awesome.

What I hate about OneDrive integration is that it's NOT integrated, on each app you have to manually input your OneDrive credential, why not single sign on from Settings and all apps are automatically signed in? So far I found only Nextgen Reader and maybe several other app behave this way, but most of apps is a no.

Guys does this build stable for lumia 520 is the performace fix and is the apps can run smoothly?

Those toggle switches. Those horrible, horrible, toggle switches. For cereal, whose idea were they? I'd like to meet you in a dark alley and beat you with a whiffle ball bat.

OK I put the new build on my old 920 I ran it for a while and it seemed ok, so I loaded the new build in to my Nokia 1520, and what can I say and yes I know it is a beta build, I dont need to e remined. Here are the problems I have with the new build on my 1520. 1. where are my photos, cant find them and there is no photo tile anywhere to be found. 2. Settings, I want to go to settings and when I press the setting tile im told that I need to go the the app store to down load an app to get to settings, REALLY, There is no app for settings. 3. Cant get to settings, well that means no emails, cant do anything with the lock screen or anything else in the settings list. 4. Cortana, I can ask her a question and she gives me a list of answers, and thats as far as it gose, cant do anything with the list. 5. Spatran just dose not work, press the tile and nothing, I need to go to some third party app to get to the internet. And thet is just a few of the problems, there are many more, and like I said I know it is beta but come on the 5 things i listed are basic they should work.

you need to do a hard reset... it is a realy big change in OS from 8.1 to 10 so thats why you can't go to setting and dont see some tiles and features...

Is windows 10 update Available in NEPAL as well?? M realy feeling bad jus seeing news of various upgrades in Windows 10 mobile :(

Question, Is this ONLY where the backup bit has been enabled by the developer ? Or can I select a old game that I started playing and back it up ? This alone would be huge if I can back up ANY app I select and not worry about losing data or my save game if my phone has to be reset (the reason why I dont play too many games on my phone any more) Most games in the marketplace are never updated, so getting this "bit" enabled will never happen but, everytime I have to nuke, I lose it...

Good to know where the OS is heading to, the UI has improved alot. Being a preview and being stable for basic usage is good too. I hope that next builds(more stabilised) come sooner than the usual frequency.
And Btw i am stuck with this cuz something is seriously wrong with the recovery tool. I hope the final release comes on 29 july along with win 10

Being able to backup daily is pretty cool. Being able to choose which apps get backed up is AWESOME! Does this also mean that all games will automatically synched to OneDrive?

This is too little. A full image was/is possible even back in WP7 days but only during OS updates. All game save data, start screen settings, everything was brought back to your device, even legacy apps that are no longer in the store. Just give the option of a full backup like what is done on a OS update. Let the user decide on frequency and destination. Why do they not do this? Its already possible, just parse out the update parts of the process that backs everything up.
Windows Central Newsletter
Get the best of Windows Central in in your inbox, every day!
Thank you for signing up to Windows Central. You will receive a verification email shortly.
There was a problem. Please refresh the page and try again.