Windows 10 Mobile build 10586.107 hits public release for Lumia 950, 950 XL and 550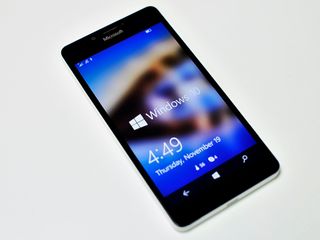 Update: Microsoft has provided an official announcement on its Answers forum (opens in new tab) alongside a more detailed changelog. We've updated the changelog below accordingly.
Original Story: It looks like Windows 10 Mobile build 10586.107 is now rolling out to non-Windows Insiders after about a week of testing on the Fast and Slow Insider rings.
While we haven't yet heard from Windows Insider chief Gabriel Aul on the rollout, we have received a number of tips that those not enrolled in the Insider program have begun receiving the update. Additionally, Doug Holland, a Senior Architect Evangelist for Microsoft has confirmed on Twitter that the update is indeed landing for non-Insiders.
To recap, build 10586.107 is a pretty minor cumulative update. However, it does contain the following fixes:
Reliability and stability improvements.
Bluetooth connectivity improvements with car and other accessories.
Microsoft Edge improvements to PDF rendering and navigation.
Improvements for battery usage with Iris Recognition for Windows Hello.
Update system improvements to fix a situation where some users had phone software updates and app downloads stuck at 0% for extended time periods.
Change to update system to now require phone to be plugged into a charger when downloading and preparing phone software updates.
Fix for a problem causing erroneous low storage prompts for some users when trying to download phone software updates.
Fix for a problem that caused erroneous prompts of Outlook account settings being out-of-date for some users, although account settings had not been changed.
Fix for a problem that caused some phones to get stuck on BitLocker Recovery screen after a reset.
If you're a non-Insider using a Lumia 950, 950 XL or 550, you should be able to pull the update down to your device soon. Once it's installed, let us know what you think in the comments below.
Thanks for the tips, everyone!
Source: Doug Holland (Twitter)
Dan Thorp-Lancaster is the Editor in Chief for Windows Central. He began working with Windows Central as a news writer in 2014 and is obsessed with tech of all sorts. You can follow Dan on Twitter @DthorpL and Instagram @heyitsdtl. Got a hot tip? Send it to daniel.thorp-lancaster@futurenet.com.
@daniel GIlbert M this is only for devices that shipped with Windows 10 Mobile as it has yet to be officially released for other devices

Good damn question (Answered)... And, might I add, they need it.. 107 is fine,, except the ongoing picture picker lags, force closes, inconsistency, and lack of intuitiveness.... I swear, photos has to be the absolute worst part of W10M... From loading pics to FB, to saving picks from the stupid Bing website (which is also weird for a mobile OS. Cortana never did this before), to the ugly layout of the app. Zero style.

1.lack of intuitiveness
2.Cortana is a mess ( Bing app for Android and iOS looks 1000 times better, even though it lacks cortana)
3.Photos app is a disaster compared to WP 8
4.FORCE CRASHES are ruining the overall impression of the OS ( even though it happens only once in a while )
..
Agreed on these

I do admit that it's improving... Just still a few issues that you'd think would've been resolved by now... I mean, issues that we were dealing with in early preview builds. Now, that's a damn shame.

Few?? He has mentioned a few!

No. Nobody has mentioned ANYTHING!

Rodneyej, I'm using a 640XL that worked amazing with 8.1, with .107 while it appears better this version has impaired touch. Where touch was working great there is a lot of lag when execiting a touch. Also, apps are opening slower especially those on the sd card. So they fix one thing and screw up another. I have already moved on to the IPhone mainly due to work. I would love to get back on the WP their own apps are better on iOS. I'm not sure they have a core mission to get this right. I have been also testing a OnePlus X and I have to say for a $250 proce point its an anazing phone and what they did with Andriod is beautiful. I don't believe its lack of focus at MS but lack of direction.

Had 107 on my 1520 since release to the fast ring, don't have any of these issues. Super stable and everything works. I miss done it the function of 8, but stability wise it's fine and faster actually, rarely see loading...

I have it on my 1520 and I am more and more frustrated with the OS. It is so raw the EA is green with envy! I can only pitty the owners of 950 and 550. How disspointing is it to have a phone with beta OS, And a bad beta at that. Contstant freezes of the screen that you can only fix with locking the screen and unlocking, animation of the song title in the volume bar while anything is playing, that glitchy twichty thig, this is JUST unacceptable. The layout of many apps (like update part of the store) is horrible - incosistency in design, sowhere there are buttons, other places there is the blue text, sometime they are so close together you caneasily miss... And don't get me started on Groove, the monstrosity. OMG how bad is Groove!

Take it easy. I have a 950 and no freezes, no crashes. Everything is stable! My only issue is battery drain. I only get about 10hrs of moderate usage. Waiting to see if this update helps in that regard.

I use 950 XL and was on .107 since its release but yesterday night I got an update unable to figure out what it was as I woke and saw updates were installed and the Battery life is good average of 3-4% draining on moderate use. Left for office with 95% and after 4 hours with 15 mins of Skype Video on 3G and 3 mail accounts on Sync and 30 minutes of voice call and still remians at 83% which I think is great...

Me too, the problem is the battery drain, i don't know what i can do, only whatsapp in background, no facebook, manuale sincro of the e-mail and other tricks but i can't reach the end of the day without charge one more time. In aero mode the battery go down about 20% in 7 hours

Maybe you got a bad phone? I have a 950 and don't have any of the problems anyone has listed thus far. No freezing, no loading or resuming no issues with groove or other music players. I will admit the photos app is just all around bad and poorly designed. Overall everything is just fine. I grt vrry frustraded with the negative comments. Oh been in the insider program in the fast ring since the first week. It had come a long way. As to the intuitiveness. W10m is far more intuitive than android or iOS. Maybe if you're coming from those you may not think do because you are used to the convoluted way those system work and are comfortable having to dig and root around to do what you want, but maybe you need to quit overthinking everything and just accept the new, much better system of W10m.

I have a 1520. Had many issues. Then I did factory reset. Now windows 10 mobile runs great. Minimal issues.

Did you guys with 1520 do a restore after that factory reset it start over 100% new? Mine runs like hell but I've been doing a restore after the rest. Just curious how much difference it'll make

No. I quit doing that builds ago.... Like I said, we aren't complaining about the OS itself lagging, rather specific apps that have trouble. And, some are tied to the OS.

My friend had most of the issues you mentioned with the same phone. After seeing my 640XL running fine, she understood the problem is not the OS. All these problems went away after she did 2 things. One is to change the SD card to brand new class 10; Second is to do factory reset. I think she did reset first and used the memory card right away with the phone rather than formatting it with her computer. Try it. It might help.

I had slight stability issues on .63 update but a hard reset (actually rollback to 8.1 and then fresh update + hard reset) fixed all those issues. Since then .71 and .107 have been stable without any hard resets...and this is on 1520.

It has been an utter frustrating disaster on my 1020. It turned a reliable quick phone into a laggy inconsistent mess.

Groove is HORRENDOUS! Patchy art appears and don't try and launch an album from a live tile, you'll be waiting for hours!

I have a 930 and i have no isses at all at this stage. Dont get me wrong i miss gestures and cant believe microsoft have not put that in like promised in 2014 december. Theres settings i would like and features like skype that lackes any real features, like using both my cameras. But all my apps work and are all speedy and i have a long app list. Actualy the ui is fast and pleasurable, the only hint of slowness is on a coulple of apps when loading but it isnt a big enough issue to worry me juat half a second wait. Even with the missing gestures and features in certain apps id be happy if this windos 10 on my lumia was a finished released build, its definatly good enough on my lumia 930. I just hope it do4esnt take 2 years to get a working beta gesturs app built in, sktpe improvments especialy the very basic switch camera mode facebook has had for years. I hope it doesnt take 2 years for microsoft to realise hamburger menu is a mistake and doesnt belong in the windows envoirnment on its own. Maybe place it bottom right where th line of dots and settings has always been and keep pivoting at the same time. the new people app is a great example of pivoting. Lasdtly plse take the 950 insides and stick it in the 650 body, the 650 looks premium the 950 doesnt, its that simple for me. In readign the comment above me about albums pined to start taking a long time to play i have fount theat pining a tile from groove takes about 20 sec for the tile to sow up so thats a issue, but it plays the album immidiatly so thats not a problem.

Not sure what you refer to. I am running Win 10 on 950 xl. It's stable sleek and troubleless.
Have you noticed the big step forward between 8 and 10. 10 is a full-blown desktop system running on your cell phone. It has huge potential.

YeahRrright... you are absolutely correct. And then they wonder why market share is dropping. MS has no idea what to do with the platform... its been 2 months since .29 was released on my phone and now just got this update. Two crashes since last night and no its NOT the hardware....

It's not the stability of the OS itself, rather specific apps, like Cortana, that need polish.

As they have broken out each app from being integrated,I think the OS is each app. And it's like they are designed by completely different teams.

Photos app in Win 10 is so much better than 8. 8 is just lame all around.

thers alot of new features in windows 10 i love but theres alot of old features still misisng from windows 8.1. I use windows 10 as my daily driver because of these new features but still miss and want the old like gestures but untill they get rid of the hamburger menu, windows 10 to me is far behind windows 8.1 denium just because 8.1 worked so flawlessly, 10 isnt flawless cause of missing features and ui changes but its still better than any icon only based phone. Gestures and skype improvments, pivoting back throughout the phone are things id like, gestures being the main one but after all the talk about missing features wheres out apple pay alternative, without it windows mobile is gona struggle to become a choice fro alot of people includeing its current usser base. Personally im waiting 1 more year then if i dont get gestures back, which made it have a unique feature none of my iphones had and if they dont have a up and runing wireless payment system in place ill have no choice but to abandon what i consider the best smartphone platform available, and that will be a sad day for me but hears hoping. I just feear they wont and that will just make more windows phone users leave and abandon not just mobile but move their lives over to mac, after all macs already have apple pay, they can make proper phone calles from their laptops or desktops to other peoples phones and well their app store is superior to all other os out there, time is truley against microsoft at this time.

I got this update on the fast ring and it has broken my quiet hours. I have to activate it or change the time in quiet hours settings. It switches itself off at the correct time however but the following evening I have to manually switch it on again

Like everyone has said for months... With these updates it's two steps forward, and one step back....
....
But, at least it's steadily (albeit slowly) moving forward. It's gotten better with each update.

It's got better with each update.. Just that there is still room for improvements.. They have to concentrate on small things which effects the overall usability, like the "Now playing" pop up controls that shows up when pressing the volume rocker is flickering several times before going to the next song...
Like I said.. It won't bite my hand and hurt me.. It won't stop me from using the phone.. But it's something that as a smartphone user I don't like to see on the screen I'm looking at..

It's sad because MS used to have the best behaving OS, and now it's probably the worst.. Super embarrassing.. Lol.

Will never be the worst, android is simply unreachable

Yeah, that's what we've been saying for years... You sure about that?

I take it youve never owned a flagship android phone then?

You contradicted you self. Two step forward and onestep back means it's not improving at all,

Technically, if u physically do two steps forward and or step back, you've still moved forward one step :p so they haven't contradicted themselves, as they said "at least it's steadily (albeit slowly) moving forward"

wow, math isn't for you huh?


No, it's moving forward... Lol. By that rate at least one step.

No. Two step forward and one step back means its improving. 2-1 = 1. So one step forward. Lol. Learn math.

actually 2 steps foward and 1 back = 1 step forward so technically its a 1 step forward improvement. I think the last 3 builds all showed progression on my lumia 930 but before that every build broke my phone to the extent id have to restore from a fresh 8.1 and even then stuff would break lol. Its all good now defo 930 prime time ready, yeh thers some small bugs that need ironing out but then again iphones i had over 6 years all had bugs they needed ironing out.

lol I thought the correct moto was "one step forward and two steps back"

The only problem i have is battery and that's the only one you seem to let out...

Right. And battery life... But, I don't complain about that too much just yet because the update has not officially been released to the 1520 specifically as a consumer product... And, I don't yet know what their plans for that include.

Yes battery on my 1520 has taken a big crap but lately I've also noticed charging issues as well. I lost my fast charge. It takes a full night to get it back to a 100% from 50%.
I got a pop up asking how I liked this build....i wasn't nice.

You (specifically) might want to try taking a can of compressed air, and blowing out your charging port... Be careful, and keep the can upright, as to not blow any moisture up in there.. Sounds like your port is dirty. That will ALWAYS cause it to charge super slow.. Doesn't always happen gradually, either. Sometimes a little energized piece of lint from your pocket will get up in there... Try that, and see if it works.

Thank bud....thats a good thought. Gonna give it a try

My 950XL been of the charger for 8 hours now, over 5 of those 8 hours I have been online sending messages on Line and WhatsApp while sitting next to my son in hospital. In the same time I have watched a few 5 min clips on Mytube and spent the rest on here or redit. Phone still showing 28% battery. Don't se a need to complain about that personally.

do not have those issues on my att 950

Me neither. I think many posting are not Windows users at all. Two family members with 640's no issues there either.

I don't known whether anybody is experiencing these issues after the .107 update but I still cant connect my 950 XL to the Bluetooth in my 2016 Honda Accord and Windows Hello which had about 95% success rate is now worse than anyone can imagine. I have tried several ways to improve its recognition but with no avail.

This update doesnt fix BT or 4k video. And yes i still get garbled auto and skipping during BT.

So I'm not alone with my BT complaints

Riddle me this.. Can an iPhone 6s+ connect to your 2016 Honda Accord❓❓❓❓

It works fine with my 640XL with 8.1 and it pairs easily with a friend's Galaxy S6 edge+ but I have not tried any of the fruitys on it.

Can any Windows Phone connect to any new car? NO! All new models come with Car Play and Andoid Auto. Bluetooth only...

Wrong. Our Windows phones connect wth our 2015 Chevy Traverse. I also put a new head set in my 2008 Maibu, and our windows phones wok great with it too.

It isn't like Car Play or Android Auto. It is just Bluetooth like he said. Completely different connection. Posted via the Windows Central App for Android

Just rescan your eyes. About bluetooth, i don't know..

Get a new car... Works fine in mine.

This is just an ignorant response. You should either actually try to be helpful or STFU.

It was more helpful than yours.

Actually, I'd imagine they were about the same. Scroll down a little further to MorganRW's reply to learn that actual meaning of the word helpful. Maybe you'll be less of a troll with some education.

If he did the dash in the new car would probably have more apps than his phone..

Delete the profile of your phone in your car and the profile of the car in the phone. Pair it again and I am guessing you will be back in business.

"Windows Hello which had about 95% success rate is now worse than anyone can imagine​". ​I can imagine quite a bit, like trying to use Hello and all of a sudden a black hole opens and sucks you into it. Or trying to use Hello and Ultron appears behind you and squishes you with Thor's hammer. Probably a better way to describe it is, you are having some issues that you didn't experience before... Since the .107 build I reset Hello, made sure I was in good lighting and retrained Hello and looked at the camera, not at the IR scanner (and of course if you wear glasses, take them off for training purposes). Then retrain a few times. ​In regard to your BT connection, have you tried to do what @MorganRW suggests above... that'll work I'm sure. I found Hello is quite good compared to earlier builds - even in low light and with my glasses on. It is definitely getting better, but still Hello is still in beta build.

Lol.. You guys are Cray cray cray cray cray cray.

you might be alone with these issues, do not have none of these with att 950

My 950 XL works abolutely fine with my 2014 Honda Civic and my 2012 Mercedes, has done since I got it with .29 build. What issues are you having?

Erm. The title was different before, hence the comment I made.

is this version can i get from windows care centre?

When will they fix one-hand mode? -.-

It does not scroll to the end of the screen. It's useless. device reset does not fixit on my 735

It's like this on purpose... I mean , you can reach the bottom of your screen without one-hand mode

What're you talking about... The one-handed mode is only to reach stuff at the top half of the screen, you should be able to reach stuff at the bottom of the screen without using the feature.

If I must use the phone with only one hand, it's because my other hand is occupy, not because I want to touch only the things thety are on the top on the screen. OK, so it's crap design again.

He's right, even tough is less used, the scroll should be complete;). And also one handed should not brake edge, but it does and that is why after using one handed, the browser is totally unstable.

12 years old getting the lead

on apps you can reach the botton lol did you even try? only on start screen you cant scroll to the bottom because its the bottom xD. on edge and facebook i could reach the bottom so i dont see your problem being a valid one! why got to one hand mode to touch an app at the bottom of your screen? just touch it and then got one hand mode jesus :3

Panos it is a badly designed app! If you are one handed, you still need to have the transition between full screen and half screen predicted by the app. I mean, that, if you scroll to the bottom of the screen the app should either goto full screen and then back to one handed mode if you scroll up. Until you select to go full screen Give that app to Apple just to see how they would have designed it. With Microsoft, we are treated like being dumped in the trashcan!
Giannis

Haha, that hilarious, since it doesn't work the way I want it to work, this it's a crap design. Wow, have we all become this entitled. I don't understand why some of the these people that hate this OS so much won't just switch phones, move on and relax so that they don't have a frickin stroke...lol The whining have reached EPIC proportions. :)

Have you ever used One Handed Mode on a device with onscreen buttons and pulled down the Action Center and witness what happens next? Hint: Since One-Handed mode does not scroll the "Viewing Area" down, it just slides the screen down, you cannot scroll to the bottom of the "Viewing Area" as the screen is technically, at the bottom when you scroll the tiles, except you cannot see the bottom as it is not in the "Viewing Area" As a result of this design, you cannot scroll the Action Center, close the Action Center and on some devices with onscreen buttons, pulling down the Action center ALSO hides your onscreen navigation buttons giving no way to exit the navigation center without tapping in the black area above the tiles as there isn't a Windows Start/Home Button anymore to hold. Making matters worse for some users, that handy text that tells a user how to exit One Handed mode is not on every device/build. My Lumia 950Xl doesn't have any text in the black area and some of my other devices don't either while some do. This leaves the user clueless on how to "escape" One Handed mode, that factually does not scroll to the bottom tiles in the "Viewing Area", leaving what appears to be a poorly designed implementation. Sure, One Handed mode was designed so you can reach UI elements at the top of the screen but with a little foresight, the designers could have considered making the entire UI scrollable in the "Viewing Area". If I resize my web browser window on my computer, shrinking the "Viewing Area", I don't get a hard stop to where I cannot scroll to the bottom of the page as the browser knows that I should be able to see the full page content in the resized "Viewing Area". Some people may attack the person who posted the original comment but there are merits to what he said and there has been feedback posted about it as well, from various people, wondering why we cannot scroll the Start Screen to the bottom but we can scroll the Apps List to the bottom as that creates a jarring experience. Other improvements to One Handed mode are needed as well. Edge website suggestions disappear in One Handed mode so users cannot click web suggestions that have been placed at the top of the screen. Take away from all of this? Well, we all use software differently and have different expectations. I expected to have full access to my Start Screen in One Handed mode as my expectation was that One Handed mode would allow me to use my device more easily with one hand and not to "just reach the top of the screen" and finding out that the current One Handed mode expereience cripples/reduces my ability to use the device with one hand, was suprising and I submitted the same feedback as others, and as this poster wrote. As of now, One Handed mode simply slides the screen down and it doesn't actually resize the Viewing Area like one would resize a desktop program in Windowed Mode and still get access to everything. Sliding the screen down slides other UI elements "off the phone", unabled to be accessed unless One Handed mode is exited...thus forcing the user to use 2 hands again or balance act of toggling modes to do something as simple as click on a Tile that is at the bottom of the screen. Users then have to switch back to One Handed mode and click and exit again. Some of us do have high expectations of what we think software should do and that is fine, just as some of us have low expectations and usage scenarios and that is fine too.

The screen is hitting the Start Screen "ceiling" so there is nowhere for them to go. The text is helpful, and I requested they put it in there again(it seems to be there the first time you use it then goes away?). It isn't poor design of you think about how it is actually working. You're asking them to move the ceiling back up to the top when scrolling to the bottom... Why not just do so yourself by exiting one handed mode? To actually be more intuitive , what would work best is if you attempted to scroll to the bottom of the Start Screen by swiping up, the one handed mode would hit the "ceiling" which would trigger an exit of one handed mode.

Also, try scrolling to the bottom of your app list in one handed mode again... Mine stops short of the bottom just like the Start screen does. But again if you need to see what's at the bottom half of the screen...EXIT ONE HANDED MODE.

I fully understand what you are saying ans mentioned that users have to exit One Handed mode. What I and others are talking about is the expectation of not having this ceiling that you are talking about. It is possible to not have a ceiling as described in the example of the viewing area or windowed mode. It comes down to design. There are different expectations and ways to look at it and it is sad to see commenters attack someone that had different expectations or usage needs. Thank you for your replies.

This times about a billion. If the WC app had upvoting for comments Deaconclgi would be getting a hearty pat on the back for their contribution.

I'm not meaning to attack, I'm just saying that what you are asking for is what is already there.To illustrate, imagine if you were able to scroll all the way down while in one-handed mode. The Action Center or app list or whatever would be displayed in the exact area it would have been if you were not in one handed mode.
The one-handed mode is meant only for reaching the top half of the screen. Anything below that is already at the bottom half. So if you were to take a sheet of black paper and cover the top half of your screen, enter one-handed mode and scroll all the way to the bottom like you are proposing, your screen would look exactly the same in and out of one handed mode and due to the top half being covered you wouldn't be able to tell which mode is which unless you attempted to scroll the top half of the screen to the bottom which is how one-handed mode is intended to be used.
I hope this makes sense and really didn't mean for my prior comments to be taken as an attack. I get what you are wanting, it sounds good in theory, but when actually using it, the point becomes moot. I really think they just need an automatic exit once the bottom half of the screen is coming into focus and it would be seamless. I personally don't like having to toggle between the two.

I've read your earlier post again and it makes more sense to me now. What you're suggesting would be a nice alternative. I personally like it how it is but I definitely see what it is you guys are looking for.

Slide up from bottom. Buttons will pop up even if hidden.

Not in One Handed mode, with the Action Center slid down. This causes the slide up action that unhides the buttons to be off the scree as well, at least on my 950XL.

I agree with some of your points. But man, seriously, you should write blogs. Or do you already?

Thank you. I am one of the original authors from MyNokiaBlog and GeekOnGadgets. I used the write often during the glory days of Nokia but lately I haven't had the time to dedicate to my passion for writing quality articles for our readers. http://mynokiablog.com/author/Deaconclgi/

So I guessed it right. In life we have to keep changing priorities. I'll check out your contributions on mynokiablog.

on my lumia 930 i am able to use the action centre easyly with one hand in the one handed mode, id rather have the androdi method for 1 handed mode thut this iphone method works fine for me, i just dont use it much due to none familiarity.

No, that's legit whining, being a fanboy, on the other side...

i love windows 8.1 and i really lick windows 10 mobile but your right hamburger menu and it being on top and the lack of pivoting is a crap design choice for a windows phone. Shame cause this year would have seen 8.1 app gap lower, more sales on their handsets and new features with none of the old ones missing, but a reboot it is and a 1-2 years back for windows phone it is too.

I just scrolled through these comments in one-handed mode.

Lol!! We're all arguing about an OS nobody cares about..

You are wrong! because i care!! and i think the OS is the future. as it is define as the Addon of a PC on the low end devices, and a Real PC with continuum. with time i bet it will be fine, and as i know, no OS is perfect.

i agree its the future and in time itll get there but first the competition might beat microsoft to the punch by copying them and second microsoft only have so much time before poeple have had enough time waiting and thats not that far away to day. No os is pertfect your right but its took them too long for what ever reason to get where it is now, that speed issue is whats been the problem since windows mobile days, windows 7 windows 8 should both have had all the features windows 8.1 with denium had on their realease 2-3 years earlyer but they didnt. As long as androd dont make a operating system for laptops and pcs and unify their apps and devices, as long as apple dont do the same then yes microsoft can do it but soz both those companies google and apple are making alot more on their more polished os i dont think itll be long till they all follow microsofts stratagy on universal apps, then microsoft will be in real trouble. They need to hurry it up now. Lets face it desktops and laptops with windows 10 working with 10 mobile will be great if we can do all the things macs can do like phone on any device to aNY DEVICE EVEN NON WINDOWS DEVICES AND MAKING THOSE KIND OF PROCESSES SIMPLE AND EASY COULD SAVE WINDOWS OS AND MOBILE BECAUSE BELEAVE ME ANDROID AND IPHONE COULD CRUSH WINDOWS IF THEY DID BRING OUT A OS UNIFIED BEFORE WINDOWS HAD 1-2 YEARS OF THEIRS FINISHED TO CATCH UP.

Android for laptops is going to be shown in May. They are merging Chrome and Android. They are already so far ahead, it will be interesting them start to erode Microsoft's laptop market. Posted via the Windows Central App for Android

Because you can reach the bottom of the screen with one hand?

if you can reach the end (down side) the screen without "one hand use" mode, why it should scroll until end the sreen

What needs fixing? Just wondering..

Turn on one-handed mode, slide down the action centre, try to exit one-handed mode for one...

Exit one handed mode by tapping on the blank space above - works for me anyway.

If course that works, but you can't press the "home" button as it's not there and there's no way to display it on screen. A workaround that involves you pressing the part of the screen which is the sole reason you're using one-handed mode on the first place isn't really a solution. And sure, it doesn't really matter to me, I've got big hands so never use this mode, but for others...

.107 is not bad for official version. Only need double tap on 950xl

"Not bad" doesn't necessarily mean "ready for prime time" ... W10M still needs polish.. Some animations are still not snappy.. Start screen is freezing once in a day.. Photos app crashes few times a day... Camera image processing is slow compared to WP8.1 ... And the list goes on... .107 build is OKAY , But not good enough.. MS can still do better and I hope they will.. I don't want them to release the OS in a hurry.. Let them take their time and make it snappy..

Dude, it must be a hardware issue for you as my Lumia 1520 is not having any issues at all running .107.

Agreed my 640 XL, 1520, and 950 XL are all working great on .107

It's funny, my 640 actually seems to run W10M better than my 1520 or 950, with fewer crashes, less lag, etc. I know it doesn't make sense, but that's just how it feels. Maybe W10M doesn't like driving the 1080p and 1440p screens versus the 720p screen or something? I dunno. Oh, and it runs like absolutely garbage on my 520, but that's no big deal.

Hello, WM10 on my Lumia 520 runs pretty well! Except the common issues that all are facing, nothing much in .107 . Even battery (1450 though) works really on par with 8.1 ! Mane your 520 is not , But i am enjoying WM10 on my 520 !!!

Mine was set on automatic so just got a prompt to restart and here it is

no my friend...640xl works ALMOST perfect...it needs a bit more push...especially in camera!!!