Windows 10 Mobile build 10586.682 rolling out to devices not eligible for the Anniversary Update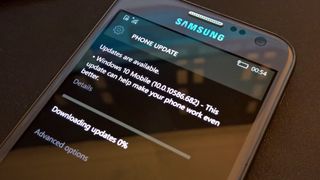 If you're someone using a Windows phone device that doesn't have access to the Windows 10 Mobile Anniversary Update, we have some odd news for you. Microsoft has just released a new build for those who don't have access to the Anniversary Update, build 10586.682 is rolling out to devices on Threshold 2 now.
We're not entirely sure why Microsoft has decided to roll out a new build for those older devices or devices that are yet to receive the Anniversary Update, as there has not been an official announcement just yet. This update, much like most other cumulative updates, will likely feature mostly under the hood changes and bug fixes rather than new features.
This update is somewhat beneficial to those who "forced" Windows 10 Mobile on older devices like the Lumia 920 and Lumia 1020. If you're using an older device on 10586, you are also receiving this update. For those curious, build 10586.682 was compiled on November 8th. Devices eligible or already running the Anniversary Update will not receive this update.
Windows Central Newsletter
Get the best of Windows Central in in your inbox, every day!
Zac Bowden is a Senior Editor at Windows Central. Bringing you exclusive coverage into the world of Windows on PCs, tablets, phones, and more. Also an avid collector of rare Microsoft prototype devices! Keep in touch on Twitter: @zacbowden.
I wonder if this will allow usage of the new skype preview with SMS relay. My wife's extremely jealous of that feature on my Lumia 950XL

then just get her a newer Windows phone that has support even something like the Lumia 650, 640, 640XL, HP Elite x3, Acer Jade Primo...

You ever tried to get a woman away from a phone she loves? She's had an offer on the table for my old 950 all since I got the 950XL. She loves talking about how many more megapixels her phone has compared to mine (and telling her there's more important things than megapixels is just asking to be tuned out), loves the way it feels, hates the onscreen buttons of newer phones, says her speakers even sound better.

I'd agree. If not for it's lack of SD card slot, I would've probably never stopped using it.

Well, you can always install the Anniversary Update on the 1020. It's just a bit tinkering with the registry

How can I go about doing this?

Same for me :) My gf had a 1020 and only recently I convinced her to switch to a 950.

Exactly same, wife has 1020, I have the 950xl! Same reason for no update, can't prise it off her!

Onscreen buttons are indeed bad. Takes up some of the screen space! And if the nav bar is black, the screen looks even smaller!

I used to think that, and still think they look better, but since having a Lumia 950 with onscreen buttons, it is way way better - you can make the buttons disappear which is a huge, huge benefit watching movies and playing games. If they could get rid of the bezel at the bottom (which is small already) it would be perfect, although the USB port at the bottom would probably have to be moved to the top (personally I have yet to use the USB port even once since owning the phone - they could get rid of it completely for my needs).

Yes I can make it disappear.
If you have seen Surface Phone leaked images, it shows that the nav bar is replaced by touch keys as in Nokia Lumias. Besides I don't like onscreen buttons of androids too.
And I am so happy that I'm able to comment here from WC for W10M. It was being very hard to comment from the app previously.

First of all, that is a charger, then an usb port;). Second, on screen buttons burns in. And if you take a look the screen you will most probably notice them on mate blue red or grey;).

I greatly dislike that the true successor to the 1520 went with OLED instead of ClearBlack IPSLCD for this very reason. Despite how much I tried to fight it, both my Lumia 950 and 950XL have burned in nav keys (and both my 820 and wife's 1020 have a burned in battery/wifi/data signal indicators). That and Windows Phones with OLED displays seem to generally get warmer and have worse battery life, even though OLED in essence is supposed to save on battery by only illuminating needed pixels. I truly do hope that when Microsoft removes their heads from their rear on this retrenched state of mobile efforts, their next phone does not feature an OLED display.

That would be a nice Apple-like innovation: skip the USB port. :-)

@ dave_456
That would be called "courage" if they tried to remove the USB port :)

Well, not to mention the burn in problem that is already highly visible now, on my 950xl.......

Don't see any sign of that on mine.. Been using it for 11 months now.

I've got burn in of the nav bar icons and the status bar (Battery indicator, Wifi etc.) but it's not noticeable unless you look, and only on certain colours (like white) - It's not a big deal and I didn't even notice it until I specifically looked.

For me they aren't noticeable even when I really try to see then

Yeah, I've never liked onscreen buttons. I can hide them to simulate immersive mode, but it'd be better if they just used the lip of the phone for this.

Your wife is a Lumia fan girl and I so approve.

She certainly is :) ​Funny how it worked out too.. because I actually tried to steer her the other direction, thinking she'd be happier with Android since there's more apps (she hated iPhone long beforehand, so that wasn't even an option). The general unstable, unreliable nature of the Galaxy S5 actually led to her being extremely frustrated as it would hang up and crash in really critical moments where she needed it to work... one time of which resulted in her being lost in Missouri - phone was at burning hot and refusing to take any touch or button input. She more of less demanded a Windows Phone since my 1020 seemed to never crash. Baby-stepped her with a 520 (which she loved) then gave her my 1020... now she refuses to use anything else.

435, 532, 535, 540, 550, 73x, 830, 930.

YES! If this makes battery life better I'll be ecstatic

I can't get this update on my L520 running 10586.456

Microsoft should allow a way for users to upgrade their old Snapdragon S4 hardware to RS1 after they accept some kind of disclaimer.

Those people will eventually complain so much that it could make other tech news sites (not so focused on Windows phones) to say that "Microsoft is sending out updates that bricks phones" and some crazy **** like that. :(

Sadly. That is true. I guess, i'll just retire my old L1020.

My old 1020 is on latest Redstone 2 build.

My L820 as well. Works fine. Slower, true, but fine.

Yes. Give Old Logan its very needed rest, just don't mess with it.

My 1020 runs great on 14393

As great as a 1020 CAN run anything.....I had one and loved it but it's a damn slow phone with poor hardware that was restricted at the time due to what WP could support at the time. It's a Lumia 920 w/ and extra GB of RAM and the great camera sensor. I loved the phone but I couldn't still be using one now having used other much faster phones since.

Snapdragon did say some time ago the older chips would be ok on W10M but it would need a min of 2.5gbr, & that was off the record, you just couldn't get the Ram for those older phones.

Does your internet sharing work? my 920 stopped sharring on w10m

Mine work only if the screen is on, so a just open some app, like a book reader to keed the screen on when i need it.

W10M doesn't brick anything. It's just the equivalent of an iPhone doing 3 updates in one jump.

They really should. Especially that TH2, RS1 and RS2 already work on S4 devices. Just, you, dramatically slower. Though they're more capable.

The SD S4 & the 400, just eventually struggle with the demands & speed required for the multitasking demands of W10M, Lumia 650 W10M,----//// Also have Lumia 610 W7.5 mango 256MBR, lol things have moved along also have 520, 530, 625, 630, 635, 730, 925, tried 950 at beginning but the experience wasn't good, but I'm happy with the 650. No problems touch wood,

Sweet! Went to check for updates on my Lumia 925 and it was already there waiting to install. Installing now. May switch back to my 925 periodically from my Fierce XL now that its getting this performance update.

Wow, this is an interesting development. I understand they might have reached a level of optimization that they're comfortable updating the old phones with. If I hadn't given my 920 away I'd be testing it. But this is a nice move by Microsoft that I hope gets publicized enough, they did take a really bad rap for leaving out the old phones, and all they wanted was to keep people from having a crappy experience.

Experience was great on my 925. Just battery life suffered a bit that's all.

Right, I left it before release. But you get my point.

They aren't making new phones, might as well update the old ones. 950 is now sold out at att with nothing to replace it. Sad days...

There are new Windows phones on the market such as the HP Elite x3, Acer Jade Primo, Coship Moly X1, Alcatel Idol 4S, BLU Win HD LTE, Lumia 650, Lumia 550, Lumia 950, Lumia 950XL,....

Slim Pickens.... Those lumia's are practically sold out.

Saw some unlocked still available on Amazon and eBay

Sure there are, but you can't include the x50s anymore. And I totally support the 950s, they're highly underrated.

Agreed. Ordering a new battery for min so I have another to wear out.

Yeah 3/4 of those phones are discontinued

Yeah. Wish there'd be some more new windows phones.

White version of att isn't sold out. Black one is sold out. Also the Lumia 950 unlock in black is still on sale at Microsoft store. I posted about this in the Lumia 950 section. No one cared to respond.

I went to att website, says out of stock. Good that it's still on MSFT site but probably not for much longer.

Nothing to replace it? HP X3, Alcatel Idol 4S

X3 is massive and expensive. 4S is nice but only on att. Need more options.

Yo dawg, how do I update my 920 on WP8.1 to this??

Not sure but try the microsoft upgrade advisor app. Just guessing.

You can't as all the rings are now on Redstone builds.

How can a Samsung Galaxy Device has W10 Mobile?? If yes then what's the device name? Or is it a screenshot?

Isn't it just the old Samsung ATIV or whatever it was called? The WP version of galaxy S3 essentially.

Ohh okay Thanks for the info

Now I really want to update my 920.

Not seeing it on my Lumia 1020 from at&t

If you were on Insider then make sure you are unenrolled.

How can I unenroll, when I try it just reports a connection error?

How do I get this on L1020? Have been waiting so long to get a taste of WM10!

Me too. Isnt possible with windows insider at the moment.. I was trying from months.. Got any other way?

Make sure you are on the production release.

Does not work. Microsoft has blocked insider updates on unsupported phones. There is one way though mentioned in the WC forums.

Can u plz mention the link

http://forum.xda-developers.com/windows-10/windows-10-mobile/flash-w10m-...

They have reactivated it now, but I still can't get the update to work.

Actually in 8.1 version of app there is no production release. It has only fast,slow,and release previews

That's right. For those who installed Insider app, make sure you quit the insider program and check for upgrade again. Hope it helps.

Zac, I thought you are in the UK. That's pretty late update, no?

Cut him some slack ananve.

It's not a slack, I just think it's already late in the UK. He can't work round the clock and need to rest. I'm worried for him :)

I think I heard Dan mention in a podcast one time that they alternate on the late night articles and OS releases or something like that.

Nice to see they haven't completely forgotten about us in the 10586 branch.

technically you should have supported the marketshare and gotten a new Windows phone

Soon I will be upgrading.

They did what they technically could, this update shows the good faith that exists.

No update on Blu Win HD LTE. Waiting patiently.

No update on the 1020. Not part of the list. As is the 635 512mb.

Downloading on Lumia 635. Have to 1st leave the windows insider program with the Windows Insider App before the update shows up.

I don't know why, but my story with a non-supported phone is a bit strange. Last year I bought a used L635 (512MB RAM model) and I entered the Insider program (I chose Release Preview) to install Windows 10 Mobile on it (that time, TH2 branch). When the AU was officially lauched, after waiting some days to receive the update, I realised that it didn't happen because I was participating as a Insider yet. So I left being a Insider, rebooted the phone, searched for a update and came the message saying I had an update available (the AU update). So, after reading that I wouldn't be able to install W10 again if I would back to 8.1 via WDRT, I did exactly that to see if it was right. After rolling back to 8.1 I installed Insider again, but no updates were found, even after many hours waiting and trying Fast, Slow and RP options, so I uninstalled and restarted the phone. So the strange thing happened: I installed Upgrade Advisor and it said that my phone (again, a 512MB RAM model) was able to receive W10! How could it be possible? Without loosing any second more, I installed it (TH2, 10586.107), and after reboot, I looked for updates and it found the AU update again. I would love to try this method on a L1020 or a L820/920, because in my Lumia, after some time days of normal use (listening to music, Edge and Twitter client) it becames slow as my old 256MB RAM 2.3 Android. For sure W10 is not a good guest to such low RAM phones, even having a 4-core processor. Anyone more have a similar story? Alexandre, from Brazil.

Anybody!!! Now can I upgrade my l630 from 8.1 to 10586????

nope, if you didn't force upgrade last year (even though your phone was unsupported), then there is no way to do it anymore.
.
You had already needed to be on at least W10M build 10240 or higher.

Just get rid of your old phones and buy a 650, they are cheap as chips and after you install all the updates and upgrade all the apps using the store it runs like a charm!!

If you are in US, Lumia 650 costs $70.
If you are in any other country in the world the Lumia 650 costs closer to $300

Germany is about 100€ streetprice. 250-300 is really quite expensive...

In Europe it is around 120€.

In Canada, the Lumia 650 sells for $250 unlocked.
For that price I could just buy an older Lumia 930 or save up and buy the Acer Jade Primo for $699

We have a changelog, shared with desktop build 10586.679 Windows 10 and Windows Server 2016 update history

"It includes the same improvements and fixes from the update listed as November 8, 2016"

For those with a 925 that rolled back to WP8.1, is it possible to use the registry hack and still go down this branch? I'd love to run Windows 10 Mobile on my 925 and still keep Kid's Corner, which I lost when I went to AU on my BLU Win HD LTE.

nope too late. GO BUY A NEW WINDOWS PHONE :)

Did you miss the part where I said I OWN A BLU WIN HD LTE RUNNING WINDOWS 10 MOBILE ANNIVERSARY UPDATE? Also, WHY ARE WE YELLING? I'm trying to find out something specific here: if I use the registry hack that allows me to install Win10 Mobile on my 925, can I go down this branch instead of ending up in the same boat with Anniversary Update, which dumped Kid's Corner?

Just installed it on my Lumia 920. Wow it gets really hot after a couple minutes of use.

how can u update ur lumia920?? mine says device is up to date. 8.1

He already used Windows 10 Mobile.

Yup. Put Win10 Mobile on it around the time build 10586.420 was released. The heat after a couple minutes has cooled off. Must have been post install side effect.

I wonder if they will update HTC phones.

Yes. If you installed the Threshold branch before it was replaced by Redstone.

yep - just put it on my M8 - we will see. .545 had rendered it useless. ( I hadn't even charged it in a month.) seems smooth now.

How can i update my L525 to W10??

Use upgrade advisor app. It will take you to w10.

That won't work as Microsoft blocked ALL unsupported phones when the RS1 update was released, this update will only install if you already have W10M installed.

Tell me what I got to do to get this on my awesome htc m8?

Like some others mentioned above if you remove yourself from the Inside Program in your phone it will allow you to download this update. I'm running it on my HTC One M8 now.

That picture is a Samsung phone with Windows os.

Probably Ativ SE since it at least has a SD800 and 2GB of RAM.

Go back in time and install 10586.xxx before Redstone came out.

Did you get it? Not working for me. I'm on 10586

W10M just do not work on 512 MB RAM devices. Plus there are still some bugs like internet hotspot turns off when screen locks, screen freezes and things like that. After I switched back to WP8.1, I got back Lumia camera, HERE maps and HERE city lens. Plus its so fast and stable. Swipe gestures on news app is so much better than hamburger menu. WP 8.1 was way better than W10M in terms of design, performance and stability. The only thing I miss is Groove music and Movies & TV app.

Come back to WP8.1 It was the best Windows OS for phones till date. Without doubt.

Good thing those bugs are only on really old phones. Time for an upgrade.

Nah..I am really happy using Nokia HERE City Lens, Nokia Creative Studio and HERE maps on my "old Lumia 720". Also, the swipe gestures are much better than hamburgers.

How can i update my old lumia 920

Nice, getting it now on my Lumia 520 which hasn't been powered on in several months.

my lumia 920 is on 8.1 . can i receive this update??

No you can't as this update is only for those who haven't updated to the AU or have W10M installed on a unsupported phone already.

I rolled back to win8.1 and I can get windows 10 mobile via windows insider. I guess I'll have to use win8.1 from now on.
On the plus side, win8.1 is fast and battery life is good.

"I rolled back to win8.1 and I can get windows 10 mobile via windows insider." Did you mean "I can't"?

Was initially getting error 0x800705b4 on my 1020. After leaving the insider program & rebooting my phone, the update is now installing. Pleasant surprise :-)

Buy a new windows mobile and get official redstone because threshold 2 always sucks

Give me money, it you can

Old phones has low specification so dont hope for the best performance of windows 10 on it.
Windows 8.1 is best for those phones

Maybe. But my 925 runs pretty much the same on this build as it did on 8.1. Only a little less battery life.

You will see huge performance improvement on redstone

My 1020 is crying with joy

Security updates. Gotta maintain active software branches.

Must be. I wasn't expecting Threshold branches to see anymore updates.

Why dont you buy L540 or L640 they are so cheap and supports WM10 redstone

Which ring should I be on to get this update? I have a 925.

My 925 was already on W10M via the Insider Program before the "cut off". I was able to get this update today by unenrolling the 925 from the insider program (which I did a few days ago). When I went to go check for updates today when I heard this news, the update was already there waiting to be installed. Installed without a hitch and it's running great!

Ativ S is not eligible to get Windows 10 to begin with.
How did we get to pre-anniversary without a hack.

You would have had to force the update with earlier Insider Builds a while back. That way the device would already be on W10M, and therefore be eligible for the update today.

Last I remember you couldn't do that without a registry hack.

Not true. In the beginning of the Insider Program for W10M you were able to get the build on the now "unsupported" devices such as the 920, 1020, 925 and Ativ S. That was before they decided that these phones weren't eligible for the "official" OTA update. So if you left your device on the insider program and didn't roll back to 8.1. You can now as of today, unenroll your device from the program and receive this update.

Hey! I recently rolled back my L820 to 8.1, but now want to get back on to TH2, the insider app didn't work for me. Any suggestions on how I can get back?

I don't think there is a way to do so now if you rolled back already.

Ah. I'm not too keen on doing the registry hack for I'm afraid I'll do something wrong and brick the phone... Oh well. Thanks for the response :)

No prob. Didn't want to have to try to do the registry hack either. That's why I left it on W10M instead of rolling back.

Rocking 10.0.14393.448 on my Lumia 820 :D ... (I upgraded to redstone from TH2 via reg. hack and I am installing culm updates the same way) Huge improvment in stability on RS1 over TH2, also my phone is no more overheating in idle, double tap to wake works better, glance works better, edge is like 10x better than IE. I would say S4plus(MS8960) is running W10M RS1 very well, close to wp8.1 experience. Of course it have some bug here and there (but even 950,550,650 does have same problems... so it is problem in OS itself). I dont uderstand why we was kicked out of insiders previews, MS8960+1GB RAM (L820,920,925,1020,1320) Is perfectly capable for W10M, at least MS should let us in insider(like do you rly rly rlyyyy want to install this to your ****** phone ? Ok, your risk ... put your password to proceed or smthing like that) so I (We) dont need to hack over and over our phones to get culm updates, and we can live little bit easier .

Please How can i do the reg.hack on my 1020?

google it m8 ... its not that hard, oc it inludes risk you can brick your 1020

How to install this on ATIV S? I have the latest official update: 8.10.14157.200 I have installed the Insider app, but it says no builds :(

That's because the ATIV S is and was always an unsupported device for W10M. Not only that but unless you were already on W10M then you won't get this update.

Why is there a photo of an Ativ S ? I thought that W10 Mobile was not working on it... Wait what ?

Earlier on it was possible to get Win10 on it using the Insider-APP (not anymore). It though never was able to upgrade to the Anniversary-Update. Thus the picture is a good fit for what is explained in the article.

My Lumia 1020,is running on window 8.1 how do I get updat which tool should use wi does 10upgrader or windows I sider

Fast or slow ring becouse I just tried but doesn't work.or should I just wait while

Slow is better than fast ring. But production ring is best than both.

At times app just say error

Has it worked for any one with Lumia 1020 running on windows 8.1 at moment

I have not this build :( is your 820 register hack ?

No, and it was already running 10586. If you're on 8.1 you're screwed.

I am not getting this build on Lumia 525 (10586.494) India. How to get this Build? I am inn Preview Ring.

You have to leave the windows insider program with the windows insider app. Then search for updates and the build will show up.

Just installed on my lumia 1020.i have two days to test and after that i will leave a comment

Dear Chris, do you have to enroll to insider for this, or does the update automatically pops up to go from wp8.1 to wp10?

Unless your unsupported phone is on W10M already the you won't get this update.

I have L920.. Updated to fast insider... Now i check for update... It shows " your phone is up to date" can i get 10586... If yes.. Thn tell me how???
Build ID is 1451.10458

You've answered your own question. This build is for the 10586 branch. You are on the later Fast branch. You can't roll back builds unless you want to wipe your phone using the WDRT.

Do you have the 1gb or 512mb version?

Is it true the build not there in europe

No. Build is released for all regions.

Can someone tell me how i can install win 10 mobile on lumia 1320

I'm on insider program of win 10.. I have L920 one GB version.. Need to install win10... Built ID 10586...

checked for updates on Lumia 925... "your phone is up to date." Anyone knows how to get this update ?

Can my 1020 be updated to this version?

I also have 1020 tried with preview tool but it ain't updating still waiting.really want to get win 10 on ma 1020

Is your 1020 on W10M already, if not then you can't get this update.

Ppl should really appreciate what msft is doing here. Nothing goes to waste when it comes to Windows and its ecosystem, they're just recycled.

They've got to upgrade. What do you think Android and iOS users are doing with their phone?

I'll be updating my 1020 later then. This is indeed most odd.

521 when huhuhuhuhuhuhuhuhuhuhu :p

I'd love a 5.5inch version of the 1020 with quad HD screen and Snapdragon 821 *dreams*

And this might be stretching it, but we need some kind support for attaching existing retail camera lenses. I say this because when you have such a brilliant camera, it's a shame we can't use it professionally. I would love to be able to attach professional lenses to my L950XL. Beast Grip is one solution, but it's not that widely available, so a more accessible attachment would be nice

I'm on lumia 920 build 10586.242 i tried all the three rings, but still my phone is showing as upto date(living in India). Anyone can help me?

make a hard reset and update the phone without installing Windows Insider (options/update/)... you will get the .682 update

same issue for me .. pls let me know the procedure to geting latest build :-)

I'm pretty sure they did this partially to say they learned from the windows phone false promises that they would all get windows 10 mob. Now that some ppl forced it onto their devices, they feel it's better to at least give them an update to congratulate them I guess...

Lumia 822 running WP 8.10.14203.306
Settings > System > Phone Update > Check for Updates > "Your phone is up to date."
Any thoughts on how to upgrade? If there is a way to upgrade, can I return to the great and wonderful 8.1?

I got it today on 822 fine.. You need to come out of insider

Re: deepu Krishnan,
I'm not in the insider program and never have been. How did you upgrade?

Not sure about that. I had windows insider installed already. Just used the option to stop insider build and checked once more. And there it was. Immediately installed it.. ☺

Re: VikasSingh09,
May I ask, who are you asking "which ring"?
If it is me, then my answer is standard out of the box so I would think it would be production ring? See version number listed above.
How do I upgrade to the new version indicated in the article and discussed in these many comments?

Try to install upgrade advisor from store.. Then try

You answered that question yourself, you're on WP8.1 on an unsupported device and there is no way to install W10M on them as Microsoft have stopped unsupported devices from recieving W10M when RS1 was released.

822 is supported.. I got it. It has same dual core processor like 920 has 1gb ram. It runs fine for me

No it's not. It you have it it's because you registered for insider upgrades prior to te official release of the Win 10 upgrade for older phones. The 822 is definitely not supported on Windows 10

Re: neo158,
Respectively, may I ask why others with 822 are getting it? Isn't this article saying, in the title, that the update is rolling out to devices not eligible for anniversary update?

Re: VikasSingh09,
Yes to what?

Re: VikasSingh09,
What about the Lumia 822?
Are you saying you were able to upgrade? If so, may I ask how?

Re: VikasSingh09,
May I ask, how did you upgrade your 822? Were you on production version of 8.1 or on one of the rings of the insider program? What steps did you take?
Any help would be appreciated.
Best Wishes

Yes on production version

Try to install upgrade advisor from store and try once

Re: deepu krishnan,
Thank you. I think that is a good idea. I tried it, but it said my phone is not supported.
Maybe the update isn't available in Minnesota USA yet? I'll try again tomorrow.
Thank you for your comments.
Best Wishes

I received this update on my 640 XL while upgrading from 10586.107 to 14393.448. http://imgur.com/w5VQaLv Odd!

my new Acer Liquid Jade is recieving it and hope the real thing AU will follow later with its firmware,

I have 10586 on my HTC One M8. Why am I not receiving it.

Unenroll your phone from the Insider Program! :)

This makes me and my venerable Lumia 925 happy. I can continue to cling to the "At least I get software updates" argument when Android drones turn their nose up at it.

I don't know why, but my story with a non-supported phone is a bit strange. Last year I bought a used L635 (512MB RAM model) and I entered the Insider program (I chose Release Preview) to install Windows 10 Mobile on it (that time, TH2 branch). When the AU was officially lauched, after waiting some days to receive the update, I realised that it didn't happen because I was participating as a Insider yet. So I left being a Insider, rebooted the phone, searched for a update and came the message saying I had an update available (the AU update). So, after reading that I wouldn't be able to install W10 again if I would back to 8.1 via WDRT, I did exactly that to see if it was right. After rolling back to 8.1 I installed Insider again, but no updates were found, even after many hours waiting and trying Fast, Slow and RP options, so I uninstalled and restarted the phone. So the strange thing happened: I installed Upgrade Advisor and it said that my phone (again, a 512MB RAM model) was able to receive W10! How could it be possible? Without loosing any second more, I installed it (TH2, 10586.107), and after reboot, I looked for updates and it found the AU update again. I would love to try this method on a L1020 or a L820/920, because in my Lumia, after some time days of normal use (listening to music, Edge and Twitter client) it becames slow as my old 256MB RAM 2.3 Android. For sure W10 is not a good guest to such low RAM phones, even having a 4-core processor. Anyone more have a similar story? Alexandre, from Brazil.

Seems to be a mistake for that particular model. I guess they don't check the RAM size.

Tried on L630 (512 MB), of course doesn't work. Would be interesting to hear if other users with L635 (512 MB version) can upgrade from 8.1 or not.

I got a 550 other day for 50 quid used like new with the box, charger and instructions. My 1020 stopped working properly due to trying to do a downgrade to 8.1 but bricked along the way damn! 550 is lowest end phone with w10, and was shocked to see it supports glance screen, living images and hdr. which is more than can be said for phones like the 630 its a shame though!

Would be nice to see if this works on my backup Blu Win Jr LTE (X130e) which has official Win10 support but so far has not got the official Annervisary Update...

Our 635 w/ 512mb RAM does not see the update. Still on .327. You probably did the upgrade process before the model was taken off the list.

Upgraded my old Lumia 822..☺
For a phone this old and low spec, it's running pretty fine. WhatsApp is kinda slow to load... Otherwise it's very impressive... Can't Imagine any five year old android phone to run nougat!!!

My Lumia 1020 didn't still receive update I rebooted it.still didn't see.i installed insider tool still shows am in windows 8.1 what's happening I need 10.

You can't officially do that.

Prem2530... How did you get 10586 update... I have L920 updated to insider fast 10458.. And not getting 10586.. It showing" your phone is upto date"....

Have 920 and 1020 - smoother, faster and battery life issues sorted :D

how did you manage to get the update on 1020? Were you using the insider preview and was on one of those pre- release rings? help out other fellas, inlcuding me ;) to get their 1020 updated. thanks in advance !

My lumia 920 IS ALIIIIIVEEEEEE

Can i update my Lumia 720 to Windows 10. Now. Is there any way that i can use to upgrade?

My 1020 just shows its up to date with 8.1 still.can I use the insider tool
.or I just have to wait.

I got the update on my backup lumia 810........everything seems good so far.

We have lumia 635, 512 MB, on AT&T. Withdrew from Windows Insider as suggested here. Updated overnight to 10.0.14393.448. Seems to work fine so far. Is this a mistake by Microsoft? Or this what they planned?

How?? i have 8.1 on mine.

I disabled windows insider from within the app, rebooted and checked for updates and there it was. Fyi, the phone has no sim card. Not sure why it worked.

Shouldn't be possible. Unless you were already running 10586 of course. Try downgrade to 8.1 and see if you can still upgrade?

Got it on my 620 after hard reset. It's looking good...

how to get the update? after hard reset, I'm still not get the update

I just wish that it will roll out onto the old phones like the Lumia 635 and such.

I cant leave insider ??? Says server error??? Anyone else has this problem?

same issue for me. pls help to us!!!!!!!!

Yep, I haven't found a solution, I guess I'll have to do a reset. (warning dont use the device recovery thing via USB, you will lose windows 10 completely and permanently.)

Can you please post here after you hard reset did it work ?

No, it did NOT work! I tried changing all the region settings and using a VPN to try different geolocations too, I couldn't get it to work at all. Very strange.

have you another solution? My L920 still not get the update. I was try to Stop Insider program, hard reset, but still not get it

Nope I'm clueless. I have three 1020s all from different countries originally and I've tried everything I can think of, no sign of this update. My guess is they are somehow all still stuck on insiders, but as insiders app no longer works on these devices I cannot come out of it and a hard reset is perhaps not taking them out of insiders either. Really strange as all previous updates worked no problem.

I can't get this on any of my 1020s (currently all running 10586.494, even after resetting one of them completely (to a clean 10586.494). What am I doing wrong? Have any 1020 owners managed it?

My 1020is also not updating.

me too. my 920 still not get the update :( do you know why? I've left the insider, hard reset, but still not get the update

Didi you install it after all ?

There's been a slight development on this. Windows Insider App is now working again for 1020s. However having used it to try all possible options, Fast Slow, Preview Release and quiting Windows Insider (The last two being the most likely to work, probably quitting), I've still had no luck getting the update. I haven't given it 24hrs yet though and sometimes you need to, so I will report back if the updates ever come through. Please comment if you have been able to update a 1020 and how you did it. Thanks.

Why'd they do it, you ask? Perhaps, Microsoft's way of trying to please everyone. Don't think anyone's complaining.
Windows Central Newsletter
Thank you for signing up to Windows Central. You will receive a verification email shortly.
There was a problem. Please refresh the page and try again.