Windows 10 Mobile Creators Update to start rolling out April 25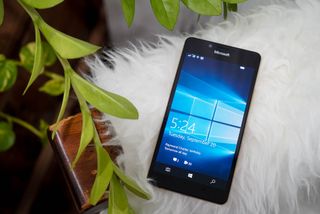 While the Windows 10 Creators Update is set to start rolling out to desktop PCs on April 11, Windows 10 Mobile users will start seeing it roll out a bit later on April 25.
Though we knew the Mobile rollout was likely to occur later than desktop, there was no firm date before. Microsoft has now confirmed April 25 as the Mobile rollout date in a new blog post on the Creators Update desktop release:
Because of the phased rollout schedule, not everyone will see the update arrive on day one. Given the somewhat slow rollout that we saw with the Anniversary Update, it could be some time before all devices eligible for the update receive it.
Aside from the note on the Mobile release date, Microsoft has also given us a bit of good news for those eager to get their hands on the Creators Update for desktop earlier than April 11. For anyone who wants to take the dive, Microsoft says you can start manually upgrading to the Creators Update on April 5 through the Update Assistant.
Windows Central Newsletter
Get the best of Windows Central in your inbox, every day!
Dan Thorp-Lancaster is the former Editor-in-Chief of Windows Central. He began working with Windows Central, Android Central, and iMore as a news writer in 2014 and is obsessed with tech of all sorts. You can follow Dan on Twitter @DthorpL and Instagram @heyitsdtl.
Yeah, that's a double treat. The Flash, all new episode coming April 25th as well.

Great!!
But it seems to reach from May with first wave of compatible devices.
Anyways! I'm eagerly waiting for the public release notes.

I don't understand the people here. Everyone has different requirements and has every right to go with his/her choice. In my case, I am satisfied with my L640xl with anniversary update in it because it does everything that satisfy my requirements on daily basis (Except bluetooth connectivity). Creators update is on the way, I am sure it will improve my experience with windows mobile and as MS has promised they will keep delivering the updates even after the creators update that is more than good for me. Simply those update will improve windows mobile not downgrade it.

What for? With MS its latest actions it has signed the death warrant on windows mobile. Everything they do on windows mobile from now on is futile. I have kept lots of people on windows mobile, but as of today I will advise them to go for android or iOS. My last bit of faith in windows mobile has gone with MS beginning to sell android phones. Lets give Nadella a hand putting our wonderful OS out of its misery asap. A good first step is if we encourage all around us to change platform.

Or just use whatever phone makes you happy. This isn't a political statement or life defining thing.

Exactly! People need to get over it. Plenty people here will call people "iSheep" for using an iPhone....maybe that's just the phone they want to use, they haven't joined some cult or religion through choice of phone.

I don't know, I'm pretty sure Apple is a cult :P j/k

Lots of Microsoft employees use iPhones. You see all manner of phones at Redmond campus. Android, Apple and even a few Microsoft ones...

Agreed. I wish more people would understand this concept. My life doesn't revolve around apps and I much prefer Windows Mobile. For me, it just works. For others, it doesn't. To each their own.

What will u be using Dan?

Given up on MS Dan? From supporting retrenchment to this now ;)

Lots of I's and My's ;) How about for people that prefer Windows on phones and everything that comes with it? For people that don't want to be forced to use Android (advertising company) or iOS (locked eco system) on phones. For people that want to have a third choice. Or just 1 cloud account for all their services. And no, Windows on phones is here to stay for a long time.

I agree with your first paragraph. Not so much your second.

Technically, the second is a sentence. :p

http://tinyurl.com/k6ugc8j

I love my Idol 4s and why wouldn't I be happy with an OS upgrade? Even if MS is abandoning WM10, this phone will get me through for three years and then I'll decide my next course of action.

You are going to love the new icon!

and yet... here you are, on a Windows Mobile post. Care much?

MS sells android phones???

They will be offering the Galaxy S8 in their stores. Looks like a nice phone, depending on pricing i might pick one up.

Yup. The Samsung's "Dex" is a Continuum that actually works, and Office is one of the first apps to fully exploit it. Thus, MS will be selling the S8 in their stores.

Continuum works great. And is aside the multiwindow superior to what samsung has to offer till now. The things contiuum is better at? It can be used wireless, it is controlable by smartphone, it does not need an active cooler. what is going on there? Continuum can be used with a s617... They have an s835 and need to work that hard? Is that just an emulator or dual boot with cromeos or why is it getting that hot? And where thereis heat, there is power consumption. Batterylife would be afwful if it "would"(!) be working wirelessly. Does not make any sense to me. And everything else is "borrowed" from the hp elite x3.

Yeah, Continuum works pretty well on my 950 with my TV. If I don't want to bother with cords or cables, I can get our my phone and my Bluetooth keyboard with a trackpad and I'm good to go.

I definitely agree that people who are jumping to the conclusion that "Dex" is somehow better than Continuum in every way either haven't used Continuum or don't understand the cons to Dex - Both of them have issues and neither are perfect right now. I wish MS had put in the changes they showed off to make it much more like a PC, but I would assume that Continuum as we know it is going away and those features may not come to the 950 etc.

Samsung is looking for purchase against Microsoft and Google. Continuum will evolve along with Windows 10 Mobile from a phone OS, it will blend into the ecosystem and have access to the full Windows Store. Samsung is stuck running a phone OS. Android won't be around in 4-5 years, ditto iOS.

How do you know it works before you have tried it?

If only the S8 ran WM10 would have been an awesome wm experience.

I say go buy your S8. See you in two years when your contract runs out.

Oh boy. Here we go... (sigh)

True.... Even Nadella lost hope in future of windows phones. I'm confused which phone to choose next. Elite x3 or Samsung S8??? Any advise?

Need apps? S8 without hesitation, otherwise it depends whether you like the experience of android or windows more

Need apps? S8 without hesitation, otherwise it depends whether you like the experience of android or windows more

Nadella? That guy obviously not believed at all. He destroying WM since he came...

Yup. If those are your only options. Go with the Samsung product and get it on contract or wait for the new Pixel and get it on contract. The only reason to go with the HP is because you know that you don't need an Android device.

Pretty extreme sentiments.. However, these are your feelings on the matter. Some of us have other devices with different os'es and I for one have brought the Lumia 950 at least on 6 ocassions because I would buy it and sell because the lack of commitment (Half Hearted) from Microsoft. Since then I have purchased the Lumia 950 one last time and won't sell this one but I did purchase the LG G6. Owning the LG G6 allows me to have access to the apps that I want for my leisure and the ones I rely on daily. The writing has been on the wall. But life goes on. Lets see what happens by the end of the year..

I will! I am going downstairs!

I don't understand the people here. Everyone has different requirements and has every right to go with his/her choice. In my case, I am satisfied with my L640xl with anniversary update in it because it does everything that satisfy my requirements. Creators update is on the way, I am sure it will improve my experience with windows mobile and as MS has promised they will keep delivering the updates. So, that good for me and simply those update will improve windows mobile not downgrade it.

And yet Microsoft are releasing updates for Windows 10 on Mobile because why? The near future is Wndows x86 emualtion on ARM. So Windows 10 on mobile devices. iOS and Android are so good as smart phone OS'es that they have reached their pinnacle. They are done, complete. What's next?.

So 25th it is. Excellent. Hopefully all ten of us will get it on that day ...

Edit: I stand corrected.​

Can Lumia 630 install this update?

How about through Insider program?

You don't need to join the insider program. The L650 came with W10 and it will get updates.

Nice, I hope WC post ah article on how to get it early manually.

You already have it if you are in the slow or fast rings of the Windows Insider program.

With the update assistant. Should be able to just run that on the 5th, or the 6th depending on what time zone you're in.

Hmmm... Seems like those days when W10M came to eligible phones... Some of these will be left behind on April

Will 640xl be left behind? There is no new windows phone in india to upgrade to :(

Every phone with w10m can get it.

I would bet every current Windows phone will get left behind after Redstone 3. Cobalt might run on the latest ARM chips.I can see Elite X3 as the entry level business phone, kinda what the L650 was. More horsepower and RAM will likely be required. Some type of accelerated graphics hw/gpu will be in play shortly as well.

We used to have like 100 comments in first 15 minutes when news like this happened in the past. Now people doesnt even care anymore sadly and I dont blame them :/

I'm glad there's less people whinging about it lol

Because of Windows Insider builds? Just the date is news.

There are also no new features, so who cares lol

GATT support is in it at least. If you use a smartwatch fitness tracker that is quite big news.

Shockingly enough the GATT support is not functioning properly https://community.fitbit.com/t5/Windows-10-App/Fitbit-for-Windows-Track-...

Maybe a lot of people have left this community? I feel like most people who criticize MS on here are told to get lost/go to another platform. I don't know about everyone else, but I constantly criticize MS not because I hate them, but because I actually want things to improve. But there are people who pretend like nothing is wrong or try to defend all of the flaws, which we find just as annoying as they probably find our complaints to be.

I think its probably because most everyone that is reading this has already installed it on their phone through the Insider Program. And we have known it was coming sometime in April for a while now. No real surprise. Now, if they had said that we were getting the 3D scanning feature, then the comments would be blowing up.

I don't think that app exists in the way it was shown at the event - It just wasn't believable that the demo was live and then clearly scanned in the sandcastle before hand. I'm not sure if they mentioned it would actually release at the event but I always assumed it was a concept of how it could work in the future. When it does release I would assume it comes to all platforms at once too

Great.. We will receive some cumulative update to the latest build 15063 till 23 april.

It's already available through Insider rings, nothing new will happen on May 25. 🙄

So basically almost every 2 weeks updates rolling out ..now Xbox...in a couple weeks pcs and couple weeks later phones... Good job

Great! I've been away from news about this update on Mobile. What new features are expected on it?

I'm honestly looking forward to the improved iris scanning and swipe to text improvements.

Ooh there's a great article on what to expect and also a video too. http://www.windowscentral.com/hands-windows-10-mobile-creators-update-video

There are no huge new features, but there are small tweaks here and there and numerous settings pages now use the same ones from the PC app rather than having a different layout; making it all more consistent. Hopefully there are some performance or battery life improvements too, but I've only tried it on low end Lumia 435 devices so far and not on my 950. Oh, there are also little things like in Continuum you can turn off the phone screen whilst keeping the external display on. This should help with battery life, and also possibly keep the temperatures slightly lower which should enable it to perform a little better for longer.

I hope, really hope, that Microsoft isn't going to give us one step forward and two steps backward. Are we going to lose any features / functionality? I'm on W10M production.

GATT support is one of the new features. That means if you want to use fitbit or garmin it will receive notifications.

GATT is not working correctly. https://community.fitbit.com/t5/Windows-10-App/Fitbit-for-Windows-Track-...

Any idea if it comes with the 3D scanning app that they demoed a while ago?

Mary Jo & Paul said in their podcast that that app has all but gone silent. Great demo...but if its real, they're not talking about it.

Yeah, actually that's kind of why I was asking, to see if WC guys could confirm that the app is gone. I was looking forward to it. I even downloaded something with that name from the store but it doesn't work, or is not active.

THIS is what annoys the hell out of me by Microsoft. They show off a really cool app that is a differentiator for this platform and then don't seem to follow through and bring it to market.

I don't think it was real, and I'm not sure if they ever said it would actually be released. I saw it as a concept for what the experience could be like when phones eventually have 3D cameras. The demo on stage was clearly not a live demo of real software - That's not a criticism either, you could tell by watching it and I always assumed it was a concept.

Apple or samsung will use the idea n bring it to life

Once 3D cameras affordably fit into phones this won't be hard to achieve. What they showed w/ a standard camera like the x3 has doesn't sound very plausible to me except under very controlled conditions

Re: dorelse,
I thought Mary Jo & Paul quit Windows Mobile.

They still report on the whole of MS though

It does not. There was an article yesterday or the day before that there is no ETA on when that app might be available.

They cancelled the UWP version so they can get their Android version finished quicker. They need it for their GS8.

They'll probably release it for Android and iOS before Windows 10 (Mobile). :-P

I don't know if I'm just the unluckiest one here, but I find the latest insider build to be far from ready for official release. Too many annoying bugs.

Well that's the whole point of the insider builds - so they can find those bugs and fix them for the official release.

It wouldn't have been an issue until found out that the current build (15063) is apparently going to be the official build.

Yet still - that is the reason for the insider builds at various levels. Testing it on various devices with various users. That's why feedback is so important. If there is a problem and it's not reported then MS can't do anything about it. Prior to an official release of a testing OS build they fix problems or install patches in some problems until the next build. I don't see the problem.

I report every single problem I see in every build. The problem is that whenever they fix a bug, something else breaks. This shouldn't be happening so close to the official release, especially if this is considered to be the final build. Of course there's still some time before the 25th, so I guess I'm not allowed to complain about it until it hasn't been fixed by then.

Nope. Absolutely not allowed to complain! :P

At official release, it will be 15063.[something] indicating bug fixes since 15063 was originally built. So far it's 15063.2 but expect the official release to be somewhat higher than that. For PC, the release will be the 15063.0 build, immediately followed by the latest cumulative update (possibly this will happen without the user seeing it).

I have some stuttering from time to time in gaming and today while I was out I pulled my phone out and it was in the process of rebooting on its own. Other than that it's been fine.

I highly recommend a reset, especially if you've been on fast ring. My 1520 would run hot a lot and was getting very poor battery life. So much so that I thought the battery was shot because it would go from 100% to 10% in a couple of hours without heavy usage. Once it looked like 15063 was going to be the Creators Update, I performed a reset. I was surprised at how much better it is running. I did not restore a backup, just manually reinstalling apps in case the backup would bring the problem with it. It might seem like a long process but good thing we don't have many apps in the store. :P

Sweet! Looking forward to it!

Out of topic I think today I destroyed some phones at work lol, I used Lumia 950xl as main device and Samsung s7.
So at the office people started talking **** about my Lumia we started compared phone and I lost but I end up told my phone screen can stand up to heat and it's just cheap phone lol, crazy people started heating their phones screen some recovered some get mark lol, and my Lumia take the last laugh lol...

Best use of company time ever!

I bet it will "seem faster" (tm)...

what issues?
have you tried a reset & restore?

I have problems with trying to turn Bluetooth on and it doesn't turn on. I have to do a soft reset of my phone every day as it just freezes on the goodbye screen, then once its started up Bluetooth works 😐, I've moaned for months to Microsoft but they keep saying do this, use this tool. Nothing works 😐

This certainly cannot be everyone's experience. Otherwise we'd have more comments about it.

This happens every so often even on the current production build tbh, it's rare but it's happened to me 2-3 times since the 950 came out

I must be extremely unlucky for it to happen everyday then ☹

For the past year, I've been installing new builds on my L650 without doing any hard resets. I guess when I'll be able to download CU on my phone using WDRT, it will be a good moment to start afresh.

I don't think WDRT has the newer images - Saw somebody complaining (rightfully if true) that WDRT takes their phone right back to 10586 as MS haven't updated the tool. Can't confirm if it's true or not though as I haven't tried myself

What's this BS to wait 2wks later for a mobile rollout?

There aren't any new features, you're not missing anything. Mobile rollouts are typically 1-2 months after PC rollouts. You could join the insider program if it means that much to you, but again there are no visible changes to the OS with this update.

It crashes a lot more. So, there's that.

Faster, and the keyboard is better.

GATT.... Why do noone think of that? People just use the insider builds and think, that is the featureset of production too after a while because they just dont remember when it was introduced.

Because GATT isn't working correctly. https://community.fitbit.com/t5/Windows-10-App/Fitbit-for-Windows-Track-...

It's probably to ensure a smooth rollout. And to have enough coverage for their support personnel to help with upgrade issues should they occur.

Since no mentioning of year that will be 2018.

Uh, is it just my phone, or is everybody seeing random profile photos pop up on their posts?

Yes I saw that earlier, just hit refresh.

Yeah, I have been seeing that too. Kinda freaked me out the first time.

Sorry for asking again, but will this include GATT support? In case my new eBay Band 2 bites the dust or rubber rips and I have to get a Fitbit or Garmin...want to look forward to having reliable notifications on those devices.

Fitbit cannot get it working correctly. There's a sticky thread in their Windows forum on their website, hasn't been updated in a couple weeks.
https://community.fitbit.com/t5/Windows-10-App/Fitbit-for-Windows-Track-...

I'm a little bummed that it's almost a month away but I'm glad to have a date.


I thought carriers had no input after the initial release of Windows 10 Mobile.

With all of the major US carriers dropping their Windows Mobile phones, will the carriers be in any hurry to approve the firmwear updates, if there are any?

Carriers would still approve Firmware updates I believe, but not OS updates. Manufacturers can opt out of updates on production though, like Acer did with the Jade Primo as they said Anniversary Update caused the phone to be too unreliable and they didn't want to fix the issues. Not sure if that means they won't support / allow Creators Update or not; you can still get the builds via Insider Preview on the Jade Primo but Acer don't officially support it on that phone

That's awesome news :) looking forward to see what changes on this build to the next.

Facebook messenger is no more as of today on win8

Time to upgrade then. Or use browser.

Nice! Hopefully the Release Preview build isn't so far off then for mobile.

I installed the latest build of it on a 1520 the other night, but aside from some minor changes in control panel, I'm not seeing much different.

There isn't a lot other than very small tweaks and the settings pages are now more consistent with the PC ones, which is nice to bring it all together a bit more. There is also the option on Continuum enabled devices to let the phone screen time out whilst keeping the external display on which should help with heat and battery life in that scenario. I've only tried it on a Lumia 435 and not my 950 but the animations seen slightly faster to me and app resuming a little more reliable.

GATT support is a change which is fairly substantial for those of us who want to connect other tech to our phones 🙂

Except GATT support isn't working properly. https://community.fitbit.com/t5/Windows-10-App/Fitbit-for-Windows-Track-...

That's true, I would be really interested to know whether its something MS can fix post launch or not. If not I would prefer they hold back CU from Mobile a little longer and get it working. If it can't be fixed in cumulative updates then we won't see it until RS3, by which time FitBit may just abandon the idea

Windows 10 mobile, well, i really believe in this os, many people are giving up on it, but I think it's here to stay, I hate android and ios, is not for me either, but strangely I fine my happiness in w10m, I really hope Microsoft opens up to developers like android is doing that might help get more apps, I will still love w10m no matter what, I feel unique when my friends pull out their android and ios phones and I show off my Lumia 1520 w10m, I hope my 1520 will get the creators update though, really, Thank you Microsoft for w10m.

Me too love windows phone. I love my L930 w10m. I hate android and iOS. I can't even imagine rolling back to 8.1.
Lack of marketing is killing the eco system. Windows Phone OS is so unique and comfortable to use. Please bring it back to life. No news for about 1.5 yrs.

Me too love windows phone. I love my L930 w10m. I hate android and iOS. I can't even imagine rolling back to 8.1.
Lack of marketing is killing the eco system. Windows Phone OS is so unique and comfortable to use. Please bring it back to life. No news for about 1.5 yrs.

Re: GIBS DIR,
I agree with you.

They still haven't fixed the damn GATT issue with Garmin. Fast ring end of January had it working perfectly, then the next iteration killed it again.

My Lumia 950 was updated yesterday on mobile build 15063.2. Guess what happened to the apps that I already installed , when I clicked on apps it get stuck to loading screen and never opened , so I decided to roll back to anniversary update.

You should've done a hard reset, lol.

I don't believe untill they release because they promised us nothing

Too bad it still crashes my phone randomly when I unlock it.

950 xl by any chance? I had the same issue on two 950 xls and it was resolved by replacing the battery. Seems strange but it actually works. Now the only issue that remains for me is the glance screen getting stuck.

Take note that the first big update of windows mobile was so delayed.

What exactly is happening in Microsoft mobile division...???? Seems like Windows Phone raped Nokia and Nadella is raping windows phone...

There was no rape. The relationship was never consummated.

ANZAC Day roll-out start! If I'm lucky enough to get the build on the 25th, paying respect to Australian servicemen and women who've either died or been wounded some other way will come first :)

Makes sense considering issues I hear people are still having with it. I considered hopping on the fast ring. Guess I'll stay in RP since its a month away.

They will probably delay it until May 31. :D

Nice! Looking forward to it a little earlier on the Release Preview ring...

Me too. I don't want to wait until I'm finally in the wave to get it. So release preview.
What about firmware updates? Maybe we can get them earlier by the Device recovery tool again.

i wish microsoft might consider 8.1 devices also in this roll out... previous artical on WC mention they might consider all 8.1 device also as creator update works fine with old device ...... !!! hoping for best....

I think the Creators update is coming to 512 MB devices ! God I m so excited. My beloved Lumia 720 will find some use again !!

That would be great. Some of my older devices lying around will be useful again as secondary or tertiary windows 10 phones.

guys, your webpage is not working ok. I am trying to stop email notifications, i get an error, i try to manage notifications, i get a blank screen. Can somebody please fix it? I really dont want 50 emails of notifications on comments. Thank you

Will it b available for 512mb ram phones?

Officially 512mb ram mobiles are not supported for windows 10

I have a 512 mb phone with build 10586.494, as an insider I got it prior to the decission not to support the phone. The software works on the phone, however at times it freezes or reboots on it's own. I have a 32 gig SD card in the phone. If some of the Windows 10 OS is trimmed the OS will work on the phone, but MS is busy working on the OS for the newer phones and may not have the staff to get the OS working for older phones.

"Note that update availability may vary by manufacturer, model, country or region, mobile operator or service provider, specific installed software, hardware limitations and other factors such as feedback from customers." We need to strike Manufacturer, model, mobile operator or service provider, hardware limitations from the factors that affects the rollout. And most definitely "feedback from customers".

With this latest update, the phones are working faster is what I have heard.
The OS is no longer half-baked as what was alleged at the time of launch.
So, why can't MS make some new phones running the 'finished and polished' OS, and market the Windows phones again?
I think the Windows Phone/Mobile can still come back from the dead.

It's not finish nor is it completely polished. Is it better then it was a year ago? Sure. Though still has many random bugs that been around since rs1 or longer.

I swear there were tons of comments here. Nevermind WC app bugged out

Hope that the Edge will finally be fixed, it works Poorly dealing with trying to open links in the webpage. The mobile version is the one with the problem, I get very frustrated trying to search using the Edge, so I wind up going back to either IE or Google. I don't give up on the Edge through the new builds, but it seems nothing has been done to improve the browser on the way it functions.

Windows 10 Mobile Creators Update to start rolling out April 25 ... This is why you can't believe what's coming out of Microsoft, just yesterday it was announced as being released on April 11, so with this revelation today, I'm looking at April 30th 2020.

PC update was announced, not mobile.

Less than a month difference between desktop and mobile is respectable. We can only hope carriers won't slow the update down from getting to the fans that are still on the platform that don't know about Insider.

Oh boy. Can't wait for that share icon. 😂😂 Nah tbh. Let's hope RS3 treats mobile nicely. Oh the life of a W10M loyalist. Lol 😢

BLU WIN HD LTE WITH ANNIVERSARY UPDATE. MAY I GET CREATOR UPDATE? HOW? IM IN INSIDER FIRST RING BUT NOT GETTING ANY UPDATE.

Same here. I am on release preview but still no update.

Can anyone confirm the rumours that 512 MB devices are also getting this Creators update ! Thanx

No official announcement from MS yet

As the support was dropped for 512 MB devices with the first public W10M upgrade, they won't ever support it. And not any phone will get this update which didn't get any previous W10M.

As the support was dropped for 512 MB devices with the first public W10M upgrade, they won't ever support it. And not any phone will get this update which didn't get any previous W10M.

Ever gonna get app update notifications back? Miss having that number on the store tile.

I hope the creators update will improved resume and loading

can i update my lumia 625 into windows 10 ?????
with in 512 mb ram

why does not add Lumia 535 for creators build.?

what's the version number?