Windows 10 Mobile may soon let users choose between opening links in an app or browser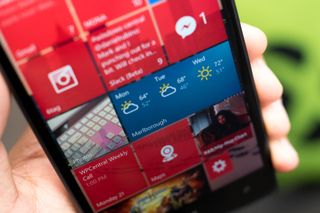 A new report claims Microsoft is working on a Windows 10 Mobile feature that will give users the choice of opening links in a browser or in an app, like Facebook, Twitter or Instagram.
Onetile.ru reports that an internal build of Windows 10 Mobile at Microsoft has a new settings option that will allow users to toggle the ability to open a web link in a browser or in its associated app.
It is possible this feature will be released soon for Insiders to test out before launching as part of the Windows 10 Anniversary Update. However, keep in mind this edition could be delayed if Microsoft finds any issues with it beforehand.
Much needed feature. Hope to see it working soon.

Do other OS's offer this?

Ha. Ha. Ha. very funny. Yes they do.

As far as I know, Android does. Can't tell about iOS.

On iOS, Youtube links open the Youtube app. App store links open the store. As far as I know, it's just those two apps.

so similar to W10 device open store for store links.

Windows 10 Mobile doesn't always bring the Store app, though. Sometimes we must click on "Get App" button for it to work.

Yea that's sometimes annoying ~DheeraJ~
Lumia 640XL 10586.218

Its weird..
Whenever i 'shared' an app in WP8.1 from the app list, it took mw to the store directly..
But in W10M, it first goes to Edge and THEN store gets opened.. Sent from my Lumia 650 via the Windows Central app ;)

Is this happening with all apps or just the 8.1 ones? My guess would be that since the Universal Store for PCs and Mobile website migration, the old apps from 8.1 still use an old "share link", that tries to open the old Store app, first being redirected.

For Android: You can also select which browser or app you want to open it in. You can set it to a default or leave it as a popup that lets you choose. Same thing happens when you open any sort of file (music, video, pdf, etc).

Right, it annoys the heck out of me.

Sett a default app and be done with it then. You only have to do it once.

I agree, having the option ask every damn time is annoying and wastes time.

umm, you can set a default app Posted via the Windows Central App for Android

If you click the default check box, then pick your app, it will never ask you again. If you get tired of that app opening by default, you have to go remove the default in your apps settings.

Set a default the first time and it never asks again. Some items, like external links, I leave the option to choose because I use beta & dev versions of chrome, opera, and firefox. So I like to bounce between browsers instead of always using the same one. Posted via the Windows Central App for Android

Yes, they have for years.

This might be useful. Posted from PornHub

That would be nice, should have been implemented several months and even years ago but I guess is better than nothing, and also using an in-app browser could be nice too... I hate to deal with the horrible tab management of Edge because of this.

Hope they implement it well. They manage to f**k up even simple things like music control on lock screen. They should make it like a pop-up. Even share screen should be a pop up not a full blown page.

They should make the link thing as pop up*

Yessss!!!!!!! I wanted this so bad! But it would be better, if it would come to PC too. Posted with the Windows Central app for Windows 10 on HP 250 G1 notebook. It is a scary old monster, I think :D

Yea i think this will be in PCs too ~DheeraJ~
Lumia 640XL 10586.218

Still I don't think we can select default apps in windows 10 mobile.

Is this for when you click a link for instagram in Twitter for example? It can open in the app directly instead of going to the site? That would be cool as long as out can link to the exact image inside the app

Yeah, and opening youtube videos in the yt client you prefer, or facebook events links in the facebook app from OneCalendar for example, which shows my event invites, but opens Edge if I click on one of them. This has so many possibilities. I like it, when apps just "flow" into each other. Posted with the Windows Central app for Windows 10 on HP 250 G1 notebook. It is a scary old monster, I think :D

Ah, now I see what this is for. I was a bit confused in the beginning.

I have also been keen for this.

It's available on PC too, they announced it at Build 2016. The developer adds a few bits to the appxmanifest, and adds a little json file to their website, and it's done.

I hope the Windows Central apps supports this, it's much needed.

Until/if the Windows Central app supports it, you can open an article in the browser by tapping the 3 dots and selecting Read in Browser.

I think their point is opening articles in the app from the website.

That would be a great feature

About time! It'll be mostly useful for YouTube as I rather use a third-party client than the mobile site but only a few apps support deep link. Sent from my laptop on Windows 10 Pro Insider Preview

How about making phone numbers in mail and calendar app links???

How about setting a default save location for things like photos while using Edge? It's tedious to have to keep navigating through the file system just to save a photo in the Saved Photos folder. Dialog box appears with a name field and options to save in default or new location select the default location and your done select new location and you can navigate the file system

Actually, I'd like this. It's a nice idea. Posted with the Windows Central app for Windows 10 on HP 250 G1 notebook. It is a scary old monster, I think :D

I've been into this idea quite a lot lately. That would encourage us to organize our files

I've been into this idea quite a lot lately. That would encourage us to organize our files

For the average mobile user, I never really understood the need for file managing and organizing in the app environment. Desktop, sure. But the average mobile user within an app environment, I agree with Thurrott's philosophy. The apps access & manage all the file types it uses already, and many let you organize within folders in app (like an email client or document editor, or even photo apps allowing album creation) Posted via the Windows Central App for Android

Yes, most people don't need to have the file explorer, but I've run into several instances, before W10m, where it would've been useful. Letting users set a default save location would simplify it and still give the option to navigate the file system if desired. Since a W10 phone can be used as an external drive, I see the usefulness of the explorer. I can connect an external drive or USB stick and transfer files from it to my phone without a computer. The reverse would be useful on a vacation where the 1080 60fps (or higher quality) videos are taking up a lot of space on the phone. Copy the files onto the external drive at the end of the day and free up space for the next day.

Badly need it for twitter. Hate going to the browser when I have to view a tweet mentioned inside another tweet.

I hope so let us choose default apps for certain tasks like the desktop

Just because of this Soon™ I switched to android yesterday. Not happy, but will come only when a Surface Phone with OS competitive enough is launched. Sent from Earth-2 where Windows mobile is a Success in Year 2024.

Just as well as e.g. twitter links have never opened up in the app. Thing is, I doubt they ever will as no one at MS seems to be user testing it

This will be great. Sent from Windows 10 Mobile

When can we expect that build Sent from Windows 10 Mobile

Yes! I've been suggesting this since I joined the Insider Program.

Add the ability to set default apps

Cool thing! That's what I was waiting for...

one of most awaited feature for me on iphone. in w10 phone, every link i click on twitter opens in a browser instead of inbuilt browser. Which is very frustrating. nextgen reader has some workarounds though by forcing the links to render in the app.

Irrelevant question : Are we ever going to have full landscape mode?

One hell of a feature Windows mobile has been lacking for so long! Posted from Windows Central App for Windows 10 on Lumia 950

useful and I guess may in some case help pass the app gap.. :P Posted via the Windows Central App for Android

I have been waiting for this feature for 3 years!

Intents! Yes! This is such a needed feature.

Yes please. Hopefully it comes with default app settings

Hope so. This feature excites us. Something new to use and hands on..

They should do the with images. Only the built-in app can open it. It is blowing up my app :(

Welcome to 2010....well coming soon...

Probably one of the longest-waited features. I never could understand why this wasn't available on WP7, WP8 nor on W10M. I'm saying this from both user and developer's point of view.

It would be great that when we press a link from windows central so we could directly open store rather than going to edge then store....wooohoo that's sounds great!!!

They should have given us the ability to choose a default web browser. Posted from Windows Central for Windows 10 with a Nokia Lumia 730
Windows Central Newsletter
Get the best of Windows Central in in your inbox, every day!
Thank you for signing up to Windows Central. You will receive a verification email shortly.
There was a problem. Please refresh the page and try again.