What's on your Windows 10 Mobile Start screen, Mark Guim?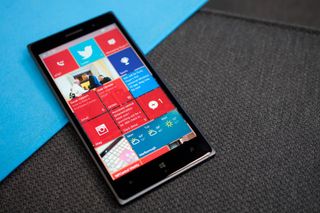 I've been mostly happy with the Lumia 830 after installing Window 10 Mobile preview. Make sure to check out our hands-on video for the latest build, version 10536, if you haven't seen it yet. Things are moving along, and I agree with Jez that it is good enough as a daily driver. There are still many improvements needed, but that's expected from a preview build. I've already said goodbye to Windows Phone 8.1 and will be using Windows 10 Mobile from now on. Here's what I have on my Start screen.
Phone – I keep this tile on the top left corner. I don't make a lot of phone calls, but I leave this here anyway.
Twitter – This app earns a spot on the top row as well. I use Twitter for breaking news, snarky commentary, and connecting with people that have similar interests as me. I switch between the official Twitter app and Tweetium, though. I'm still undecided on which one will stay. Download (Free)
Messaging Skype Preview – This is now my default messaging app since it integrates Skype into the text messaging app. Watch our hands-on video to see it in action. Download (Free)
MSN News and Sports – I don't open these two apps frequently, but I like glancing at their live tiles for headlines. If I see anything interesting, then I open the apps for more details. Download MSN News and MSN Sports (Free)
Outlook Mail – I've pinned two instances of this email app. One tile for each of my email account. I'm very disappointed that a unified inbox and email aliases aren't currently supported, but I really don't have a choice but to wait.
Outlook Calendar – I don't want to miss meetings, bill due dates, and other important events. This app helps me with that. The live tile displays today's appointments, too.
Microsoft Edge – I do a lot of browsing, so of course the new browser will be on my Start screen. The tile is a pinned to Windows Central, so I can see headlines pop up on my Start screen. One annoying issue on build 10536 is that links on some pages are unresponsive to my taps.
6tag – My favorite Instagram client is definitely on my Windows 10 Mobile Start screen. I'm one of the 300 million people who actively share photos on this service. Double-tapping photos is fun, too. Download (Free/In-app purchases)
Slack Beta – The Windows Central crew (and many other publications) use Slack to communicate and collaborate during work hours. It's still currently in beta, but it's better than nothing. It helps me keep in touch with the team even when I'm on the go. Download (Beta)
Messenger – Many of my college friends still use Facebook Messenger as the instant messaging service of choice. Some are slowly moving to Skype, but the majority are still on Facebook. Download (Free)
Photos – I love taking photos, so it makes sense to have a shortcut to my photo gallery on the Start screen. It also has a new look in the current build. You can see it in action in our hands-on video.
MSN Weather – This is another app that I rarely open, but I don't even need to open it. The live tile gives me all the weather information I need to figure out whether I should wear a sweater or bring an umbrella. Download (Free)
Maps – Driving around Boston is not easy, so a maps/navigation app is a must. One feature that some of you are going to like is support for offline maps. You can search and get directions even when you're not connected to the internet.
MixRadio – I like listening to music especially when I'm driving. I have pinned one of the MixRadio playlists so that it starts playing immediately after tapping the tile on the Start screen. Download (Free/In-app purchase)
Store – Reviewing apps and games is part of my job here at Windows Central. I've pinned the Store to the start screen so I can quickly download stuff on my phone.
Settings – While I can access settings by swiping down from the top of the screen and tapping Settings, I still leave a shortcut on my Start screen for even quicker access.
Tiles
I've stuck with the Medium and Wide tiles on the Start Screen. I'm not a fan of the Small tiles because they're too small for my eyes. One exception is that I have the Settings tile in small size at the bottom. I also use the Full Screen picture option instead of Tile picture and set the transparency to about 80%.
Have you installed the Windows 10 Mobile preview on your main device? How is your Start Screen similar or different from mine? If you're absolutely in love with your Start screen, feel free to take a screenshot and share it in the comments!
Stay tuned for more Windows 10 Mobile Start screen setups from the rest of the team.
Get the Windows Central Newsletter
All the latest news, reviews, and guides for Windows and Xbox diehards.