Microsoft's Windows 10 Mobile update unlikely to come to 4GB phones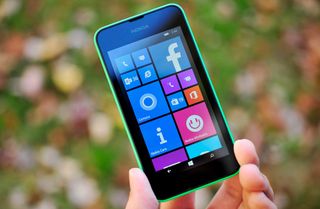 As Windows 10 Mobile heads into the final stretch in its development, its scheduling and update limitations are starting to become clearer. One of those limitations effects Windows Phones with less than 8GB of dedicated internal storage. Phones with 4GB of internal storage are evidently going to sit out the upgrade.
The news comes via the German version of the Windows 10 Mobile site. Under the section detailing that current phones will get the update it notably mentions "8GB internal memory required." Interestingly, the U.S. version of the same page does not mention this necessity. However, it does list devices with only 8GB of internal storage.
Up until now, it has been speculated that phones with 4GB would not get Windows 10 Mobile as they are currently excluded from the Insider preview. However, now it looks like this situation will remain going into the official release too.
Of course, like all things, some perspective is needed. Specifically, there are very few recent Windows Phone with only 4GB of storage. Indeed, going back to our forums, it was pointed out a few times that devices with 4GB of memory still could not use the Windows Insider program. Currently, ineligible phones include:
Alcatel One Touch Pixi 3 Series Handsets (Windows Models)
Nokia Lumia 530
HTC 8S
Blu Win JR and JR LTE
Yezz Billy 4
Karbonn Titanium Wind W4
Kazam Thunder 340W, Thunder 450 and 450WL
Indeed, earlier this month Kazam reportedly took their name off of the Windows 10 Mobile upgrade list. This decision despite the fact that the 450 series does have 8GB of storage.
Except for the poorly-received Lumia 530, the rest are reference designed phones that represent a tiny minority of devices, according to the latest AdDuplex numbers.
The reason for excluding phones with 4GB of storage comes down to the simple 'not enough room' problem. Windows 10 Mobile is about 1GB bigger than Windows Phone 8.1 due to many shared components between it and its desktop sibling. Users trying to force the upgrade will just run out of room due to not having enough free space.
Microsoft Germany has even posted the storage requirements (opens in new tab) for Windows 10 Mobile:
Microsoft seems to have anticipated this situation as these recent phones are still slated for Windows 10 Mobile, first announced at the end of July.
Official eligible phones for Windows 10 Mobile upgrade
Lumia 430
Lumia 435
Lumia 532
Lumia 535
Lumia 540
Lumia 640
Lumia 640 XL
Lumia 735
Lumia 830
Lumia 930
The Windows 10 Mobile update is expected to occur in waves like previous updates starting possibly in October. The devices not listed above still have access to the Windows Insider program to utilize Windows 10 Mobile. Indeed, much like the desktop version of Windows 10, those on the Insider program are likely to get the "RTM" version of the OS well ahead of any carrier updates.
At this time, it is not clear if the officially updated devices are also slated to get an accompanying firmware update.
Although it is unfortunate that phones with 4GB of memory cannot get Windows 10 Mobile it appears to impact a small minority of users. Additionally, this is not news either as so far those devices have been ineligible for the Preview.
Will your phone not be eligible for the update? Share your thoughts in comments.
Source: Microsoft (opens in new tab) (Germany), Microsoft (opens in new tab) (U.S.); via BetaNews
Daniel Rubino is the Executive Editor of Windows Central, head reviewer, podcast co-host, and analyst. He has been covering Microsoft here since 2007, back when this site was called WMExperts (and later Windows Phone Central). His interests include Windows, Microsoft Surface, laptops, next-gen computing, and arguing with people on the internet.
So phones like 520 are going to get the normal update??

Yes...it seems so...as it is currently eligible for preview...

At least for the first official wave of updates, no. However, if you can install Windows 10 Mobile via the Insider program, well...you still have Windows 10 Mobile. It is unlikely they will get (or need) a firmware update. Indeed, as pointed out, we are not even sure officially updated devices get firmware either. Basically all phones, except 4GB ones, are equal in the eyes of Windows 10 Mobile Insider Program.

Imo, they need firmware update if windows 10 Mobile became rtm version. If there is no update firmware for windows 10 rtm, hopeless to get usb otg feature, and Bluetooth versatility same as windows phone 8.1.

This is interesting: http://www.microsoftstore.com/store/msusa/en_US/list/Windows-10-Eligible/categoryID.70013100 There are some key phones missing from this list.

Daniel, I think you've missed one point from the list. All listed phones have 1 GB of memory. I have estimated this, and tweeted Gabe Aul with this question (no answer though). Windows 10 Mobile on the 512 MB device is barely usable, there are times when you can't even start any app for whatever reason, just it is obvious that the device is trying to do that and meeting physical constrains. I've tried to update my app for Windows 10, but on 512 Mb it too frequently crashed with the Out of memory exception (though this is somewhat specific as Share to Speech uses a background task to generate the sound, and the background task has different limitations than foreground apps). Though it is a very poor situation that Insiders could install on the 512 MB device, as if one launched the Windows 10 app that have problem to work on 512 MB devices he would possibly get many negative reviews...

MS should stop making and selling 512MB phones immediately. It is not only questionable to run W10, it may not be able to run the Android ported apps either. One more 512MB phone you sell, one more person will get frustrated. It would give WP a bad name. MS should come up with a 1GB phone upgrade program just to sooth the pain the 512MB phone owners suffer.

I think they already have stopped making 512MB devices when they acquired nokia. All phones with the "Microsoft" logo have 1GB ram, from the low end Lumia 430/435 to the mid range Lumia 640. So I believe that they won't make any 512MB devices again after windows 10 mobile is released because they just won't work very well and many from the universal apps won't work.

I disagree with this. Build 10512 has seen a massive improvement in responsiveness with my Lumia 630 test device. The only issues I had when testing the update were related to bugs which also happen on 1GB devices. Edge crashed when rendering large pages, but IE on WP8.1 behaves in the same way.

I don't understand this "official wave" of updates. Does it mean the x20 and some x30 phones (having 8GB or more storage) will never get the official OTA update? If they'll not get official update (without resorting to insider preview), that means the majority users will not be upgrading. Devs will have to maintain saperate 8.1 and 10 version of their apps. Striving to update mobile apps to UWP is not needed. Because apparently mobile userbase for Win 10 mobile will start from a neglegible number.

Do not worry, As long as you have 1 GB RAM and a Lumia that runs fine now in the Insider Program, it will run Retail (RTM) version as well. I use the Lumia 920 and it runs great on Build 10512. 1020 works too, of course. People here have said they run it On the Lumia 820 and other Lumias as well.

It's probably time to upgrade even if you have to go to and older former flagship once they come down. There are new low-end phones, though I agree that it's hard for any of them to top the 520

The bigger question is whether those same users (of say, carrier branded Lumia 920 and 1020 devices) will ever receive a Windows 10 Mobile upgrade from their carrier; in the U.S., it would be AT&T. Somehow, I highly, highly doubt it. The Insider Preview process is not very user, or noob friendly, never mind that most of said users, don't read tech blogs like this, so the amount of people using that method are going to be miniscule, in the 1-2% range of the total Windows Phone user base.

Haha thanks for that confirmation Daniel :)

which happens to be one if not the most popular Windows Phone... a lot of people is probably gonna stay on WP8... WP7 style.

Or move back to where I came from, to Android, deciding not to be the lab rat of M$ anymore. I came, I saw, I was screwed over, I leave. That's that.

According to what MS said at first, yes. But things change and promises fade away. They seem to be trying to not upset people that won't get the w10 update in the end, namely all x2x phones and Lumia 530.

With the L520, I had an successful update to Windows 10 Mobile preview on an earlier build, rolled back to 8.0 with a hard reset (yikes), and then was unsuccessful at updating to the current build. So I'm unsure if the L520 can run W10m.

I put it on mine and rolled back multiple times with no problem

I have the preview on mine

You have Windows 10 Mobile Insider Preview installed? You have Windows 10 Mobile then. Official updates are for those not in the Preview program.

He didn't ask about preview. I don't understand, will the 925 and all the *20 series get the update? Why are those devices not listed in the article?

Age. Lumia 925 came out in mid-2013. Microsoft is prioritizing Windows 10 Mobile official carrier updates for 2014-2015 phones first. Those not on that list still get the update through the Insider program if they opt in. It is not common that phones older than 2 years still get a whole new OS upgrade in the industry.

It is not common, but what if Microsoft is rebel?

Are people still rocking a Galaxy S4 going to get Marshmallow(Android 6.0)? No they won't. You should take comfort that you will still be able to upgrade through the Insider Preview program. By October, they should have a complete product and it won't matter if it's official or not.

I think you should have said - "it is not common that Android phones...". Old iPhones, while receiving a feature-cut version, are still supported by OS updates for at least 3 years. Another point is, if someone does it wrong should not and must not mean that everyone should follow this way. I still hope Microsoft will get to support old models as soon as they are technically capable for the update, at least in wave 2.

Apple typically drop support for devices 1 year after they stop selling them.

Just go to iOS in Wikipedia, then go to 1.1 Software updates, and glance through iOS 9, iOS 8 and iOS 7 - specifically, supported devices section, you will see you're wrong. Currently oldest supported [by iOS 9] iPhone is iPhone 4s which is available since 2011 and which is discontinued in 2014. That could be a good example for all. Just to be clear - I've been on Lumias since 2011 and I currently own 930, I'm not an Apple fan, I just seek for fairness :)

I don't know, but it's MS lack of a true recent flagship the reason that I am still using a L1520. If it doesn't get official W10M outside of Insider I will jump ship.

This statement is getting old, just "jump ship" (or not). It's not a big deal.

Why would you not just get it through insider anyway if you wanted it that much? It makes it irrelevant wether or not they release it 'officially' for it. That's what I've done and I'll be rocking Windows 10 mobile well before any of those official release devices pick it up.

Microsoft clearly promised that ALL phone running WP8.1 will get WP10 OFFICIALLY not only preview build through insider program which is not meant for your stable mission critical daily phone anyway. Who cares what is and what isn't common, Windows Phones have always carried the promise of easy updates to new OS; and speaking of common Apple manages to handle OS updates for old devices fine, so what you are saying is that Microsoft just can't be bothered to do the same, when they clearly need all the help they can to keep hold of their meager market share. Screwing over existing customers after promising WP10 for all devices running WP8.1 is not a way to do it.

Our concept of "technology" makes a 2-year smartphone old. Too old for getting a software update it perfectly supports. This is just ridicolous. I have a Lumia 820 and a Lumia 1020. I bought the 1020 a year and a half ago and what you're telling me is to install a preview software or to change the phone? No, that's not logic, at all. Not everyone has money to change a phone every 6 months as many, you included maybe, do.

Age. Lumia 925 came out in mid-2013. Microsoft is prioritizing Windows 10 Mobile official carrier updates for 2014-2015 phones first. Those not on that list still get the update through the Insider program if they opt in. It is not common that phones older than 2 years still get a whole new OS upgrade in the industry.

Also, I've never seen any info. along the lines that they

won't

be supporting older phones like the 925, just that they're prioritising some newer ones first, have you seen any official line that they won't be? I fully don't expect any new fw/dvr improvements bundled with any W10M release for my 1020, but I'd be disappointed if there's no formal release/support of W10M for it -

eventually

Ahem. I have a work-issued iPhone 4S, that *still* gets updates from Cupertino.

"It is not common that phones older than 2 years still get a whole new OS upgrade in the industry." ...and there's no reason why Windows Mobile should do anything óther, or bétter than competitors...

Wow. 530! Nokia's disastrous creation.

I have Lumia 530 and I am so annoyed as I am going to have to get a new phone now!!!

I'm sure it is annoying may cost you another $50 to switch to a 635 or something... -_-

Ummm... If I had to pay, I'd be a bit annoyed, yeah...

$50 is a lot of money in some parts of the world, so its not like you just have it lying around to throw at a new phone.

Paid $40 for my 530, running preview using the recovery tool. W10 is smoother on the 530 than my 620. If it breaks then so what, cheap phone.

If it runs windows 10 preview, it will run the final version.

Exactly. I am not sure why so many people are having a tough time understanding this point. It is like they are anticipating the "official" version to be different than Preview.

Maybe because we are stupid, or maybe because of this "Official eligible phones for Windows 10 Mobile upgrade" ...don't tell me it isn't a bit confusing for the avarage user to see that something supported by the preview is not in that list. (I had the doubt too and reading the comments helped...)

Like the 1520...the phone MS demoed the damn new OS on!

Yes it doesn't make sense to us motrals, but the gods here in WC will tell you that is normal to have to apply to a betatesting program to have your high-end phone updated :D

Your "high-end phone" that came out nearly two years ago. Let's keep that part in mind. The problem here is often carriers do not want to roll out an update for a 2-year-old device. The Insider program though is meant to get around these things. You folks always say "Microsoft should just update devices directly!". Um, that IS what they are doing right now. Are we forgetting that part?

They are doing that for us tech-enthusiasts but not for the masses. Actually as far as I read in the article, correct me if I'm wrong MS is not officially supporting those phones and not the carriers. Finally, his high end phone is the best WP phablet money can buy (I have a 930 so I really do not care and I will install insider previews, what I find strange is that you didn't expect this obvious reaction to the article and that just shows to you, and possibly MS, what will be common folks reaction). You have some higher mind, and for you to shine so bright you always need others not to understand what is obvious for you, so just be happy that most people won't understand :p

There should be no upgrades after one year of the official ship dates; especially for an OS at 3% market share...

That's the biggest pile of BS if there ever was one. Updating the OS on all devices regardless of age is exactly waht MS needs to be doing unless they want their market share to go even lower then 3%, and especially since they did not release any proper flagship phones in ages.

I think the key part about the Insider Program often overlooked as that you get zero official support if anything goes wrong. Now you might get some unofficial support from Microsoft. Meanwhile asking your carriers will lead to being toldthat you violated some terms in a mile-long document and tell you they can't (won't) help, but oh, BTW they've got a new phone you could upgrade to. Realistically, 3-6 months after a phone hits the shelves the carrier pretty much cuts off support anyway. At least in the US.

Well then they should not call it an insider program for beta testing unreleased updates if as you say it is mean for official updates as well. And lets not forget that without a new firmware update which you can't get through the insider program your high end 1520 or other phone is screwed because you are not going to be able to use many of the new features that are hardware dependant if the firmware does not enable them. So NO the indsider program is not the same as official updates, and if Microsoft wants it to be they are the ones that need to make it clear and also use it to push out firmware updates. Phones such as the 1520 or even 1020 are still considered by many to be current flagships in their field because Microsoft has not bothered to release a new replacement for a long time for a phablet or a camera flagship device, so it is completely irrelevant how old the phones are, especially in the light of Microsoft saying that ALL devices running WP8.1 will get WP10 officially.

If you have a high end phone (like me, I use the 1520) you are likely to want a new high end phone (like the 950). I know I do. So, I really don't care that my 1520 doesn't get the "official" update. I'll run and get a new phone anyway. Or just run the insider version. If you want to stick with the 1520 after the new phones are there, you don't want the latest and best anyway. Gosh, it's been 2 years. I love my 1520, but I can't wait to upgrade it to a new phone.

If you're an 1520 fan like me, a phone w/ a smaller screen is basically out of the question. The only thing that I *MIGHT* consider an upgrade is the Juggernaut Alpha, if I'm lucky enough to have it released in Sweden. My 1520 was bought day one in sweden, and I've had it for about 15 months.

Thanks for the notice, I entered the Microsoft Lumia devices update page and only 435, 535, 640 and 640XL have a section telling the phone will get Windows 10, so I thought phones like the 520, 620 or 820 would not have Windows 10 at the end, but this clarifies the things a little bit.

i think they want to expect features brought by firmware updates

Well, if it works, one would have to ask the question, why not to update? And my answer is simple - because of the poor experience. So Windows 10 can work on those devices but not in a desired way and not with performances that are generally acceptable.

Now we just need to wait for the builds to get more polished :)

That's the second list I've seen with no 1520 on it?

Yeah me too, and I'm worried

Why are you folks worried? Official updates are for those not on the Insider program. If you install Windows 10 Mobile today on your Lumia 1520, you have the same Windows 10 Mobile.

Daniel - People worry because they may not want to participate in the Insider program and just get the Release build of Win 10 like any previous update. The problem with that worry is: The 1520 is End-of-Life. Therefore, there will be no new official releases for it.

You can sign into Insider, get the update, then sign out after the 'final' official release. This is no different than PC except the role of carriers.

1520 is getting it since it runs the preview. It's only logical that it will get the final version. Even before official release.

1520 is in the preview. It's going to get it.

Why the sad face? Use the Windows Insider Program and like magic, you have Windows 10 Mobile. What's the problem? Going further, you realize that Insiders get the final version of Windows 10 Mobile ahead of any official release, right? Indeed, they will continue to get updates even after official updates. If you are on this site, I am not sure why you would not utilized this option. The reason MS made it is to get around official carrier updates.

Danny having hard time convincing people .!! XD

I feel like I need to write an article just saying this, lol. Even then, likely won't sink in.

I mean, it's just like installing an app. If people don't even know how to install an app, should we bother?

I tried the TP and it was not good enough for a daily driver. But, once it becomes capable for daily drivers then I will consider joining the Insider programme.

Sign up in October, get the RTM, sign out. Done ;)

Thanks for the tip Dan. October it is and really looking forward to it. Cheers :)

Okay. So the carriers are not going to roll out an update for a 2 year old phone. That's more than understandable. But what about countries like India where phone updates are not controlled by carriers? Will they get it officially or will they also have to sign up for the insider program?

> If you are on this site, I am not sure why you would not utilized this option. Because I need my phone to work 99.44+% of the time, and all indications are that Windows 10 isn't there yet? I'd love to jump to Windows 10 on my 925, but that's why I haven't done it yet.

He means when the OS RTMs and not now. By that time it will be stable and you can get it through TP.

It still won't work properly 99% of the time because you won't get firmware updates through the insider program, and you are not getting any guarantees from Microsoft that it will work flawlesly unless it's an official OTA update with firmware where neccessary.

That's only relevant for much newer devices, not older ones like the 1020 (like the OP has). There's no more fw being actively dev'd for it (nothing has been bundled with the last few major OS releases that've been passed by Mokia/Carriers), & none that NEEDS to be dev'd in some way to make it compatible (doesn't work that way).

No phone works that often not even windows. I have 3 925's and they are great but things happen. I have been using the preview as a dail driver and it is great on the 1520.

You do realise that without firmware updates you are not getting a stable phone. What's more many people are reporting a lot of issues running the BETA insider build so it is irresponsible to advise people to get an update for their main phone when doing so can really screw them over because the Insider Build is officially for testing new updates not for normal stable use on your mission critical device.

I don't think you want Windows 10 Mobile on the 1020, anyway! I have the 1020, tried it, found it riddled with more problems than most (mind you, it's a "preview" :) and ultimately decided it wasn't for me, i.e. nothing revolutionary in terms of features and a step backwards in imaging for the 1020--no hi res support, no camera raw support. Also, I could not be productive without the native S/MIME support found in the WP8.1 Mail app--seemingly, now entirely missing from Win 10 Mobile...

So goes the promise that all WP 8.1. devices are supported. May be a blessing in disguise though.

Totally a blessing. Seriously, even if you could load Windows 10 onto a 4GB phone, could it do anything useful? Probably not.

Why not? Windows 8.1 ran perfect on these devices. Why should Win 10 fail at this? This would mean Windows 10 would be a overall fail.

why would it be a fail? its your problem if you bought such low end spec phone and expect it to be updated to the latest version. the internals of the phone just wont cut it. May be you'll choose a slightly better phone next time and then ask for updates.

I have a Lumia 1520 which I would not consider a low end phone. However, no matter how good the processor in my phone is, I do not want to put its power to waste. I would be quite unstatisfied if Windows 10 is less optimised than Windows 8 was / is. Why would I want to have a OS that needs more ressources than it's predecessor when there is just no reason for that? One of the main advantages with Windows Phone has always been that it runs super smooth no matter what hardware.

They probably have sd card slot so...

Yeah, I thought that was the plan...remember? Use the sd card to download the system, it shrinks onto main memory...

Right just ordered a 64GB card for 20 from Walmart hope it helps my 520 to run 10 mobile.

I had windows 10 on my Lumia 530 to test out, it seemed to handle it ok (before the good builds too) I can only assume that it was a bare bones version of the OS which has now been beefed up with extras and features which has passed the 4gb threshold

Then what about Lumia 1520???

Um, I'm running Windows 10 Mobile on my Lumia 1520. You're not?

Not yet I'm not! 920 for now for me. Will do 1520 in the next few builds.

You may be better of with WP 8.1. & Lumia Camera than W10 Mobile & Windows Camera.
Surely W10 Mobile will be released for L1520 but sorry state of Windows Camera is worrying.

I've been using camera on my 1020 and I have not noticed any issues with the quality of the pictures.

Is Lumia 735 may include Lumia 730

Lumia 735 and 730 are same just a difference of LTE !!!! Don't worry man :)

Don't forget wireless charging.

No its not.. Bt 730 will get later

Hey man launch is done at the same time .!! Difference is in time carriers allow the update to roll out.! Simply .! Since till the reports provided update will be comin out in waves there might be a Delay to the specified model :)

This is very unfair.. Lumia 1520 is the costliest mobile in Lumia series.. Pls release windows 10 update for Lumia 1520

I'm running Windows 10 Mobile right now on my Lumia 1520. Insider program. That's what it is for. There has been no demonstrable evidence that the official update will be different than the Insider program. Indeed, Insiders get the update earlier.

lol tell us again big Dan!

>There has been no demonstrable evidence that the official update will be different than the Insider program. Final from carrier gets Firmware that normally helps with general performance, battery life (HUGE) and hardware feature support drivers, stuff that the Preview program will not fully provide. Back when we were on 8.1 preview and when the offical one came out battery life jumpped about 2-3 hours a day easy and the phone was smoother. I know you know your stuff and not trying to contest that in anyway but here, I disagree with you...

The keyword there is "officially". Just install the Technical Preview and you can have Windows 10 on your phone today

I got my Lumia 625 stolen (sadly the Lumia 625 won't update to Windows 10).and replaced it with a Microsoft Mobile 106.3 phone (still oddly called Nokia 106.3 despite is made by Microsoft) It has 1 month of standby battery life, its really amazing, I got FM Radio, and can play Snake game, but it only has SMS and voice calls, not Wi-Fi so its a dumb phone after all. Tis is a temporary phone since I am looking for a Microsoft phone which comes with 128GB of storage minimum. (Hoping Cityman or Talkman come with 128GB options, after all, ASUS is now selling 256GB phones in Brazil).

You could just get a phone and a 128GB MicroSD card

Nothing stopping them providing it for a recovery flash though... Not as usable as a OTA update but would keep everyone happy.

Exactly the way I saw it aswell while not as convenient it should be feasible.

Apparently the OS image is 4.5 GB, so that is the real reason it won't install on a 4GB phone. All the new goodies just take up too much room!

Agreed. Better than no update at all.

Every phone in the preview will get the final release. Including the 1320.

Sooo... The 925 won't get it?!

Dude. If you're running the preview. You're getting it.

Why L735 is in the list and not L730???

:/ .!! Hey man 735 is basically the LTE version of 730 its the same .!! :)

Our kids 530's have the latest preview. Admittedly it was a struggle to install but nevertheless it runs pretty well. Why can't the update be installed to the SD card first or offer it via the windows phone recovery tool?

man, the OS isnt even finished yet. wait for the RTM. they said they were employing the SD card method for phone updates, this most probably will include win 10. worry if they exclude officially at RTM.

Don't all the 4gb phones support msd cards? I imagine second wave would include devices that will support installations from msd cards.

At that conference in China (march' 15) was reported the requirement would be 4GB with desirable external storage.

What a fucking decision!! Why they ever created 4gb phones then!!
I remember a post windows central made why Lumia 530 is better than Lumia 520

Predicting the future is hard. Did you want us to anticipate that Windows 10 Mobile would not come out for a device a year before it was released? C'mon.

I'm gonna go out on a limb and say you own a L530.

What with the Icon? Does Microsoft know it even exists? It currently part of the preview problem but always seems to be left out of the list of devices getting Windows 10....

Preview program = Devices getting Windows 10. Do not confuse not being in the Insider program and official carrier updates. If you are running Windows 10 Mobile on the Icon, you are running Windows 10 Mobile. You realize it is VERIZON that has to sign off on an update, not Microsoft? If the Icon is not getting it it is because Verizon won't offer it.

I do undstand it a carrier by device sign-off. So all the devices you lised above (Official eligible phones for Windows 10 Mobile upgrade) have been giving the green light by their respected carriers? Basically what I'm say is that the devices you listed above (Official eligible phones for Windows 10 Mobile upgrade) is missing the Icon as an eligible device.

It comes down to a few things: (1) popularity of the device; phones that sold a lot get priority (2) Carriers and if they want to test/distribute the update (3) Age of the phone: newer get it first; Lumia Icon is getting "old" Microsoft simply has to prioritize things as they cannot do all for all phones. Still, even then, they offer the Insider program as a way to direct-update all devices that technically can take the upgrade.

As an ICON owner, I am not holding my breath on getting an Offical WIndows 10 Mobile update from them. Is Verizon going to support a phone that was disco'ed almost a year ago ? I dont see it happening.

What about countries that dont have carriers? Will microsoft firmware update them?

At first I read the headline as W10M not able to work with phones with 4GB of RAM. I thought it a little funny then got the clarification on the article. Only reason my mind went that route is that I forget some phones even had just 4GB of internal storage.

Galaxy Note 5 and Edge 6+ have 4GB of RAM, also ASUS Zen phones have that ammount of memory, its ridiculous that phones still come with 4GB of storage and you have to use a crappy microSD card expansion card. That's why I think iPhone and Sammy devices which have 128GB of storage option will be the most popular.

i can rock a 128GB memory card in my lumia too, and dont have to pay an arm and leg for that version of ic*@P and samsung phones

Noooo - you are mixing up operating memory with storage. The limitating factor we are talking about here is storage. The Lumia 530 has 4gb ram for storage without an SD card. The S6 has at least **32gb** for storage without an SD card.

So having a bigger SD card won't fix this we'll still need more ram / newer phone?

lumia 730 was not listed..will it get?

Yes, it will. The list is with the FIRST wave that will receive the W10M

dude if the category family is listed, then the variants are all included too. example: 735- meaning all 73x versions

W10M still needs lots of improvements... New lockscreen ui, aero glass action centre like its on pc, led notifications,etc.. I hope they bring it or im out.. :/

Maybe 8GB phones won't be supported then :)

Its ok if it doesn't get to 8gb phones but they need to choose new and modern UI..

I am sure you won't be staying on 8.1 even if this features aren't there.

Ah, I'm glad my HTC 8S is not getting the update. Its a pile of crap in my opinion. But, I feel sorry for the others who have 4GB Windows Phones. But since I have a Lumia 830 that has 16GB internal storage, and because of that, I have joined the train of other Windows Phones who have 8GB or more which are eligible for the upgrade.

atleast let those 4gb devices do a fresh install via the software recovery tool. (If OTA is not possible) IMO the high mem demand is for storing, unpacking and installing. (No such worries if WPRT is used and a fresh OS + Firmware is installed) WPRT/LSRT unpacks the bundle and feeds it directly via USB where it just needs to get installed to the right directories (after the old OS is wiped). I am sure the size of the OS will remain more or less the same as that of 8.1

AT&T 830 - still a grey area

Not really, though. You can install Windows 10 Mobile preview, which is the exact same thing. None of this matters if you are an Insider.

I guess... same thing, but no firmware - not sure of the effect of that. Gimped camera I suspect.

What about WiFi Direct & USB Dual Role in existing phones...? I have Lumia 730 Dual Sim.

I think the bigger question is will the Insider Program become more like the Developer Preview program where they released stable builds that you could download on your daily driver? The problem with the Insider Program,at least initially, was the "don't install this on your daily driver or only phone" warnings that came attached with it. Will the Insider Program replace the Developer Preview program in the case that we know it will almost be 98% stable when we install it?

hey daniel, just update the article with most common paranoia clarification or just write another article for the sake of it.

Umm, was that really called for?

Well it was more or less expected!Leaving 4GB out is sad but not that big deal.Hopefully MS will have a workaround for that may be something to satisfy people that own 4GB devices.Well the only worry seems Whether w10 will work as smooth as 8.1 on older phones and that too without doing a hard reset coz here in India we people are quite reluctant in doing a hard reset,leaving out few odd ones.

Still very doubtful about my HTC 8X to get the update.

Why don't they, MS, use the recovery tool to flash 10? Now? And in the future? That gets around the internal storage problem as you don't need 8.1 to be downloading 10 and for us wackos you get a really really clean install.

They may very well do that. Priority though are devices on that list due to their more recent nature. I think that makese sense.

True, but they want everyone on 10. Imagine the good press if they just had a come to store for a free flash program... Even though there are barely any stores, people would feel that MS doesn't abandon old phones as quickly as android does.

Read all the comments above.

Hahaha daniel your bored answering same questions asked again & again.. I'll help you from here and ans to their quests.. :P

You need to become an insider, I did and was able to install Windows 10 on my ex Lumia 625 (was stolen about 1 month ago). A few comments on Windows 10 Insider preview on the 625. 1) With just 512MB of RAM, the device feels slower than with 8.1 2) Cellular data option on pre-paid phones was buggy during my insider test and I could not make any phone calls, as my phone was downloading software on background and spend all my phone credit. Other than that, Windows Mobile 10 feels very solid, hamburger menus and smaller smoother fonts are great for reading more info using less screen state, remember that Lumia 625 still does not have a HD screen, it still uses 480p so Windows 10 takes advantage of this small resolution using smaller fonts, so I recommend to upgrade. Also, perhaps the issues listed above are now fixed for the 625.

Will somebody notify Jay that Windows central app is running awfully slow on w10m TP latest build.That may not be the case with everybody but some of us are facing the issue.Already submitted the feedback.Is he on twitter??

Not only that but it ms glitchy.

So,lumia 530 doesn't get update?

8GB = Insider preview = Windows 10 upgrade 4GB != Windows 10 update

may be may not be... they can still use user's memory cards for downloading and temporarily store updates

Well, Lumia 530 is listed here: http://windows.microsoft.com/pt-pt/windows/preview-supported-phones So it should be updatable.

I mention a specific month in the article.

Hi I am having Lumia 730 DS. When Windows Phone 10 update will come to Lumia 730 DS ? In Windows Insider , it is Technical Preview of Windows Phone 10 only. How it will be full version of Windows Phone 10 ? Kindly send the reply. K.Shanmuga Subramanian +919444646707

Wait till november for an official announcement

Don't share your phone no, no ladies to call you
Lol

You should've included a postal address, Adhaar Card Number and a copy of your passport too, just in case.

And Don't forget driving licence also.

Is anyone here use Lumia 630?

I have 1520 would I get officially from att us or I have to stay on windows insider prog

I'd stay on Insider. Doesn't really matter, though. Say ATT did offer the update and you were an Insider, you still get the ATT update. If not, you still get Windows 10 Mobile.

I think you should write a separate article explaining to people that if they can enroll in the insider program then they can get windows 10. Otherwise you'll have to respond to everybody who is basically asking if x phone will get windows 10 even though they ALREADY have windows 10 kek

Is Lumia 720 getting Windows 10?

It's a shame the Blu Jr won't make the cut but at the insanely low price we paid for my Mom's, it doesn't owe us anything and pass it on to someone else... We'll buy a one with more internal storage.

Good job Daniel... I am also running Windows 10 mobile on my L1520... Can you tell me when will be next build available??

Lumia 730 ?? It's available ryt ?

Once you guys report that the official/final update is pushed to insiders I'll get the preview. Thanks for clarifying, Daniel.

Why did not they include Lumia 1520 in the list.....?......It should be there........hoping for it....

So...No Love For The 1020???? Oh Crap!!!!

dude its running win 10 as of now through insider program...meaning it will get win 10 updates in the future, if not officially you can always stay in the insider program.

At least IMO, L1020 is better with WP8.1, for now. Windows 10 Mobile sucks all the battery juice in matter of hours. Windows Camera is not as good as Lumia Camera, the quality of images is a crying shame.

Should I be worried?? Damn hell no. Even if they don't give an official release insider programme is always active. Just one click and you are in.
On Lumia 620 from the day it was launched here in India waiting for the first midrange Lumia W10 device but still will want to update my l620 to w10.

In my Lumia 730 it's showing 5.02 GB ..for build 10166 (excluding apps).I think it explains why it can't be installed in 4GB phones.And according to what Gilbert told,I think doing a fresh install and if it is less than 4GB it is a hefty task.Not many will be knowing how to do it.Maybe MS store/Nokia Care should do it for them

Once again MS su**....Microsoft many times said that all current windows phone will be updated to windows 10 .....and now this......if they can't keep commitment than why they do...

You'll still complain if they provide the update for 4gb devices.. Wat space is going to be left when you install a big update like w10 on a 4gb storage phone? It will take around 1.5-2gb.. And then your phone storage would have no space left which will make you curse MS.. Its your fault if you choose a 4gb storage phone..

@Ankitgondalia
Yes, there won't be much space....but they can use sd card for storing apps and other data.....and my point is only that MS should not announce such things.

they already announced update through SD card method. but yet to see if they'll use it for windows 10 update

Well, in their defense, "current" is an ever-sliding window. But I totally get your point. They should have said the target is all current phones, but by the time of release the oldest models and some economy-priced phones (i.e., 4 GB phones) may not make the cut.

The Lumia 1020 will be eligible to receive the update official when it available or just via Windows Insider? I have a Lumia 1020 64GB Edition.

@Daniel: well, I think the News are from Windows United (exclusive)

We may have to realize that the 4G
Phones are going to be, in the near future, obsolete as far as upgrading to new technologies. A 635 running Denim is still going to be a good daily driver for the immediate future. No one has said that the 4G/512 phones are going to stop working without WP10. But if you want the upgrade just get the insider preview. If not, what you have is what you get.

i've 720 with 512mb of ram, and w10m is running pretty well

The problem is that Microsoft seems to have quit their development of wp8.1 apps. (and maybe also the w10m apps so the situation could be the same...) If you want the latest from Microsoft, buy IOS or Android ​ ​

And looks not joke, Microsoft it's caring more about android and IOS than from their own platform

Daniel, I think you really have to write an article on how the version you get on the preview program is going to be the same as the RTM version. Otherwise you are just going to keep repeating yourself :P

My 1020 will be eligible,and my better half's Microsoft 435,I can't wait.

I can see why people are getting so confused, this article is not at all clear. Sorry, Dan. It seems to be saying that if your device is not on that list, you do not get a OTA upgrade to Windows 10; it seems to be saying that if I leave my 1020 as it is, with nothing done to it just like any regular user, I will never get an upgrade. It also seems to be saying that the only way to get your upgrade is to sign on to the Technical Preview. And it's really irritating how that's being thrown around in the comments as a simple fix, because for most people, it isn't. The average consumer (whom makes up 95% of the userbase at least) does not know how or want to go through a workaround just in order to get the upgrade that has been advertised. Nor should they have to. My logical brain says that if the 1020 can get Windows 10 Mobile on the TP - which, by the way, I am not signed up for - then it should be able to get it as a OTA upgrade.

That's correct, if your phone is not officially supported, you have to sing up for Technical preview to get Windows 10 on your device. But what this means is that after Windows 10 official update, you can still get Windows 10 updates and you will get them much sooner than carriers do. In another words, you will always get the newest stuff for free. Does it have advantages? Yes, since you will always get the newest software from Microsoft Does it has disadvantages? Yes, since a beta feature of the OS might not work on your carrier, or on your device due to hardware limitations, for example Miracast which does not work on the Lumia 1020.

@LondonLumia Exactly. Thank you.

i know right ? i bought a 730 because i wanted to updated it to windows 10 and now this...i don't get it.the 730 and 735 are basically the same phone.the only difference is that 735 has G4,and that's not an excuse not to realese it for the 730.but as they said in the comments,we can still use the windows insider to get the RTM.it's annoying that we have to go through that trouble to get it,but at least we'll have it. =T

I'm worried for my 1520.I don't wanna download buggy preview.

Wait for the official release of Windows 10 Mobile, Insider program will still exist after Windows 10 launches, so this is a smart way of getting the official release on the L520, if you're worried about future beta features you don't want on your 1520, just disable the upgrades after you get the official release. As a reference on the desktop, this is just like installing an ISO of Windows 10 on a Windows XP or Vista machine that meets the official specifications in CPU, RAM, storage, resolution but as you know Windows 10 was only elegible for upgrade on Windows 7 or Windows 8.1 devices. Does that make sense?

To me this is way better than the carrier testing situation that is Android. It is irritating that I may have the same exact device as someone else but they may have a newer version of the OS months before me or after due to carrier involvement. You just have to decide when things are stable enough to opt into the Insider Program for your device especially if it's your only one.

Does 630 dual sim gets update??

As much I hate to say this but once again apple proved they are best in providing updates and MS is good at lying

As much I hate to say this but once again apple proved they are best in providing updates and MS is good at lying

Apple's i4 with 512mb ram=not running current OS
MS's 520 with 512mb ram= supports current and future OS

No update is better than crappy update. Apple do has a good (short term) strategy in making old phones unusable with updates in order to stimulate sales of new hardware.

Crappy update? Why crappy? Not all people change their phones within a year.. So making old phones unusable by not giving updates and forcing to buy a new phone is not good.. Androids do that, thats why they suck.. Even Apple's do that but less than android

Why the hell you do this.

Has anyone thought of having a program somewhere between Insider and the carrier release. It could even be identical to the slow ring program. Anyone who wants it, download with a carrier liability disclaimer.

All lumias with 512 to 1gb ram memory and at least 8gb storage will get Windows 10 the 530 has only 4gb storage so isn't eligible

L530 is eligible: http://windows.microsoft.com/pt-pt/windows/preview-supported-phones At least on this list.

Unfortunate seeing as access point doesn't work properly on my 925. I had to roll back to WP 8.1 because of it. Hopefully a fix is made soon.

L535. I'm using 8.1 gdr1 now.
Do I need to participate in Windows insider ?

Well that sucks! Bought a BLU Jr LTE for my son earlier this year. While having the SD card and a half decent camera were the attractions for him, one of the main drivers for me was the MS statement that W10 mobile is coming to all phones running W8.1. He really enjoys that phone and there are no Lumia equivalents at that price point (no way I was going to sink >$100 for my son's first phone). He will definetly want to upgrade since most apps and games will only come out for W10 and he'll want to stay as current as possible (I mean its a WP after all so he already has a challenge with the middle school set - ) What are the chances that BLU has a trade-in program??? (I know the answer)

Smartphones that come with 4 GB of onboard FLASH are a problem
no matter you slice and dice it. Manufacturers like BLU are cutting corners whereever they can/need to
in order to be able to offer a rock bottom resale price. Much of a service, upgrades or other goodies are not part of the calculation when they write the business plan. Those devices are "as is" regardless of what the manufacturers are trying to achieve or trying to convey. And with 4 GB any phone is so hampered that they are not really worth a second thought,
from a consumer perspective and definately from a manufacturers perspective. Even if Microsoft where to cram W10 on such a device
I doubt that it would make much of a difference anyway. In a two years time smartphones will have evolved further again
and for a $100 or $200 you'll get a lot more then as of today. So maybe consider to continue using
those phones with the soon-to-be-outdated WP8.1
and invest in new gadgets two years from now.
The (mobile) world will be different then.

I'd say that in my experience, with this particular phone, I have never been hampered. Certainly there are limitations with 512MB but, if you look at my son, none of it has been a problem. He watches YouTube, uses 6tin, and plays whatever games interest him without a complaint that the phone is slow or buggy. As far as using this phone with the outdated OS versus waiting 2 years to upgrade, I don't think either of those options fly with a kid (latest and greatest - though he was pretty adamant he didn't want an iPhone and I was pretty adamant that I wasn't paying for an unlocked Samsung Galazy Edge). I'll look on eBay for a cheap W10 phone or get another BLU with W10. Sucks that this phone is obsoleted so quickly.

Will Lumia 1320 get the official windows 10?

I don't know why you all are worried about the OTA update?If you are getting the TP builds then you will get the official update also through the insider program.Then there is no need to worry about carrier restrictions.

You won't get firmware updates through the insider program.

How about l625, it have 6gb of storage

It is supported, I installed the Windows 10 preview, its a bit slower than with 8.1 since it has just 512MB of RAM, but if you can live with that, its a very polished OS, as you know the L625 just has a 480 pixel screen and Windows 10 smaller fonts make this phone look much better, also hamburger menus, make better use of screen state so its much better for applications which require a lot of settings

Does L730 get the update along with L735?? How does it differ ??

You'll also get it but may take time

If i registered on the Insider Program but did not download the Preview what will happens when RTM arrives?Will I be priorised too?

Oh i'll be dammed! No Lumia 925.. >_

Guys am using TP in my L730.Understand first that both 730 and 735 are same.Only difference is of 4G and dual-sim.730 will get the official release @ravi

All the phones that can run Windows 10 must have,8gb of storage and at least,512mb ram the 530 only has 4Gb storage so isn't eligible for Windows 10, I'm running the TP on,a 520 with some success only still slow of responses and my brother in a 820 which runs very fluent.

As a developer, the 530 being excluded concerns me a bit as I will have to keep two different apps: one for WP 8.1 and another UWP (Windows 10, Phone, etc.). The 530 has good sales in Brazil: it's cheaper and way better then Android phones in the same price range. I understand the reasons it will not be supported, but it's kind of sad. If Windows 10 was available to all phones I wouldn't mind supporting the previous OS version (as with WP 8.1 and 8.0), as upgrading was up to to user. Now the thing's a little different.

The 530 was the worst move of Microsoft, in my point of view besides the plague of low end devices , why not just released one low end model instead of 5555 models of low end for later tell this one will now be able to run Windows 10 since has 4GB and will have only 900mb free available as now Windows 10 is very heavy in visuals effects

And why the TITAN 1520 is not listed for getting WP10 first LOOOOL

Well I see nobody is talking about Lumia 630 .... so if i wrote about will L630 get an update or not then I'd get the same response to use insider program ..... And guys I would really love to jump directly to wp10 thru insider and I would have done it long back but isn't the insider program buggy as hell ? And isn't it bad to install it on ur main device (actually I own only one) . So if u wpc guys say it's as good as the final version then me and others will understand it better and we can sign in to insider without worrying about the main update .....

Read better what I post on here ALL PHONES WITH. AT LEAST 512MB RAM AND 8GB INTERNAL STORAGE CAN RUN WINDOWS,10, THE LUMIA 530 ONLY HAVE 4GB STORAGE WHICH WITH WINDOWS 8.1 HAS FREED ONLY 1,2GB FOR USER USAGE

I am not asking whether it can download windows 10 or not .... Ik the devices which meet the specs required can download w10 thru insider ..... What I really asked if u "read better" that is the update thru insider program will be as good as the main w10 update and is it good enough to use it on the primary phone (maybe with min. lag) so if u can understand what I wrote then I would like get a proper response .

It's not as good, and frankly I am getting tired of stupid people saying that if you can't get an official update as Microsoft promised for all devices running WP8.1 then you should use the insider program which is intended for developers to test out new unfinished builds not for daily use on your main phone. So to answer your question, if you want a stable phone don't install unifished preview software no matter what people are saying.

Me too man... I don't want unfinished build on my phone either its just that I don't own any other WPs ..... So its the curiosity that kicks me on how will w10 my phone will look like.... I want w10 more and more everytime I open wpc and see the post about the new things and improvements that are being added .

I get that, I used to have an extra Lumia 520 for testing and playing around with along with my main Lumia 1020, but I gave the 520 to a friend who needed a new phone, so I also miss playing around with WP10 preview, but there is no way I am risking my main 1020 with preview software when I need it to work flawlesly or I will be screwed. Hopefully Microsoft keeps its promises that all devices that can run WP8.1 will get an official WP10 update.

A user with a phone that features a meager 4 GB FLASH memory
probably won't be able to notice much of a difference in daily use
between WP8.1 and W10. With 4 GB any phone is of restricted use from day one on.
Ain't much to do with it anyway other than placing a call
and checking e-mails. Wonder why they ever offered Windows Phones with 4 GB.

The 800 won't get anything never got 8 and neither 10 hasn't uefi system and is based in Windows CE , Windows 8-10 is NT based, core so isn't compatible

What about the "all wp8/8.1 phones will get w10"? This does not affect me, but it sucks.

I think it is silly for anyone to complain about the 4GB upgrade limitation as even the Lumia 435 has 8GB and can be had for £40 from O2, so if you can't upgrade your old device get a new one or simply stay with WP8.1.
Personally, while I will look forward to upgrading my Lumia 735 I will still be more interested about the new range of devices due to come out within the first 6 months of Windows 10 Mobile's launch.

Well for some users who owns non lumia phone, and cannot run windows 10 preview, will it be posible for them to get the official one?! If their phone cant be test on preview, how posible that those phone can handle windows 10?

That question should be addressed to Samsung and other manufacturers which hasn't shown interest in it, one thing is get into an test but what about if the, manufacturer ie Samsung don't subscribed new agreements of cooperation with Microsoft? In that case Microsoft can't make eligible for TP to a phone that the manufacturer hasn't shown interest in Windows 10

Seems pretty fair enough...and not really shocking, unexpected news either.

This is exactly why Microsoft introduced OS updates to be temporarily stored on SD cards before the rom is flashed, why is it such a challenge with these phones?

Im confused! Can somebody explain to me why the Lumia 530 will not be supported even though it's supported by the insider preview now? How can that be? I don't understand.

I was surprised to not see the Htc one m8 for windows in that compatible list in the article.

The list posted in Windows central are the not supported phones, also I don't know If believe to Microsoft Germany by the leak of list is better to wait the Microsoft united states list first

Do you think that Verizon will upgrade the HTC M8 to Windows 10?

Ok, some Lumias won't get W10. I wonder whether any phone brand other than Lumia
will ever see an upgrade from WP8.1 to W10 at all. I doubt that e.g. Samsung ever will give a sneeze for the Windows Phones they have sold so far.
Samsung have tipped their toe into the WP phones market and found it to be too cold. That was it.

Samsung probably will offer brand new shiny new W10 phones and ask you to dump the old ones.
One reason for me to not buy a Samsung phone again.

I'm concerned if windows 10 mobile is on "the final stretch" as its nowhere near good enough...imo...ill still stay on board tho cos I like my windows phone anyway :)

It is disgusting to see how hard WC staff are trying to pander the Microsoft line that you are fine with a preview build and that older devices are not ussually meant to get OS updates anyway; despite the fact Microsoft promised that ALL devices that run WP8.1 WILL GET Windows 10. Instead of calling Microsoft out on shit like abandoning phones such as the Lumia 1020 with a watered down denim firmware because they could not be bothered to spend time and money supporting it with new algorithms and features that the hardware was perfectly capable of handling; and now same with spreading BS such as that you don't need firmware updates and are fine just running a preview build on your main phone.

@John20212 Thank you. I agree.

So, my 930 on WP8 currently shows system as 4gb. 32g-4g=28g, but the table shows W10 leaving only 25g on a 32g phone. How is that only 1g bigger? I count 3g bigger. I shall have to think carefully about my 820 (8g) phone if it's ballooning like that.

Wondering why the L1020 isn't on that list?

Keep calm and wait forever...lol

Offical list....Funny I see the 930 but, not the 929/ICON, so does Verizon get to screw us on this update ? As for others, this is what you get when you buy the cheapest phone avaiable....It's true, you get what you pay for...

You have mentioned Lumia 735 that sense it also Cover Lumia 730...Am I Right..??

How abt L1520? Dont see it included in the list....

Any insight into why the Lumia 635, which has 8 GB of memory and is now sold with 1 GB of RAM, is not included in the upgrade list?

What about carrier unlocked phones? Will microsoft roll out the firmware updates to us?


Lumia 1520 will get the Windows 10 official update, rite? ​ ​

I was never expecting my wife's 530 to get anything more. I bought that phone for the price, and if 8.1 keeps working on it, I'm happy.

Plze can anyone clarify my doubt..? I have plan to buy Nokia Lumia 730 but i don't know whether 730 is will get windows 10 upgrade or not..

The Lumia 730 will get the update!

So the 1520 won't get the "official" update. Who cares? Run the RTM insider version on it when it is available. Done.
Even better: Get a new phone!
For over a year everyone is whining because we don't have flagship successors to the 1520 and now, that they are finally around the corner, everyone is whining because they don't get W10 om their 2 year old phone via carrier...
As soon as the new phones hit the shelves, my 1520 is history. Problem solved.

I just saw that coming since Lumia 530 was not supported by last two insider previews due to space issues. So just sold mine 10 days ago.

The same information is available in the Brazilian Windows 10 Mobile page: "São necessários 8 GB de memória interna." - https://www.windowscentral.com/e?link=https2F%2Fclick.linksynergy.co... Seems like the real deal.

This is what throwing in a billion unnecessary spooked into the OS, causing it to more than double in size, does. I think my phone has almost a dozen system apps I don't want, but can't remove.

Is Lumia 1520 eligible (Officially)

I have W10 TP on L530 build 10512.But for this I have Dev Unlock & delete system archives for more space on the internal memory.Is the only way.Waiting the next build...(sorry for my english :D )

ok why not for the 4 gb phone let us install windows 10 on the sd card and make the sd card be the phone memory instead of for geting the 4gb phone i have a nokia 530 with a 16 gb memortycard mirosoft combind the sd card has the rom for the 530 and so on it looks like you dont care about the people if you skiping all the one that have the 4gb phones.

Er, why is the lumia 530 on this list? I'm running W10 mobile preview on it without a problem.. Plus with an SD card installed, you can simply download it to the SD card, then install it and use the SD card for everything else.

Try the latest build and u will know.

Daniel, say please about 940/950 model. This have glance screen? This have camera innovation?

I sport a 530 (worst Lumia in history). Was never gonna update the phone anyway. Waiting for a Windows 10 Mobile to launch that can support Continuum and Windows Hello features.

But if the 530 is in The deep an Asha phone with Windows phone, for emerging markets only, don't expect a great camera or fancy things

What about Lumia 620 or Lumia 520 ? Will they get the update when win dows mobile 10 comes into high end devices like 640 or 640xl ?

oh i get it,they let us use the insider preview on our devices to help them shape windows 10 mobile but now our phones are not eligible for the official release.bravo Microsoft,Bravo.

I've been involved in a Microsoft support forum that has been basically for Lumia 530 owners who were having trouble installing Windows 10 Mobile Insider Preview. Early builds installed without issue but more recent builds would not install because there was not enough internal memory to handle the actual installation process and the installer would not make use of the SD card. The hope was that Microsoft would allow the installer to make use of empty space on the SD card during the installation process and all would be well, but this article seems to suggest that that will not be the case. I hope that's wrong because I bought a Lumia 530 specifically for the purpose of testing Windows 10 Mobile. I have the current build on my primary Lumia 925 and will buy a new Lumia or Surface phone when they are released but it's still annoying that the L530 is now all but useless.

Its not wrong. Get a 532 as it will officially get rtm as well as running current tp no problem unlike 530 which will not since last two builds of tp.

That list of 4GB devices only lists two good ones IMO, the HTC 8S and the Blu Win Jr. LTE. All the others, including the Blu Win Jr. (3G) are pretty terrible IMO. It's unfortunate about the Blu Win Jr. LTE, an otherwise good device hampered by a single flaw (4GB of storage).

Lumia 1320 is missing in that list..wht is this??

few Lumia phones are missing...
mine 730 too....

And what about Lumia 630. Will it get the update or not.?

No one is answering... Will my Lumia 730 get an update of Windows 10.????

Uh expected to see the official build around October seems a bit of a fantasy it's nowhere close to being an official build

Quite evident atm as trying to put w10m on lumia 530 fails stating not enough disk space (after hard reset and zero apps installed) whereas trying the same on lumia 532 succeeds no problem... Although cortana is curiously missing. I did have the first two builds successfully installed but the last two builds will not install im guessing because the files are far larger than the first two.

I like the fact that every writer at windowscentral is now deleting my comments from all posts. This shows the respect and power of truth. Truth wins. yeah

So........ MS shafted me by leaving us Surface2 users out of Win10, and now my Lumia phone will not get the Win10 upgrade??
It makes the decision to never buy MS hardware again so much easier. All the apps are on iOS and Android aleady, so why bother with MS hardware? And I'm also very displeased by the way Win10Mobile is looking. Apple and Google are making much better strides, and it makes it harder and harder not to move over to one of them.........

I have a 530 and installed the 10 preview, had to reset my 8.1, delete all optional apps, then install 10. Then hard reset again. Wasn't latest build, was a while ago, but it WORKED.

Meh, just pick up a 640 for the cost of what a case would be at Best Buy.

What about the Lumia 925 ?

i use nokia lumia 730.iam very upset see that list. so finaly i what choose ?

TBH I'm a bit surprised 4 GB phones are still being made, sure I can understand that they're budget phones and all but 4 GB is still very low. I'm not sure how much usable space there is but I dare say it's around 1 GB, that could be filled with photos, apps and videos in no time.

Even though 4 GB phones can't get WM10, are they going to be treated like Windows RT and get an update with some of the features?
Windows Central Newsletter
Get the best of Windows Central in in your inbox, every day!
Thank you for signing up to Windows Central. You will receive a verification email shortly.
There was a problem. Please refresh the page and try again.