Microsoft's Windows 10 Mobile update unlikely to come to 4GB phones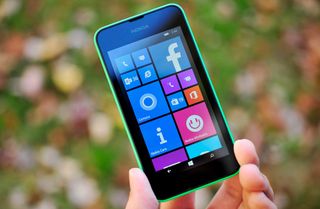 As Windows 10 Mobile heads into the final stretch in its development, its scheduling and update limitations are starting to become clearer. One of those limitations effects Windows Phones with less than 8GB of dedicated internal storage. Phones with 4GB of internal storage are evidently going to sit out the upgrade.
The news comes via the German version of the Windows 10 Mobile site. Under the section detailing that current phones will get the update it notably mentions "8GB internal memory required." Interestingly, the U.S. version of the same page does not mention this necessity. However, it does list devices with only 8GB of internal storage.
Up until now, it has been speculated that phones with 4GB would not get Windows 10 Mobile as they are currently excluded from the Insider preview. However, now it looks like this situation will remain going into the official release too.
Of course, like all things, some perspective is needed. Specifically, there are very few recent Windows Phone with only 4GB of storage. Indeed, going back to our forums, it was pointed out a few times that devices with 4GB of memory still could not use the Windows Insider program. Currently, ineligible phones include:
Alcatel One Touch Pixi 3 Series Handsets (Windows Models)
Nokia Lumia 530
HTC 8S
Blu Win JR and JR LTE
Yezz Billy 4
Karbonn Titanium Wind W4
Kazam Thunder 340W, Thunder 450 and 450WL
Indeed, earlier this month Kazam reportedly took their name off of the Windows 10 Mobile upgrade list. This decision despite the fact that the 450 series does have 8GB of storage.
Except for the poorly-received Lumia 530, the rest are reference designed phones that represent a tiny minority of devices, according to the latest AdDuplex numbers.
The reason for excluding phones with 4GB of storage comes down to the simple 'not enough room' problem. Windows 10 Mobile is about 1GB bigger than Windows Phone 8.1 due to many shared components between it and its desktop sibling. Users trying to force the upgrade will just run out of room due to not having enough free space.
Microsoft Germany has even posted the storage requirements (opens in new tab) for Windows 10 Mobile:
Microsoft seems to have anticipated this situation as these recent phones are still slated for Windows 10 Mobile, first announced at the end of July.
Official eligible phones for Windows 10 Mobile upgrade
Lumia 430
Lumia 435
Lumia 532
Lumia 535
Lumia 540
Lumia 640
Lumia 640 XL
Lumia 735
Lumia 830
Lumia 930
The Windows 10 Mobile update is expected to occur in waves like previous updates starting possibly in October. The devices not listed above still have access to the Windows Insider program to utilize Windows 10 Mobile. Indeed, much like the desktop version of Windows 10, those on the Insider program are likely to get the "RTM" version of the OS well ahead of any carrier updates.
At this time, it is not clear if the officially updated devices are also slated to get an accompanying firmware update.
Although it is unfortunate that phones with 4GB of memory cannot get Windows 10 Mobile it appears to impact a small minority of users. Additionally, this is not news either as so far those devices have been ineligible for the Preview.
Will your phone not be eligible for the update? Share your thoughts in comments.
Source: Microsoft (opens in new tab) (Germany), Microsoft (opens in new tab) (U.S.); via BetaNews
Daniel Rubino is the Executive Editor of Windows Central, head reviewer, podcast co-host, and analyst. He has been covering Microsoft here since 2007, back when this site was called WMExperts (and later Windows Phone Central). His interests include Windows, Microsoft Surface, laptops, next-gen computing, and arguing with people on the internet.
So phones like 520 are going to get the normal update??

Yes...it seems so...as it is currently eligible for preview...

At least for the first official wave of updates, no. However, if you can install Windows 10 Mobile via the Insider program, well...you still have Windows 10 Mobile. It is unlikely they will get (or need) a firmware update. Indeed, as pointed out, we are not even sure officially updated devices get firmware either. Basically all phones, except 4GB ones, are equal in the eyes of Windows 10 Mobile Insider Program.

Imo, they need firmware update if windows 10 Mobile became rtm version. If there is no update firmware for windows 10 rtm, hopeless to get usb otg feature, and Bluetooth versatility same as windows phone 8.1.

This is interesting: http://www.microsoftstore.com/store/msusa/en_US/list/Windows-10-Eligible/categoryID.70013100 There are some key phones missing from this list.

Daniel, I think you've missed one point from the list. All listed phones have 1 GB of memory. I have estimated this, and tweeted Gabe Aul with this question (no answer though). Windows 10 Mobile on the 512 MB device is barely usable, there are times when you can't even start any app for whatever reason, just it is obvious that the device is trying to do that and meeting physical constrains. I've tried to update my app for Windows 10, but on 512 Mb it too frequently crashed with the Out of memory exception (though this is somewhat specific as Share to Speech uses a background task to generate the sound, and the background task has different limitations than foreground apps). Though it is a very poor situation that Insiders could install on the 512 MB device, as if one launched the Windows 10 app that have problem to work on 512 MB devices he would possibly get many negative reviews...

MS should stop making and selling 512MB phones immediately. It is not only questionable to run W10, it may not be able to run the Android ported apps either. One more 512MB phone you sell, one more person will get frustrated. It would give WP a bad name. MS should come up with a 1GB phone upgrade program just to sooth the pain the 512MB phone owners suffer.

I think they already have stopped making 512MB devices when they acquired nokia. All phones with the "Microsoft" logo have 1GB ram, from the low end Lumia 430/435 to the mid range Lumia 640. So I believe that they won't make any 512MB devices again after windows 10 mobile is released because they just won't work very well and many from the universal apps won't work.

I disagree with this. Build 10512 has seen a massive improvement in responsiveness with my Lumia 630 test device. The only issues I had when testing the update were related to bugs which also happen on 1GB devices. Edge crashed when rendering large pages, but IE on WP8.1 behaves in the same way.

I don't understand this "official wave" of updates. Does it mean the x20 and some x30 phones (having 8GB or more storage) will never get the official OTA update? If they'll not get official update (without resorting to insider preview), that means the majority users will not be upgrading. Devs will have to maintain saperate 8.1 and 10 version of their apps. Striving to update mobile apps to UWP is not needed. Because apparently mobile userbase for Win 10 mobile will start from a neglegible number.

Do not worry, As long as you have 1 GB RAM and a Lumia that runs fine now in the Insider Program, it will run Retail (RTM) version as well. I use the Lumia 920 and it runs great on Build 10512. 1020 works too, of course. People here have said they run it On the Lumia 820 and other Lumias as well.

It's probably time to upgrade even if you have to go to and older former flagship once they come down. There are new low-end phones, though I agree that it's hard for any of them to top the 520

The bigger question is whether those same users (of say, carrier branded Lumia 920 and 1020 devices) will ever receive a Windows 10 Mobile upgrade from their carrier; in the U.S., it would be AT&T. Somehow, I highly, highly doubt it. The Insider Preview process is not very user, or noob friendly, never mind that most of said users, don't read tech blogs like this, so the amount of people using that method are going to be miniscule, in the 1-2% range of the total Windows Phone user base.

Haha thanks for that confirmation Daniel :)

which happens to be one if not the most popular Windows Phone... a lot of people is probably gonna stay on WP8... WP7 style.

Or move back to where I came from, to Android, deciding not to be the lab rat of M$ anymore. I came, I saw, I was screwed over, I leave. That's that.

According to what MS said at first, yes. But things change and promises fade away. They seem to be trying to not upset people that won't get the w10 update in the end, namely all x2x phones and Lumia 530.

With the L520, I had an successful update to Windows 10 Mobile preview on an earlier build, rolled back to 8.0 with a hard reset (yikes), and then was unsuccessful at updating to the current build. So I'm unsure if the L520 can run W10m.

I put it on mine and rolled back multiple times with no problem

I have the preview on mine

You have Windows 10 Mobile Insider Preview installed? You have Windows 10 Mobile then. Official updates are for those not in the Preview program.

He didn't ask about preview. I don't understand, will the 925 and all the *20 series get the update? Why are those devices not listed in the article?

Age. Lumia 925 came out in mid-2013. Microsoft is prioritizing Windows 10 Mobile official carrier updates for 2014-2015 phones first. Those not on that list still get the update through the Insider program if they opt in. It is not common that phones older than 2 years still get a whole new OS upgrade in the industry.

It is not common, but what if Microsoft is rebel?

Are people still rocking a Galaxy S4 going to get Marshmallow(Android 6.0)? No they won't. You should take comfort that you will still be able to upgrade through the Insider Preview program. By October, they should have a complete product and it won't matter if it's official or not.

I think you should have said - "it is not common that Android phones...". Old iPhones, while receiving a feature-cut version, are still supported by OS updates for at least 3 years. Another point is, if someone does it wrong should not and must not mean that everyone should follow this way. I still hope Microsoft will get to support old models as soon as they are technically capable for the update, at least in wave 2.

Apple typically drop support for devices 1 year after they stop selling them.

Just go to iOS in Wikipedia, then go to 1.1 Software updates, and glance through iOS 9, iOS 8 and iOS 7 - specifically, supported devices section, you will see you're wrong. Currently oldest supported [by iOS 9] iPhone is iPhone 4s which is available since 2011 and which is discontinued in 2014. That could be a good example for all. Just to be clear - I've been on Lumias since 2011 and I currently own 930, I'm not an Apple fan, I just seek for fairness :)

I don't know, but it's MS lack of a true recent flagship the reason that I am still using a L1520. If it doesn't get official W10M outside of Insider I will jump ship.

This statement is getting old, just "jump ship" (or not). It's not a big deal.

Why would you not just get it through insider anyway if you wanted it that much? It makes it irrelevant wether or not they release it 'officially' for it. That's what I've done and I'll be rocking Windows 10 mobile well before any of those official release devices pick it up.

Microsoft clearly promised that ALL phone running WP8.1 will get WP10 OFFICIALLY not only preview build through insider program which is not meant for your stable mission critical daily phone anyway. Who cares what is and what isn't common, Windows Phones have always carried the promise of easy updates to new OS; and speaking of common Apple manages to handle OS updates for old devices fine, so what you are saying is that Microsoft just can't be bothered to do the same, when they clearly need all the help they can to keep hold of their meager market share. Screwing over existing customers after promising WP10 for all devices running WP8.1 is not a way to do it.

Our concept of "technology" makes a 2-year smartphone old. Too old for getting a software update it perfectly supports. This is just ridicolous. I have a Lumia 820 and a Lumia 1020. I bought the 1020 a year and a half ago and what you're telling me is to install a preview software or to change the phone? No, that's not logic, at all. Not everyone has money to change a phone every 6 months as many, you included maybe, do.

Age. Lumia 925 came out in mid-2013. Microsoft is prioritizing Windows 10 Mobile official carrier updates for 2014-2015 phones first. Those not on that list still get the update through the Insider program if they opt in. It is not common that phones older than 2 years still get a whole new OS upgrade in the industry.

Also, I've never seen any info. along the lines that they

won't

be supporting older phones like the 925, just that they're prioritising some newer ones first, have you seen any official line that they won't be? I fully don't expect any new fw/dvr improvements bundled with any W10M release for my 1020, but I'd be disappointed if there's no formal release/support of W10M for it -

eventually

Ahem. I have a work-issued iPhone 4S, that *still* gets updates from Cupertino.

"It is not common that phones older than 2 years still get a whole new OS upgrade in the industry." ...and there's no reason why Windows Mobile should do anything óther, or bétter than competitors...

Wow. 530! Nokia's disastrous creation.

I have Lumia 530 and I am so annoyed as I am going to have to get a new phone now!!!

I'm sure it is annoying may cost you another $50 to switch to a 635 or something... -_-

Ummm... If I had to pay, I'd be a bit annoyed, yeah...

$50 is a lot of money in some parts of the world, so its not like you just have it lying around to throw at a new phone.

Paid $40 for my 530, running preview using the recovery tool. W10 is smoother on the 530 than my 620. If it breaks then so what, cheap phone.

If it runs windows 10 preview, it will run the final version.

Exactly. I am not sure why so many people are having a tough time understanding this point. It is like they are anticipating the "official" version to be different than Preview.

Maybe because we are stupid, or maybe because of this "Official eligible phones for Windows 10 Mobile upgrade" ...don't tell me it isn't a bit confusing for the avarage user to see that something supported by the preview is not in that list. (I had the doubt too and reading the comments helped...)

Like the 1520...the phone MS demoed the damn new OS on!

Yes it doesn't make sense to us motrals, but the gods here in WC will tell you that is normal to have to apply to a betatesting program to have your high-end phone updated :D

Your "high-end phone" that came out nearly two years ago. Let's keep that part in mind. The problem here is often carriers do not want to roll out an update for a 2-year-old device. The Insider program though is meant to get around these things. You folks always say "Microsoft should just update devices directly!". Um, that IS what they are doing right now. Are we forgetting that part?

They are doing that for us tech-enthusiasts but not for the masses. Actually as far as I read in the article, correct me if I'm wrong MS is not officially supporting those phones and not the carriers. Finally, his high end phone is the best WP phablet money can buy (I have a 930 so I really do not care and I will install insider previews, what I find strange is that you didn't expect this obvious reaction to the article and that just shows to you, and possibly MS, what will be common folks reaction). You have some higher mind, and for you to shine so bright you always need others not to understand what is obvious for you, so just be happy that most people won't understand :p

There should be no upgrades after one year of the official ship dates; especially for an OS at 3% market share...

That's the biggest pile of BS if there ever was one. Updating the OS on all devices regardless of age is exactly waht MS needs to be doing unless they want their market share to go even lower then 3%, and especially since they did not release any proper flagship phones in ages.

I think the key part about the Insider Program often overlooked as that you get zero official support if anything goes wrong. Now you might get some unofficial support from Microsoft. Meanwhile asking your carriers will lead to being toldthat you violated some terms in a mile-long document and tell you they can't (won't) help, but oh, BTW they've got a new phone you could upgrade to. Realistically, 3-6 months after a phone hits the shelves the carrier pretty much cuts off support anyway. At least in the US.

Well then they should not call it an insider program for beta testing unreleased updates if as you say it is mean for official updates as well. And lets not forget that without a new firmware update which you can't get through the insider program your high end 1520 or other phone is screwed because you are not going to be able to use many of the new features that are hardware dependant if the firmware does not enable them. So NO the indsider program is not the same as official updates, and if Microsoft wants it to be they are the ones that need to make it clear and also use it to push out firmware updates. Phones such as the 1520 or even 1020 are still considered by many to be current flagships in their field because Microsoft has not bothered to release a new replacement for a long time for a phablet or a camera flagship device, so it is completely irrelevant how old the phones are, especially in the light of Microsoft saying that ALL devices running WP8.1 will get WP10 officially.

If you have a high end phone (like me, I use the 1520) you are likely to want a new high end phone (like the 950). I know I do. So, I really don't care that my 1520 doesn't get the "official" update. I'll run and get a new phone anyway. Or just run the insider version. If you want to stick with the 1520 after the new phones are there, you don't want the latest and best anyway. Gosh, it's been 2 years. I love my 1520, but I can't wait to upgrade it to a new phone.

If you're an 1520 fan like me, a phone w/ a smaller screen is basically out of the question. The only thing that I *MIGHT* consider an upgrade is the Juggernaut Alpha, if I'm lucky enough to have it released in Sweden. My 1520 was bought day one in sweden, and I've had it for about 15 months.

Thanks for the notice, I entered the Microsoft Lumia devices update page and only 435, 535, 640 and 640XL have a section telling the phone will get Windows 10, so I thought phones like the 520, 620 or 820 would not have Windows 10 at the end, but this clarifies the things a little bit.

i think they want to expect features brought by firmware updates

Well, if it works, one would have to ask the question, why not to update? And my answer is simple - because of the poor experience. So Windows 10 can work on those devices but not in a desired way and not with performances that are generally acceptable.

Now we just need to wait for the builds to get more polished :)

That's the second list I've seen with no 1520 on it?

Yeah me too, and I'm worried

Why are you folks worried? Official updates are for those not on the Insider program. If you install Windows 10 Mobile today on your Lumia 1520, you have the same Windows 10 Mobile.

Daniel - People worry because they may not want to participate in the Insider program and just get the Release build of Win 10 like any previous update. The problem with that worry is: The 1520 is End-of-Life. Therefore, there will be no new official releases for it.

You can sign into Insider, get the update, then sign out after the 'final' official release. This is no different than PC except the role of carriers.

1520 is getting it since it runs the preview. It's only logical that it will get the final version. Even before official release.

1520 is in the preview. It's going to get it.

Why the sad face? Use the Windows Insider Program and like magic, you have Windows 10 Mobile. What's the problem? Going further, you realize that Insiders get the final version of Windows 10 Mobile ahead of any official release, right? Indeed, they will continue to get updates even after official updates. If you are on this site, I am not sure why you would not utilized this option. The reason MS made it is to get around official carrier updates.

Danny having hard time convincing people .!! XD

I feel like I need to write an article just saying this, lol. Even then, likely won't sink in.

I mean, it's just like installing an app. If people don't even know how to install an app, should we bother?

I tried the TP and it was not good enough for a daily driver. But, once it becomes capable for daily drivers then I will consider joining the Insider programme.

Sign up in October, get the RTM, sign out. Done ;)

Thanks for the tip Dan. October it is and really looking forward to it. Cheers :)

Okay. So the carriers are not going to roll out an update for a 2 year old phone. That's more than understandable. But what about countries like India where phone updates are not controlled by carriers? Will they get it officially or will they also have to sign up for the insider program?

> If you are on this site, I am not sure why you would not utilized this option. Because I need my phone to work 99.44+% of the time, and all indications are that Windows 10 isn't there yet? I'd love to jump to Windows 10 on my 925, but that's why I haven't done it yet.

He means when the OS RTMs and not now. By that time it will be stable and you can get it through TP.

It still won't work properly 99% of the time because you won't get firmware updates through the insider program, and you are not getting any guarantees from Microsoft that it will work flawlesly unless it's an official OTA update with firmware where neccessary.

That's only relevant for much newer devices, not older ones like the 1020 (like the OP has). There's no more fw being actively dev'd for it (nothing has been bundled with the last few major OS releases that've been passed by Mokia/Carriers), & none that NEEDS to be dev'd in some way to make it compatible (doesn't work that way).

No phone works that often not even windows. I have 3 925's and they are great but things happen. I have been using the preview as a dail driver and it is great on the 1520.

You do realise that without firmware updates you are not getting a stable phone. What's more many people are reporting a lot of issues running the BETA insider build so it is irresponsible to advise people to get an update for their main phone when doing so can really screw them over because the Insider Build is officially for testing new updates not for normal stable use on your mission critical device.

I don't think you want Windows 10 Mobile on the 1020, anyway! I have the 1020, tried it, found it riddled with more problems than most (mind you, it's a "preview" :) and ultimately decided it wasn't for me, i.e. nothing revolutionary in terms of features and a step backwards in imaging for the 1020--no hi res support, no camera raw support. Also, I could not be productive without the native S/MIME support found in the WP8.1 Mail app--seemingly, now entirely missing from Win 10 Mobile...

So goes the promise that all WP 8.1. devices are supported. May be a blessing in disguise though.

Totally a blessing. Seriously, even if you could load Windows 10 onto a 4GB phone, could it do anything useful? Probably not.

Why not? Windows 8.1 ran perfect on these devices. Why should Win 10 fail at this? This would mean Windows 10 would be a overall fail.

why would it be a fail? its your problem if you bought such low end spec phone and expect it to be updated to the latest version. the internals of the phone just wont cut it. May be you'll choose a slightly better phone next time and then ask for updates.

I have a Lumia 1520 which I would not consider a low end phone. However, no matter how good the processor in my phone is, I do not want to put its power to waste. I would be quite unstatisfied if Windows 10 is less optimised than Windows 8 was / is. Why would I want to have a OS that needs more ressources than it's predecessor when there is just no reason for that? One of the main advantages with Windows Phone has always been that it runs super smooth no matter what hardware.

They probably have sd card slot so...

Yeah, I thought that was the plan...remember? Use the sd card to download the system, it shrinks onto main memory...

Right just ordered a 64GB card for 20 from Walmart hope it helps my 520 to run 10 mobile.

I had windows 10 on my Lumia 530 to test out, it seemed to handle it ok (before the good builds too) I can only assume that it was a bare bones version of the OS which has now been beefed up with extras and features which has passed the 4gb threshold

Then what about Lumia 1520???