Windows 10 Mobile Wallet app adds support for retail loyalty cards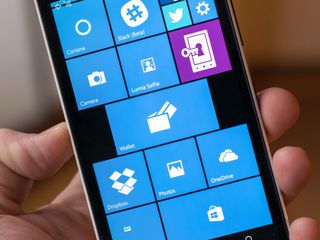 Microsoft is pushing out an update to the Wallet app for Windows 10 Mobile. The new version allows users to scan and add in retail loyalty cards for the first time
This should be a very handy new feature for Windows 10 Mobile users, especially now in the heart of the current holiday shopping season. Support for loyalty cards means that shoppers can ditch the old-fashioned credit card-like method of collecting reward points in favor of scaning the card's info on their smartphone.
If you notice any other new feature in Wallet for Windows 10 Mobile, let us know in the comments!
Thanks to Sanjeev for the screensh0t and everyone for the tips
Download Wallet for Windows 10 Mobile (opens in new tab)
didn't we already have Club Card app from WP8? I've always been using that for loyalty cards and such.

Yeah, and Stocard (lots better than Club Card IMO), but having a native option is much better. Now all we need is to see HCE come to life and I'll be satisfied with our wallet.

Holy crap! Edit: Update not showing up here yet. If anyone has it, please post. Also try importing a pkpass file

That would be nice, but if you didn't know, there are apps in the store that will upload them to the wallet for you.

Wallet Pass and Passbook Converter are two I used with 8.1, but never found that much use except on one occassion. Has Passbook actually caught on everywhere? Would those old apps still work with the new Wallet or do they have to be updated first?

Any way to import from key ring rewards app? Haven't used that program since they removed their app.

What about Club Card app?

Yes - my contents in Club Card transferred seamlessly

I tried downloading 1 but the dev(virtual next) is using some form of user agent check making it impossible to use currently

Cub cards works well with Windows 10 and allows wallet sync

I'm surprised they even remembered they had that app. Maybe well get Mobile payments soon.

Yeah, the wallet is such a downgrade on moving to W10, they have tons of things to catch up and fix. Very underwhelming experience.

The current store description is comical, still not seeing the update. The app does none of what is listed. Even adding 3rd party apps doesn't help.

Microsoft made a statement saying they were going to make a new mobile payment system. Sounded like they would be working it from the ground up.

What Microsoft should do is work with PayPal and make a mobile payment system together, therefore reducing the fragmentation we're seeing with Android phones. Every manufacturer and wireless carrier with Android phones are making their own system - like going from 30 plastic cards in your wallet to 30 apps on your phone and no improvement.

Android Pay works exactly as it is supposed to. Posted from my Moto X Pure Edition via the Windows Central App for Android

If you use two factor authentication in PayPal it makes the Windowsphone app completely useless. It has never supported 2fa. Of course Android and IOS do.

Unfortunately, unlike other apps, I could not enter a card number and generate the bar code. All I got was an image and the name and number that I entered. I did scan one card and that seemed to work, although I haven't treated the scanned bar code yet.

Lots of people didnt get the update yet. Are you in the US, and what version of the app do you have? Thanks in advance.

Ooh. Not seeing the update on my UK 930 yet, but I'm glad to see the app getting updated. Would LOVE mobile payments to come too... Does this use barcodes though, because I've never been able to get shop laser readers to scan my screen. :(

Only optical scanners work on phone screens D:

Well quite... My question really was how does this update help us?!

It helps because there is no need to carry key or credit sized loyalty cards. Many retailers do use optical scanners or can manually enter the card number from looking at the device screen. Account phone numbers are another option to enter on a laser only retailer's keypad. Who wants to carry tens of plastic cards in their wallet or on their key chain?

That doesn't make anything easier for anyone though. They have to type in 16-20digit numbers, we have to launch an app and find the card... It's less faff to just have the original card then

Might be different in the UK, but in the US, nearly every retailer has an optical scanner now that works just fine. I now have only like 6 cards on me at all time, 2 licenses, 2 credit cards, AAA card, ATM card

No retailer I visit in the US that uses loyalty cards have optical scanners. They are all using laser scanners where I live. Go to the gas pump, laser scanner for my loyalty card for the discount price gas. Office Depot/Office Max, Kroger, Autozone, JC Penney, Belk, Target, Walmart, all use the laser scanners. I'd like to know who actually uses the optical scanners. I still haven't seen one used by a retailer. I wish my library used it. It would make checking out books easier.

Samsung has some special magic on their Android phones that lets the phones work with laser scanners (using the "beaming service"). Really wish Lumias could do that as well.

@danmorrissey... So a flashlight/torch app isn't beneficial then because you still have to locate the app and find the switch to turn it on. Might as well carry an actual flashlight then right? You are referring to having the card in hand and actively using it as the only benefit. Not having to carry card, along with many other loyalty cards it's also a benefit.

Well there's a flashlight button built into action centre now, which has made those apps redundant. The same can't be said for payment cards and the like.

Also, you can literally ask Cortana to turn on the flashlight. Off too.

Nice! Finally a useful comment, thanks.

Never found loyalty card apps very useful in the UK. Most of the cards I have use a magnetic strip and don't even have a barcode (Boots, Ikea, Toys R Us, ...), so the only way to use them on the phone, is getting the checkout person to type in the long numeric code. Too much hassle.

Guess this feature is more useful in the US then, because here all loyalty cards I've seen have bar codes and none have magnetic strips. Though I personally just punch in my phone number instead so this wouldn't be that useful to me. I had an app in WP that did exactly this but I don't think I ever actually used it. I did use the Walgreen's app though. Maybe this would be a better option. Posted via the Windows Central App for Android

same in Canada, most loyalty cards have a mag stripe or a chip so it's kinda useless. The only thing this is good for is PC Plus (Loblaw card) ​Public Library card Scotiabank/Cineplex Scene Every other card (with magnetic stripe) cannot be input into Wallet app

Timmy app has wallet support again to bad its not on par with bb eg. NFC support

about the Timmy app , so far only Blackberry app for Timmy supports the NFC there, which is very irony some how. android one is also only for optical scaning

not ture, at least in Ontario, i use phone apps for lots of those things. ​besides what you mentioned AIRMILES, AMERICAN EAGLE, SHOPPER'S DRUGMART, CANADIAN TIRE MONEY, HBC plus TIM HORTONS CARD (which do have official app and support Wallet) and STARBUCKS and I have also use it for coupons from 'Bed Bath & Beyond" and those bonus points /discount coupons from HBC and other local stores too.

Not really interested in 3rd party solutions that barely bother to update

Other than Tim Horton's none of those companies have Windows Phone Apps which I think is the point being made here.

Something many self checkout aisles lack.

However many have "contactless" pay terminals :P.

*waits for NFC payment support*... Because that went so well with the original secure SIM idea in the WP8 wallet...

The problem with that was they only had one partner at launch and that was orange in france. In the US it hinged on the collective of the three big US carriers, their app and a secure sim.
They could have cornered the market if they had several key partners in multiple countries, major retailers and major bank support.

When the WP8 was released in Canada, we had the wireless carriers starting their own mobile payment system (which also failed like NFC payment on WP8)

Did hear their were porting suretap to windows for realz this time(before rogers spun off suretap) hopefully td will jump on-board

Is wallet pin supported in windows 10 mobile? Like 8.1

No. Currently it's useless compared to 8.1.

Very happy about this. Key Ring dropped WP support and StoCard wasn't backing up cards when creating backups between builds.

Yeah, that's a pity. Handy app.

This update is not actually there, not sure where they got the idea it was. Mobile pocket is a good alternative until Microsoft remedies the bout if cranial rectal inversion syndrome.

I do not see the update. I am in the us on an att 950. My wallet app just says go to the store.

On an unlocked 950... also unavailable...

Yeah I tried Stocard but the backup gap annoyed me so I didn't use it again.
Discovered this after downloading the update, at least it will backup to your MS account.

I'm waiting Payment credit card support

Would be cool...would never use it myself. But will be great for the platform

Mine currently says to go to the store to find apps to link to my wallet... The store then doesn't provide any genuine apps from existing stores because app gap...

Same here. It seems they have reduced functionality with this release, since I cannot even do anything with it...

An app that has a plus sign for installing a couple apps for stores not in my area. Tim Hortons is more better than Dunkin Donuts.

It is only for inside use sadly no (bb like)NFC yet which is a shame when your in the drive-thru

Me too, this makes no sense. The pic above is showing GNC and AMC Stubs, but i don't see those in the store. Plus, this article makes it sound like you don't need a separate app, just scan your card in, but the app clearly re-directs to the store? What are we missing here?

Guessing wc is having a brain fart

Nope its a Microsoft thing other sites are reporting the update at well

One other site did and didnt even have the screenshot. I am sceptical. Either that or it was US only.

What version? Mine is 1.1.15271.0 and no update available.

Please add Paytm or Vodafone Ss carrier billing in India

Tell Microsoft...not Windows Central

Paytm sounds like a good name. Maybe Microsoft and PayPal should work together to make OnePaytm

Isn't this what the app was supposed to do in the first place?

I thought it was the only thing it did. haha. I thought they said they were telling us their mobile pay plans but never did.

That was my assumption too. To be honest, I don't think the app ever has done anything besides show the credit card used for the windows store. Posted via the Windows Central App for Android

Calm down spatky, there's nothing to get excited about in this, seriously.

So nice to have this Windows Phone 7 feature back.

Tell us when you do,because it's not back yet.

Right? Dang sites gettting my hopes up/

Windows Phone 7.x never had a Wallet app, that didn't appear until the first release of Windows Phone 8.0 alongside devices like the Lumia 920.

Wierd. Seems you're right. It's all blurring together.

Got an update but it didn't add the native scanning of the cards

download a barcode app to use the feature

I hope they get cracking on tap and pay soon for mobile payments.

I would like the app to show me the points I have in my Microsoft account again, like it did with 8.1. Mobile payments is the other feature I'm waiting for.

Great except the card I use the most "Nectar" has pulled their app from the store.

Is there any reason why Starbucks cards couldn't be added to this? Would make needing an official app unnecessary (for me).

Use the Buckstar app. It works great for me and has Wallet integration.

8.1 only? I'm not seeing it in the store. 950XL here

I believe on here there was a post about it being removed at the request of Starbucks

Yeah, odd that the Microsoft Band has Starbucks support, if even rudimentary. You can however still add your card so long as you know your 16-digit number. Works well enough.

The 'What's new in this version' includes 'Credit or debit card support'. Not sure if that's actually a reference to the latest update. Regardless, I don't see anywhere to include Credit or debit card information. In NFC settings (Lumia 950), there's an option for Tap to Pay and a place for a Default payment app (greyed out) and Default payment card (no option/ lists None). Am I missing something?

Under "What's new.." it actually lists everything that has been depreciated, meaning every feature that has been *removed* from the app. So, no more credit cards, PIN, etc. It's now just a loyalty card app. Really not sure why they don't just yank the app altogether if it no longer does anything more than all the other 3rd party apps available in the store.

Yeah especially if theres no pin to protect

I agree. The app is 100% pointless.

Useless update because it points you to the store to find the loyalty card app for the company you have rewards but no one of note is there. This update requires the apps but the apps aren't there. Would have been nice if they could have partnered with some retailers to at least provide their cards natively.

What's the new version number? The attached pic looks very different than the 3rd party WP7/8 linked wallet app.

What I don't really understand about this app is, it has you downloading other apps such as the AMC rewards app or the Walgreens app, and then it aggregates those apps into the wallet app. BUT, what's the point when I'm already downloading the merchant's independent app? Instead of going to the wallet app, I would just go to the app of the place I'm shopping at. It would be nice if we could add in the rewards loyalty info natively within the app, without having to download a whole bunch of apps just to populate the single wallet app.

It should. Seems like the update isn't live yet

This way when there is an update it will get updated. Also the merchant apps provide additional functionality.
Such as account management.

I guess if we could have a merchant's app list within the app but not have it show up on the main app list, this would be better. In real life sense, it would be like having to carry a set of all of your credit cards outside of your wallet in order to have a set of credit cards that you can put in your wallet. Or maybe my analogy is flawed. But I think you get the drift...

Most banks in the UK have contactless on your bank card so not much different using your actual wallet as opposed to your phone

I shudder to think people using bank apps and contactless on android

Not possible yet from what I hear cc yes

I hadnt even noticed Windows 10 had a Wallet app :) ​Hopefully this is a sign of more to come with this app.

It's the same useless app from wp 8.1, nothing to be happy about.

Nope. Half the features in the 8.1 app were removed from this W10M app. Just check the description for the list of depreciated things.

There is no update, even the description says nothing about thus feature being present. App is still useless as ever.

Patience. win central get this news early it takes time for the wheels of progress to spin into action

I think in this case someone got ahold of a bad batch of shrooms.

No one does shrooms better then Shigeru

Looking forward for the mobile payment

No support for adding debit/credit cards. PIN to open app is must. No other UI options to sort out cards.

Hey John, Thanks for the article. Its an exciting and welcomed improvement. Do you have any word on when payments will be coming? Is it close?

My 1520 got this but my 640 didn't

Mobile payment.........that's what we need

Want yes..need...no. I don't even really want it...but it will be good for the platform

This is actually great news. If it helps elminate having another app I'm all for it. I've always hoped this app would do this. StoCard is great but doesn't back up my cards. I've had to add all my cards back twice now in the Win10 update.

I think I tried it once and wasn't impressed, but I'll try again. Thanks! Also, is there any way to find out the last date an app was updated like in the old WP8.1 store? Since the upgrade to Win10 I haven't been able to find that info in the store anywhere.

"Purchase history" in the menu of the store app. Right now it directs you to the site. But it will tell download dates I think.

What I was looking for was date last updated. Like if I went to the store to find this wallet app in 8.1, under the details it would say in there "last updated 7/1/15" or something like that. To me, it was always a good indicator of how well a developer would support an app.

Oh I see. Not sure where to find that in Win 10

Yeah, it's weird they'd remove that info. If there were two similar apps I was looking at, but one was recently updated and the other hadn't been updated in years, I'd always lean towards the former, even if the rating was worse. Hope they bring that back.

How can I use it? When I clck on "Add" button, it opens the Store...

Update not live yet for all...

Can you tell me what is the version number of the update? Thank you!

Hopefully they will release a mobile payment solution by the time the elusive Surface phone..well...surfaces. I love using Samsung Pay on my Note 5. It comes in really handy now that most stores in the US are requiring the slow-as-**** chip cards.

Everywhere in the world is going to require chip cards soon enough

Chip cards are slow as crap.... So if we can use tap to pay at these locations...it could save a lot of time...

Won't work with cards that I have to slip into the machines at the gas station.

The update didn't include this feature on my 925

No. I'm in Texas, and no update.

I think they pulled the update...store still shows old version.

I just want to know when Windows 10 Mobile will have Tap to Pay? My Insider Preview Lumia 1520 doesn't yet have Tap to Pay.

Mine did for a while, it was nice

We all had Tap to pay on Windows Phone, called Softcard....till Google purched them and killed the WP app.... Screw google...

I've tried these club/loyalty card apps and I still find punching in my phone number on the keypad to be just as convenient or just hitting the"I forgot my card button" to get whatever benefits at that moment. I still don't have to carry cards and my PoS 950 can stay in my pocket.

So do you still need 3rd party apps for this??

Mark / Daniel - Can you post a tutorial on how to use this app? Also - what version of the app is this new version? The screenshot in your article looks very different than the one currently in the Store.

Has anyone actually managed to get this update?

This should have been present from the get go

Great. A feature promised in 2012 is now delivered. Rapid development cycle. Mobile payments by 2025 if this keeps going.

Don't worry. The timeline was way to rushed so they now have seemingly pulled it.

Thats a good thing. The danger of a mobile wallet app on Windows that actually does something was almost upon us. I liked the idea of a live tile that literally did nothing other than take up storage space. There was an element of hope every time there was a store update in Windowsphone 8/8.1. The anticipation of a useful wallet service was always better than the useless app we got.

Needs refining though.. User can not edit created card eg, a grocery bonus card..

It appears that the Wallet update that allows for adding loyalty cards is version 1.3.15342.0. Two of my test phones are still on 1.1.15271.0. Has anyone confirmed that 1.3 will sync Wallet items up to and down from the cloud? I was using Stocards and the lack of backup with hard resets on Windows Phone for Windows Insider and new builds was driving me crazy. Thanks everyone who suggested other apps, that's very helpful. But seriously this should be something the OS does by default, keeping wallet in sync.

Yea, On the same version here.. No updates in the store and I cant uninstall it so I can just re-install it... How do we get the updated verison ?

Is this only for offical Windows 10 devices ? The Wallet in Windows 10 phone only asks to find a 3rd party app. I checked for updates and none for the wallet is available

No, im in a 950 and I'm not getting an update. Same version of wallet on my 2 week old 950 as is on my 920 running tech preview.

Seems like only select devices got this update. Maybe it was released by mistake then pulled???

Bueller? Lots of MS app updates yesterday, but no wallet. If it doesn't offer backups, sticking with stocard.

When does this go live ? Most people here didn't get a update yet....just checked no update for wallet... If you look Wallet up in the store, it shows the new version with the cards showing...but, you cant uninstall yours (POS app now anyway), crap

Still did not get the update here. Lumia Icon on latest dev preview.