Windows 10 Movies & TV app to add cast and crew info in today's update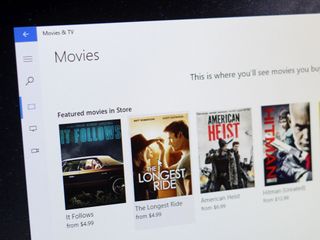 Microsoft's Movies & TV for Windows 10 desktop and smartphone users should now see a new update to download today. The new version number will be 3.6.1573.0 and will have a few additional improvements and bug fixes.
Here's what's new and improved with Movies & TV in Windows 10:
Cast and crew information is now available on movie and TV show details pages
Improved download experience and error messaging
The app will now automatically queue up the next episode of a purchased TV series at the end of an episode
Let us know if you see anything other additions or improvements in the comments.
Download Movies & TV from the Windows Store (opens in new tab)
Source: Microsoft (opens in new tab)
On a roll today! Just waiting for Groove Music update now.... Between this, Wallet and Groove, I'd better preemptively charge my phone

Got an update for mail+calendar too. Linked inbox is back :)

That actually returned a week ago.

Not on official Lumia 950. Only for win 10 tp before...

Ah, good point, thank you.

I thought they meant cast as In Chromecast or something like it. Is that feature already available without having to cast the entire screen? Posted via the Windows Central App for Android

http://answers.microsoft.com/en-us/musicandvideo/forum/xboxmusic/an-upda...

"You can now swipe from the left to bring up the hamburger menu. It makes it easier to use the app with a single hand!" Awesome!

Hope they do this across the board on their apps, like in Android. Posted via the Windows Central App for Android

I recently discovered this app. They have a lot of movies. About $1 more than Redbox, but you dont have to deal with turning it in. You can start the movie on your XBox and finish it later on your phone, PC, or tablet.

This app need an update on Xbox One, and add the subtitle .srt option

Did anyone else have a problem where rentals purchased on Windows 10 PC was not showing up in Movies and TV app in Windows 10 Mobile? I had all those 10 cent deals I would like to watch on phone, but nothing appears in the "Movies you rented will appear here" section on phone. WTF MS

Its working for me.. Actually, better than it should. I rented and watched a couple movies and they're still showing up despite the fact that they should be expired by now. A few that expired are gone.. and the one remaining movie is still showing as Expires on Dec 12th.

I believe the rule is that you have to watch Movies and TV shows that you "Rent" on the device that they where rented on. That is not the case if you buy them. That is most likely a deterrent from sharing rentals with friends. UPDATED: I was wrong. I rented Ant-Man on the Xbox One yesterday and it plays on my Windows 10 Surface Pro 3 and Windows 10 Lumia 1520.

I rented 3 movies for 30 cent on my phone and watched them all on my Xbox one. You just need to go over to your collection.

Can any delete old movies they don't want anymore? I watched a Bad Grandpa: Exclusive Clip one time, and I now have it forever on my list. How hard is it to add a delete, or at least hide, option?

I have not found a way to delete from the list - I have done feedback requesting this feature.

Movies & TV just went live

Good b/c IMDB sucks on this platform

Seriously? Im the only person that wants this thing to support our personally owned tv and movie library? I feel like they are fixing everything but the biggest issue.

Hamburger swipe working in Movies & TV too. Btw I have Films & TV

Still crashes on startup on my 925.

I have posted this on the user forum and am now going to repeat it here. Please give us the ability to delete/remove Movies and TV shows from our collections!!!! I hate seeing a bunch of Trailers, 10 Min. Preview's and Free movies that I did not like very much, still in my collection. I am also agitated and embarrassed when I see the TV show "Dicks" and "World Premiere of Kinect" in my TV listings.

Ugh. This has been going on forever. I have so many free Pilots that sucked and now am forever looking at.

I think this update just broke the Continuum feature of the app. It starts fine on the big screen but I cannot click on any movies in my collection to play them! Works fine on the phone. I'm able to click on all the links on the left side (ie Search, Movies, TV, Videos etc) but when it comes to clicking in the right pane, nothing! Anyone else tried it on big screen yet?

Swiping from left to right is available for movies and tv also!!!

Je regarde toujours des films sur ce site
Windows Central Newsletter
Thank you for signing up to Windows Central. You will receive a verification email shortly.
There was a problem. Please refresh the page and try again.