Windows 10 PC build 14393.10 is now available for Insiders on the Slow Ring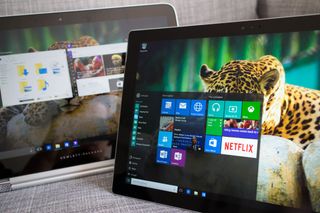 After rolling out build 14393.10 to Windows Insiders on the Fast Ring, Microsoft is now making the Windows 10 PC cumulative update available to those on the Slow Ring and Release Preview.
The release notes will be available soon on the Feedback Hub:
Be sure to check out our extensive coverage of the Windows 10 Anniversary Update:
Windows 10 Tips, Tricks, and How-tos
Windows Central Newsletter
Get the best of Windows Central in in your inbox, every day!
Harish Jonnalagadda is a Senior Editor overseeing Asia for Android Central, Windows Central's sister site. When not reviewing phones, he's testing PC hardware, including video cards, motherboards, gaming accessories, and keyboards.
What about public realease....?? Waiting for windows mobile too...

Later today. And it'll be gradual don't expect everyone to get it immediately.

I imagine they'll use the usual Windows Update timing (i.e. 10 AM Pacific, 1 PM Eastern, etc.). Also, I imagine that they'll push it out in waves. And I'd bet that they would probably push out to those who only *just* upgraded to Windows 10 a bit later than everyone else. Hopefully, though, anyone who manually goes to check for updates through Settings will be offered the update (but again... only after 1 PM EDT).

Ha! Just in time for the big rollout. Posted via the Windows Central App for Android

No news yet about ISO's for RTM?

If you have access to a VLSC, they've been up there for at least 5hrs already... Hadn't shown up anywhere else at that time but maybe MSDN by now?

Now it's the time for Public release. Timings between 4-6 pm IST.

Depends on various things such as carrier, country, device model, etc.

For Me, only timings are important.

Mobile main kab aayega bhai log

They are going to release it on 2/august which means in India 3/august. You'll get that build tomorrow or night around 12:00am

They are going to release it on 2/august which means in India 3/august. You'll get that build tomorrow or night around 12:00

They are going to release it on 2/august which means in India 3/august. You'll get that build tomorrow or night around 12:00am

Same for me here in Thailand. I have to wait until the 3rd.

They are going to release it on 2/august which means in India 3/august. You'll get that build tomorrow or night around 12:00am

Your're mental!. Look what you've just done.

Actually, this multi-post issue is a bug in the Windows Central app, which occasionally posts a bunch of duplicate comments after just hitting the submit button once. And since WC no longer lets you delete comments, it leaves a mess in the comment stream. The best someone can do is go back and edit the duplicates to apologize for something completely beyond their control. All that said, please let's take the high ground and not medically diagnose people here without knowing the whole story.

14393.10 broke Cortana on my Surface 3 and I've seen others report a similar effect.

Cortana works fine here on 1st Gen Surface Pro w/14393.10 and 1520 w/14393.5

I second that. After the update, Cortana stopped working on my PC, and now it's just the old "search"

Sign back in. Sometimes after updating Cortana signs out and defaults to normal Search.

Yes I confirm this. Cortana is broken on the latest build on Surface 3. No search results, no news feed on home page landing, etc. SMH

which build will be the candidate for public relese? any ideas?

14393 is candidate for public release(RTM) but .10 is latest CU. Hopefully, 14393.5 will be released to public everyone and then updated to 14393.10 on completing anniversary update.

Yes it looks like .10 is the day one patch.

Yes, this is what I was thinking too...As I have the Public Release 14393.5 on my AT&T Lumia 950 and will be curious if it will then pick-up the 14393.10 cummulative update...@Nawzil on Twitter (who is a relaible inside MS source) stated: #Windows10 PC build 14393.10 is now available for #WindowsInsiders in the Fast, Slow, and Release Preview rings! Mobile build coming soon.

It would seem it's available on all releases. I just finished a fresh build from the iso from VLSC and it picked up the update straight away, also another machine I have which was a fresh built using an ISO made from an Insider ESD file also picked up the update.

When should Anniversary roll-out start?

August 2nd. Probably will begin in the next 18 hours.

waiting for Anniversary update

You should wait a little longer, don't expect it to be available to you as soon as it rolls out.

I know some phones are excluded from this branch such as the 1020, yes I still have one. BUT does anyone know if there is a way of getting these releases on such devices? Also does anyone know if these excluded devices will get the anniversary update on public release?

Not happening they said unsupported devices won't past threshold2 10586.xxx builds

Wouldn't it be better just to give owners of the device an informed choice to make? So basically MS says "you are warned, install at your own risk"? I personally think my 1020 can take it :-)

Duplicate removed. Sorry, was too eager.

Oops I did it again...Sorry.

There's posts in the forums to help you get Redstone (anniversary update) on unsupported devices.

Please, show me how/where?

Kab milega anniversary update kisko idea hai koi

Klingon is hard to understand...

Hindi is Klingon to understand?!

That is hindi not klingon. Kha boo jah nieyha lol

When will be the production release

Playing the waiting game...

When will we get anniversary update on our phone?

Don't get your hopes up to high. Just my two cents but I believe PC will be prioritized and after the bugs and kinks are ironed out in the PC update, only then MS will start rolling the Anniversary update to the mobile.

It is expected to arrive to PC, Tablet and Mobile at the same time. Priority is the first party devices and then there's availability that depends on carrier, country and such...

I think they have just to start, no matter which one is first ;)

I hope the roll out start today.

Nice that RP insiders get early access to cumulative updates

I'm receiving the update now :D

August Fool LD hahahaha cheer up, just kidding.

Mine was pc I don't have a Windows phone Posted via the Windows Central App for Android

Still cant download language packs!!!

Try to download it from admin account, and if you are on network (work or so) turn off "Update from more than one place"

Hi, I am admin already, where is this update option?
My PC is stuck in German for several fast ring builds. :(

BTW: you are requesting help in the wrong place, you should head to Forums.
All Settings > Time & lang "2nd row - first icon" > then 2nd option from left Region then clickany lang and you will see the ava update, just click it. or you can add another lang.

Thanks, this is what I did already.
It's add keyboard but not display language...going into control panel to check language and change windows display language it states please connect to the internet to download the language pack. I added UK EN, US EN and others to try and force any English download but nothing will download.
I left feedback in the feedback hub several times with screenshots and video's and tried every trick I could find on forums including trying to install CAB files but nothing works. Anyway thanks for your help.

Control Panel/Language/Change date, time, or number formats/Administrative/Change system locale…/Japanese (Japan) For displaying Japanese char I have to change above setting ... try to check yours

Please stop with the "when the official rollout of annual update", it is a gradual release and everybody will almost get it within a week , especially to us indians who are niggling everybody here, it will take time.Please be patient
Peace!

Looks like they fixed Task Manager. It was forever stuck at 30+% of CPU, causing a lag on my Surface 3, whenever the window was open (I usually keep it open to keep track of any rogue processes). After the update, Task mgr uses around 3-4% of CPU.

I clicked check for update maybe a 100 time since last midnight, its like a new year for me, got 4 devices waiting the update, not much excited about PC as I have received it all with insider prog. but the phone which kills me.....grrrrrr

Why are you so excited?! Aren't you an insider on the phone also?

Important timings are for me only

I guess we all are forgetting that 2nd Aug EST is roll out time but rollouts will be gradual meaning don't expect an update immediately, might have to wait for sometime may be a week in many cases.
So all the best

http://www.cnet.com/how-to/15-things-to-look-forward-to-in-the-windows-1...

i am on windowscentral from today morning - constantly refreshing the site, looking for public roll out of aniversary update.

Check out at midnight in India... Took a long sleep in the afternoon to stay awake for long at night ;-)

So I've been waiting for the official RedStone release to do a full wipe of my phone and desktop. Is it time to do this yet?

Exactly same thoughts here

Huge problem with Steam, it is not working in my three PCs which has been updated, in two of them the store stays in a loop and never shows up, on the other one it never launch.
There are problems too with Arc Games and Curse Mod Client, this problems must be solved before this build goes public, so far only solution is to reset the Windows installation.
Battle.net and Origin are working all right.
Please don't give Tim Sweeney reasons to talk.

950 XL fire sale when????

Sorry, I posted on wrong thread.

Downloading update................ Posted via the Windows Central App for Android
Windows Central Newsletter
Thank you for signing up to Windows Central. You will receive a verification email shortly.
There was a problem. Please refresh the page and try again.