Windows 10 PC build 16199 and Mobile build 15215 now available for Insiders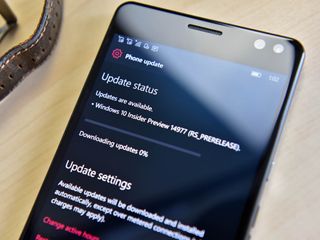 Another week, another Insider Preview build is now rolling out for Insiders in the Fast ring for PC and Mobile! Today's builds are 16199 for PC, and 15215 for Mobile. Mobile includes more fixes and no new features, where the PC build includes some more noteworthy additions over the last build.
What's new and improved for PC?
Emotive Experience in My People: The next wave of cool features for My People is now available for Windows Insiders! In addition to being able to place your favorite people to the taskbar, today's build brings even more personal ways to stay in touch and share with the people closest to you.
Notification Badging: The contacts pinned to your taskbar will now display a counter if there are unseen messages, ensuring you have at-a-glance access to communications you have missed from your pinned contacts. Note: You might need to update Skype to version 11.16.556.0 to see notification badges when new Skype messages come in.
People-first Sharing: You now have two easy ways to share with your people in Windows 10! Drag-and-drop files directly onto the contacts in your taskbar to start an email, or share directly to your contacts via the share picker by choosing from a list recommended people to email.
Improved Game Settings: We've made some improvements and adjustments that PC gamers will enjoy via Settings > Gaming and the Windows Game bar (WIN + G).
Other Settings Updates: One of our ongoing goals is to help make it easier for you to understand the state of your system and quickly get to the settings you need to tailor your Windows 10 experience. With that, this build brings two new features to Settings:
Settings > System > About now integrated with System Health: The About Settings page has been simplified to be accessible to all customers. In addition to the overall UX cleanup, we have also added a health section that pulls in information from the Windows Defender Security Center so you can see your system health at a glance.
Tips and Videos in Settings: To help you learn more about your options, we're starting to add tips and videos to Settings. We're still growing our collection, but to start with you can find them in under Settings > Ease of Access or Settings > Update & security, a handful of other areas. More content is being added all the time and we're really hoping to get your help figuring out the best tip content for each page. If you have an idea of a tip that would help your least techie friend or family member, please provide us feedback through the feedback hub! Note: Depending on the size of the Settings window, you will find the tips either at the bottom of the page, or on the side.
Expanding Storage Sense's abilities: During development of the Windows 10 Creators Update, we added the ability to automatically free up space using Storage Sense. We're continuing to grow this feature, and you can now choose to automatically clean up files that have been unchanged in your Downloads folder for 30 days. Just go to Settings > System > Storage and click on "Change how we free up space" to adjust this setting. -Streamlining Narrator Feedback: We've updated Narrator so that when you press Caps Lock + E + E while Narrator is running, it will now launch the Feedback Hub.
Incoming call notifications: For our Insiders with Android phones, Cortana can now display cross device incoming call notifications! Install the Cortana app on your phone, go to "Settings" > "Sync notifications" and turn on all the Cortana cross-device features. The next time you receive a call, a notification will appear on your Fast ring PC telling you who it is and giving you the option to text back a reply or decline the call.
What's improved for Mobile?
We fixed an issue where the Call audio did not move to speaker after removing the headset on some phones.
We have improved power and performance for apps, such as Fitbit, for pair, connect, sync and notifications.
We fixed an issue where notifications would not be mirrored to the user's PC and Cortana's cross-device settings would not persist.
Zac Bowden is a Senior Editor at Windows Central. Bringing you exclusive coverage into the world of Windows 10 on PCs, tablets, phones, and more. Also an avid collector of rare Microsoft prototype devices! Keep in touch on Twitter: @zacbowden.
Thanks guys & I'm already downloading on my NL XL 950 & SP3.

You and I have the exact same combo. And they are both running Insider editions as well.

I have the same combo, except I do not use Insider editions on those devices... I once lost a Lumia 1320 in a process of rolling back after a failure in an insider build... So it is too risky and now I'm out of it. Only running insider in a virtual machine inside a Desktop tower.

Hmmm... Reinstalled 10 mobile on my 640 and Insider is no longer in the settings menu? Didn't see any articles about that recently. Did I miss something?

try hard reset if u still interested to be insider , other wise download the insider app separately

Before Anniversary Update, you had to download an app called Windows Insider. They figured out it was a pretty dumb idea, so they integrated it into the system. So just get AU and you'll be good to go.

I believe a change log won't be required for future Mobile builds.

What's New For Windows Mobile? We updated the version number.

Still not updated the year. 2016 instead of 2017.
Wonder how much of work that is. Lol.

Thanks MS for separating pc and mobile build version number. This way WC could not miss mentioning them in the article headlines!

Watch out what you say. They forgot to update the copyright to 2017 until a few weeks ago.

A day or so prior to an update, about ten of my apps get updated (occasionally more). True, most of them are Microsoft apps (Word, OneNote, etc.), but often other apps too. I consider that a good thing if nothing else. The OS is pretty good now especially since their fixing things and the fixes have themselves broken considerably less things that they have in the past. While I'm not thrilled about the holding pattern we're in, I'm glad that we (the lucky ones) are still being maintained until the next pivot is released.

A day or so prior to an update, about ten of my apps get updated (occasionally more). True, most of them are Microsoft apps (Word, OneNote, etc.), but often other apps too. I consider that a good thing if nothing else. The OS is pretty good now especially since their fixing things and the fixes have themselves broken considerably less things that they have in the past. While I'm not thrilled about the holding pattern we're in, I'm glad that we (the lucky ones) are still being maintained until the next pivot is released.

That poor Windows 10 phone in the image, does it get used? 2 x sim slots, both empty. Downloading updates for my SP4 and 950. Shame I don't know anyone else using people. Woe is me!

I noticed that as well. But then, it's the same as my phone, a Lumia 640, which doesn't work with Verizon. I'm just glad to have a device that still gets Insider updates.

Whatever the Insider update was two or so releases ago, I still cannot update my Surface Pro with it. It says I need to reboot to finish the install; I reboot, it starts installing, reboots, continues, and then crashes to a green screen of death. Then it rolls back the installation, and the update is still there, saying I need to reboot to finish. It's an endless cycle. Maybe I can roll back and remove the update files and try again. This happened before, but I don't remember how I got over it.

Sounds like you need to clear the update files and install again. I can't say for certain but the install files might be corrupted, which would probably be fixed by reinstalling them. Or it could be a bug with your current build which would require either a hard reset or a rollback.

same here it downloads then asks to restart. it says restarting then reaches the screen saying updating it reaches 35% then restarts and im back to the same build i was with a notification that windows has issues installing the last update. when i go to update under settings it states that i need to restart to update.

That's strange because all 15 of the SP4 Pros I have in the organization ate now updated to the creators update without issues.

Take out any SDCard you have. Mine did that for 6 months until I realized that before the reboot you need to remove the SDCard

Good call on the SD Card. I removed that and deleted the downloaded install files, and after a coupe of tries, the lastest build installed.

You try to go to safe mode and roll back to the pervious version, then do a fresh update. Easiest way to go boot to safe mode,if not from the settings, is to boot the device, hold the power button to cause it to reboot instantly, repeat the same two more times (totally 3 times). While not in such a dire situation, I was able to fix my brother's laptop, which after an update was stuck on a black screen

Pathetic!! Anyways how long will it take for these fixes to get to Release Preview.....especially now that I'm not expecting the Fall Creators update on mobile??

Maybe it's because these builds aren't quite ready for release. Release preview is the same code that'll go to everyone, just a couple of days later... so don't expect updates in release preview any time soon. If you actually want fast ring builds on your phone and can deal with them not being entirely stable, then just switch to the fast ring and you'll get more builds sooner... just be careful what you wish for.

Be curious to know if this mobile build addresses the "Couldn't Connect" Blue tooth issues I've been having on 2 devices since 10.0.15063

They fixed Fitbit but not band. Brilliant??

Well, the Band is discontinued.

I meant band 2 or Bluetooth notifications

So did I, Band 2 is also discontinued...

Not to mention that the Band 2 has had working notifications for some time, and power and performance using the Band app is actually pretty good. Sure, I'm upset that no new features or improvements are coming, but overall, I'm still very happy with my Band 2. I just hope this one doesn't break any time soon, since they're out of replacement units. But good to see that my next fitness band will likely be a Fitbit...

was thinking the same thing

What have they fixed with Fitbit? I had no issues any better are we getting notifications?

With the new firmware from Fitbit (depending on model) and the recent Creators Update, yes we are getting notifications.

Getting them after a reset!

Wonder if it helps Garmin too

Win10m bugfixed platform 😂

In a related note... whatever happened to "unsupported" phones being able to install "Release Preview" builds? I have an Icon and wanted to give it a shot. I have Insider Program enabled on my phone with Release Preview level set. I am still on version 1607 and haven't been offered 1703 yet.

Switch to either Fast or Slow rings and update your device to 1703. Once your phone is fully updated you can go back to Release Preview if you're not seeing any cumulative updates.

I thought you needed to be in the Fast/Slow ring to get Insider builds for 1703. And beyond CU, you would drop down to Release Preview to get further updates. Although I'm not sure how it goes now that CU is "released." If it's anything like the original Win10 cut of hardware, if you were already on the CU previews you could stay on it, but otherwise, you couldn't enroll and get it anymore.

Getting (1703) 10.0.15063.297 on my 635. Nothing else sadly

Download interop tools and chance the registry values to 950. I'm using the Lumia Icon and waiting on 15215.0 F2 to download. It takes less than 20 minutes to download from XDA and find the registry hacks and be off and running.

hi do you know how to change value for nokia lumia 1520, i using the interop tools (preview) v2.0.44.0 thks

Surface Pro 4 been stuck at 99% download point since I last commented in here.

Really hoping Mobile has the long awaited Bluetooth stack rebuild. To have car audio that doesn't skip/drop would be so nice!

what kind of car do you have mind me asking? I have 2013 Ford Expedition and 2014 Dodge Ram no issues with bluetooth.

Same. I drive a 2012 Durango. No connectivity issues with UConnect.

2015 GMC Sierra SLT... No issues

2014 Jeep Grand Cherokee with UConnect working fine.

My only Bluetooth issue has been with the Maps app dropping voice turn by turn directions after about 10 minutes, no matter the vehicle, aftermarket or factory stereo. Latest Release preview build only.

Lamborghini Huracan, no issues

Downloading now. Hope they fix the store automatic update bug me and so many have been seeing.

Glad it's not just me seeing that. Would it be reliant on the OS, or the store app itself, since that is updated as a standalone app. Feels like that's more the case.

It's the OS. I've gone back to RS1 and used the same version of the store app and it works fine. As soon as my phone upgrades to RS2, it stops updating. Been happing ever since the first insider builds of RS2, but no acknowledgment from MS.

Oh, I only have a Surface, not a phone. I've noticed it on and off in the last version of windows, more since I went to fast ring.

How are these fast ring builds on Surface Books? Stable enough for a daily driver? I'm currently on release preview but I'd like to test out these features if it's pretty stable.

Surface Book here. I've been on the fast ring the last couple of builds, I've had one or two "green screens" but overall it hasn't been bad.

I first tried helping Blackberry by purchasing the playbook.. but they bit the bullet and the then CEO Mr.Thorsten Heins said the playbooks won't get the promised BB 10 update. Then thought I'll have to help nokia regain the crown.. so bought a Lumia 720... ohh Nokia bit the bullet and similar to blackberry, Mr.Gabe Aul one day said my 720 isn't eligible for the windows 10 mobile update... but I never looked back and my journey continued... this time again wanted to help Microsoft by pushing a lumia 950 out of their stock... all roads for the MS mobile was blocked by my fellow Indian Mr.Nadella... I now have no choice other than the google way.

So you're the culprit all along. Your purchasing habits are the kiss of death. 😂😂😂😂

Tweet this directly to your fellow Indian; just because you're leaving doesn't mean Nadella shouldn't know why!

The huge uptick in cloud will inevitably slow, the Google/Chrome/Android generations will soon start making IT decisions at corporations, Microsoft stocks will fall, Nadella will leave "to pursue other interests", but he will always mumble on about looking around the curve and flying cover for his for his people.

OMG55, the Cherokee wanted you to know they couldn't care less. And the Sioux can't take the time to do it yet, as they're tied up in court.

You should have bought a Palm Pre before getting the 720 and your journey would have been complete :)

Can you please buy an iPhone? 😂

RIP google. He is coming after you.

Calling all 950 cl users, is the flash when taking photos not flashing?

It is flashing. Check your settings

I still can't get past 15063.2 on my phone. It just keeps giving me an error regardless of which ring I'm in. I've tried soft resets, I've tried a hard resest, I've tried restoring to factory. It just will not go past 15063.2. I'm about done with W10M because this build is a bit buggy on my phone and there doesn't seem to be anything I can do to fix it.

Lumia Icon. Yes, I know it's unsupported. Like I said, I've tried just about everything. Some people have gotten it to work, but it just doesn't want to work for me and I don't feel like resetting it repeatedly any more than I already have just to try and make it work. If multiple hard resets or factory resets don't fix it, I honestly don't know what will.

I would love MS push an update to all win 10 mobile devices that will brick the phone two days after installing the update!!! MS should name that update as the "Fall Update"...!! which will make more sense :-)

"The Legend of the Fall" Update...

Bring back Gestures as it was on 8.1,
talk to Here maps for their app to be on 10

HERE has been gone for quite a while.MS Maps uses HERE services for mapping.
Which gestures are you referring to?

As well as making those fixed labels editable on Contacts (those modile1, mobile2, work1 etc)

Can anyone guess whats there in cooking for the next mobile insider build?? Here you go... MS has successfully changed the copyright date from 2016 to 2017!!! Known issues for Mobile The copyright date is incorrect under Settings > System > About. It shows as 2016 when it should be 2017. The only other issue left with mobile is..
In some cases, the WeChat app may crash on launch. This will be fixed in future builds.. and yes it will be.. because wechat will end support for the platform!! Lol

I feel like WP fans like to complain for no reason. MS is still fixing things for WM under the hood and people are still complaining. If MS didn't release bug fixes they would say that MS abandoned them while leaving things broken. If WM upsets some people so much maybe they should get an iPhone or Android device and find some happiness.

Yes..because there are many more issues to fix for the mobile (especially the poor battery performance) which the insiders have pointed out in the feedback app. But for MS, the date in the copy right and wechat crash are the only issues. It isn't significant if the WM fans are upset or not.. since everyone including you and me have to choose either of the two in an year's time... Android / iphone.

Windows mobile maintenance mode?

I'm now convinced MS actually wants W10M to die out so they can reboot their mobile efforts from scratch.

No more reboot again, please.

Windows 10 Mobile Sucks and is not going to change, I lost all hope. Slow, unreliable, loading and resuming screens still showing too much, my lumia 950 gets so inbeliavable slow when having 20% of battery. Fewer apps each day, 1st party apps suck, Facebook and Messenger not updated in MONTHS! Really, I lost all hope :(

Wow the fixes for phone are less and discouraging to the core....we are tired of fixes we want new features and skills. Microsoft hear the cries of your fans and come to our rescue

A software company to it's core yet can't build a competitive mobile OS....

I'm happy with Win10M and don't need weekly updates. It works and so why the constant complaining?

I'm okay with it, but it doesn't make it any less frustrating that a company known for software development can't make a compelling mobile OS that can computer against an open source OS like Android! I'm a fan but won't make excuses!

Zac, what about those CShell things Dan said you guys heard?

So still nothing new for mobile ....interesting....

Just installed on 950xl. First restart was terrible, but very good after some minutes..

My wife's Lumia 1020 is getting long in the tooth. She's been asking me what to upgrade to. I had to give up my 1020 a year ago and now have a 950. I can no longer recommend staying with 10m. I am afraid of her reaction when she finally experiences an IPhone and realizes what I have put her through in my single minded dedication to 10m. Sad day for me to admit to myself that this journey from 5.0 is coming to a not so rewarding end. Who would have thought that a company like MS would be so incompetent that we would come to where we are today. Sad, my friends, very sad indeed. I hope I am wrong, I desperately want to be wrong, I like my 950 but need to see a bright and exciting future. MS silence on the future is deafening.

HP Elite x3, Really happy with it.

Touchy, but well, their is a bit to much fanboy in you. I mean, **** them!!! They are who they are and they do not work anymore for the people, actually, quite some time now they only think about how to make more money, windows 10 it self is the proof. Before, ms was a statement against privacy eaters. Now they are one of them. They destroyed Nokia with their greediness, then bought them and laid almost all their employees off. Ms has become just another shithole company, so, by any means, their is no need to cry;). You should cry about your data before crying about them being so useless and incompetent in mobile business;). Actually, they should probably learn from this. Their are some people that wanted more privacy and the number grew with nokia and windows 8. After them buying. Nokia and forcing cortshithana along with other very intrusive settings, they lost their market in a matter of days being also helped by no devices, no stability. No privacy. They should be glad we are still using their crapp 950's and pay us for doing this.;).

It's a phone dude.
I play with android, but mostly to deposit checks.
W10 for-->
Phone, messaging, email.
Even facebook, twitter, edge for mobile sites.
I personally am tired of apps for everything and am getting tired of having to look at a device out of habit.
W10 helps me unplug! ™

It's a sad truth. Whenever I start using my Windows phone as a daily driver again I tell my wife "at least it'll stop me spending so much time on my phone" to appease her because I know there's just not as much to do or play with on them

buy a NOKIA 3310 and you will be even happier for less money

I know how you feel. I still like my 950XL and it does everything I want it to do (other than the Wells Fargo app going away), but I could see the little issues my wife was having with her 925 and a few apps which she was wishing she had. Sadly, I could not justify recommending another Windows Mobile device so I got her the Galaxy S8. She's a lot happier with her phone now and she can find and install whatever apps she wants. Unless there is some compelling piece of hardware when my 950XL finally needs to be replaced I may have no good choice other than to follow her.

I really see no reason for this so called mobile fast ring insider builds, if their are fixes they should send them directly to preview then to people that actually need those fixes. I mean, creative update is not quite without bugs, has lots of them annoying ones. This game of being insider is already very boring. And seems like their is nothing left into it, but only if you like a bit more bugs then you already have without being an insider. Hack, all windows 10 mobile users are insiders, their is no f*** stable version whom users can actually trust. And what Retailers can sell. Windows ten lost ground fast cause it was buggy as ****, and this is the truth. Microsoft are idiots. That is all their is.

You can't even tell the difference between there, their, and they're. I don't think your opinion holds much weight.

You don't say? Oh you the smart one. Had nothing better to say and being a frustrated fan-boy that cannot accept reality, you decided to say something to appear smart, now ain't it? No worries, you are not. The decision was taken before you got a name;).

If exploding pizzas are the big announce, I'm happy W10M just gets maintenance mode fixes.

Guys, anybody knows when to expect something in Slow Ring? How much time it took so far? I heard that before it was even 3 days after ISO release but now it takes much longer.

I agree with a lot of people in here. I have had several Lumias during the years trying to support MS cause I like what they do and how they experiment with new hardware and technology. MS still invents stuff while Apple just adds more powerful hardware and changes the screen sizes for their devices. (Sometimes they remove a jack or two as well) ;) About 8 months or so I started experiencing a strange behavior on my 950 XL. When low on battery it would often crash or go to a unresponsive black screen. After a couple of updates through the insider program and loads of reporting through the Feedback app, that bug is still there on my phone, even though I've reset the phone a couple of times. No response in the feedback hub asking me for more information. Some days my phone restarts or just dies around 20-30 times (very randomly and even on a fully charged battery) and I'm getting more and more irritated by it. The insider program for Windows 10 phone is starting to look like a joke and I'm no longer in any insider rings. Slow and steady my phone is getting less and less important to me (which might actually be a good thing).
Nowadays I use it to browse the web, for calls and to send messages to my wife via WhatsApp but thats it. It's sad to leave the Windows 10 phone platform but I really don't have any other choice.
Windows 10 phone could have been great if done differently but instead I just lost interest and waiting for the paradigm shift to occur. I dont want to have to choose between an Apple or an Android device to carry around in my pocket.

Check phone battery. I had the same issue a battery change did the trick.

Hey, i think your phone has another issue and has nothing to do with ms. Ok it has, cause they made this crappy devices even tough they told to people they will bring the same quality as Nokia. I never saw a Nokia bend like a banana, not even the 1520. Microsoft is a joke it self at this point. Anyway, do the following because the ****** phone bands like their is no tomorrow. Take out the battery look at the connection pins, their are 3 holes and 6 pins. Bring each pins from every hole together, as much as you can, use a needle. No worries if the two pins from every touch each other is no problem, the only problem occurs when they touch the pins from other holes. So just bring the up front. Now place the battery back, turn on the device and start to slow band it a bit. I mean, put it in landscape mode and just twist it's corners a bit. It should shut down if the pins are not well done. If it does, you need to repeat the job till it won't shutdown. Why do i know this? Well, my phone had the same issue till i took it in hand, turn it on and started to band an saw the miracle of it shutting down while doing it. Then i realised where is the problem. Do it a try;). I bett you had this 30-40 shutdowns resets when you were moving.

Looks like a hardware issue with your phone.

Had issue with constant restarts (especially when battery is

Band 2 is finally working with Cortana. Can ask requests. Not worked for ages.

Nice just tried it and agreed

Incoming call notifications... hope this comes to iOS along with text relay..... then I can put the My People app to great use!

would be nice but suspect Apple will resist attempts. I recently moved to an iPhone 7 when my 950 died (pond related), I do miss the lack of integration between them

can you initiate text messages through Cortana on Android now as well?

Year info not fixed yet? What an evil bug!

Unable to download 16199. Not showing up as an update.

Not fixed broken email notification sounds, Barclays app, Edge browser font size or all the other stuff broken by useless Creators Update on WP10M.

Have to re set up email notifications

I still can't get story remix....aka the new photos app.... any suggestions. I do have the newest fast ring build... Thanks

If you read their blog, you'll see they explained they have an A/B group approach going with this. You may be in the control group. BUT, in the blog they also give you a link to request to be added to the "bleeding edge" group.

<sigh>. Again, just bug fixes for mobile. I wish they would just go ahead, come right out and say plainly "We are no longer developing anything new for Windows 10 Mobile". That pretty much would end any guesswork and remove what little hope still exists, which is driving a lot of the consternation out here with some of us.