Microsoft rolls out cumulative updates to Windows 10 PCs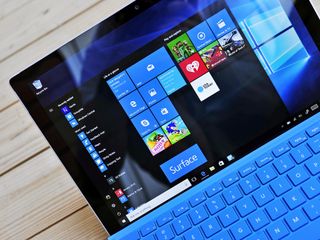 Microsoft is rolling out two updates to Windows 10 on the PC for non-Insider users, while also rolling out one for Insiders in the Release Preview ring. One of the two updates is the same 14393.82 cumulative download that was rolled out last week to Insider members in the Release Preview update ring, which fixed a number of bugs following the release of the Windows 10 Anniversary Update.
The other new update, for both Release Preview and production versions of Windows 10, has the support number KB3176936, and according to Microsoft's change log (opens in new tab), "this update makes stability improvements for the Windows 10 Version 1607 servicing stack." There's no word yet on when the 14393.82 update will be released for all non-Insider Windows 10 Mobile users as well.
Windows Insiders will have to wait a little longer to get their next update, according to Insider head Dona Sarkar on Twitter:
#WindowsInsiders: no new builds today. Our team has a presentation to the other directors and VPs about our plan for the next few months!#WindowsInsiders: no new builds today. Our team has a presentation to the other directors and VPs about our plan for the next few months!— Dona Sarkar (@donasarkar) August 23, 2016August 23, 2016
Thanks to Jonathan for the tip!
They aren't the only ones rolling out updates today. *Wink wink*

Yup, I just got the update. Sweet❗

so i guess we should look out for a update on mobile as well then right

I hope this update fix the bug that's causing Action Center Notifications to freeze. Also I've been experiencing a lot of issues with Edge crashing. So hopefully this fixes both.

I had same problems. I rolled back to prior version, waited a week and then updated again and all is well now.

Did this fix the freezing issue that occures when the OS is installed on a SSD whereas the apps are installee on a HDD?

OMG ! THE MOST ANNOYING BUG EVER. really hope this update fixes that

Yes. I found it fixed the bug in edge browser.

The first paragraph is not clear enough regarding the target of the .82 update.

Makes sense to me. Release preview insiders got .82 last week, now all users will get it, the other update is for insiders only Posted via the Windows Central App for Android

And what's the version number of the other update?

Not all updates are version changes.

"Our team has a presentation to the other directors and VPs about our plan for the next few months!" Really hope that includes plans to make Windows Mobile great again!!

I hope "close all tabs" will work again on the edge browser after this update. Closing them one by one is pretty tedious...

Did this address the issue of freezing when the OS is installed on SSD whereas all the apps are installed on the HDD?

Just received this Cumulative Update on my device Lumia 730..Im a Slow ring Insider

Do you face any scrolling issues on the start screen. Also occasional decolouration on your Lumia 730

Not yet .. It's working fine and the device is actually working faster

C'mon fast ring moble update!!....

Fast ring already 14905, you ain't gettin 14393.82

My laptop shows 2 minutes to fully charge even though it has 20% charge when connected to charger. do I need to refresh windows 10?

Mine does the same crap. It might be Win10 or it might be an old faulty battery. Posted via the Windows Central App for Android

mine is a new laptop, this problem has started after I updated my laptop to 10.

The presentation for VPs:
- Please turn off your iPhones, thanks
- Now, on page 1 you see Windows Mobile future
- Calm down, calm down... in pages 2 to 50 we will show our plans to make your iPhones even better

After my last fast insider update I can't revert back can't power off all of my pop ups in my settings makes it crash I hope they fixed all of that geeeezzzzz..... Posted via the Windows Central App for Android

This doesn't fix the Bluetooth Controller issues. Guess they don't care about that.

Is this only for Win10/M devices with the Anniversary Update, or does it apply to pre-AU devices as well?

Looked at Microsoft's info... for AU devices only. (Ugh, new version of WC app on non-mobile not working very well for me.)

Got the update, Works Perfectly

I am a non insider on my L950 and I have the .82 build...

I've been having a super buggy start menu/search box after the latest cumulative update. Hopefully this one fixes it.

I'm also facing same problems after Anniversary update. I'm downloading cumulative updates right now. I also hope it will fix all of those problems.

Off topic. Camera on mobile is updated with panorama feature

Yup. Confirmed :). Love how good Panorama is on my Lumia 950 XL. Stellar pics

hope the 14393 more stable. It's irrational of me to use the preview edition as my main PC

I hope they're going to fix the super annoying blank tiles problem. Every app I install on my sd card (A HP hybrid laptop) has no icon. The start screen is full of blank tiles and half of them have no title either!

Saddening to see a Surface 4 Pro with W10 Anniversary. My SP4Pro won't upgrade and rolls back after the second reboot all the time. ​Is this the Microsoft Premium experience? (Yes I had one of the first batches and all the problems involved)

Well, Why mobile version released in the same time. 67 have tons of issue.

Still no fix for Cortana missing on Windows education

This update fixed the slugishness and crashing on my Surface Pro 4! Very nice to use now!

I am using this build on my lumia 640. New builds are getting slow response.

Mounting of ISO files via windows explorer doesn't work!!!!

My Kobo Aura can connect now after the update!

I'm also facing the same problem. It boots up slow and takes much time to perform any task after start up. I hope it will fix all of those problems.

So ... that about W10M !? still stay in 67 !!!

If it's such a drama, drop into RP, you'll be bumped to 14393.103.

I'm an Insider having Nokia Lumia 920. My current os version is 10586.494. I don't get new update. Please advise how to get it.

TH2 branch (10586.xxx) is the farthest unsupported handsets can go, why the surprise, this has been explained sooo many times now. There's no point in you using the WIP program any more... Slow & RP rings are now populated by RS1 branch (14393.xxx) builds, & Fast ring now delivers RS2 branch (14905.xxx) builds. If there's any more perf/stability fixes for handsets still using 10586.xxx, then MS will push them to Production, no need for WIP. Don't expect major new features, if there's any more more point_releases/builds for TH2 branch, they'll be purely perf/stability/security related. If you want access to the RS1/RS2 branch builds, you'll need a WP8 handset that's supported by W10M, or a W10M handset. There's a hack to get access to RS1 branch builds, but it's not officially supported, so don't go crying to anyone if it breaks your phone. But some people have had success with it, so google it, or you could go back to WP8, many still swear by it for older phones like yours. Your welcome....

I gather you understood my explanation???

It kills me that I no longer can see the update file size before downloading like I use to on Windows 7 ☹☹☹☹
Windows Central Newsletter
Get the best of Windows Central in in your inbox, every day!
Thank you for signing up to Windows Central. You will receive a verification email shortly.
There was a problem. Please refresh the page and try again.