Windows 10 PC preview build 10586 now available for Windows Insider Slow ring members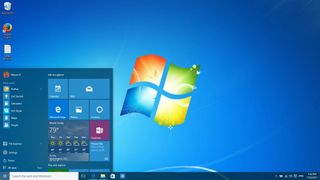 Following the release last week of the Windows 10 PC preview build 10586 for Windows Insider members in the Fast Ring, the company has now issued the same build for members who have elected to get updates via the Slow ring.
Like last week's release, this new build just has some bug fixes and improvements. It's likely that build 10586 will also be the one that will be released for all Windows 10 users as the Fall Update for the operating system. Our sources have told us that will happen on Thursday, November 12.
Source: Gabriel Aul (Twitter)
Get the Windows Central Newsletter
All the latest news, reviews, and guides for Windows and Xbox diehards.
First build since 2014 to give me blue screens is selected for mass distribution haha

Most of last builds give me tons of freezes and bsod's. I know I have old hardware but there have been better builds for me long ago.

I was really nervous about moving to Insider again. I was bored over the weekend and figured, eh, why not? As soon as it finished the graphic driver crashed right away. I did a full refresh after updating and it hasn't done it since. Pretty nice update. (my messaging app was odd too. No notification, new threads for current threads. refreshing fixed that too)

really excited, wish i can sleep till thursday :P

Now we wait for mobile. Shouldn't be too long.

Are they going to release the mobile build Thursday or before for insiders?

The original rumor was that they would release to Insiders on Thursday. Today there was a tweet (that was quickly taken down) that "Windows 10 Mobile is ready". So it could be today. Or it could be Thursday and they just don't want to get people's hopes up. Who knows.

Pic or it didn't happen. ;) Seriously, though, the tweet was probably supposed to announce this 10586 PC build to slow ring, so that's why it would have been taken down.

NO I AM MOBILE! Posted via the Windows Central App for Android only because the screen on my 1520 broke.

Woohoo! That means ISO is on it's way ;)

Gabe tweeted that ISO will be available in a couple of days.

That's good. Thanks for the knowledge.

ISO release at the same time as general availability. Would make sense for MS to update the version available through the media creation tool as this will become the RTM version, superseding 10240 Posted via the Windows Central App for Android

Will this build finally have bug fixes for Edge? That browser needs to be updated asap..

For me, it has been much better. This site was horrible on Edge. Seems better (faster?) the few days I have been running.

Good to hear (is lag scrolling still present?) If only this site was horrinle, youtube experience is even worse, so slow. I used Edge for 3-4 months but I got to a point when I was fed up and went back to Chrome again. I really hope Edge is much better next build

Scrolling, loading, freezing has been dramatically better.

Man, not the best time to go back to Chrome... Having so many issues with build 46! Especially when switching accounts or using some work websites. Chrome just gets confused, and the only solution is doing a full refresh... which then breaks other things. *sigh*
Chrome is great... except that they constantly break (and fix) things without warning.
IE generally works, but has issues
Edge is super fast, but not great for power users
And then there is FireFox which has just lost it's identity. No major issues, but doesn't do much well either. Can't someone just make a decent browser and leave it in good working condition?

Yes, it does. I don't understand why does the page load first then after much delay the webpage is finally seen. This makes me feel as if the page is down. I won't really mind if the browser keeps on loading until the whole page appears. At least it would mean that the page is up and running.

So we didn't get sms/messaging through the action center this time, did we?
That was the main thing I was looking forward to... ( I don't have cortana)

typically a day or two after slow ring release

I remember that background from Whistler i think. Good old times.

Anyone know if the next build for mobile will fix mobile hotspot?

Mobile hotspot working on my 930 build 10581 - only reason I jumped into Insider as it's a necessity for me.

I'm still stuck in build 10565. I can't upgrade to Build 10572 or 10586. I keep getting this error message: "We can't install some updates because other updats are in progress. Restarting your computer may help, and we'll keep trying to update. Retry" I've tried restarting multiple times to no avail. I don't know what to do anymore. It's also unfortunate Microsoft made the opting out process really difficult.

I was still on last build, my Lumia 830 did just fine there. I'm a huge Cortana user, hence the delay. Phone updated the last update. Since then Edge sux bad, slowwwww, reminds me of dial up. Do I have to reinstall W8, update & then hard reset? I've done many updates but I havnt reinstalled 8 . Help?

Yesterday I got an update on one of my virtual machines KB3106246 but not on any of the others tried serching for it and coulden find any info..Anyway it came in on another VM today and in cased anyone gets it and wants more info..its the an update for the DVD player that MS gave for certain upgrads from windows 7 upgrades