Windows 10 for phones will remind you of appointments even as you're shutting it down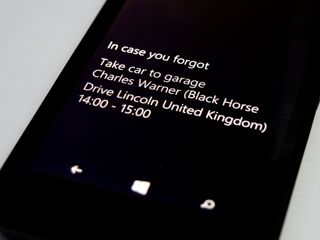 Here's a neat little feature that Microsoft has slipped into the new Windows 10 Technical Preview for phones. In Windows Phone 8.1, shutting down the phone gives you the simple, albeit pleasant "goodbye" message. But when you shut it down in Windows 10, you'll get a little reminder of your next calendar appointment.
The exact message reads:
Not the most important new feature in the preview for everyone, but it's a really nice touch. If you're shutting the phone down you won't get your reminders on appointments, but at least with this you'll get a helpful reminder before hand.
For more on the Windows 10 for Phones preview, be sure to visit the Windows Central Forums!
Thanks Mahmoud for the tip!
Richard Devine is an Editor at Windows Central. A former Project Manager and long-term tech addict, he joined Mobile Nations in 2011 and has been found on Android Central and iMore as well as Windows Central. Currently you'll find him covering all manner of PC hardware and gaming, and you can follow him on Twitter and Instagram.
One of the major down on 8.x
Great that now this is done

So, you've seen this before on like iOS, or Android❓ Honest question.

Haha, I'm thinking the same. Not sure it can be considered a "missing" feature when no one else has it. But appreciated all the same, but I'm also fond of my phone always telling me "goodbye."

Yeah I love that part. It does take too long though. My phone is slow. This feature is entirely new though. I'm glad it's documented because everyone says Android has this, iOS had that. This is pretty cool, I imagine it does the same before the battery dies. Also I hope it saves the location during this point in case you need to know the last place it was on. I know it does that before the battery dies, but when powering off would be a nice OPTION to be able to enable.

One of the features I miss, I last had on a BB Curve (8330m). When you shut the phone down, it must have some data in the RTC. Calendar events and Alarms would actually power the phone on a couple minutes before the notification/alarm was set to sound. This is about as close as any other phone has come to this.

The real question is when can my 1520 have it?

No, no that's not the real question, and that's already been answered..... As soon as the partition update stitching feature is complete..
........
Please don't ask when will it be complete... Lol.
It's annoying.

Just waitttttttttt!!!!!!!!! My goodness

Actually my Symbian phone had it

I said a major down on WP
I don't care if other OS have it or not

So, this feature only for lumia with glance or all type lumia

Why is it a "major" down?!! Is it available elsewhere?!!

I said a major down on WP
I don't care if other OS have it or not

How to roll-back my phone?? PLEASE somebody Helps ME

If you don't know how, you probably should not have installed the update in the first place.

If by roll-back you mean back to Windows Phone 8.1, read this : http://www.windowscentral.com/windows-10-phone-preview-too-buggy-you-her...

It really is. Something not earth shattering, but still a nice touch. Two features I'd love to have in Windows 10 for phones would be the ability to have to apps open side by side like the Note, and the ability to read and respond to texts on my desktop computer like Apple has.

I really hope they integrate Skype that way. I will actively use the service if they do. It's a brand name that millions already live and if Windows 10 is the only OS that truly integrates it, then, man, they will sell thousands of them based on that alone. We are talking SMS and IM right? All available on your PC and phone...

No, you're probably thinking of iMessage which isn't the same as SMS (texts). SMS goes through your network provider, whereas iMessages are hosted online and consequently accessible on your desktop. The only way to get texts on a desktop is A) if it's supported and B) your sim is installed.

Ahh ok. Thanks for the clarification.

actually you already have your text backed up so seeing and receiving them on pc too, wont be a impossible thing. after all, internet is great thing. the harder part would be to respond. something like: write on pc->send to phone through internet->get phone to automatically send it as it receives it

?! I tipped that 2 hours ago! Oh well, nice feature, right?
Also says don't forget

So, it has different messages❓

What if battery run off?? :P

Dont forget to charge your phone, i guess.

There's a Good Bye too, probably will work for appointments too.

WP's shut down before the battery reaches rock bottom; as do most devices these days, to better protect the battery.

Very rare for me to shut down my phone but this is a great addition!

Get yourself a 1020... these suckers shut down all by themselves (on a very regular basis!)

I've never had my 1020 shutdown by itself unless the battery was dead

Haha. Mine used to do that. That was fixed in a recent update wasn't it?

Nope. It seems some hardware revisions are more badly affected. Microsoft confirmed a fix candidate was on its way back in November. Inexplicably, this didn't make it info the latest Denim release!

Great feature if youre running out of battery and it shuts itself down :)

One thing I never understood about windows phone was that it takes forever for it to die. Like it will say goodbye and stay there for like 10-15 sees before it dies. This actually is a pretty nifty feature.

10-15 seconds is forevah???

Thats nothing compared to the iPhone. That takes about a minute for the spinning wheel to stop

I don't know about other OS's but in turning on the phone, Windows Phone is a winner, you can start using it just after it shows the Nokia screen and the carrier screen, only takes about 15 sec I think and that's not forever!

My 8X also takes a long time to shut down. If they can mask it with a splash screen that's actually a calendar reminder I'm all for it.

Can anyone tell me the update size?

my storage increased from 3.45gb(approx) to 4.16gb after w10 TP installation

This question is getting annoying

"HEYYYY, Before I shutdown, don't forget to d..." [OFF]

Lol... Yeah. How long does it stay on❓

Here's a link to a video, posted by Richard on Instagram, demoing it.
https://instagram.com/p/zBY9uvAWzr/

I wish the alarm would go off even if the phone runs out of battery. My Nexus S with Android could do that.

That's actually very cool. Would be nice if that got added in (if its a software thing)

I loved that feature. It's from the Symbian days and really wish Microsoft would apply it.

Actually, it was also supported by Windows Mobile. Perhaps before Symbian.

Yes it make you feel really safe that the alarm goes always off.

I remember my old Nokia dumbphones from 10 years ago also used to be able to have their alarms go off even when the phone was off. I rememeber when Nokia first switched to Windows Phone, a few people complained about the lack of that feature. It would be nice to see it return, but I'm guessing there's probably also a hardware requirement needed to be able to sound the alarms independently of the main OS.

Indeed, because that would make this new feature a feature for me. Since I rarely turn off my phone these days.

EDIT: Sorry, wrong news. wanted to comment the file explorer article.

Agreed. At least they should put the hamburger at the bottom of they really desire it. And still allow sweeping between screens.

Cool story. How about you put it in the feedback app?

Omg I know its so hard moving your thumb a couple of inches across your screen.. Please don't stress yourself doing that

Try doing it one handed on a phablet like the 1520. You can't. That's why Apple had to add that "reachability" feature on their new iPhones to shove the screen halfway down when using it one handed. Windows Phone was the most one-handed friendly OS out of them all. I'm also disappointed that they're straying from this for the sake of being more like iOS and Android...

Try doing ANYTHING one handed on a phablet. This is a stupid argument. How do you reach your top row of tiles? Want Microsoft to put them at the bottom? Just get over it already.

Well obviously you can't do 100% of things one handed. But you could do most. Microsoft made the app bar at the bottom of the screen an integral part of their UI, and now they're stripping it out. The new photos app has everything at the TOP of the screen. The speed dial is now at the top and there's no way to swipe between them like the pivots used to let you. Screenshots of the new IE show the address bar being moved to the top. I can keep going on and on, but this is a major step back in terms of one-handedness.
That said, this could change. The whole point of this program was to get early feedback, and if people don't like it they might change it. And I realize I could be in the minority here and the majority might actually like the changes.

And you people keep saying "for the sake of being like ios and android"...when have they ever said that's why? Ever thought their design team just thought things may work better that way? Nah, they have to be copying because you say so that's the only reason they are doing this. *facepalm*

Near feature. Won't be used often but when it is it may be a life saver.

Excellent. Really. Smart :)

Seems.......... more informative

What happened to the 620 being on that list?

Like the changes thus far but I hope when they make the builds available for a wider set of devices they improve stability my 635 is slow and really buggy and yes I'm aware it's prerelease

Charles Warner - Lincoln I live near there! :-)

Oh false a alarm. I thought that was reminder with phone off. Like old nokias

Irrelevant but I just got denim update in my 1020 ( Vodafone Greece)

Please, the settings menu, those Holo-like icons must die. Also they should add that zoom out on tiles just like in tablets (the feature had a name) and the new settings windows... God! I'm not an old man but the objects on the interface at fucking tiny! The whole idea of WP was to keep the interface clean! Black background and the size of the text determined what was title and what was content, separating the content and the titles with a black bar at the top is Aaaaandroid. Also, the action center... At user voice people asked for it... But they voted for some guy proposal on making it on the left side of the screen, just a bar that you could side from the left as you do with apps, diminishing the home screen. That was WP style, you run into the Android design with this action center. It works, but it's not loyal to the design WP7.5 promised. You already fucked up when you left Zune behind, and now you want to leave almost half of the UI concept behind? C'mon MS, get real and do things better, not worse. Look at IOS, you just need to make what you have a little bit better, not change fucking everything every time you happen to want to.

"Also they should add that zoom out on tiles just like in tablets (the feature had a name)" Semantic zoom. And yes, they should have added that to the start screen a long time ago!

F bomb after f bomb...... Stopped paying attention to your comment...

What about the Lumia 1320

Will Lumia 1320 get the windows 10 developers vesion

MS have some issues with the photo hub , first they remove the magzine UI , now they removed the live tile of photos :/

Nice feature . I think windows 10 will surely come packed with some bugs . I will wait for some time and then get win 10

It's a beta test... Not a complete build and not an official release... Of course it will have bugs

I noticed this straight after installing Win10PTP... I nice little added feature.
Like most here, not every day you turn off your phone, (or week, or month for that matter), but it adds to the personality of Windows Phone I like it.

And that's why windows will always be the best platform. Until Apple comes along and "invents" this feature for their own phones.

Can snd apps via Bluetooth or wifi ?

Use easy transfer, and you can share the .appx and .xap files to any wifi enabled phone, PC.

Would love to see a restart option

Soft reset is basically a restart...Power Button+Volume Down and hold till phone turns off... It will restart

I love this feature. The ability to text back from the action center is great!

http://6packersandmovers.in/packers-and-movers-ahmedabad/ I love this feature. The ability to text back from the action center is great!

http://6packersandmovers.in/packers-and-movers-surat/ Would love to see a restart option

http://6packersandmovers.in/packers-and-movers-rajkot/ Can snd apps via Bluetooth or wifi ?

http://6packersandmovers.in/packers-and-movers-vadodara/
http://6packersandmovers.in/packers-and-movers-vijayawada/
http://6packersandmovers.in/packers-and-movers-trivandrum/
http://6packersandmovers.in/packers-and-movers-pondicherry/
http://6packersandmovers.in/packers-and-movers-visakhapatnam/
http://6packersandmovers.in/packers-and-movers-madurai/
http://6packersandmovers.in/packers-and-movers-trichy/
http://6packersandmovers.in/packers-and-movers-coimbatore/
http://6packersandmovers.in/packers-and-movers-cochin/
http://6packersandmovers.in/packers-and-movers-chandigarh/
http://6packersandmovers.in/packers-and-movers-amritsar/
http://6packersandmovers.in/packers-and-movers-ludhiana/
http://6packersandmovers.in/packers-and-movers-panchkula/
http://6packersandmovers.in/packers-and-movers-mohali/
http://6packersandmovers.in/packers-and-movers-jalandhar/ several. want appropriate receptacles within the property troubles. you wish to decide on cartons or simply receptacles connected so as to acceptable sizing's additionally to gets.

It only remind us how big idiots are ms mobility team ... Demoed on L1520 and now its not supported ... Go to hellmoving back to android ...this sick joke is going to far

Do let the door hit you on the way out.

It's a beta!!!! Did you really expect all devices to get out the first day!?!? Did you expect it to be a full fledged official release!? Good riddance!

You have to figure Joe B is on a later build than what is being released today. Internally I expect many more devices are supported, or in test. The currently supported devices are clearly all the most recent releases, and likely took less to affect a reasonable experience. The experience on these are even reported as a bit spotty, which is perfectly reasonable considering what it is. We are probably 6 months out from a release version. Bit silly to base a lot of assessments on this.

How to roll-back this preview,... PLEASE Tell ME T_T

Dude, try the reading the article that was specifically aimed at rolling back which was posted earlier!!

​Hello Windows Central, When will it be WP10 on Lumia 1020?

:). of course I'll probably still be using mine then....unless a 1030 shows up.

Windows Central isn't part of Microsoft...

PLEASE I CANT ROLL-BACK somebody... helps

Install at your own risk... It's a beta... Not an official release... Updating could make your phone non functional. Roll back to 8.1 to fix

Windows Central is not part of Microsoft... Don't expect them to know everything

There are times I do believe they know more than MS ;)

I hope they release Windows 10 Technical Preview for Phones with low memory devices (512MB RAM) because I have been so excited to get the Technical Preview, but my hopes and dreams were smashed when I found out I could t get it on my HTC 8S. I was VERY angry. So please Microsoft, when are you going to make it for low memory devices?!

This small addition will make my lumia more personal ..

Nice, I guess. Do people really shut their phones down? It's pretty rare for me. I can imagine doing this though, and going, "wait, what?" and starting it back up to see what I missed.

I restart my phones at least daily, so this is a nice feature

that's actually a good feature. but should not available when restarting. just shutting down. and, i think it's better if it shows the reminder first, then goodbye at the same location as before (center). i always love the way it bids me farewell :)
Windows Central Newsletter
Get the best of Windows Central in in your inbox, every day!
Thank you for signing up to Windows Central. You will receive a verification email shortly.
There was a problem. Please refresh the page and try again.