Windows 10 power, sleep fix released to Windows Update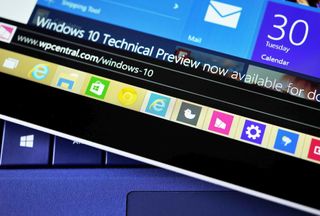 Microsoft has just released a new patch for the Windows 10 Technical Preview to Windows Update that resolves power and sleep issues. To get the the fix, you should check your Windows Update and see if it's available for download.
Have you applied the fix yet? Let us know!
Source: Twitter
Windows Central Newsletter
Get the best of Windows Central in your inbox, every day!
Chuong's passion for gadgets began with the humble PDA. Since then, he has covered a range of consumer and enterprise devices, raning from smartphones to tablets, laptops to desktops and everything in between for publications like Pocketnow, Digital Trends, Wareable, Paste Magazine, and TechRadar in the past before joining the awesome team at Windows Central. Based in the San Francisco Bay Area, when not working, he likes exploring the diverse and eclectic food scene, taking short jaunts to wine country, soaking in the sun along California's coast, consuming news, and finding new hiking trails.
I've already submitted feedback to Microsoft, but for all of you dual-booting, does the dual-boot screen not show up? Mine just stays black and I have to blindly find each partition.

It happened to me this morning just restarted and everything went back to normal.

I've the dual boot normally, even I install *nix Grub and it still shows Windows 8.1 and 10

This happens when the pc is restarted, just use power on/off

works find for me. Dual booting on macbook pro.

Oh phew, not just me. The only way I was able to boot was by going into repair mode. Does the update fix it? Scared to reset the pc

Just go to msconfig.exe and set the OS Default again.

I have the blue screen issue. Discovered it after waking up the computer. Apparently the download occurred while sleeping and I spoke with Microsoft rep last night. They came up with calling Dell and reractivating Windows 7 software, re-installing OS and later try putting Windows 10 back on PC. It seems you may know what is going on and how to possibly get a recovery. Can you help? Thx

Sweet, they're working fast. Keep it up Microsoft :)

Does anyone have the issue where the keyboard shortcuts (win + arrow keys) to snap, min/max windows will suddenly not work?

Me too. In fact all the new snapping functionality is gone for me, it's back to how it worked in W8 except that the Win+Arrow keys don't work. If it's not affecting everyone, maybe we're part of an A/B testing group? Edit: In fact, after installing their latest updates it's back. Only thing is that you can no longer Windows Key + Up twice to snap to the full top half of the screen. You can only snap a full half horizontally, or a quarter in any corner.

Same here. And Alt+F4 doesn't work on Modern apps.

Considering that it seems that you are living in the future and using the RTM release of W10 would you mind send me the lottery numbers for next week? TIA

Which part of "Technical Preview" you don't understand?

I waited to update to build 9860. Then did this update. I gave feedback on two bugs and earlier driver support since main companies took forever during 8 testing.

Our feedback will only give results starting the very next build.

The few that say 8.1 was better. You do realize the majority of people highly abhorred it, especially businesses. The desktop/start button is a way of getting those haters to update while also keeping continuum mode etc for the few that were win 8.1 fans. Nobody else cares if you don't like 10. Its a win-win for Microsoft.

Really happy with windows 10 only wish is they get rid of the the cursed win8 theme ui and make it more flat/metro looking just like many concepts ive seen

Yeah and instead of icons those squares like we have on the phone.

It's just the second preview. Many icons and effects already changed. And while each Windows version ends up similar to the last ones, they always change the VS on a major release. It's just a matter of time. Or more builds.

Uhh guys? I went to "Add Features" on the Windows 10 Preview... Entered my Windows 8 Pro With Media Center key... And it accepted it... Now I have Widows Media Center on Windows 10... Also, in the bottom right of my desktop it instead says "Windows 8.1 Pro with Media Center" but I still have things like a Start Menu and such... (In "System" it shows the same change) Odd.. I wonder if updates will be effected... Though I notice now that it instantly fails when trying to check for new preview versions...
That's it, I'm restoring back to before this lol. I wouldn't recomend doing this.

Its been mentioned multiple times getting the media center will keep your preview from getting updates.

Congratulations! You just downgraded your Windows installation...

My Lenovo X201 updated fine, but looks like the Intel Graphics driver is broken. Impossible to use the app to leave feedback (This screen corruption shown is nothing compared to the feedback screen! :-))

I did insert a screen shot here, I promise! Guess it got stripped out - check my Twitter feed if you want to see it (same name as shown here)

Check this http://www.windowscentral.com/second-windows-10-technical-preview-update...

Check the model of your graphics card and check Intel.com to see if an updated driver is available. It fixed my issues with the native driver (it wasn't generic but an older version of the Intel driver).

Anyone got the preview build via Windows Update and not by Updates and Recovery? I seriously need a progress bar and size of the update

The update is 2 GB. If you open task manager and go to performance and click on network. Then right click and click on who stats or details. It will show how how much has been transferred.

Unfortunately it seems to allocate the space for the whole file first before transferring the "update." It seems to present itself like the Windows 8 -> 8.1 Update.

Vote for the progress bar, its like walk blindly on an empty road.

Seriously. No progress bar!!
I hope I get the build update like how I receive important and recommend updates via the Windows Update in Control Panel.

Yeah, progress bar is a must. Also allowing to pause and resume downloads with estimated time to finish. Not everybody have or living on area with fast and stable internet connection.

Its kinda weird, but my laptop with windows 10 is faster than my previous 8.1, i just mount the file directly lol

Me too! I even thought that I should change my laptop, but now I realize that everything is fine. Windows is getting slim and fast

MS is doing a great job polishing Windows since W7.

Nope, not working for me. I need to set Windows 8.1 as the default OS to have the picker appear

Seems faster....... Lol had to!

Lol I remember the good old faster days and the fights.

I'm liking what I see. On consumer I may go full out to 10.

I've been rocking Windows 10 TP on my Surface Pro 3 full time with only a few minor annoyances. It's cool seeing the OS evolve with these TP updates. It's also interesting to see how Microsoft is pulling this off pretty darn well.

I wish windows 10 was available on my Microsoft Surface RT

Why? The touch part is obvioiusly not completely done yet.

When I install KB3010668 all the start menu selections and live tiles despaired except for search, all programs line and the power button. I removed the patch and then the menu options came back. Reinstalled and the options were lost. Removed it again and they came back. I've reported the problem to Microsoft. The bad part is there is no way to keep KB3010668 from down loading again later.

Hello, I would like to ask you guys using Windows 10 TP a question, can one easily manage wifi profiles a la Win7 in WinTenTP or must one result to using the command console to manage them a la Win8.x?

You can manage profiles via settings app, network, manage

This interface has changed in this build...

My tablet/laptop is know blue screening

This update fixed an error on my isight webcam driver that came with build 9860 :)

So, today I remoted into my Win 10 desktop, took the update and rebooted then re-enabled sleep after 45 min, it works! it would just give a black screen before and never wake up worthy download if you use sleep on ur pcs

Actual install and my laptop is having all sorts of power issues. Drains battery overnight? Shutting the lid freezes it and I have to hold down power button (still lit) to switch off and then switch back on etc. Obviously something not right in full launch? Not very tech savvy but any help or suggestions appreciated Stewart

I have a HP core i3 computer. When my computer goes into "sleep mode" in Windows 10 I am unable to wake the computer without manually restarting the computer. How can I wake the computer more easily. I did not have this problem in Windows 7.

Well my Sleep mode is broken as of 2015-08-27. When it goes into Sleep, the screen goes black and then a few seconds later it pops back on again. Hibernation is much the same. It powers down and then the PC reboots and I'm backinto the desktop. Oh hum.

EVERY TIME I CLOSE MY SIGN IN WINDOOW AND COME BACK I HAVE TO SIGN AGAIN HOW TO FIX THAT