Windows 10 reportedly will add a Handoff-like feature for syncing apps between devices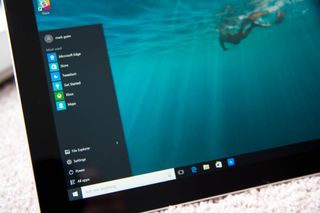 Windows 10 and Windows 10 Mobile users may get a new feature that will allow them to keep working on the same document or app even if they switch devices. This feature will reportedly be similar to the Handoff fuction for Apple's OS X and iOS.
According to Winbeta, this feature will allow a user on a Windows 10 PC to write a Word document, stop in the middle, and then continue on their Windows 10 Mobile phone, and vice-versa:
There's no word on when this update might be released, but Microsoft could mention it as part of their Build 2016 developer conference announcements on March 30.
Why killing the announcements??
Thank you for hard work though!!

PERFECT. Just freakin' perfect!

I just wish I didn't have to turn on Cortana just to use these features. Also, maybe this will be for Continuum enabled phones only.

Why would it be Continuum only? I don't follow your logic. The Windows Central Universal Application for Windows 10 Mobile on a Microsoft Lumia 640

I like your signature. It's longer than your comment ☺

I actually just changed it haha. And I'm about to change it on my Lumia 830 as well.

Don't you mean "The Windows Central app on the Universal Windows Platform in Windows 10 Mobile On a Microsoft Lumia 640"? :)

I agree about not having Cortana to be a requirement but I don't get it about the Continuum enabled phones only, that doesn't make sense. This Hands-off-like feature is basically roaming your workflow session to your other devices when you unlock or open an app where you can continue working from another device, this is just works on the cloud and no hardware requirement or device specific feature at all. Hands-off feature can work in any W10M devices, the only thing it needs is the apps to support it.

Apps have been able to do it since Windows 8 (for PC) and 8.1 (PC and Phone) but it was always quite manual. I'm expecting we get to see an easy to use API for this at Build, which could make it more seamless than the methods that have been available in the past

wow, the windows ecosystem is now truly binding together, I hope they take this feature to the next step over and above what apple as done and unlike apple fanboys, we shall not drool like fools :p :D

About time I'd say. Expected this early last year but hey... Anyway i hope its more than just docs but also texts, calls etc

Well if they release a 3rd-party API for any developers can use this feature, it shall not be limited to certain apps. This is still a remaining question if Microsoft for whatever reason decides to limit its functionality to their own apps, thus killing it in the future because of the limited use case (like several great features we had that is now being killed off). But yeah, this gonna be great when it works! I really hope 3rd-party can take advantage this feature.

And proper media casting, for pete's sake! Anyway, good to finally hear this is coming. It is Continuum phase 2. I'd like to see SmartGlass come to Windows as well, so that we could remote control a media center PC or use it for presentations, etc. These are the types of features that would help along an story of Windows, Windows Mobile, and any other member of the Windows family being better together - even amidst the whole new "open Microsoft". The new mantra should be "ecosystem, ecosystem, ecosystem"...

I might drool...just a little. +640/Win10

haha.. well, with build just a day away, I already am :p

Shame SMS don't sync across devices.

They do... But not mid-sms. Next update _should_ make them sync more instantly. Sent from my Windows 10 PC.

Never had any sms appear on pc. Despite sync across devices being on. They need to sort out current os before adding more bits :)

I like how OS's are now adding in same features to compete with each other. I wonder if there's also licensing deals with those who patent and create it first. So it's quite possible living images is being licensed to Apple and hand off will be licensed to MS. But this is simply a guess, don't take it as the truth.

Speak for yourself *mops up drool*

i thoght this was already part of the UWP and OneCore...

nah, i think any of that type of syncing is still left up to the developer. i think they're trying to make it easier for the developer to do this by adding in more support. right now, developers have to utilize writing to the user's OneDrive or their own private servers (some other third-party services are available to developers to use as well). this may utilize either a data connection directly between the devices OR it'll utilize Azure, but pre-programmed instead of forcing the developer to set everything up.

Onecore just makes it a lot easier to implement.

Yes, when I was using maps on my surface last night, when I came off my surface and opened maps on my 950xl it showed my last search and map position. Exactly as I left it on my surface, which was good.

Sounds logical. Sounds cool.

Doesn't Windows already do this on some level?

It was supposed to be working for UWP by mobile release, but, well... Mobile has had some issues but the framework is there. Remeber the USA today presentation about picking up on the same article you left off? The setting is still there and checked in app. But not functional. +640/Win10

Office, contacts and Skype hit and miss, nothing else syncs.

I wonder if this will be offered also for iPhone and Android Office suites integrating with W10 PC, or MS keeping it as the selling point for UWA...

i could see it being offered, but possibly not as tightly integrated.

With MS track record, probably work better on rival platforms.

No, since nothing else works better than w10mw10. Sent from my Windows 10 PC.

Lol funny Posted via the Windows Central App for Android

Possibly, especially that Microsoft these days are really active also at developing apps on other platforms (though to the point that its better while their own platform still struggling to have catch-up features).

I'm super excited for this feature! One word of advice though, about posts like this. I think using statements like "Just like Apple's (insert proprietary name here)" really undermines the value of Windows 10. I know that here we all know what Windows is and most of us already love it, but for others it gives the impression that Windows 10 is a copycat OS. It may be a better option to simply explain the feature for what it is rather than using an Apple or Google analogy. Readers can decide for themselves whether or not to make the connection. +Lumia 929

Maybe it is they want to make users aware that apple already has this feature and won't be thinking that this is something revolutionary.

That is also a very good argument. See, that's why I hang out at Windows Central! I have a moment of sanity only for it to get immediately shot down! XD +Lumia 929

Although its feature from iOS. But i really dont know how many features actually get useful in real time. Like force touch or handoff. Now way of implementation also matters. Posted via Windows Central App for Windows 10/Android

Well Apple sites always wrote "Here come living images as seen on lumias for years and finally this comes to iphones too" /s

Seeing as its EXACTLY life apple's feature it makes no sense to try and hide the fact its already implemented elsewhere.

See Paolo Ferrazza 's content for my response to that. Apple never does that, and neither does Google, so why does Microsoft have to mention it? +Lumia 929

Windows Central is not Microsoft

Apple fansites do that? :D link to where living images is presented as "new iPhonehas Lumias' living images implemented" :D This being said, I am all for showing that windows is getting apple features since apple is the cool kid right now ;)

Not Apple's idea, especially since I saw a lovely video of this feature in action (a mock up to be sure) at the Visual Studio 2008 event. So let's not give Apple too much credit. They deserve very little of the credit they claim for themselves. (But they are oh-so-very-good at the claiming). 2008 was the last good Studio release event, complete with open bar/band (Barenaked Ladies). Tom Brokaw told us we were Heroes.

Still waiting for Apple to deliver the next big breakthrough. iPhone SE is a joke for a company of the calibre of Apple. #Can't innovate my ass.

Well because the feature already exist on competing platforms, so why not give a credit. This is not about being a first or copycat, this is about bring useful features that will improve the platform. Seriously, do we still care who got first just for what? Sake of being so proud we're first or not claiming that others already have it. Innovations isn't about being first, it's about making that innovation accessible to everybody. I'm just glad that Windows will finally have this wonderful feature, especially if they will make it available for 3rd-party developers to take advantage of. Millions (or soon to be billions) will going to use this feature.

Good hopefully its something that is easy for devs to implement

Wonder if they'll actually call it Handoff so ios users will recognize it, seeing as they are Microsoft's most valuable users.....

Tweetium already does this somehow. My last read tweet position is mysteriously synced between my phone and PC!

Developers can already implement this functionality it's just a lot of hard work, this is talking about handling it natively so less work for developers to get it working.

Yeah, OS integration is always better as it can make these features works more seamlessly and easier to use. Here for Windows, they can make it some sort like a notification on Live Tiles (or badges on Taskbar icons) that workflow session from your device is ready to be reopened. This can be also integrated to Lockscreen just like the implementation of Apple already.

This feature has been announced and demoed by Joe in Jan 2015 Windows 10 event, but didn't arrive with Windows 10.

Don't mention Joe here as he's now an iphone advocate one twitter for his journey around the global. Hopefully when he get back he has no job at Microsoft.

Seriously... He uses phones from all platforms. You never complained when he used Android or Blackberry... Sent from my Windows 10 PC.

That sounds really nice. In this vein, I'd like to see them do a better job with passing an app over Continuum. Having a movie start on my phone, then jump to the TV is a bit of a clunky action.

very very few people will be taking advantage of such novelties since microsoft disallowed a huge hord of lumias from the OTA upgrade.

Gonna have to build a bridge and get over that. The reasoning was sound enough and if even half of their user base can get the update, that will actually be fantastic in comparison to something like Android.

no doubt it will be fantastic, but do you think half of the already small user base will be enough?

I'll be honest, Windows Phone users are the only group of people who expect 3-year-old $50 phones to be updated to the latest and greatest. I'm not saying it's good for people to be left out but if someone really wants the new features, they'll get a phone that is capable of managing it. There are cheap options for getting a phone with Windows 10.

I wasn't talking about the low-end ones only. even the previous flagships like 925 are left out. and apple is still updating even the oldest ipad mini and air.

The 925 is old as H*ll and the processor and memory is as well!

It is old but their SoC architecture still being used on modern SoC, yet these S4 SoC is even have better capability such as able to capture Full-HD while Snapdragon 200 on some recent Lumias don't, yet it supports W10M officially. The problem is they just giving up optimizing and further bug-fixing to make W10M experience better especially for these older devices. Heck, with recent updates, some people even claim that the experience is starting to get better, then boom! No official W10M, unless you sign up for Insider which not your average person would do or I even recommend to do. Making these devices to be updated until RS2 would be a good gesture for their long time users and still keeping the promise to have official W10M update, than this suddenly leaving them a dust. This is about how Microsoft does care about their already small userbase. This is about taking care of their customers and customer satisfaction, which can lead them to love the platform and continue sticking with it regardless of their buying habits. This move they take just pushing aways their customers, because of they didn't bought more recent devices? Even though its still possible to give more effort to make W10M work well?

Putting aside the age of phones like the 920 and 925, they also have ancient processors that were already pretty old when the phones came out. Also, while Apple does update their old hardware, they get a lot of complaints about poor performance on most phones that are over two years old.

I think this idea needs to be qualified based on the presence or absence of an upgrade path. For 520 users, there are plenty of decent options if they decide Windows 10 is worth it. For midrange users, not so much.

Hardly anyone is disallowed from the OTA-update. Sent from my Windows 10 PC.

That huge hord of lumias are all limited hardware wise and or on older ARMs processors of which I didn't and still don't understand why Microsoft marketed such limited devices which have no head room nor upgradability to where they themselves could not support but allowed to reach market.

Maybe this will be the "something amazing" in build??? I hope not, this is a cool feature but wouldnt fit the "something amazing" i am expecting.

I thought we always had this in words and onenote...

I mean, I'm not surprised to see this feature. But I'm surprised at how long it took MS to introduce this feature when it has been chanting unifying platform mantra for a long time. MS has its OSes, productivity suite, telephony/messaging services, and cloud infrastructure to make this work beautifully, I really hope it delivers. W10M is still half-baked, the UI is inconsistent and less user friendly (IMO), the app gap is still there. Worst of all, MS doesn't seem to pick up its pace to catch up in mobile. It just let Apple and Google outdo MS in software development. I really want to go back to my Lumia, even in its infancy, there are things I really like about W10M (Word Flow keyboard, for example). But the app gap is just too wide that I have to stick with iPhone and its inferior keyboard.

Same here and I use to own an HTC windows phone back in 2010 and loved the OS. I am a big fan of Live Tiles and think there is more innovation for this platform that Microsoft isn't developing or building into it which I don't understand. But this like we are seeing with WM can be a resource issue of which mobile is not such a high priority.

This will be a very welcome feature though I don't want to listen to India Cortana. Her accent sucks. Wish MS would change it.

This would be awesome. Looking forward to this and all the other Redstone improvements. The Windows Central Universal Application for Windows 10 Mobile on a Microsoft Lumia 640

Not trying to be the grammar police, but I think you meant "function" and not "fuction". First paragraph.

Could this be used to transfer a Skype call from your PC to your Phone?

A great idea, I think it's natural with how Windows 10 is implemented across platforms.

Truly ONE WINDOWS!! keep it coming :D

And therein lies the problem. The adage, "learn to walk before you learn to run" comes to mind. I just wish that the Windows team would concentrate on making Windows 10, PC and mobile, bullet-proof before trying to "wow" people. There are far far too many loose ends and inconsistencies in the OS with even basic features that are yet to be fixed before complicating matters more by tasking those very same features with added functionality.

Considering OS X has had this feature for 2.5 years, I think most people would consider it an essential feature by now. MS can't afford to not deliver it along with updating the stock apps and fixing the bugs.

How about calling? That should be ready awesome. Get a call on my phone in the other room. No problem. Receive it on my PC. Bam!!!

I hope that it goes under the 'Continuum' brand-name instead of inventing some goofy name.

Wasn't this supposed to come with Windows 10 already? I know they talked about such feature in Continuum context although very sparsely.

Of course it's a Cortana feature! Cortana, the fantastic assistant which isn't available for most markets! I guess it's more likely we'll see Siri on Android before it's availble in more than five countries.
Windows Central Newsletter
Get the best of Windows Central in in your inbox, every day!
Thank you for signing up to Windows Central. You will receive a verification email shortly.
There was a problem. Please refresh the page and try again.