Windows 10 app updates and download issues from Windows Store appear to be fixed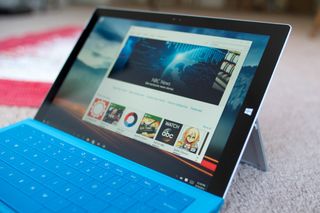 (Image credit: Windows Central)
Some Windows 10 users who have not been able to update or download apps from the Windows Store can do so once again. Microsoft has apparently fixed the problem that has plagued a subset of Windows 10 PC owners for as long as a week.
ZDNet reports that the problems were fixed through unknown means. Microsoft did release a patch earlier this week for Windows 10 but the Windows Store problems persisted until earlier today. It's possible that Microsoft fixed the issue via server-side updates to the Windows Store. Users who have been experiencing this issue are advised to restart their PC and open the Windows Store. The app download queue should clear after a few minutes and then downloads of apps should be working again.
Source: ZDNet
For a sec i thought that fix is for phone :(

If they were server side fixes, shouldn't it fix the phone store too? It's the same store, after all.

Funny cuz its not working on 10 phone for me right now

Man the phone store is such a pain in the ass to deal with

I'll have to wait to check later today. I was playing around with the Windows Store a few hours ago while still experiencing the same issues.

I just can't get the new Windows10 fitbit app to install properly on my PC! Doesn't make any sense. It installed perfect on my laptop yesterday. Tried reinstalls and restarts a whole bunch of times and nothing! Any ideas?

Same thing here, stuck on 0%

Same thing here also. I have 8 apps stuck on 0%.

Nice that they got that issue resolved but still no solution for a good number of people for whom the Store has never worked and crashes immediately upon opening it

My only solution to that problem was new cpu, mobo and ssd followed by a fresh install. Even redeploying via powershell didn't work.

My desktop is due for a refresh anyway so maybe I should take this route. I tried all the powershell stuff, registry edits, basically every suggested fix and nothing works. 2 resets and 1 clean install and still not working

Still not working for me though.

Gonna check it on Monday, let's hope all these problems are fixed by then.

Might this, by any chance, fix Windows DVD Player? Even though I upgraded from Windows 8 and still have Windows Media Player sitting on my machine Windows 10 refuses to provide the update for the DVD Player. I tried forcing the install and Windows claims my machine is not eligible. If I can't get this fixed, I'll probably stick with the third party player I already had installed. I'm not about to spend $15 on that app.

Did you have Windows Media Center in your Windows 8? Its only for people who had that.

You don't get the DVD Player because you had Windows Media Player, you get it if you had Windows Media Center. (Which was an additional cost add-on for Windows 8.)

Having an issue with Facebook app crashing on launch. Tried everything from app trouble-shooter to wsreset to reinstalling

Not going to hold my breath on this, lol. Eventually things should sort out.

My computer still can't get app update.

Me too... Now even Microsoft edge is broken for me... Is urs too???

I had problem on my laptop untill today and today eve I am having problem on my pc which untill now was working fine for me

That suck. I could figured out and fixed. But it really sucks!

My laptop too still not able to update our download... What the hell... Even Microsoft Edge is broken now... How to fix this now...

I felt hope, then I read the comments... Not too hopeful now :( I'm restarting my PC to check it out

I hope they fix the other issue where you can't download certain apps, like tweetium and Netflix

Still not updating on surface 3

I had the same problem with the windows store a few days ago and then I read somewhere that you need to set your system to the correct timezone. It worked for me, it solved the problem.

Still having the same problem and yes, it's more than just updating apps... it doesnt download new ones either... so dissappointed that they're taking so long to fix this...

I had the problem on my laptop before today I went in to check but now its the problem with my pc too. Damn it MS. You make me fall in love with you everyday.

My store was working just fine.....now it just sits and looks blue....sometimes it has the loading circle dots going around, but that's about it.

If it hasn't fixed for you yet, I fixed mine by disconnecting my MS account rebooting then reconnecting it.

I tried that and no dice. I'm guessing it's some type of rollout that will get to all the store severs eventually. I just want my Mail and Calendar app to start working again, which is a result of this store glitch.

Store still does not open when connected to my dial up connection.

i have an issue of 40 apps stuck downloading on the new phone build, after a hard reset... any fix on that yet????

Still not working for me on my surface 3. Try to download an app and it just says "pending". Also have several apps in the queue for update and they just stay in "paused" mode.

It's not fixed. I cannot even open the store app. Click and nothing. Re-reigster the app and nothing. Multiple restarts do not fix this. Please, Microsoft, correct the issue for PCs with multiple users.

No fix for me, store and groove neither one will even go to the splash screen let alone load. All my other apps works though. Tried all the methods of resetting, fixing, reading reloading, date time, sfc snannow, powershell, wsreset.exe, etc....
What's funny though is my wifes account on same laptop works perfect?!?
And my Microsoft account on my win phone won't sync yet all my stuff up to date. Argh!!!!

still can't get the store or buy apps on my daughters account. settings are so that she can

Still can't update or install certain apps on surface pro 3 so don't think they've solved that much.

Yesterday was fine but today stuck on 0.0 MB of ...

no...this is not fixed...still facing the same issue...cannot sign in using microsoft account...

Mail app does not work on my SP3..........so freaking annoying to see notifications, and flipping live tile, and try to open app, and it does nothing but show me a blue screen with the little envelope in the middle.

Same here. Mail is broken :(

Nope. Just installed all the latest updates and still can't open my Mail app! It is incredibly annoying because I still get toast notifications for incoming mail, but open the bloody app to read it. On the bright side, Store now opens...but app downloads are still stuck at 0%

Still got 11 updates waiting. Weird as one PC is working fine and the other has this problem. It's been a week now, which isn't good enough really.

Cumulative update KB3081444...still not fixed... Frustrating...

https://support.microsoft.com/en-us/kb/3073930 yes it is frustrating found this one myself, Microsoft failed after Windows 98, tought it would get better but no, been updating an 8.1 to 10 for about 9 hours, really sick... Hope the link helps yout-, did for me.

Still cannot download from MS Store. When I click button I see a brief glimpse of a box outline then nothing. Come on MS you have had massive help in finally getting an operating system that works first time and you still cannot do it.

I haven't been able to install ms store games for the last 3 weeks. the store says that I have downloaded some - "owned" - but I can't see them, and there's no helpfull status bar. i'm really going off windows 10 fast!!!!!
Windows Central Newsletter
Thank you for signing up to Windows Central. You will receive a verification email shortly.
There was a problem. Please refresh the page and try again.