Windows 10 Store and Mail clients are inaccessible for some users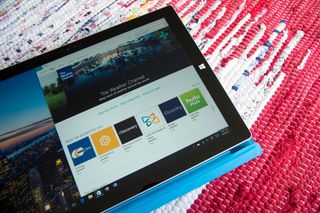 Windows 10 is apparently going through some post-launch issues with some of its apps. There have been a number of reports from users that they have been unable to access the Windows Store and some of their apps, including the Mail client, for over a day.
Windows Central forum members have been reporting Windows Store and app issues in Windows 10 since Friday. While some members have offered workarounds to fix these problems, they appear to not have worked for everyone. In addition,ZDNet's Mary Jo Foley reports that others online have reported on the same access issues, and she was unable to get to the Windows Store on her Windows 10 laptop on Sunday.
Some users are speculating that the first post-launch patch release for Windows 10 that was released last week is the source of these access problems, but so far there's no hard evidence to back that up. We have contacted Microsoft for comment and will post an update when we hear back from them. In the meantime, if you have and problems with accessing the Windows Store and your apps on Windows 10 in the past few days, let us know in the comments.
Source: Microsoft (opens in new tab), ZDNet
Yup..unable to open the store from past 3 days.Also unable to open Xbox app.Always gives an error message

The store problems was just solved by an answer deck. She did a malware and adware scan using command prompt and it worked. I'm now able to download via the store again.

Store and other apps work on my SP3 but not on my Dell laptop. Store hasn't been accessible since Saturday... mail/calendar is sporadic at best... other apps generally close when trying to open them and require 2-4 attempts to open successfully. Am getting DNS timeout errors.

On my wife's Dell mail wouldn't open yesterday. On my Toshiba everything is fine.

I haven't been able to sync my Hotmail account on the Mail app. I get error 0x8000ffff

You are not alone, any fix?

now I don't wanna be that guy, but really, MS could have taken one or two more month to iron out issues and get things like extensions on Edge working. because, believe me, once people start facing issues with major things like the store app, or when they can't find ad-block on the "next-gen" browser that windows 10 brought along, they'll just meh it. and first impressions do make a lot of difference. shouldn't have rushed so hard, MS.

Strongly agree, and I'm a windows insider and even then I didn't think it was fully ready

>> "I don't wanna be that guy" >> is that guy

Well, cant deny that the man has a point, right? Microsoft really could have just played nice, but instead, it rushed a lot to be in time for July 29's release date.

what i meant by "i don't wanna be that guy" is that i wish i didn't have to say this. but circumstances kinda begged for it. so...

TOTALLY agree.... As excited as I was for Windows 10 to officially be out, I also think first impressions are extremely important, and in Microsoft's case, critical! Considering their past mistakes.
I wrote tons of feedback to them about it. I'm a Microsoftie so I'll have the patience to stick with it till it gets fixed, improved, etc. But the regular Joe would be like "Screw you guys, I'm going home" :))) and just give up on it, go back to Win 7/Mac OS/whatever.
Microsoft changed a lot. The sad part is, it's mostly their attitude, but in practice, it's like they just can't help playing with fire (and by fire I mean users' patience). Tiny disappointments here and there, and it'll be enough to alienate plenty of potential customers.
I'm rooting for them no matter what, but sometimes it's painful to watch them shoot themselves in the leg....

Missing back-to-school season wasn't an option for MS.

So making sure they get their OS out to 300 million people before school starts benefits the other 6 billion people in the world how exactly? Especially seeing as their goal is 1 billion installs.

I upgraded on July 30 and the Store, Edge, News, Sports, Weather, close immediately after I launch them. Others like Groove and Movies and TV work fine. There are numerous threads in Microsofts forums about it and possible solutions, bit nothing fixes it. I've even rest 3 times but still doesn't work. Is this affecting people whose apps were working previously?

yep " server stumbled we all have bad days " ftw :p


I had this same error message. Turned out that the problem was caused only when I was connected to my company VPN which locked me out of the Store, Xbox App, and Groove Music, but not the Mail or Calendar apps.

That's the new Microsoft...

Neither the Store or Mail has worked on my Surface Pro 3 since the update (if not before). Store has 8 updates (with more coming every few days) just stuck there. Troubleshooting has done nothing to resolve the issue (at one point it killed the store, but two days later it fixed itself enough to let me get in but still won't download anything). Mail also hasn't worked. It freezes and then crashes, but won't go away entirely unitl my Surface is completely shut down. So, currently, on my SP3 - no Store, no Mail. My desktop PC is fine, though, with none of those issues. Both were clean installed at the same time.

Had the same problem on my SP3.. fixed by removing the mail and calendar app, and reinstalling them! see my solution here:
http://forums.windowscentral.com/windows-10/373623-2.htm#

Email client doesn't work here.

I have problem with MAIL and Windows 8.1, i unistall for try to re-install....but it cant download now from a store...SO SO BAD!!!...

Mail and Store okay. Font rendering on Chrome and Edge not.

I had that issue. I did a soft reset on my surface. Then did a shut down and it worked for me!

Finally ..... Have been waiting for some answers for long now.... Just come up with some fix fast

I had this problem then it it was fixed automatically 2 days back

I can access the store but downloading any apps always result in a "Well, this is embarrassing" error after it downloads then attempts to install it. I've learned that switching my account from a Microsoft account to a local account will allow me to download and install apps but having to switch back and forth all the time isn't ideal. And my guess is that a fresh install will be needed to fix this issue. Highly doubt a patch will be coming for this one.

I'm getting error 0x80070032 when pressing sync in the mail client, mail sometimes is hours or days behind is syncing, and forcing sync generates that error. Seems to be a common problem among many users (a microsoft/hotmail account). This has been the case from the beginning. Sometimes the mail client also throws an error saying there's a problem with your account and opens the account settings. The error disappears, but the e-mail client still show old mail. Sometimes a reboot makes the mail client sync until it stops again. A few days ago the store gave an error that the server is down, but it resolved itself after I booted (or the servers went up again). And another unrelated problem: The weather app also is unable to automatically update itself, when the computer has been in sleepmode for a day, the next day when you open the app (that was closed on last use), it its stuck on the day before. Only choosing the city you want to see again refreshes it since the app has no refresh button at all.

NOW YOU TELL ME! :-) I just reset my Lumia 920 Phone with WP 8.1 (for other reasons) and since keep getting the 0x80070032. Emails sync though, but not automatically. Could it be that the problem is not with my account/ phone... After 6 har resets... Argh!

My Xbox app isnt opening for five days now. Ive tried even some PowerShell command lines, but without success. In other user accounts, its working fine. I click the tile or the icon in Start Menu, and nothing happens. Anyone with these issues too?

Same as above plus some apps are taking way to long to open now...

I bought my Asus T100 as my main PC a couple of years back thinking it would be a compromise...
So far, miracast works perfectly (where an i5 in the family doesn't). All my apps work perfectly, Edge works perfectly, battery life has also improved....
Whatever Microsoft have done to optimise things for Baytrail tabs, they should extend that to all other devices....because I literally have zero problems with W10.

My Store opens but I can't download any apps. Everytime error 0x80070057 shows up. Can't find any workaround. Its happening from last 8-9 days.

My laptop is doing the same. No connection errors or messages, it just doesn't download anything. Connection has been fine, as I've been downloading Steam games without issue. My updates through the store include an update for the store itself, which I'm hoping is a patch for our problem, but i obviously can't download it. My downloads have also been stuck for a few days. Restarting the service, app, or queue has not solved the problem.

I too can open the store but all the downloads just get stuck at 0mb on my laptop. My VM copy is working fine. (The laptop does not have TP enabled, while the VM does. So I don't think it is the most recent update, since the laptop does not have it.)

I am unable to update my apps from Sunday, It doesn't download anything from store, and today I'm unable to even access the windows 10 store... Waiting for a fix from Microsoft aaap... :(

Working fine here too. Maybe it's a region thing.

Mail and Calendar crash almost instantly every time. Store opens fine. SP3.

I was getting Bad day issue with Windows Store and tried all sorts of fixes w no progress. A reboot solved the problem. Still don't know what the issue was. Hate it when that happens.

I can't download apps from the store! The apps sit in the download section and never download. I've reset the store multiple time and my laptop but to no good.

Mail shuts down on my desktop but works fine on my win 10 phone so no big deal for me.

I can't download are update any of my apps since Friday. The store in Windows 10 is not downloading the apps.

Windows store works fine but windows mail doesn't. I get a syncing error. Posted via the Windows Central App for Android

I'm one of those people. :(

Mail has not been working for 2 days. I can open the store, but I have a list of 11 apps that are stuck not updating. Otherwise the Store works fine.

I'm not able to update my apps. Stuck on pending.

My issues are similar. I can't access the store at all. I can add any accounts (gmail ect....). I even have issues with News/Weather. I keep getting the Something went wrong error code (which is can't connect). Store is also down all the time as well..... Go to Microsoft store (physical) and have no issues...... Still trying to figure out what is really happening. Word from Microsoft would be nice.....

A word would be but I'm sure they are working frantically behind the scenes to get this stuff resolved. They automatically know when things aren't working.

Mail app on my laptop has been going nuts for days.

Question...has anyone tried uninstalling any previous updates and found that it fixed some of these issues? My mail client has been getting worse the last few days, almost always saying I need to fix my accounts and now crashing the calendar after being open less than a minute

...oh also...has anyone here who uses the desktop outlook mail client been having this same problem also?

Same here, store and windows search on t working. Store gives error code 0x80072EFD and search keeps loading after typing in the box. Rest everything like mail, weather, music work fine.

More:- The store opens when I use mobile wi-fi hotspot but won't open app pages and won't download or update apps. When I use my dial-up (Photon Plus), it shows the error "The Server Stumbled".

Still no change. Mail and calendar keep hanging a few moments after sartup.
The store has 5 downloads just hanging there for the last 3 days. I had switched to mail & calendar because i really like the simplicity (with a few quircks), and it worked great.
This makes me doubt however...

Had that bug too ! I had to create a new user profile to fix it.

Been a couple of days now and I have been trying a lot of things to get a fix, but nothings works, neither the folks at Tech Support know exactly what to do (one of them give me a web page from the community with a problem terribly similar from Windows 8), I also try to contact Gabe via Twitter to let him know this issue.
Things are not pretty, and a lot of us are having this issue. Sad thing, I recommend Windows 10 to a lot of people, I hope none of them face with this. If this issue have appeared some days before I could have say "No, wait a month more or something, still giving the final touches".

I am unable to use the OneNote App at all on either my HP Envy 27 or Surface 3 running Windows 10. The store crashes on HP Envy 27 and App updates wont download. On my Surface 3 it wont find any app updates at all. Patiently awaiting update to fix this issue.

Store, mail and calendar were not working for me. Also, Windows 10 was so slow on my yoga 2 pro in tablet mode and along with other little problems I reinstalled windows 8.1. Windows 10 shouldn't have been released yet. It definitely has many issues.

Mine too. Dell Inspiron 17R. I downloded all Dell's newest drivers from their website . I do not know if that was the solution but it worked for me.

Mail app did nothing this morning. The store app has had 9 pending updates since Friday. I am a bit frustrated. The common user should not have to learn commandline to try and get the main store app running.

That sounds like my problem but I only became aware of it Sunday. I have a Surfacepro

Yes, I am facing the problem with mail client. It doesn't update the inbox or folders. I am also facing, the problem that attachments are missing from the downloaded email. I think this problem was always there.

Mail and Calendar loads up and freezes since Friday. App Store will open but can't download or install. I think it's the problem in the last update. Everything worked fine until last week, and in Windows 10 I can't even roll back the updates like I could in Windows 7. Very frustrating.

I'm able to open the store but apps won't install or update. But Mail won't open. And yes, this is since the patch.

I have not been able to access mail/calendar app since Sunday. Store works but shows download pending or just at 0.

oh and this is on a Surface pro

& this is why I never setup mail on my phone the process of them going thru hotmail to check email from a competing service

no problem with the store.. but facing problems about apps not getting installed & updated.Also not able to add accounts in Mail. Hoping that MS will fix the problems very soon..

I have had the same issue upgraded daughters tablet, and as I am administrator for her child account her store etc wouldn't work, tried restarting, which removed the auto rotate drivers (a pain to find btw) when it came back after reinstall her store etc worked but mine stopped looking at the apps in settings the tile is there but no image ie store image or mail etc, don't want to reset again???

If it turns out it was part of the cumulative patch, then it wouldn't be to good for their forced update mantra. It's a good idea but as usual poor implementation in the consumer space. 10 Pro only has a check box to defer updates not hide updates; the troubleshooter is absolutely crap. The Intel and AMD gpu drivers fail to install constantly but the idiotic troubleshooter doesn't deem them problematic to offer the ability to hide them lol....

Yep. I cant access the store or Cortana on another additional profile. Works good on one profile not on additional profiles added.

Mail stopped working for me once I upgraded to 10 and because of some other annoynances (Facebook not handing links correctly, Edge not handling some sites, etc.,) I reverted back to Windows 8.1 on my Surface Pro. After the downgrade my Mail program still would not work but all the other annoyances were gone.

Mail stopped working for me once I upgraded to 10 and because of some other annoyances (Facebook not handing links correctly, Edge not handling some sites, etc.,) I reverted back to Windows 8.1 on my Surface Pro. After the downgrade my Mail program still would not work but all the other annoyances were gone.

Worth trying. Worked for me. Click/follow the link for the steps. https://www.reddit.com/r/Windows10/comments/3gc7it/windows_10_store_down...

Same problem pls microsoft release update as soon as possible

Windows 10 Store works fine here too (Sweden).

My Windows accounts settings is not showing the option to sign in to Microsoft account....

Same not able to open store for 15 days in Lumia 520

OneNote w10 app won't work and can't open store

Can't access Store, Xbox but Mail is working.

I'm having the problem on two machines. Apps wont update nor new ones install. mail is broken too.

In my mail client, the mail accounts are all mixed up. If I select one account, I see mails from another. Wierd!

Frustrating. In addition to these issues, I also have the deep sleep issue which requires a force reboot to resolve. And reboot times seem much longer than they used to be. Posted via the Windows Central App for Android

I haven't been able to update my Windows or any Windows Apps for a week now. I've tried dozens of fixes, any suggestions?

I don't think its the patch that is causing the problem. Because I've turned off the Windows update after installing and still that store problem exists for me.

My only major issue so far is when I hit the button on my own to open OneNote the keyboard associations completely screw up and I can no longer type anything and certain keys do different things like locking the screen, bringing up menus, etc. It's like the button toggles the windows key on or something.

Can open the store, but can update apps and can't open mail. On surface 3

My Mail app is working fine. On the other hand, my Edge browser is freezing/crashing when Adobe Flash is enabled. Is this a known issue? I'm on Windows 10 Preview buld 10240.

The Mail, Calendar live tiles aren't working on my tablet, and the live tiles won't update properly on my Desktop.

I am having issue with so many apps including mail calendar and some games like asphalt despicable me etc they open and close immediately.. Checking error application frame host not responding. I think its the ghost made by ms...

In the store, it keeps saying that it needs the licence of Reader app or it won't update! From where can i get that?

Iam in Spain and the mail app is not working on either my Win 10 Surface 3 nor a Toshiba Encore write with Win 8.1. I had installed Win 10 on the Toshiba and it was a disaster. I am seriously considering going back to Linux and not put up with this BS again. I spend more time trying to fix my Windows PC than getting work done. This is ridculous.

After reverting back to 8.1 (I hate new W10 email clients´ limitations), mail client was dead and togeher with several likewise dead apps had to be romved. Nothing can be downloaded from the Store, it kind of works, but every attempt to download something ends in permanent hesitation & no download gets finished. Awww!!!

I have been unable to access the Windows Store since I upgraded to Windows 10. I keep getting an error message Ox80072EE7. This code doesnt seem to be listed on the MS site so I am stuck without any way to change this!

I'm having the same problem. Been 8 days for me and still unable to access the store at all.

Having trouble syncing with my Mail app on Windows 10 the past couple days. Get error code 0x80072726.

To all having trouble with Windows 10 store programs not downloading or not working, like mail and calendar programs, etc. I had the same issue last week, I ran across this fix referenced in tenforums, and the 2nd fix absolutely worked for me. Caution, it involved editing the registry, so make a registry backup before, in case you need to revert. Best of luck. http://www.eightforums.com/tutorials/13133-store-cache-clear-windows-8-a...

I cannot access the store or some games apps.

No mail, no store, no calendar.

Mail app: Fix Outlook account, app crashes Calendar app: Fix Outlook account, app crashes Xbox App: Try and sign into Live, app crashes The Microsoft Jigsaw app of all things: Can't connect to Xbox Live. My Surface 3 is nothing more than a doorstop with Windows 10, thankfully I can still revert to Windows 8.

I upgraded to Windows 10 8 days ago, and since that time I haven't been able to access the Store at all. It always displays the message "The Server Stumbled." The Store and apps are the only reason I upgraded, so without those Windows 10 is pretty useless to me. I tried calling Microsoft last week and stayed on hold for two hours and ten minutes, until my phone died. Everything else works perfectly except the store, which means I can't download the apps I want and need. HELP!!!

Been on Windows 10 for several days App Store worked for the first two days, but now not working. one or two other problems but I am working through them

Any update on a fix for this issue?

App Store does not launch and Photos does not work. This is a new computer with a fresh install of Windows 10 Professional. I have tried EVERYTHING reccomended online and nothing fixes the problem. I even called and spoke with Microsoft Support. They have escalated the issue and I am supposed to receive a call this evening. Never had any problems with the Apple App Store.

Many of the apps that came pre-installed are not working: including Mail, Store, Calendar, Weather. The apps that I installed prior to this problem are working properly. I have always been a bit skeptical of Microsoft but decided to give them a try again and bought a Surface Pro 3. It came with Windows 8 which seemed to work okay. I upgraded to Windows 10 and have had nothing but problems - Surface screen goes black, apps not working.

Yeah,I'm unable to open the Store, Xbox, Calendar, Calculator, Microsoft Edge etc. from past one week. And gives me an eror massage 'Element not found' .

Been able to access the store up until today. Might have started sooner, but since I hardly access it...... I can access mail, or at least I could this morning....let me check... Yes, I can access mail. Would really like them to take care of this......

I HAVE THE SAME ISSUE! PLS TELL ME WHAT TO DOOOOO! OH PLEASE PLEASE! I HAVE WINDOWS 10 OS

Check your firewall settings! If anyone has ZoneAlram, Norton or any other firewall installed make sure that you allow the MS Store and and Apps into the allowed zone.

My mail app is not working since yesterday!

check the account settings on the mailbox and make sure the SSL is checked for security/authentication of the account. That should take care of it, it worked for me anyway...

Mandatory Windows 10 update ran on Friday morning. Cannot access information store. No data in Outlook Calendar or Contacts. Definitely result of update.

I can no longer access the windows app store on my phone or laptop, both of which are running windows 10, Can anyone help me? I'm not a computer geek, so I need a simple answer.
Windows Central Newsletter
Get the best of Windows Central in in your inbox, every day!
Thank you for signing up to Windows Central. You will receive a verification email shortly.
There was a problem. Please refresh the page and try again.