Windows 10 Store updated with UI improvements, automatic downloads, and Live Tile option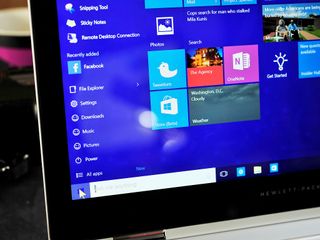 One of the strengths of Windows 10 is the ability for Microsoft to fix issues and add improvements to the OS piecemeal through app updates. One of those is the new Store beta app, which has come a long way since it was first introduced earlier this year.
Tonight, a version has gone out with a few new additions. The app certainly feels more stable, looks better and given seven more weeks, it should be ready for primetime when Windows 10 goes live. Here is what is new with today's update.
Various UI improvements
New option for automatic download
Live Tile option (greyed out)
The ability to automatically download app updates is surely welcome. Previously, users had to hit the 'check for updates' button (which now looks better) but here was very little visual feedback that it was working.
The UI itself has some more polish though we have not documented all the changes. The Live Tile option found under Settings is new, although we are unable to enable or disable it at this time.
Regardless, we are still wrapping our heads around the fact that an app is updating itself through its own store. Let us know if you notice any other improvements in comments!
Thanks, Zapella T. for the tip!
Daniel Rubino is the Editor-in-chief of Windows Central, head reviewer, podcast co-host, and analyst. He has been here covering Microsoft since 2007 when this site was called WMExperts (and later Windows Phone Central). His interests include Windows, Microsoft Surface, laptops, next-gen computing, and for some reason, watches. Before all this tech stuff, he worked on a Ph.D. in linguistics and ran the projectors at movie theaters, which has done absolutely nothing for his career.
Ha so true. I really hope they fix the speed, load times, and pinning of apps to the desktop for modern apps

I couldn't agree more! I've always felt that modern apps are just so painfully slow and clunky. However, if the new settings,store and msn apps are anything to go by then it is possible to make them substantially faster and more responsive!

They made some additions to the xaml (data) bindings which made a huge difference. Won't speed up old apps, but ones that make use of the new bindings it should. Came about due to the office team saying how slow it was basically. So, that's probably part of the reasons for the speed boost

Thanks for the info. That makes sense. Let's hope more devs update their apps to take advantage of the speed improvements because they're quite drastic.

They also are compiling these apps in the store using c++ optimizations which are very fast.

So basically they won't fix it until someone deep internal is complaining.

Glass half empty kinda guy? ;)

Will Devs be able to write apps for the new OS before launch?... And those Developers with apps that has anything to do with YouTube, can you please update your apps with the new stupid Google API

We'd like to think they've been doing that since Build, no?

They can, SDK was realeased like 2 months ago.

A preview one, and you can't summit Windows 10 apps yet.

Of course you can :) It's the same store as Windows 8 after all, but with a new UI. In fact, apps like Tweetium and VLC Player already include improvements on Windows 10. VLC Player in particular looks beautiful on Windows 10, as can be seen in the photos on the store's app page itself: http://apps.microsoft.com/windows/en-us/app/vlc-for-windows-8/c527ff2d-b...

Devs can make apps since March.

How about an update so i can play aoe on my computer....haven't been able to since it was patched to 1.8
Edit: Ok so i just found it in the old store, beta store is still 1.7

It appears that some apps will update for some people and others will not....have 4 accounts on my pc so everyone can try it and it is odd that this is happeneing

EDIT... check which version of the store you are on... it turned out i was already on the latest... looks like it was actually updated on 5/29, so you may already have it.... version is 2015.5.29.1

lol it updates itself through the store. Posted via the Windows Central App for Android

Um having,problem to,upgrade from .. So I was in need to download the fbl 10130 ... And if u perform a quick,search u'll see there's tons of ppl having same,problem.. So yes and no..

Any update history to go with auto updates similar to WP 8.1? I've turned off auto update on Win 8.1 because I want to know what has been updated.

Not yet. As far as I know.

This is my biggest issue with the Store as it currently is. I can never tell when an app is updated. The Store (on both PC and phone) in Windows 8.1 clearly had ghost notififations and a History page to show when apps were updated. With this Store, it doesnt do that. Even when I click Check for Updates, the page doesn't refresh. I literally have to exit the Store and go back and click Downloads to see if anything is actually downloading. Ugh. I really update they fix these very soon and show History in the "Downloads and Installs" page

kinda off-topic, but i just laughed! haha! ​Apple Loses Trademark Battle in the Philippines. http://www.fhm.com.ph/upgrade/techie-news/apple-loses-to-myphone-in-trad...

That is perfect. I think my favorite part and what every judge or person overseeing these things should say is
"The buying public should be credited with a modicum of intelligence and discernment in purchasing...mobile phones where brand patronage or consciousness is prevalent," the IPO said in its statement.

Fanboism + close mind = ppl like you both ... Just cuz ure windows user u like to see the others ruining.. Sad but most of here are Childs like

Right that is what Apple Fanbois do. Lol. Jk.

Here you are behaving like a kid

@DeCarvalho83- did you even go to and read the article? If you were talking to me i will use whatever product that i need and works period! My point with what i picked out of the article is that all judges or others that have to deal with this kind of crap should look it just like this one did and say, in a nutshell, must people aren't that stupid.

About two weeks ago I received this update (or have the same features)

Updating itself through itself reminds me of that one futurama ep where each Professor pulled his own universe through their own boxes.

I wrote a self updating program many years ago before it was common. It had a loader app as the main exe that would check for an update package. Things are probably a little more sophisticated in this situation. What really throws you is writing and debugging visual studio plugins. You run another instance of visual studio in the debugger. So it's debugging itself.

What really throws me is the people who make visual studio use visual studio to do it.

You know, as a student learning software development, I have always wondered how they created visual studios

It feels much better indeed.

So, since store beta is an universal app, does it mean that it's been updated in windows 10 mobile too?

That's what I'm wondering too. I don't see any changes in my mobile Store.

I assume in the next phone update build, but I guess it can update itself now? So idk?! I assume next phone update or two tho.

Doesn't look like it for me at least

Hi Daniel, still waiting on your editorial about 5 Things to choose WP over other platform. (i read in comments before you would write an article about that) thanks :)

How to reach "settings" in store beta?

But I've never seen hamburger menu..

You are right, I don't have one as well. But I'm pretty sure I had one in the past... strange... Is there a Hotkey to get to the settings?

Clock on the logo of a person for a drop down menu.

Oh, right. That's how I did it in the past. Thanks! =)

Apparently the windows store is asexual o.O

Anyone know how I can activate Windows without buying a license and without using activators such as KMSpico?

It only shows apps that I owned on Windows 8.1 PC's and not on the phone. Isn't it supposed to show all apps under one store login for all Windows 10 devices (PC, Xbox, Phone)?


It does show all for me... In app library or something like that

Something still feels off about that Settings screenshot for me. I think it's all the unecessary white space and how everything is lined up across the left in a long list. They could easily arrange them into columns to prevent unncessary scrolling and to fill up all that white space. Their framework already supports this, and works great for scaling to mobile as well. Not sure why they aren't using this (at least yet).

Can anyone confirm if the store remembers your scroll position finally after navigation to app details and then going back?

I hope they keep the tile green!!! I don't like it in blue, it was really iconic

I like black theme in windows store just like old one

Another new feature: It's now showing both Phone and PC screenshots for universal apps! Unfortunately still there isn't an "open app" button.

I'm still trying to wrap my head around the fact they reverted to the old Zune (desktop) navigation.
They should go for that in all apps instead of the stupid hamburger buttons.

Those features should have been rolling out on W10M as well since they are supposed to be universal apps. Wonder what the problem is here. Not to universal after all

I think the windows 10 live tile is missing interactive options. Option 1. I would like to see an option where when a new app update is present the live tile shows the app it refers to and the next flip tile shows bite size chunks of what the update is. Finally a third tile image is the button to confirm to run the update in the background without having to go into the app. Option 2, when a suggested app appears on the live tile that I like, I can press an install button on the live tile to initiate the download and install of that app in the background.

But still no option to remove/delete old apps from your app list. A couple of years of installing & testing apps on WP7, WP8 and Win8 left a wasteland of never used again apps in the list :-\
Windows Central Newsletter
Thank you for signing up to Windows Central. You will receive a verification email shortly.
There was a problem. Please refresh the page and try again.