Windows 10 to support several different subtitle formats for videos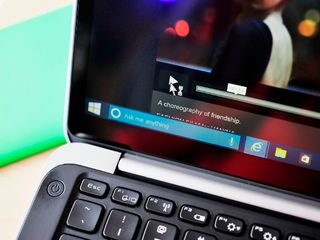 Windows 10 will include native support for many different subtitle formats for videos. The news comes via a Twitter post today from Windows Insider head Gabriel Aul.
In a response to a fan asking about specific subtitle formats for videos in Windows 10, Aul replied:
SRT stands for SubRip and is a text file subtitle format that's created by a software program of the same that takes out subtitles and their timings from videos. SSA stands for Sub Station Alpha and is a more advanced format that overlays subtitles over videos. It's used a lot with Japanese anime movies, with English subtitles created by fans. ASS stands for Advanced Sub Station Alpha. As the name suggests, it's a successor to SSA and supports even more specifications.
Aul previously announced that Windows 10 would support the MKV video format, along with the newer HEVC (High Efficiency Video Coding) video compression standard
Source: Gabriel Aul (Twitter)
Windows Central Newsletter
Get the best of Windows Central in your inbox, every day!
exciting times ahead.. :)

you criticize and the same day you praises

and what did i criticize?

LOL caught red headed in the cookie jar.

Its good to see HEVC support

is that a subtitle format?

I heard that it will play gifs properly yes

Gif as lockscreen *fingerscrossed

Do you actually mean the 8-bit GIF format as a lock screen, or an video loop? I think you'd be disappointed by the former.

Can we play FLV and MKV formats on windows phone 10

If windows 10 for desktop can play mkv then windows 10 for mobile "should" also be able to...

Mkv support on Windows 10 currently is very bad and flv doesn't seem to even exist without a codec

Can already play flv. Just change the extension from flv to mp4 with the files app

Both will be supported , I asked Gabriel about mkv and he said yes , + it'll support flac audio , and flv

yes i read it sometime ago windows 10 for phones will surpport the both of them

I play mkv on vlc on my 1520

If only they can add FLV support then I'll be really happy to ditch VLC. Kidding

PGS support would be nice for those of us who rip directly from Blu-ray discs, but this is great compared to previous versions of Windows. I just hope they include full track switching support (for audio and subtitle tracks) as well.

Yes, this. More importantly, what about the subtitles from DVD rips? I forget what they're called?

It better support everything.

Upping the ante and support for this big time!

As a deaf person, I'm thrilled to see these subtitle formats supported especially SRT.

Native DVD playback would be nice :-|

Now, if we can just get a new updated Windows Media Center...

I want so confident that Windows 10 would be the answer, but the more that comes out, the more I start to believe.

Windows 10 will have everything. I don't know how they will possible finish this in about 4 months although...

Good question. However consider that win 10 is going to have more in common with facebook than win 8.1, it's possible. By that I mean, continuous updates and release of new features

"ASS stands for Advanced Sub Station Alpha" ... Shouldn't it be ASSA then ???

They really wanted it to spell ass.

You torcher people by your questions? Just asking bruh!

Actually yea... thats pretty much how I got the nickname, which I later modified into my online persona

Well that OS will be kickass

Can anyone confirm that "play to" works with mkv files? I haven't tried it in build 10041 yet but it didn't work for me in 9926.

yes it work ... but no subtiltle for the moment.

hope windows 10 is better than ever

Cool cool. Cool cool cool.

C'mon Microsoft, replace the VLC already.

Cant wait for plex to take advantage of this as well. :) good times ahead

What's the format that's embedded in MKV rips from DVDs?

For the first time , Microsoft is doing it very right

Now the news I want to hear is that MSFT is killing WMP for a more modern approach on offline player... They could really bring Zune back! Beautiful design that started it all!

I like the idea of WMP looking and working like Zune, hopefully make it a universal app too! But, with Xbox Music and Video, isn't having another media player rather redundant?

that's awesome, windows 10 will blow every other os out of the water. however, i'm still hoping for srt support for xbox one's media player...

I have high hopes it will come with the Xbox One's Windows 10 update. :)

Now all we need is updated Media Center functionality... Yeah baby! and I will be a happy custom media server builder.

.flv not supported... Make it also be supported

Wow, this keeps getting better and better.

Well that's great, especially the support for *.ass. MKV + ASS = FTW. Then I can even watch the stuff on the phone, that's really great.

Well you can use CCplayer already available for windows phone. It suports external subtitles.

It's not native W10, but anyone trued the metro app of VLC? It Won't display the subtitle of the video I watched... Whether its in the video (by choosing it from the 3 dots) or outside of the video inside the same folder.... Any fix?

How about support for mkv files with dts audio? That should be at the top of the list.

More options are always welcome.

Another interesting information and great. I will share with my friends the same reference. Visit Friv 4

Forgot the formats (most used are .sub or .srt) just SUPPORT MORE ENCODING!!

I've installed Windows 10 but I just can't see SRT support. Does anyone know how to add an SRT files into Movies/TV app?