Microsoft is experimenting with tabs in File Explorer and other apps on Windows 10
Microsoft is experimenting with bringing the browser tabbing experience to all apps in Windows 10, including File Explorer.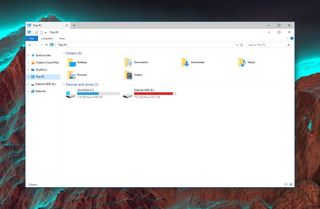 If you're one of many Windows Insiders who have been constantly asking Microsoft to bring tabs to File Explorer, we may have some good news for you. According to sources familiar with the matter, Microsoft is currently experimenting internally with a new feature called "Tabbed Shell", which brings the familiar browser tabbing module to all app windows in Windows 10, including the File Explorer.
Per our sources, Tabbed Shell is a feature being worked on at an OS level, and doesn't require work from app developers to take advantage of it. By default, Tabbed Shell works with any app window, whether it be Photoshop, File Explorer, or Microsoft Word. Any UWP, Win32 or Centennial app will work. Much like in Edge, you'll find a tabbed interface at the top of a window where you can switch between instances of the same app.
This means that right away, any app can take advantage of the new tabbing experience without any developer work. If an app features a titlebar, it will be able to function with Tabbed Shell. Microsoft will also offer API's to developers if they wish to "integrate" their apps with Tabbed Shell, which will give the app more control over the tabbed experience.
For example, an app that isn't optimized for Tabbed Shell will likely display two window controls, titles and icons, as the app in question isn't integrated with Tabbed Shell. Based on internal designs, we've created a mock-up below in which you can see how this would work. In our example, we're using Word 2016 as an unoptimized Tabbed Shell app.
However, if an app developer does want to take advantage of Tabbed Shell, they can do just that. Developers will be able to adjust titles, tab colors, create custom New Tab experiences and more. In our second example, you can see that in this scenario Word 2016 is integrated with Tabbed Shell, making for a much more streamlined user-experience.
The goal for Tabbed Shell is to extend the popular and familiar browser tabbing experience to other app windows, which should help unify the user-experience and window management across the entire operating system.
Microsoft is still experimenting with the user-experience for this feature. As it currently stands, it's unclear whether the tabbed experience will show up by default, or if it'll only show up once you have two instances of the same program open. A lot of user-experience scenarios still need to be figured out, which isn't much of a surprise considering this feature is still pretty far out.
Speaking of, it's currently unclear when/if this feature will show up. Sources say it could be either Redstone 3 or Redstone 4 in 2018. That's assuming Microsoft doesn't end up killing the feature, like they do so often internally. Hopefully, if this feature is further along than we're expecting, we might see it at Microsoft's BUILD developer conference in May.
Redstone 3 development is now well under way internally, and there are several features in the works that are yet to be announced. Keep it locked to Windows Central for more news regarding Windows 10 Redstone 3.
Get the Windows Central Newsletter
All the latest news, reviews, and guides for Windows and Xbox diehards.