Windows 10 users can download 10 of 2015's top music albums for free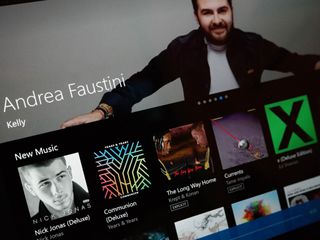 If you are a music lover, and are on Windows 10, you should go to the Windows Store right now and download 10 of the top albums released in 2015 for free. Microsoft is offering these album downloads for the price of absolutely nothing at all for a limited time.
Here are the direct links to the free albums on the Windows Store, which span a wide range of genres:
Which one of these albums are you most looking forward to listening to after you download it for free? Let us know in the comments!
Source: Microsoft
FYI You don't have to have Windows 10 to get them. If you have Groove Pass, you should be able to download and own them for free. By the way, I just got Big Sean, Jeezy, and Selena Gomez (do not judge me!). SInce I have an eclectic taste in music, I will be listening to the other albums to see which ones to get.

Whahahaha Selena Gomez.... (no judgement!) :)

Gomez's Album is AWESOME!

If u have music pass you should be able to download any music track or album you want, just like Spotify, right ?

True - this confuses me! Are they downloads that you own? Is this USA only, as some are saying in the comments?

Seems like you do own them forever after you get them.

I had my pc region set to the US (Cortana :D) and my xbox live set to the netherlands and I couldn't get the albums until I migrated my xbox live region to the US.

Lol I got the same thing @jbestman

I'm so great full for this heads up. I don't know them but I got them all lol.

Yessss!!! I dunno about you guys, but I frekin loved Dark Before Dawn. It was so unique but in the same way, they kept there own style. They are so good, cannot wait to see them next year!

If I switch my region to US, will this work?

i just tried it. It doesnt work. It said it require groove music pass to download

I am in Pakistan, reagion set to US ( for Cortana ) and i am seeing these albums for free :P

yes it does. i have my region US since 2011 when i first got a Windows Phone and all store content is there with me.

you have move the whole account to be US, especially including xbox account linked , since groove was Xbox Music. so if you decide to do so, then go here https://live.xbox.com/en-CA/AccountMigration​ and beware that you can move every three month.

But I assume it will bork the operator billing

I read that as religion. I need to sleep.

Only available in one country....

Probably nothing worse mentioning, lol. could have saved me ranting about the artists :P

Adolf Hitler of pop music? lol

Justin Beiber kills Jews?

I thought that was known...

Hitler killed brain cells and ear drums?

Windows Central has become Reddit

Hitler. I'll won't mind if he exterminates 'pop singers' Posted via the Windows Central App for Android

Well I'm a music lover, and in Windows 10. But I can't download the 10 top music 2015 in my region.

As is always the case with Groove Music and its previous iterations. Posted via the Windows Central App for Android

What? An American company is offering free American music only to Americans? Scandalous!!

Well, it is as long as they insist on charging everyone else MORE for their products, and offer less. Scandalous indeed!!! Not, I repeat NOT, the way to sway world attitude to your failing products...

How much did you get charged for W10? Not saying that your rant is unwarranted, but your argument is weak.

Ellie Goulding is an English artist

Nope, it isn't well I tried to "listen for free" but since I don't have a groove pass the store sort of gave up trying to initiate my trial lol. But yeah it's not region locked otherwise there wouldn't be a "listen for free" option on, right?

But if it requires pass then your just renting it more or less

Man I am really getting old- ten of the top albums of the year for free, and I have no interest in any of them. SMH at my old self. :|

I only won't take that Selena Gomez...nothing personal, it's just kinda weird for me I feel like. =p

You're not old, this is just bad music.

I feel that music has improved over the past couple years, still not as good as the 2000s but it's a start.

Pfff, that is your issue man; You are comparing it to the 2000s. The 80s and 90s were where the good stuff was at for me.

If it has I haven't noticed it. :P I don't listen to the radio anyway because it's so bad (plus, the sound quality sucks). But there's still some good stuff that isn't mainstream, though it's still harder to find than I'd like (not to mention how most new music is mastered too loud and therefore sounds dull and lifeless).

In my opinion two of them are "meh". The other 8 are worse than that. I guess I'm old too.

Give us one free album of choice, not mainstream mediocrity, at best.

Jeez!!! Yeah, you suck for (optionally) gifting me this stuff. I want you to give me money instead. SMDH at the stupidly entitled posts.

Also old, but I enjoyed Tame Impala's Lonerism, and enjoyed 'Lights' by Ellie Goulding a while back, so wth why not. I had never heard of Logic, but the album sounds cool, so wth, that one too. And I used to love the song 'sound and color' without knowing who it was, and before Apple made it into iPad Pro theme music, so wth, downloaded that album too. Thanks Microsoft and Windows Central!

I dont think so man.. I dont know where they got this top 10 list from.. I havent heard of these people before

No interest in, or even knowledge of...!!! :-D

Lol isn't that the truth. There's always a new flavour flav of the month. That few will remember 10 years later

If only I liked any of this music.

Music isn't available in Windows Store in India.

Ah, the same as always...murican-exclusive...

The best kind of exclusive.

I doubt you're missing much. I'd rather save the bandwidth and device memory.

I have only heard of one of those names. Man, I must be getting old.... "Hey, Cortana, Play Foo Fighters"

Or you just don't live in the radio. I'm not all that old (25), and I have only heard of 4. I haven't heard music from 2 or 3 of those 4, either.

Foo Fighters already put out a free EP after the Paris attacks.

Saint Cecilia and it is awesome.

The only album in interested in I already bought. Figures :\

If you are a music lover you probably wouldn't listen to any of these albums. These are for music likers.

With the exception of Logic, sure.

If you are a music lover, you like a great variety of music. If you judge other peoples subjective choices, you're a music snob.

And here I thought music transcends divides lol. Guess I was wrong.

Does this need pass or not

I tried with a separate account that doesn't subscribe and I now own these albums...

Really?
It prompted me to get a groove music pass -.-.

This is the top 10? More people bought this crap than any other music? Sad. I'd be embarrassed to have any of this in my collection.

You sell the most music by how much skin you show on instagram, sadly

right so you know, check out those dudes... lol =p

Not the top 10 albums, 10 OF THE top albums.

It's amazing what most people consider music

People have different taste. Just like food.

Breaking Benjamin is the only one that interests me. Not that it matters anyway, as I'm not in the States... :(

Us only, of f..ki g course.

again typical not for Canada.

If anyone is interested in Sci-Fi and Anime, check out Logic's album, it stars Steve Blum as a pilot on his way to some far off new planet that is supposedly some sort of future utopia...lol, the kid is a major geek and had a panel at the NYCC just to promote it =p

Nevermind that he's a crazy talented rapper... Listen because of the anime inspired skits between songs.

I was going to just grab all these but the store fell asleep and won't bother starting my groove trial. Yes, I listen to allsorts of music and plus who can say no to free stuff? :P Going to check out Logic's album right now lol, cheers.

The editor should tag this kind of article as "USA-only". Also the windows central server should apply an algorithm to detect if the IP address of a visitor comes from the uncivilised world (i.e. non-US) then the server must hide the article.

And if those people are on vacation in another country or have friends in the U.S. they want to inform of the article?

Or people could finally get a clue that this is a site headquartered in the US. I know, I know... I am an eternal optimists that assumes that people are reasonable and use logic as opposed to completely irrational idiots...

Yeah, right after the U.S. gets a Band 2 trade promotion.

Again and again,im tired of this,why only US?