Windows 10 version 1903 now available to anyone who checks for an update
Microsoft appears ready to ship 1903 more broadly.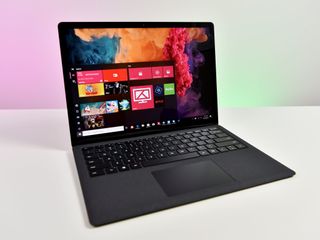 (Image credit: Windows Central)
What you need to know
Windows 10 users can now update to version 1903 by manually checking for updates.
This update seems to be rolling out more smoothly than the October 2018 Update.
The October 2018 Update didn't become fully available until December.
The Windows 10 May Update, which is version 1903, is now available for anyone that manually updates their PC. All you need to do is click "Check for updates" in the Settings app of your Windows 10 device. The status of the latest major Windows Update is outlined by Microsoft (opens in new tab) in a recently updated doc.
This is a major update with a long list of features and changes. Some of the most notable changes include a Light Theme, the ability to run apps in Windows Sandbox, and improvements to the Windows Update process. You can check out our in-depth review of the update to read up on all of the new features.
Microsoft releases two major updates each year but has run into snags recently. The October 2018 Update has only reached 31.3 percent of Windows 10 PCs according to AdDuplex and didn't become fully available until December of 2018.
While the rollout of the May 2019 Update hasn't been seamless, it seems to be rolling out significantly smoother than the October 2018 Update as it's become available to anyone who chooses to manually upgrade just seven days into June.
Affordable accessories that'll pair perfectly with your PC
Every one of these awesome PC accessories will enhance your everyday experience — and none cost more than $30.
KLIM Aim RGB gaming mouse (opens in new tab) ($30 at Amazon)
Whether you're a gamer or not, this is an absurdly good mouse for the price. It's ambidextrous, has a responsive sensor, a braided cable, tank-like build quality, and, yes, it has RGB lighting, though you can turn it off if that's not your thing.
AmazonBasics USB speakers (opens in new tab) ($16 at Amazon)
These neat little speakers may only pack 2.4W of total power, but don't let that fool you. For something so small you get a well-rounded sound and a stylish design. And they only cost $16.
Razer mouse bungee (opens in new tab) ($20 at Amazon)
Use a wired mouse? You need a mouse bungee to keep your cable tidy and free of snags. You get no drag on the cable, and this one has subtle styling, a rust-resistant spring and a weighted base, all for $20.
Windows Central Newsletter
Get the best of Windows Central in in your inbox, every day!
News Writer and apps editor
Sean Endicott brings nearly a decade of experience covering Microsoft and Windows news to Windows Central. He joined our team in 2017 as an app reviewer and now heads up our day-to-day news coverage. If you have a news tip or an app to review, hit him up at sean.endicott@futurenet.com (opens in new tab).
Still not seeing it on my Surface 6. No really sure why. Anyone able to get it on a Surface 6? Am I just missing a setting somewhere?

On my Surface Laptop 2 and multiple other PCs I can confirm that no, it's not showing up yet.

I don't see it on my Surface Pro 5. I'm on Semi-Annual Channel (Targeted) but changing it to non-targeted didn't do anything. A shame really, today would have been perfect for an update.

If you *really* want it. Go to the Microsoft site and search for the Windows update Assistant and download it. Just be prepared for a dig into it's weird logs if it doesn't install it. It doesn't inform you why, you'll need to find the offending software it doesn't like.

Or just sign up for Release Preview ring on Windows Insider.

I never wanted it bad enough to become an Insider. But the Update Assistant tip was very helpful Stuart Halliday, thanks! Might come in handy one day.

Still waiting to get it on my Surface Go Win 10s not showing either.

No, they just schedule it in stages over the Planet. I bet the author saw the update and assumed badly that because they got it, the World got it. Microsoft have never done that. It would be suicide.

I think you have games that 1903 doesn't support,that is the reason you are not getting update

I got it last week on a surface pro (2017), Paschott. Last week, I think. Not sure why you would not get it by now?

You can try Update Assistant here: https://www.windowscentral.com/e?link=https2F%2Fclick.linksynergy.co...

Still having issues with Windows Hello on 1903, so I'm sticking on 1809 until MS fixes the issue...

I am still waiting for this update for my HP ARM tablet ..

Nope. Been waiting the entire time on my Surface GO.

Finally saw it (and installed it) today.

Nope. Not here in the UK, just checked. My 1809 PC says no updates, did find a AV update though...

You can try to get it using Update Assistant: https://www.windowscentral.com/e?link=https2F%2Fclick.linksynergy.co...

It's not available yet. I have a custome desktop.

Try Update Assistant https://www.windowscentral.com/e?link=https2F%2Fclick.linksynergy.co...

Still haven't received it.

Nope! Spectre x360 15.6 with 1809.
Where did windows central get this story?

Why is it that with each update, I cannot be like the rest and enjoy some of the same griefs others are whining about on here? Maybe I could go to the trash heap and pick up a new Commodore 64 and that way Windows 10 updates would crash or burn the system.
Seriously, I have had zero problems with any of the computers updated here to 1903.

Downloaded the ISO as soon as it was available using the media creation tool. Installed on 3 of my computer's all went smoothly.

Installed on one computer, but didn't show on older computer

Wonder when will they know that the update break nightlight.

The headline says, "Windows 10 version 1903 now available to anyone who checks for an update." This is absolutely NOT true. When I 'check for updates' on my PC's. I get nothing. No 1903, no "you have a problem," no "your PC is incompatible," NOTHING except "Windows is up to date." Windows Central should get it's act together. I am not doing an unnatural act like 'upgrade assistant' or some other manual action. I want Microsoft to tell me my PC's are ready. Oh, and BTW, if the friggin' SW is smart enough to know it won't install, why can't it tell you WHY ??? Specifically, why can't MS link the error code to an actual description of WTH is stopping it? Use some of that phony Microsoft "AI" to do a simple link to a specific HW, SW, or driver issue. A high-school kid should be able to figure that one out. Huh?

@UncleRon... My sediments exactly!!!

Found that after the update was installed my accent color was changed. I went to put it back to black, get a message saying "this color is not supported" and it gets set to dark grey. Ruins my whole desktop....

I have 1809 installed and windows update 10 says its the latest version. Not seeing it on windows update setting either.

Nothing on my Surface Pro 4 or Alienware Aurora R7.

> Windows 10 version 1903 now available to anyone who checks for an update That's a lie -- I have it available on one out of five devices that I have forcibly checked. Hilariously enough, not on the device of less-then-a-year vintage, not on the Microsoft device and not on the VM (simplest hardware configuration), but on the custom-built PC that is 6 years old. Go figure...

Update: on the one, the update *is* available, after downloading, message says: "Your PC is not supported yet... Windows Update will automatically show available update once the issue is resolved." I find that thoroughly amusing.

Nothing on my Packard Bell with 75 MHz Pentium yet :p

How's Vista running on that thing? I heard Vista is crap because it won't run well on the Packard Bell with 75 MHz Pentium

Manual update via the settings app has not worked for me to date to get 1903.

Only reason I can think of is that it's likely a regional release in phases thing. Microsoft has done this before in the past. We should not need an update assistant to make the update work. It's not part of Microsoft's regular servicing that normally occurs via the windows settings update. I've done the latter on all my pc's for years. Has worked fine. The use of an update assistant means to me the servicing is broken or that windows update is broken and Microsoft needs to fix it. This is Microsoft's responsibility, not ours to search out for an external source to download the update. It is there if necessary, but it should not be the norm. It is also not part of Microsoft's servicing ambition. They want customers and end users to update automatically at all time. If seeking is the way to go it must work. I think the solution for the end user is feed back to Microsoft on resolving this matter, rather than looking elsewhere on the path of least resistance, on this particular matter.

Similar to the October 2018 update, I just made life easier, used the Update Assistant and installed 1903 on all my PCs. All were identified as qualified for the update even my 2007 Dell XPS M1330 laptop!

My SP5 however updated to the April 2019 update without issues. What's sad is the October 2018 update is still not showing up under windows update on my 5 year old home pc (4770k, 16gb, 780gtx)....

Only 1803. I prefer to wait Windows Update

Since the author will not update this story with a correction, obviously just leaving this up for clickbait. None of my newer devices from Dell nor my Surface Go have received this update.

JUST WAIT!!! No Surface Pro 1-6 nor go has had this update pushed to it. There might be a reason? Who knows. Its not worth it until they push it to them.
Windows Central Newsletter
Thank you for signing up to Windows Central. You will receive a verification email shortly.
There was a problem. Please refresh the page and try again.