Windows 10's PC worldwide OS market share actually went down in September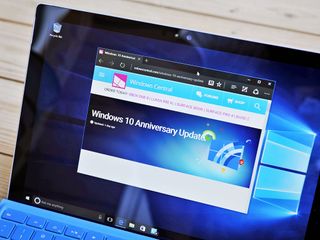 According to the September 2016 PC operating system market share figures from Net Applications, the share held by Windows 10 actually went down slightly that month.
In August 2016, the first month after Microsoft ended its offer to let consumers update their old PC to Windows 10 for free, its market share was 22.99%. The numbers for September 2016 from Net Applications show that share dropped to 22.53%. While that is a tiny decrease, it's still a bit surprising, especially since there is evidence that Microsoft is still allowing owners of Windows 7 and 8.1 PCs to update to Windows 10 for free even if the offer has officially stopped.
Windows 7 stayed in first place in September's OS market share numbers with 48.27%, up from 47.25% in August. Windows 10 is in second place, and Windows XP, which Microsoft no longer supports, still remains in third place with 9.11%, down from 9.36% in August. Windows 8.1 is in fourth place with 7.83%, down from 7.92% in August. Windows 8, which Microsoft also no longer supports, had a PC OS share of 1.78% down from 1.82% in August.
In September, Microsoft stated that versions of Windows 10 were running on over 400 million active devices a month. However, the company did not break down how many of those devices were Windows 10 PCs and tablets.
Windows Central Newsletter
Get the best of Windows Central in in your inbox, every day!
People like to hang on to their old OS's

No they don't. I change every time there is somthing new.

Actually they do. Hell, I only ended XP when they ended support and I was forced to upgrade. I actually hated XP and refused to upgrade for the longest time as well. I have since changed my tune, I upgraded to 8.1 and then 10 as soon as I could, but I certainly understand people sticking with what they know. This is why there are so many complaints about Windows 10 "forcing" them to upgrade.

Why did you refuse to upgrade from XP if you hated it?

What I meant was I actually hated XP untill I used it for a couple of years. I felt like it was changing too much. Now I did get rid of that stupid blue start menu and put the windows classic view on. I was just giving an example of how people dont want change.

yea thats so true. And funny thing some friends on stores that sell mobile phones. we were talking and he asked me what was i using. i said a W10M l650 :D and thats when he said oh its a nice phone and he said even tho its so simple people tend to find it hard at the start since they use android but once they get into it its really hard for them to leave again ;) (and come on its as simple as a dumb person can get xD)

This i could say to windows 8 or 7. Windows 10 might be simple for dungs!!! But in reality, it's settings and optimizations, aren't quite simple to do, or rely on... that's perfectly fine;).

I still run a XP VM on my Surface Pro3 lol. I only really liked XP when service pack 3 came out... Then it was a rock. I hated ME, I actually liked Vista, it was good as long as you never shut it down and only goto sleep. Windows 7 was brilliant.

Even with the coutless bugs and reinstals I had to do with ME, I actually liked it.

They? Who would these 'they' be???? You cant follow 'they' with 'I'...

"They" means people in general. I didnt mean "I" or I would have said it.

Yes but you don't speak for everyone.

I never claimed to speak for everyone. It was a generalization. People in general or reluctant to change. Look at history.

The reason for that is that almost every OS Microsoft makes is a disaster. Windows 98, Windows ME, Windows Vista, Windows 8 & 8.1, and possibly now Windows 10. Good OSs are 2000, XP and 7. XP took years to become stable and good though.

yes to me bro... yet work to be done... I admit

Well sometimes when I turn on my PC, clicking the Start button or the action centre icon does nothing, it's like the bar on the bottom of the screen does not work, which makes the system pretty much unusable, I then have to press Ctrl+Alt+Del to restart the computer. Another example is that last week I could not access Settings at all, a bug which miraculously disappeared few days ago. I like mostly like Win10, but I wouldn't call it stable.

But it is stable to me.. I'm on build 14393.187 ( old build ) but pretty reliable though... Not facing those issues you said.. Did you disabled startup in task manager ?

I wonder if hardware is the cause for some who are experiencing issues. My coworker ordered his pc to his specs upgraded to W10 and has no issues. He loves it. I have yet to try it, but I like it on my L650 and L950.. But I like the 650 more.

I get that sometimes too, it is one service in particular that is causing it. I cant remember at the moment, but I will reply to this if I can find it later so you won't have to do a complete restart. You can probably identifiy it from the amount of memory it takes up when it semi freezes the computer.

Yeah plus disabling intel and NVidia using shellxview does trick for me...

When next that happens, press Ctr+Shift+Esc. It'll open Task manager. Click on the windows explorer process and click restart. This fixes many other sleep related issues

One of my Windows 10 PC's does that as well. Pressing the start button does nothing, it's static.

When that happens, try opening Task Manager and restarting Windows Explorer.

I had this problem too. A workaround is to disable 'Fast start up' under Control Panel Power Options > Choose what closing the lid does

I had this problem too. Disable Fast startup under Control Panel > Power Options > Choose what closing the lid does

How old is your hardware? I remember my old netbook did that. Used to not open Start menu, or open it about a min or two after I pressed it. But changing hardware caused them issues to stop. (Was a 6-8 year old processor and barely any sufficient RAM). Could potentially be the cause of the issue

Disable fast startup... It's in power settings. I was having the same problem with my sp4, this fixed it.

Reinstall. Or remove some conflicting application. Or upgrade. The original version used to do that Anniversary version doesn't.

I don't think it has happened to me since the AU, so you might be right.

is it clean windows 10? its like the first time i hear something like this xD

More likely than not it's driver issues. If your OEM were to release specific W10 drivers and software it would work fine. I had strange issues on an old pc until official drivers were released. I say that because what is happening to you is not part of the OS or a known bug.

Oh dear, I have a Lenovo laptop here, whose Touchpad gets reset every few weeks and stops working, when there is a driver update. I had to run ShutUp10 and stop driver updates. The thing is that driver quality is getting worse and worse, despite WHQL.

That is an isolated problem probably related to a corrupted system file or a glitchy background process or service. A PC OS is a very complex piece of software and things like this can happen on install/update and also while using. Could happen in any version of Windows (happened sometimes with me in "almighty w7") so I suggest going for a reset or maybe a clean install.

I ve more than 50 pc in my Company, all win10, all ultra stable. Your hw must be a ****, so shut up.

Strange, what you say is true. Windows 10 is a hot mess, mobile or desktop. And this denying fanboy's hitting the minus, are gettin' pathetic already...

I liked 7 lots, and 10 is far better.

A disaster you say, and then you continue with 2000, XP etc. 'took years to become stable'. Surely, that in itself, is a disastrous comment. D'oh!

Its true though XP had similar issues as vista up until sp2

And 2000 was a great OS (do not mix it up with ME) for the time.

Yeah...I really love that start screen and tiles... I really miss that feel...

Windows 7 is actually a Windows Vista Service Pack 2

perhaps because at those OS version do not existed fans that could get beta versions which ones do not help to the OS via feedback

Well global market share is a reflection of how anything could be considered 'a disaster' based on what most people use for its features and simplicity, MacOS and iOS have both always been 'a disaster' compared to Windows and Android! So what's your point?

I think Windows 7 was the worst MS OS ever, maybe only after Win10. Windows 95 was the greatest breakthrough compared to a previous version. Windows 2000 was the best OS, simply. Windows XP was the fist OS where they introduced a lot of bugs and removed features. Vista was just a disaster, greatest drop in quality and features compared to the previous version. Win7 was just like Vista but further worse. Win 8 was slightly better than Win7 but also introduced ugly "Metro" and removed some features. Win 10 seems a great disaster so far though, comparable to Vista.

people like to protect their PRIVACY :) 2168 connections to unknown servers from 3PM to 6PM every single day is a good reason to worry about your stuff

That's alot of connections, but Many im sure are Cortana, OneDrive and cloud related (calendar and mail for example)

I don't use Cortana, OneDrive, or any of Microsoft's cloud services, yet I still get tons of unknown connections.

Just stop using unknown services and those unknown connections will stop.

Plug in a proxy tool and watch the connections and the "unknown" shall become "known"!

Work offline, what's the problem ?

I'd run an antivirus from CD. That is totally not normal Windows.

Windows 10 is the data mining champion. Hence the reason I ditched Microsoft. They are a joke. End the free downgrade and market share drops. Called this on the day the free downgrade ended

Did you pick up a Chromebook instead? Lol

Pretty sure that rumor got debunked fairly fast. If I remember correctly, most of those unknowns are just telemetry connections and other weird MS services & company. I'd like to point out that 7 and 8/8.1 sent a ton of user data over as well. And let's not even get started on phones, service engines, and web stores such as Amazon.

If that was true, there wouldn't be so many lagdroids

No. The reason is because the Anniversary Update came out and it cause a whole load of grief. I know a few people who went back to W8 to get things working again. MS need to get back to the goal of having a reliable OS as the main goal rather than an exciting, cutting edge OS with the trade off being reliability problems.

Anniversary update caused tons of issues. MS pushed it out because of 1 year anniversary but it is not stable for PCs with old hardware. Need to test their software first before releasing to public.

And several hundred insiders testing each build, don't test their software.

Insiders are students working for free, if Ms counts on them, they're done...

I'm an insider. I'm not a student, and I have been in my industry for several years. I test insider builds on the Surfacebook that I have. I report any issues I come accross. ​For the most part however, on this device at least. Insider builds are stable as anything. In fact, the insider builds are so stable, they are more stable than my release builds of OSX on my macbook pro. ​I'm guessing that a lot of these bugs are bugs caused by drivers / hardware specific issues. Otherwise they'd get reported and solved.

I would venture a guess that most people spend their day on their smartphones and tablets, so the home PC might not get used enough to mess with upgrading. Heck, I don't think people even see an OS update as a benefit, they just see it as more dreaded change. Tech forum folk are probably the only ones that really enjoy this kind of change.

Yeah not to mention that before free upgrade ended a lot of people may have finally upgraded PCs that they don't use often. My dad is a prime example he upgraded his 5 year old laptop that he's used maybe 10 times since he got it.

Uhm, did you read the article? Oh wait, I forgot, you must be able to speak for every pc owner.

LOL your comments are always funny

People do not "like to hang on to old OS's".
Could be that.... 1. They regard the PC as an appliance and an upgrade means buying new.
2. Microsoft confuses them with their naming conventions and they now need a so called expert to explain the difference between Windows Office 2007, Windows XP, Windows 13(meaning Office 2013) and Windows 10.
3. PC is not regarded as a fashion statement like a car, no body sees you working on you PC. It's just an appliance like the paper binding machine in the office.

3. I beg to differ. Sure, it's not as common but there are plenty of pimped out cases out there so there probably is a market for them, no?

I updated the computer of one of my relatives lately to Windows 10, from XP :D We can almost say that Windows 10 can now run on a toaster, because its sysreq is still so low :D And yeah, XP is really obsolete and should finally die off :D It was a good OS, but man... it's 15 years old :D And even Service Pack 3 was 8 years old in April :D

Yeah I had a customer who insisted I upgraded his 2002 Toshiba XP machine. It runs like a dream.

Very hard to believe. How are these numbers calculated?
Are people buying PCs with an older OS? Or are that many people supposedly reverting? I just don't see win10 share slipping when that is the OS new PCs are being sold with.

PC sales are more and more dominated by business/enterprise. Most of my clients new machines still being bought with Win 7 installed, or they use downgrade rights. Will turn late 2018/early 2019 in that world.

I think it might have something to do with people having to revert back because of device driver issues, or preference.

Maybe adblock on Edge is actually blocking ad duplex, hence the results. I'd say there must be a huge margin error everytime they compute the stats, just use them to have the hint of the global market share but I'm quite sure that there can be easily 1-2% margin of error.

You may have hit the jackpot with that reasoning.

I'd say its more like 5% margin of error, truth is it's all just educated guesses and statistics. The only number I really listen to is the official Microsoft announcements and even then without breakdowns they are not too great either . But I think you're totally right about adblock.

Oh so now when it goes down, you guys don't want to believe the results?

It's not a matter of beliefs, it's just it doesn't make sense at this point. As he said, it's probable that since W10 AU has become available, more users installed AdBlock/AdBlock Plus, hence the lower number of registered W10 machines in these statistics.
That'd explain why the sudden drop right after the AU release.

What else do you expect from here?

A lot of pcs sold in many countries are old stock so you can still find Windows 7 being sold. It takes time for a pc with windows 10 to reach some countires due to shipping time, customs, distribution channels etc. Easily a few months, or even a year

I actually liked Windows Vista lol Posted via the Windows Central App for Android (LG V10 or Nexus 5x)

Man, Vista was sooo beautiful, coming from XP :D But it was such a resource hog at the same time. I installed it on my potato PC back in the day, and it worked totally fine, until it somehow, on an average afternoon, it just randomly killed my CPU during booting up... Sooo... Do you remember Janus from the roman mythology? Vista was exactly like him: two faced :D

Vista with SP2 was awesome.

I tried it before SP1 so I don't know :D But others said it became way more stable later.

Many people still don't want to update to Windows 10 on their old PCs, also, many people who buy a new PC they still downgrade to Windows 7. And here in Mexico, those who build a PC like they want, most of them are not going to buy Windows 10 but to use a pirate copy of Windows 7.

Man, it's a good thing you don't live in the states being Mexican with a last name of Turban. You'd never ever hear the end of it..

Lies, damn lies and then statistics....!

Yup. These numbers are now lies because we don't the answer

For personal use an android tablet or Chromebook is more compelling. The windows pc is starting to fade out. It probably won't go away but you have more options today. For business use the pc is still unbeatable but you have your office on all platforms. Why pay to upgrade and still have to pay for virus protection, and endure slow boot up times just to read Facebook, watch some YouTube, chat on WhatsApp and check your mail. A chromebook launches in an instant and is free of service. And costs 180-350 euros. Times have changed. Let's hope Microsoft realizes that.

Depends what you want to do with your computing device. If all you need is phone-quality apps/services/functionality, you may just use your phone. If you want to be able to do more, you may want a device with a true computing device like a surface or ultrabook/laptop. Ultrabooks can be had for the same price as android tablets and chromebooks, but can do significantly more due to the OS's capabilities, for example..

What the actual hell are you talking about? :D Anyway, you make me laugh :D Chromebooks aren't good for anything, and nor are android tablets with badly upscaled phone apps ;) :D

I beg to differ. Chromebooks make great door stops

Dunno. 200 dollars is a bit much for a door stop imo.

Well, these are gold leafed doors.

I would rather have badly upscaled phone apps than NO APPS!

What no apps bro? :D Win32 + WinRT + UWP >>>>>>>>>>>>>> idroid :P :D

Wow, you really do live in fantasy land don't you. The apps on windows are terrible compared to the apps on my android tablet. If they are there on windows at all! Really you need to come down from windows fantasy land into reality.

Yeah, yeah... Everybody here lives in "Windows fantasyland" and you're the only one knowing the truth :D Much likely :D You know, there's a saying here in Hungary: If you look around, and everyone seems to be an idiot, just look into yourself, because maybe you are the idiot yourself :D And yeah, snapchat and pokemon go are really much more better than Photoshop, a full Office suite, SAM Broadcaster, OneLocker, and everything else Windows can offer :D I can't even stream music on an online radio with your loved lagdroid tablet :D

Sorry again there....BRO......I am much to old to worry about snap chat and pokemon....There are Hundreds of other apps that I have on my apple deivces that are NOT available on MS devices, and I do have Photoshop, a full office suite, not MS office however....screw the rest of the windows datamining crap as well.

Android doesn't upscale apps (it may upscale assets though), the apps adapt to different screen sizes based on how the developer wants them to.

No, most of them aren't adapting, and only display the phone app upscaled :D I had a droid tablet, so I know it.

Then that is the developer's / product owner's decision on how their app should behave. The same developer would likely make the same decision on UWP.

When did you have your android tablet like in 2010? I have used hundreds of apps on my android tablet and have NOT seen anything like you are talking about....

Yeah, it was before Surface changed the tablet industry :D But I don't think android tablets just suddenly became better :D

acutally the surface did'nt change the tablet industry at all...it changed the notebook industry (windows division)..Apple and android both still sell more tablets than the surface. 2 in 1 s are replaceing basic notebooks. and YES.....the sufrace came out years ago....you have no idea what you are talking about when it comes to android tablets....sorry.... The surface and all its off spring running windows are a comprimise.....not great at a notebook, and not great at a tablet.

Oh so you're this special kind of stupid :D I'm done with you :D

ha ha....sure.....if you want to think that....I know who is really stupid and it is not me! that I can assure you.

The chrome books at my college look terrible. Everyone seems to prefer their laptop or surface jf they have one.

You don't seem to realise that .exe programs are actually still very popular and widely used. As someone who uses my laptop for personal and work usage, ChromeBook would be the last product I would even look at. When it comes to considering the product, it doesn't even make the list.

Ok, you can maybe do that with a chromebook. But you can do the same with a same priced windows 10 tablet. And you can do more. So i see now reason to buy a chromebook.

Businesses are slow to adopt. It'll come next year.

All the client PCs at my workplace (Vodafone Hungary) are using some form of Windows 7 (Win 7 Enterprise or Win Embedded 7 Starter), and the central server is running Win Server 2012 R2, even though the Application Helpline Team is in direct connection with Microsoft. It's a pain in the *ss using Win 7 (and Win 8-like remote apps) on the business machines, but yeah, enterprise is slow to adopt :D

Most of the PCs at my company still run xp!

90% of our customers are too on 7. One even still had XP running a view weeks ago.

Maybe its because it's the 4Q 2016? You know Xmas in a couple of months, large purchases put on hold until then and Microsoft could announce new hardware this month.

stunningly bad. you got that wrong sega.

I'll just stick with 8.1 for more 5-6 years. Until it completely losts support from MSFT. Tried 10. It was beautiful outside and a beast inside. I don't have any privacy issues, but I don't like MSFT to sneak into my PC either. It's, PC. Personal Computer. Not your DC. Data Collector MSFT. While everything on cloud is a beautiful concept. But until the day it is end to end encrypted, I won't move to that cloud ecosystem. And make 10 more polish. I used W10A it was still unstable somewhere.

All Windows 10 telemetry data is end to end encrypted and collected data is deleted after 30 days.

Just long enough for them to take all information and compile it and sell it to the highest bidder in the data wars!

Nope, its now spelled M I C R O S O F T! Times have changed. MS is now the laggy os, data mining KING that google used to be!

I don't know what you're smoking, but can I have some please? :D

Trust me, it's not as good as what you are smoking to think windows is awesome.

I don't think that it's the red Golden Gate that makes me think so :D

That comment alone is proof enough for me! thanks!

Man, this paranoia...We will soon want assistants like Cortana, Siri or Google now but we don't want them collecting a bite of data. We want them to magically know to do what we want them but no data collection

If you really want to secure your privacy then disable all in privacy settings... MSFT is collecting information to improve W10... Not to sell them... LOL

iOS 10 reached 50% in less than two months, meanwhile W10 is still floundering and now in decline after a year.

iOS9 is nearly end of life/support as soon as iOS10 is launched. If Microsoft ended support for 7 and 8.1 a few months after 10's launch they would be screwed with some people's mentality on desktop OS upgrades

but when iOS 10 came they didn`t had a paranoia cult that didn`t want to upgrade to windows 10 and we are talking here about business machines that have software written for Windows 7. You are comparing a stupid mobile OS to an full OS that can actually do more stuff other than Facebook/Instagram

how many iOS devices here ? vs How many Windows devices are here ?

iOS is for toys, not for devices. Just go to a Starbuck to see.

The numbers are fairly similar. Apple outsells all Windows machines combined. Posted via the Windows Central App for Android

I would like to see who has forged this statistics.

And Windows Mobile went up. Go figure. I wouldn't look into these stats too much. Stats fluctuate month to month. Apple's stats did the same.

Windows 7 stays strong and only one that gained share. Love it

statcounter shows it going down and windows 10 going up. Go figure.

1. Many people are too lazy to learn using new OS because MS always changing the UI, the looks, and the experience. 2. Many people aren't understand how to turn off W10 automatic updates. In my country, Internet is slow and expensive. So many then back to W7/8 3. Some machines break because W10. My friend HP Pavilion AMD break after upgrading to W10. So he switch back. I love W10 but really, MS should not constantly change what isn't broken (UI). Make it easier to turn off automatic updates or just make it back like the good old days of W7 updates work. W10 still feels like a beta OS, maybe RS2 will fix it.

People only know how to start pc..login...open game...play

Can Windows 7 and 8.* still upgrade for free somehow. I got one windows machine stuck on windows 10 education. I would install 7 or 8 if I thought I could still upgrade for free

Coz windows 10 is not stable.and MS keeps on releasing new features instead of making it stable.

Whoa wait it dropped a whopping .48%, whew better breakout the whiskey and let's all get drunk MSFT'S all done no more Mobile or PC. LOL Thats a very very small margin.
stop Freaking out where safe>>>

Very fitting that it's going backwards since it's an OS designed to take desktop computing backwards by replacing full featured programs with worthless "apps" and a "store" full of broken dreams.

Worthless apps? Please tell me why Adobe is very close to releasing X86 programs as UWP. Others will follow. I personally see the desktop being a relic within 5 years. And so do others who write for this site and are alot closer to information than you are.

And the adobe "app" will be garbage for the desktop, just like all the other "apps", guaranteed to be missing a slew of features and functionality.

Maybe after a few years store apps are going to be great. But right now it's worthless. Try some x86 software and you'll understand what he's saying.

Couldn't agree more, they are destroying power user and making mindless zombies like crapple has done

Except on their desktop the "mindless zombies" have an actual Desktop/notebook OS, not a crappy buggy wannabe trying to be too many things. Windows wants to be a tablet OS, Desktop OS, and Mobile OS all at once and FAILS miserably at all three. Meanwhile, IOS excels at being a mobile and tablet OS and OSX excels at being a desktop OS. Theres not trying to be something its not. Apple knows what its doing while Microsoft is the dog chasing its tail and grasping a straws trying to come up with something that nobody was asking for.

LMAO man so much bullshit

Yes, and it's all called MIcrosoft!

But osx looks like something a kindergartner would use... or something a five year old designed. It's far to cute for me. Posted via the Windows Central App for Android.. But waiting for the HP Elite so I can get rid of this junkie Galaxy S5...

Windows 7 is the best os Microsoft has ever made.

Well, some of us like ketchup on our burgers and some like mustard, but both will tell you it's the best that way.

Well considering win 10 is essentially a spyware, I'm not surprised. Still on dual boot with 7 & 8.1 and will keep it that way

Windows 8 is still my favorite, no competition.

Nope it's now spelled M I C R O S O F T! Hprevz, you need spelling lessons

You mean any software made by Google? Posted via the Windows Central App for Android.. But waiting for the HP Elite so I can get rid of this junkie Galaxy S5...

Wait, this must mean that OSX or Linux bumped up, because the other Windows OS's didn't increase other than 0.02% from Windows 7, the rest went down. So what picked up the slack?

I'd imagine OSX picked up some slack.

Yup 12 more people have bought iMac. .. or build a Linux box... Posted via the Windows Central App for Android.. But waiting for the HP Elite so I can get rid of this junkie Galaxy S5...

MS is doomed if PC market is so tiny nowadays.

Microsoft is ruining the WIndows repuration itself by buggy updates and helping people to move to other OS, like Linux.
Also count the privacy issue. For which WIndows 10 is being criticised.
But I'm not trying to mean that privacy issue is really a factor these days. From chrome browser to andoid OS to iOS everywhere privacy has been doomed already. But its a fashion these days to bash Microsoft for any silly reason.

Oh, if you could only see my shocked face.

Window 10 Mobile rules. 0.45%

There's many people who don't want their drivers and settings RESET every time when Windows is updated. This is a serious area Microsoft need to work with. But I'm still staying, even in Fast ring anyway. I do hate to adjust my GPU driver setting every single time after installing a new build...

That's because the company developing your gpu drivers just can't do it decently... Like they always did anyway

Never faced any issue after updating my GeForce drivers downloaded from Nvidia website. What are you talking about?

You are using beta software and you know it, so your argument is void. If that is something you can't live with, stick to the release channel or better yet, just use the actual official release.

I think you don't know that regardless of ring selection, your driver setting will be reset after the update. My laptop is running the official release since the launch.

Probably just a seasonal thing. Summer holidays are over, so more people at work. Businesses are always slower upgrading.

Result of delivering one after one updates full of bugs for many people if not all.

A lot of people I know are going back to 7 bc there's too many bugs on 10. Posted via the Windows Central App for Android

such as? and please, do not bring up anything that is in insider preview releases as, for obvious reasons, those would not count even when they are mostly very stable.

Ever since the beginning there's this issue where the scroll bar resets in file explorer whenever the color is automatically selected from the desktop background. Also there has been this issue where the lock screen background won't change. And audio quality still is poor for me and the driver installer doesn't support Win10. Just to name a few. Posted via the Windows Central App for Android

I cannot name you a single bug in Win2000. I can name you about a dozen bugs in XP. I can name you several tens bugs in Win7. I bet Win10 does not have those Win7 bugs fixed.

On the whole this could just be margin of error at 0.46% but hey, I guess WC has very little to report on otherwise these days.

In looking at the data behind the numbers it appears that Windows 10AU isn't being tracked properly. It looks like the trackers don't recognize it in the user agent string and is lumping it into the 'other' category. You can see the growth of 'other' that coincides with AU availability. I believe a correction to the stats is coming. If you account for the 'other' anomoly it looks like Windows 10 is on much the same trajectory as last month

Good, more people realising what a mediocre and beta experience Windows 10 currently is (even on first party hardware like my Surface Pro 2) and reverting back to their stable OS or switching to Mac OS X... Posted from my OnePlus One.

Hmmmmm maybe my windows 7 and windows 8 disks are going to go up in value.

It's timed to bad news for Microsoft.Just Jocking Microsoft still no 1.

Doesn't Net Applications derive their numbers from machines hitting the web? If so, wouldn;t schools in the US coming back from Summer Break after 3 months of being offline contribute to a fluctuation? Most of them would be Windows 7 (I would think). You should see a correlating increase in the number of Windows 7 machines hitting the net too, correct?

People are actually surprised by this? What happens EVERY September? Give it a bit of thought... BACK TO SCHOOL! Kids go back to school and use their own computers less and school computers, probably running Win 7, more. Kids also have less time to play online games which explains Steam having a slight drop as well. No big mystery here. Just a regular pattern that should have been expected.

Not at all surprised! Windows 10 seems great after the first initial installation. And then the updates begins with the user having no idea of what MS is doing. Every update seems to break something that was working well before. This is a very high maintenance OS and it does not help when MS takes its traditional role of knowing what is best for every user!
Windows Central Newsletter
Thank you for signing up to Windows Central. You will receive a verification email shortly.
There was a problem. Please refresh the page and try again.