Windows 11's new Media Player app is rolling out to Insiders now
The new Media Player app for Windows 11 follows in the footsteps of the legacy Windows Media Player and Groove Music.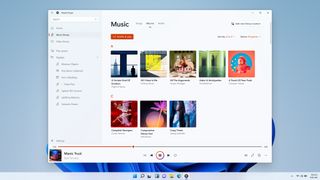 (Image credit: Microsoft)
What you need to know
Microsoft is testing a new Media Player that supports both audio and video.
The Media Player is in testing with Windows Insiders in the Dev Channel.
The app will replace Groove Music on Windows 11.
Microsoft is working on a new Media Player app for Windows 11. It's in testing right now for Windows Insiders in the Dev Channel. It supports both audio and video playback, making it a successor to the classic Windows Media Player. The new Media Player will also replace Groove Music on Windows 11.
The new Media Player app was unveiled in a blog post by Microsoft today. Its design aligns with Windows 11, including its icons, rounded corners, and general layout.
Inside the app, you can browse and play music and create and manage playlists. It shows album art and artist imagery when it's in full screen mode and in its mini player window.
Image 1 of 2
The Media Player also supports browsing, managing, and watching local videos. Content from the music and video folders on your PC will appear automatically, but you can also set the app to look for music and videos in other locations.
Insiders can expect more features to try out in the future. Microsoft states that people should "look out for future updates where we plan to add new ways to browse your music and video collections and manage your play queue."
Microsoft notes that the legacy Windows Media Player will continue to be available in Windows Tools. If anyone is using Groove Music to manage their audio files, their library and playlists will automatically migrate to the new Media Player.
Windows Central Newsletter
Get the best of Windows Central in your inbox, every day!
News Writer and apps editor
Sean Endicott brings nearly a decade of experience covering Microsoft and Windows news to Windows Central. He joined our team in 2017 as an app reviewer and now heads up our day-to-day news coverage. If you have a news tip or an app to review, hit him up at sean.endicott@futurenet.com (opens in new tab).
Bring back cloud streaming from OneDrive!

This! I don't know why that was removed. You can still stream from the web page, why not build it back into the new Media Player app to improve user experience?

Improve user experisnce? Is that part of windows 11 playbook?

I believe it was removed due to legal reasons. They had to license music that was stored on there, and that's super expensive. That's why none of the competitors offer the same thing unless you're paying for a subscription. Also, due to piracy as well.

Huh? How do you license music that belongs to people? It's streaming from their own cloud accounts.

Because bandwidth costs money. You people love getting everything for free, but you wouldn't pay for the ability to stream (say, $25/yr. like Apple's iTunes Match subscription) if you were asked.

We pay for the storage with Office 365 or by using a premium account. I can also stream VIDEO GAMES through Game Pass. What is the difference?

Bandwidth is not storage. A service that has a business model behind users paying for bandwidth will offer this - like streaming music services. Microsoft does not give you 1TB storage on OneDrive to use as a cache for hundreds of GBs of media that you then stream to countless devices. We already had this conversation, years ago when people were doing this before, and Microsoft cut the features likely for that reason.

Groove Music, at its heyday, was so good! I could make playlists that seamlessly moved between their streaming selection and my owned, on-device songs. I could put the same music files on my computer and on my windows phone and playlists incorporating those songs still synced seamlessly between devices alongside streaming songs. And Nokia's old MixRadio service was hands down the most impressive music discovery service I've experienced and I still miss it today. I don't fully understand my own musical tastes (I like a little bit of a lot of genres, but don't like the majority of any one; pop, rock, folk, blues, etc.) and the connecting thread between songs and artists is pretty intangible. But after identifying bands and songs I liked, MixRadio could play me hours of stuff I was absolutely in love with. I wish I was more proactive in writing down artist names back when I was using it! Ah, the good old days when Microsoft and Nokia produced the best damn consumer devices and services. I miss them.

I wonder if, in addition to Groove, this will also replace "Movies & TV"?

I'd guess they might keep that one to watch movies you bought or rented? Unfortunately the new media player only works on build 22471 and above so I can't test it and check out the "video library" tab.

Just read other news sites affirming this would also replace M&TV.

This should means that Movies and shows purchased and rented should show up in new Media Player app. Hopefully Video Library will have more organisation features. Currently it's just a simple grid of videos.

Yeah the blog post mentioned they're improving the library sections! :)

That's good to hear! Well I hope they deliver, since this is Microsoft we are talking about. Sometimes they forgot what they promised. :)

Honestly When it comes to such applications, MS approach has been nothing short of confusing. One thing users don't like is to have to adopt some migratory pattern dictated by OS makers due to their lack of commitment on their existing apps. How many times have apple users have to change from Itunes in the past decade for their music listening? Same problem happens on the Google side.

Uh... what? iTunes on macOS has been the dedicated app until Catalina (2019), where it was finally replaced with the separated apps. That's the only time on Apple's side.

It would be great if MS released an Android version to sync with Win11. Because who doesn't listen to music on their mobile devices?

I was just about to post exactly this!! Microsoft makes Windows, and an Android Phone (Surface Duo). They make dozens of apps for Android. Yet, in spite of all that, they provide no mechanism to share music between their own Windows computers and their own phone. Of course, they should provide this for all Android Phones. Yes, you can sync the songs via Windows Media Player, but not the PLAYLISTS, meaning it's a broken experience, only doing half of what's needed. Today on my Duo 2, formerly my Duo 1 and Samsung Galaxy S10, I sync songs with Windows Media Player, then play them with the Android "Pulsar" app. But I have to manually re-create playlists on each device. That takes hours, and needs to be re-done every time I upgrade my phone. Just a terrible UX. Please MS, release a version of this for Android. I don't care how bare-bones it as long as it can sync songs and playlists with this new Windows 11 Media Player and then play those sync'd songs and playlists. Or use YourPhone for the syncing, just as long as you provide something on Android to play the Windows playlists.

CloudPlayer is what I moved to after Microsoft killed Groove on Android. You can tap into your music on OneDrive and you can even add your playlists that are saved on OneDrive. I format my playlists as M3U using Music Bee on desktop so I can't confirm if every playlist format works but you don't have to manually recreate your playlists using CloudPlayer. My playlists have followed me across two phones using this app. I very much wish that Microsoft hadn't killed Groove for phones but it is what it is.

MusicBee on Windows syncs its playlists nicely to Android phones. I've been doing this since I migrated from WinPhone to Android.

Adam and ladydias, thanks. Does that only work with music on OneDrive, or can it sync via USB too? I currently sync over USB (using Windows Media Player), to save my OneDrive space for other stuff, but I suppose I could move my music to OneDrive if it solved all my other syncing problems...

That part I'm not sure about as I only use OneDrive. I save my playlist files to the playlist folder inside of "Music" and CloudPlayer scans it along with all my music and it works.

Sync music and PLAYLISTS between Windows and Android devices. Seems that now that MS makes an Android phone, this is practically an ethical requirement. I get that there may be more users who just stream audio now, but they obviously recognize that a lot of us still own our digital music, or they wouldn't have put any effort into creating this app. I like that they are simplifying their app structure here, merging multiple related apps into a new one that covers the functions of 2 or 3 (looks like it will also cover Movies & TV). That's great, but more important is to address the syncing problem between Windows and Android.

If they limit the new app to Windows 11 it won't get anywhere as it will take forever for people to migrate to Windows 11 because of hardware restrictions. All my PCs are working fine and will for the foreseeable future and all can't upgrade.

It doesn't need to "get anywhere", it's just a preinstalled app like all others, not a service that makes money.

This screenshot looks like Zune... Just saying.

I miss Zune. Had 3 of them. Coincidentally, I was on a call with our MS Team today where it came up.

The Zune was amazing. I miss mine.

That's not a bad thing! :) Zune rocked

I would disagree though, this is still more closer to Groove Music which is no coincidence. Zune Desktop UI just have more flair into it that was never really replicated since Xbox Music from Windows 8.x. Though the bold text does really reminds me of Zune a bit. At least the Now Playing view isn't as exciting like was on Zune, which has nicer artist visualizations, than just static slideshow we have now. I wish they will bring those back at least.

Looks beautiful so far! Like a mix of Zune + Groove.

UWP is much lighter on memory usage, so it better be.

I wonder if it will have better codec support, otherwise it will be only almost useful.

codec support already existed, however most of the good codecs were as usual held backed by a paywall, to my knowledge its not Microsoft's fault cause these codecs were never really free to begin with, except for a few open source ones.

I hope they will bring CD burn, ripping and device syncing as well. Sure not many people do this these days, but if we really want to eventually retire old WMP in the future, these are three main features that the old app has that new one doesn't. Even iTunes still have CD functions. Some are still need these function for hi-res audio and device syncing are great if you just want to drag-and-drop music or even playlist from your library which is already organized to the device. Then added functionality like auto-sync and such like the WMP has, those kind of automation is still appreciated for big libraries.

I agree (plus USB device sync). I still rip CD's regularly. There are still many great albums that are not available digitally or include special liner notes. Or available on DVD-Audio for surround sound (Rush's Moving Pictures). Good luck finding that in an MP3 on Spotify. I recently bought Deluxe Editions of some Zeppelin albums for the extra songs. Maybe those are available elsewhere, but I'd rather get the formal release version of those songs and in album form. Then, to play on my computer over the big speakers or take in my car via my phone (if not using the physical CD), I'll usually rip them to high quality MP3 and store the physical CD somewhere safe.

Device sync is also I'm looking for since I find drag and drop using a media library seems more organized than on folders, and also if for playlist. I'm curious though, do you have player that don't support FLAC? Usually I rather rip CDs as FLAC files.

Franklyu, if it still lacks the ability to edit meta data and combine multi-artist sondtracks that are split into different albums, iTunes will continue to be my Media Player of choice. WMP is a bit better, but it doesn't order multi-disk albums correctly. iTunes does all of this flawlessly, so that's what I've been forced to use. Windows Media Player should have been one of the first apps updated for Windows 10 - on release. The fact that Microsoft, instead, fragmented this across 3 different apps was ill sighted; especially since the new apps were so anemic compared to Media Player in terms of functionality and the ability to organize one's Media Library. Honestly, Groove Music is so bad at this, that I don't find it usable at all. I have to use iTunes, otherwise a lot of my albums will be split (to as much as 3-4 separate albums for OSTs and compilation albums), or play out of order (Disk 1 Track 1, Disk 2 Track 1, Disk 3 Track 1, Disk 1 Track 2... etc.). I can literally fix my entire media library in about 10 minutes in iTunes. That software is amazing at keeping things organized. 6 years and they never got around to fixing these issues in Groove - almost all of which were regressions when moving to it from WMP.

Yeah, Groove was really just a nice player (something it did do very, very well -- much better than WMP), but with no management features to speak of. I agree that fragmenting Windows Media Player and keeping both it and Groove active at the same time was a mistake. It's similar to what they're doing today with Teams Personal and Skype -- they shoot themselves in the foot by dividing their own customers, so no one of the apps reaches the kind of critical mass needed to become the de facto standard.

just give me back my zune player

Zune 11 anyone? Need integration of all streaming channels and online and offline storage devices for libraries.

This is one of the most garbage apps I've ever seen.

How about a player that works across phones, Windows 10/11 computers, and Xbox, with the ability to stream from the XBox's hard drive when on the same WiFi network?

Can it stream from a DLNA server in the same netwrok?

Its missing loads of codecs support, what's the good watching a film with out not being able to have any sound because of the lack of codec support, "you can't watch you're films"

codecs can be installed through the store.... sadly some of these problem solving codecs aren't free... I believe this is due to licensing of such codecs.