Windows 11 only shows a clock on your primary display, this app fixes that
ElevenClock fixes one of the most frustrating changes to the Windows 11 Taskbar.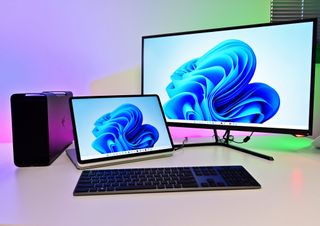 (Image credit: Daniel Rubino / Windows Central)
What you need to know
You can use an app called ElevenClock to add a clock to the secondary screen Taskbar on Windows 11.
Windows 11 only shows a clock on the primary display a PC uses.
The app can show seconds, but doing so requires a Registry edit.
To the disappointment of many, Windows 11 doesn't show a clock on any displays other than the primary display. That means anyone using the best monitors for multi-monitor setups can only see the time and date on one display. A developer created an app called ElevenClock to fix this issue.
ElevenClock shows a clock on every display except for the primary display (which already has a clock from Windows 11). It updates every second to make sure that you don't end up with different times across your Taskbars.
The maker of ElevenClock shares a tongue-in-cheek description of the app on GitHub:
Here are all of the app's features:
It supports all system locales and time formats (they are pulled from the OS)*
It shows in all displays except in the primary one (Because you have the default system clock)
It supports dark and light theme
It has a hide button to prevent annoying on full-screen
It imitates Windows 11's taskbar clock animation on hover
It supports taskbars on the top of the screen
It supports seconds enabling via locale or regedit (windows 11's default clock can't do that)
ElevenClock downloads and installs updates automatically, so you don't have to
Clicking the clock shows/hides the notifications and calendar panel
Correct alignment and size on HiDPi displays (100%, 200%, 300%) AND on fractional HiDPI displays(125%, 150%, 175%, 250%, etc.)*
Correct alignment and size on Different-scaled monitors (Display1: 100%, Display2: 150%, Display3: 225%, etc.)*
The clock updates the time each second, so you won't see different times across all your taskbars
The clock also adjusts itself automatically when (dis)connecting monitors
ElevenClock is on our list of the best apps to customize the look of Windows 11. As Microsoft's new operating system continues to roll out, developers will continue to create and update apps to answer people's requests to tweak the OS.
News Writer and apps editor
Sean Endicott brings nearly a decade of experience covering Microsoft and Windows news to Windows Central. He joined our team in 2017 as an app reviewer and now heads up our day-to-day news coverage. If you have a news tip or an app to review, hit him up at sean.endicott@futurenet.com (opens in new tab).
You know which app fixes that? Windows 11, in the following patches if we report it.

I really hope this will, funny how Windows 11 has so many features like this is missing now.

I suspect that it is largely because they made some significant changes that broke specific features and those features weren't prioritised highly enough to be reimplemented for release. I could be wrong but, if the functionality that already existed for this clock in Windows 10 was working the same way in Windows 11, I'm not sure that they would choose to remove it explicitly. While the changes to the Task Bar might seem superficial on the surface, that doesn't mean that they aren't significant under the hood. It might be that the Task Bar was reimplemented from scratch and so nothing was ever actually removed but, rather, features were added and that one just didn't make the cut.

It's my understanding that the taskbar was indeed built from scratch, so yeah, technically nothing was "removed."

I actually do think as well that W11 Taskbar is a completely rewritten one, so technically it was more of "not added", but for end-user it is still considered being "removed". But yeah, this is why many do question the rushed release of Windows 11, considering many of the rather basic features not being re-implemented or not get fixed thus being disabled at launch. No guaranteed they will be added through Windows Update patches, only we know for sure likely by next Feature Update which is a year away.

The rush was to get Windows 11 hardware out for the holiday season. I think most "normal" users won't care about this stuff.

There is no reason to remove that, dk y they removed

Because Linux works that way by default I guess

How do you know there's no reason to remove it? Have you really considered the possibilities? I don't know why they did it either but I can make an educated guess at at least one possible reason. It's possible that what they had in Windows 10 didn't work with some other aspect of the Windows 11 Task Bar, so they removed it and it wasn't a high enough priority to get reimplemented before initial release. If you can't think of a reason that something was done, assume that there's a high probability that that is due to your own ignorance or lack of imagination.

Honestly, I didn't notice it was gone. I guess I'm not looking for the clock on my secondary monitor.
I'm wondering if that's one of the reason it's gone.

I think its more due to being just too late to be re-implemented, maybe too many issues that they can't fix it yet on-time. Maybe somehow they know not many people use it? Which I find it unlikely since we know from our clients we setup dual-monitor setup does use the clock, yeah some many not care sure, but we had trial of it and there are users who don't like not having it there. Also streamers for sure will need that, especially if they are running full-screen games on the main monitor.

Well, if the devs are coding, testing and reiterating they will never have enough time. The QA and programmatic testing department exists to test and suggest fixes for reiteration. I am utterly disgusted at the bean counters at Microsoft for not rehiring the QA team and programmatic testers.