Windows Camera app updated for Windows 10 for .63 release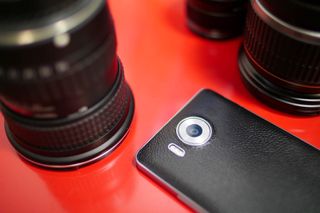 Now that app updates are resuming in the Store, Microsoft has pushed out a new build of their native camera app for Windows 10. So far, we only see the update on our phones, but it may be coming out for PC users as well. Edit: We now see it for PC too.
We have not noticed any differences yet, but the build shifts from 2015.1215.41 to 2016.107.11 and is likely tied to optimizations in the .63 OS update that went out recently. Likewise, there may also be improvements for those on the Lumia 950 and Lumia 950 XL, who have received the new firmware recently.
If you notice any fixes, improvements or oddities let us know in comments.
Download Windows Camera app for Windows 10 (opens in new tab)
Windows Central Newsletter
Get the best of Windows Central in in your inbox, every day!
Daniel Rubino is the Editor-in-chief of Windows Central, head reviewer, podcast co-host, and analyst. He has been covering Microsoft since 2007 when this site was called WMExperts (and later Windows Phone Central). His interests include Windows, laptops, next-gen computing, and for some reason, watches. Before all this tech stuff, he worked on a Ph.D. in linguistics, watched people sleep (for medical purposes!), and ran the projectors at movie theaters because it was fun.
yeap, just got on my PC as well. Nothing new indeed.

http://winpoin.com/wp-content/uploads/2016/01/Update-Redstone-3-315x420.jpg is it true?

I don't know, but I sure hope so!

What is that supposed to show? Two apps on the screen? One-handed mode with Start on the background? New magenta theme? Never mind that it also looks fake.

Movie playing on start screen.

Windowed multitasking I'd assume... Posted via the Note 4/Nexus 7 (2013)/Lumia 1020/Lumia 2520

It really doesn't look that fake at all..!!
Look here: [Rumor] Windows 10 Mobile: the windowing included in the update Redstone? (translate the whole page to understand if you want... either else, just get a look at those pics!!)

I heard this is just a concept someone made

I suggested the snap app feature (ie the ability to run multiple apps on windows 10 mobile) in the personalization section of Windows feedback but got just two upvotes... Guess you all are only interested in square photo in people hub and icons in settings app.

I hope that the update makes the camera experience on my 1020 better. I've had trouble with the shutter not shutting, the phone restarting when I press the camera button, and the pictures that I do get to take being dark with lines of color in them.

Yep I've had all kinds of issues with the camera on my 1020 as well with Win10. Pretty similar. Gets hung up lots too when trying to snap a pic, then 5 to 10 seconds later it suddenly snaps a pic on its own. But things have been a bit better since the .63 update.

That's why I'm still using Lumia camera

Lumia camera isn't on W10

Yes it is. Just took these screenshots for you, you may wanna grab your glasses:
http://i.imgur.com/T5NeVWV.jpg
http://i.imgur.com/bD9DFYM.jpg
http://i.imgur.com/6TTWuK6.jpg
http://i.imgur.com/H5F0PgC.jpg
http://i.imgur.com/qpLbaSv.jpg
http://i.imgur.com/j1mrqj0.jpg
http://i.imgur.com/8MZSeCX.jpg
http://i.imgur.com/c4XOJKD.jpg
http://i.imgur.com/ZEPQT28.jpg
http://i.imgur.com/L56NKwr.jpg
From Lumia 1020.
Link to the app:
https://www.windowscentral.com/e?link=https2F%2Fclick.linksynergy.co...

You never did a hard reset?

Thats some great photoshop! /s ;)

the Lumia 1020 gets to keep access to Lumia camera in Windows 10.... pretty sure there was a story about it a while back.

Lumia camera is available for win10m but only in Lumia 1020

I have a Lumia 640 and I have Lumia Camera installed... (in latest insider build, of course)

I've actually had issues with Lumia Camera. After taking pictures, I get the never-ending "saving..." issue. Then I can't take a picture until I restart the phone. It always happens. Microsoft Camera take 30+ MP pictures but at least I don't miss any moments and I don't have to restart my phone everytime.

I had that issue regardless of using windows or lumia camera, also had it on w8.1 and w10. I used to love my 1020 but hated it due to this problem. I missed so many "moments" because of it. :'(

I think it'd be better to back to WP8.1. One picture at a time -- LG V10

The quality of the pics on my 1020 are a lot worse. I'm not sure if it does everything at 35mp or 5mp since that setting is gone. Terrible app currently. I still hate the lack of indication that a picture was actually taken. Since there is no animation or anything people usually go,I think it took a picture, wanna check? Do better Microsoft, do better.

I insist, the Windows 10 camera app hasn't been optimized for the Lumia 1020. Just keep using Lumia camera. And whoever says it's not available, that's not true. Check the screenshots I posted above

It's only available for 1020 users upgrading from 8.1. Doing a hard reset and/or using another device will cause you to lose Lumia Camera, it cannot be downloaded from the Store on Windows 10 Mobile. If you lose it, you either got to back up to 8.1 to restore it, otherwise it's gone.

That's not true. I can uninstall and reinstall anytime on my 1020, even after a hard reset, which I did right after the latest 10586.63 update. The app restored automatically, but I always like to start as clean as possible so I uninstalled every non Windows 10 app and installed manually from the store

People. The Lumia 1020 gets to keep the lumia camera app. But this phone is the only one who will see it. Apparently ms does not give a **** on nokia devices. Especially on 1020. That camera is lost with ms software! Sadly, all other devices are forced to use ms camera app that is a beta crapp, that apparently works good only on 950 devices...

Finally, someone who understands!

The 830 and 640xl cameras actually do very nice job

I was JUST about to call you out because I was able to use Lumia Camera for a couple of pictures after my last update to my Icon but it's now giving a "We're saying goodbye to Lumia Camera" or something splash screen.

I have this problem (phone restarting with shutter press) on my Icon, as well. For me it is with both Lumia Camera and Windows Camera. Not every time, but often enough to be aggravating.

Does it crash when you use the shutter button to launch the camera, or just taking pictures?

It happens both ways. Sometimes launching camera with phone off using the camera button, and sometimes taking pictures, either with the shutter button or touching the screen. Not always, and I haven't found a pattern to be able to tell what causes either.

That's a strange bug. Hopefully Microsoft can track it down soon.

it's easily the least reliable part of the operating system at this point. Still often see infinite resuming with messaging and a few other apps, but the camera is largely non functional. crashes when using magic sparkles, doesn't actually save pictures when it should, restarts the phone, etc. not close to ready yet.

I'm using the new Windows Camera on my 1020 and it doesn't do that. My main problem is the quality is much lower. The speed is pretty good but a lot of the benefits of the camera are gone. Did the same to my 1520.

Lower quality is generally the trade off for more speed unless you use manual controls. You generally cannot have one without the other.

Maybe it's just me, but on my 950XL it seems to focus much faster... i'd have to test in low light condition to be sure.

what i found using it on the 950XL is that now when you take a rich capture it loads the photo much faster, that its something pretty good in my opinion, because usually was taking like a minute

Definetly faster at focus. I tested video on lowlight and focuses faster, but still a lot of "focus hunting". I am still on old firmware, you think focus hunting will improve when I get the new firmware?

At least it's supposed to. Haven't shot much videos myself so can't say if there's a difference

I hope they fix the random phone reboot associated with the camera app when trying to take a picture.

I've only had that happen once when taking loads of shots consecutively

I hope so, too. The camera app is way too unstable.

Wow so it isn't just me. That happened to me one time in a low light situation. It hasn't happened since but seeing that others have had it, maybe it is a bug.

It's obvious that they'll fix it. The question is "when" lol. Posted via the Windows Central App for Android

I just take a picture,press start, press back (opens camera again), snap another pic, repeat. Only soution I have to taking over a dozen pics quickly without reboot. If not, I'm lucky to get 6, and it won't even save the last one before the reboot... My main complaint is that the quality isnt up to snuff with Lumia Camera, a bit more noise than before...

I'm guessing this is just for users on .63? Since its not showing up for me. Also, any idea when .63 will come to non insiders?

Hey there. My Lumia 950 XL is running build .63 but nothing is showing up yet.

It may be pushed to 1/19 as I'm hearing things about the 650 on that day. Trying to find out.

650... Finally some good news ... Will buy it on first day... Thanks for the heads-up.. :)

im on stock 10586.29 build, not insider, unlocked dual sim in the US i have the camera update waiting for me... updating now - its showing 4.5MB current/old version of camera is 2015.1215.41.0 as noted in the article above.... new version is now showing as 2016.107.11.0

The .63 update is available for non insiders now. Check your updates.

I thought that was only for PCs not phones.

Which device? Nothing here on retail 950 dual sim (.29)

Well thought I read on a site. But even before I went insider I got the .36 one. But I had to hard reset without restore. As it kept showing no update.

Already hard reset once (at start) to get .29, MS said it would solve that problem for the future. So I don't think .63 is yet out, anyway if it's not today, it's next week, no big deal.

I think thats for pc only

I have updates now, too. For some reason, the call+SMS filter app says "callSMSfilter" in the list of updates.

I don't have .63 and I got it. The store JUST started working again RE app updates.

Same here. I have stock .29 and got the same camera update.

Well, I know what it doesn't include. A fix for the ridiculous Rich Capture bug.

it is fixed! at least on my 950XL

when you take a picture with rich capture and you want to modify the flash on the picture, the picture takes a lot to be available to edit. I think "thats" the bug, if not, then @indospot should clarify.

On my L640, sometimes when I take a picture with Rich Capture, the picture never finishes processing and gets saved as a 1280x720 pixel image. I can't zoom-in with the app, it has no geotag, tapping on "Choose the best lighting" does nothing, and it doesn't automatically upload to OneDrive. He might be talking about that bug.

This is what I'm talking about. Definitely still not fixed.

Yep. I hate this one. One out of 10 work as Rich Capture or Living Image.

Noticed this on some pictures from my 930 the other day - Hopefully it doesn't happen on the 950 I'm setting up at the mo

This bug exists on my L1520 only if the photos saving location is set to SD card. Works fine when saving to device.

Photo burst settings is removed !

im not sure which settings you are referring to, but the photo burst is there under settings, "when camera button pressed" - its one of the options... i tried it just now and with RC on and focusing on a close up object with flash set to auto - it was capturing about 6 images before it needed to save.

I'm praying that this update finally fix the error when saving Rich Capture! Almost 90% of my attempt to capture pictures with Rich Capture enabled results in a 1024x768px picture without any information and rich capture edition tool. Hating the picture experience in Windows 10 Mobile.

It doesn't. Darn it, Microsoft.

It works for me. I don't think I have ever had that bug on my lumia 950xl

Let's hope they will enable stereo sound while recording video soon.

Yes.... Still no sound on my lumia 930

If you turn on Speaker Phone when on a call, does it stop the other person being able to hear you (Like the Microphone is muted)

This happens with my 930 too.

I'm not sure if it had been available before but there is a photo burst option now

Bring back Lumia camera. Is what anyone says. The quality was way better then windows camera :(

Exactly my Lumia 930 takes just average pictures at best with Windows Camera. I miss Lumia Camera so much. Why the hell did they replace it??

I got an update for my l930 .36

not only .63... and .29 receive camera update... Lens added

Collors are a little better, but, in general, it's still awful.

They should just bring back Lumia Camera. Microsoft Camera is garbage. Why did they even cancel Lumia Camera??? It doesn't make sense

HDR option is removed (bracketing)?

facebook beta/ metrotube too

seems faster, bass filter-left swype to cameraroll would be greatly appreciated

Camera has been improved with different processing thiw time

My 950XL cv .29 rebooted after 2 camera shoots after a long period of standby, maybe this update fix this problem

fixed the gohst images from front camrea 1520 925

Lenses are still non-existent

Try a reset fixed it for me on my 930.

Just missing the photo burst that was in WP 8.1 camera , in the new camera app it's so slow and doesn't work , plus , there is no Bing lenses until now , damn it

Is this update available on 950 buil .29?

it's a camera update available to everyone. I'm on .29 and got it, as well as others mentioning it.

Just got this camera updated or 950xl .29 (firmware is updated couple of weeks ago). I noticed this to start a bit faster, +- EV is gone now.

Rich capture still does not work on my Lumia 830. And when rich capture is on it takes 1280x720 images. There are tons of other issues too, This is just a stupid and useles app and makes me to use old Lumia Camera Classic.

I don't know if it's just me, or I hadn't noticed previously, but the manual controls seem MUCH smoother than before, focus in particular... Can actually perform a pretty nice pull focus during video now. Edit: 950XL btw.

Anybody else have the Rich Capture not working outside of flash mode on Lumia 950? This update did not fix that.

rich capture is only working when needed...for example when you have high contrast in scene. Otherwise stays off.

It works on none of the pureview phones I think. It is the same with my Lumia 830.

Seems to have fixed the issue with recording in 4k on my 950 xl!

It does fix the HDR bug on my 1520 running .63.

Camera on my Lumia 640xl seems to launch faster. Edit: It does launch faster. It is pretty much instant now.

This camera update appears to have fixed the problem with auto upload of pictures to OneDrive that I have had since updating to build .29 as the backlog immediately started uploading once I opened camera and checked upload settings.

I am on a 950XL and have .63 and the firmware. In the camera app before taking a picture looking through the phone the picture is very noisey. but once i take the picture it comes out really nice. This has been a problem since day one. sometimes the photo looks smooth but most of the time the picture on the screen looks noisey. Is anyone else having this issue.

That is quite normal for most cameras. Noise reduction and other post processing measures aren't applied until after the photo has been taken.

'Bracketing' has been removed from the settings on my Lumia 550 with this app update. It never worked anyway.

(Lumia 735) * Seems to have fixed stutter/jerky video when using video stabilisation * for me. Previously video was abyssmal when using stabilisation. Further to above comments - still have HDR option on mine. General comments: not extensively tested, but HUGE improvement for video for me, colour reproduction on standard photos seems good, HDR option available and seems ok. Not obvious degradation in image quality, but need to test in daylight tomorrow.

I had this problem with the video stabilization on my L830. Need to give it a try. Completely unusable before.

Still Doesn't take living images like lumia camera did on 8.1.. So basically its still **** for my l730

It now takes LI only if there is a movement. Also the video is embedded in the EXIF data of the JPEG

Detects movement, yeah. Shaking hands = movement talking heads = random movement moving kid = random movement meteor lights = surprisingly movement, but views as still Also many times video is saved inside picture, but the picture is dead in Photos in both phone & PC. Creative Studio Beta is only app that can play the live part of such images. Camera has rights to run in background and photos saved to internal memory on 640. I'd say living image setting has to be put in toolbar like flash: forced on, auto, off and all bugs and inconsistencies must be fixed. Otherwise it's a "confusing feature" that is best taken out. Does iPhone live images work in equally random fashion? I don't think so.

So can you record videos in stereo yet? No? Then it's another win for WaaS aka the perpetual beta test......

On my 950 when taking a picture and trying to see it right away it goes blank and/or takes about 20-30 seconds to see it because it is suppose to be "adding a few last touches" or whatever the translation to English is..... It's annoying

Hey guys I've got a question for you: is there any possibility with the new native Camera app on WM10 to take a sequence of photos and then select the best faces for each person, or blend in the same image different photos in order to highlight the movement? Basically I'm asking: the new native camera app can do what we used to do with "Smart Cam" app or with smart photos taken with old Lumia Camera app?

I don't think so, but you can try Blink from the store

My 930 still not recording audio with video Cam

I got the update for the Lumina 550.

On my 1520... 70% of the time when I click to take a picture my phone restarts

It seems to have fixed 4k video recording. On my 950XL, trying to record 4k video would force close the camera. That no longer happens.

I miss "seems faster" comments

Seriously MS...not even able to create a descent camera app...tons of bugs,slow processing and quality not good...not to mention the lack of functions like panorama,burst,slowmotionmodes,audio recording,...why the hell did you people ditch the lumia apps and the people working on them? it was something to show off to android and IOS users but also that is gone. In fact Windows mobile has nothing unique anymore so why should anybody still buy it?MS ****** it up...when they toke over Nokia i had good hopes but MS went the completly wrong way by ditching everything positive that windows phone and nokia had. W10 is a big mess that works on some phones without issues but somebody else with the same phone has all the bugs...and the bugs are standard **** not working...just ******* standard **** like alarms,taking pictures or video,calling and sms just not working not to mention draining the battery like hell on al shitload devices. Ity worked actuaaly well on my 930 till the last 3 updates...with every update my phone get's slower and slower and the battery life is ****. I'm sorry, but MS got 2 months to fix it all or i'm done with WP and i will not be alone...i know hunderds of people and nobody has a WP except me and i can't recommend it either. And the ******* worst thing is that the MS appa on other platforms are way better than on WP iself...**** Nadella!!!

Lol I feel you man. Just stay on 8.1, don't "upgrade". Losing the awesome Lumia Camera is just not worth few of the features W10M has. At least for me.

Nobody you know uses WP, so you'll be the only one leaving it, right ?

Looks like when going to record a video. It used to mess up at first for 1 second and then resume. Doesn't seem to be doing that anymore.

This... Desperately needed for W10!

Y no living image??? Ne 1 knws which app has living image???

its built into the rich capture - so long as there is action and rich capture is set to auto (the tortoise symbol), then there will be living images in the photos.

oops - should be wand icon and not tortoise - the tortoise is for slow motion capture...

Bracketing feature was removed!!!! This app is just bad and they make it worse!

finally getting all app updates available for my Lumia 640

and Flipkart has got a all new UI,ping and many other features with latest update

No changes. The problems with rich capture are still there!

My Lumia 640 takes better selfies with jess noise in darker conditions

I know... There's change. Fix for error code 0xE8010014.
Camera won't launch.

There's a bug. Half-press to focus will not work once you use tap-to-focus.

hai guy's, i have a BIG doubt regards to our Lumia 950XL Camera, once i Take a Pic, the first two Zoom In seem's clear, but after that while i ZOOM IN, on EACH and EVERY Zoom it goes blurry VERY VERY BADLY. i even tried a Trypod Stand to see if it's because of a slight shake while taking pic, but still blurry. On the Maximum ZOOM In it look's sooo bad, i feel like i have a VGA Camera on my Phone. I WOULD LIKE TO KNOW IF I AM THE ONLY ONE WHO IS HAVING THIS PROBLEM OR, IT'S MY WRONG IMPRESSION IN THE CAMERA ablities. Could some one really explain me plz . . .

Welcome to the club. All 920-820-1020 user complaining yellowish and blurry photos for years but MS simply don't care. You're the next victims it seems.

First, check the resolution of the image. Any image will be blurry when you zoom in enough. Also, I noticed the images look better on the PC. Maybe it has something to do with how photos app renders images?

Framing grids option in updated windows camera app

Faster automatic focus for sure.

I can now finally shoot 4k, rich cature is def 5 times faster, and processing times seem to be cut in half for my XL Let's keep using it and see what else is better Unfortunately the first 2 sec of video is still laggy and cuts so idk

My Lumia 1020 adds yellow tint to all the pics...why? Any way to fix this?

Well done Microsoft, this update removed photo bracketing...

It's been moved to settings.

How long until they remove shooting feature?

Holy Crap!!! This update is a massive improvement. It doesn't have new features but on my 1520, adding finishing touches no longer take 2-3 minutes. It's gone down to 2-3 seconds. That's a seriously massive leap. On top of that, shutter speed can now be measured in milliseconds. I tried firing off some shots in a blur (like in the Lumia 950 demo during the October hardware announcement) and the camera caught them all. In previous builds, the 1520's camera hesitated. Not anymore. That said, to attain perfection, this app still needs 1080p video recording at 120 fps and the darkening that happens when you engage slow motion needs to go away.

I think they removed bracketing. I can't find it on the Lumia 1020.

Does anyone get "Adding the finishing touches" after each photo? It takes ages to go before you can zoom in or do anything with the pic.

Yes and I wish there's a way to turn it off. Sometimes I don't like how it "enhances" and edits the image.


It merges the 3 pictures of the RichCapture. If you don't use it, the postprocessing will "turn off"

Not actual for anyone here, I guess, but Camera app finally is now translated in Latvian. There could be other languages too.
Also this app on l640 w10m is faster than lumia camera on w8.1. Processing (saving) is faster too.

On my Surface Pro 3 after updating the application , I lost the brightness on the front camera , even the manual brightness adjustment does not work anymore ... the rear camera is ok!
It is no longer possible for me to use skype properly
(sorry for my bad English)

Just uninstall the front camera driver , restart the surface and reinstall the driver , and that's ok now !

You can reinstall Lumia Camera 5 on Windows 10 manually! so chill out You need the correct signed appxbundle file, not the latest version, but the one from May 2015: get it on Here, I've uploaded it, then on you phone at For Developers enable developer mode, Device Discovery and Device Portal. Device portal will enable you to connect to your phone via web browser when it is connected to the same wifi network as your pc. On the web interface you can then upload the appxbundle to the phone and it will install. There ya go! Do not forget NOT to update the app from the Store afterwards. It may not work after update, try it as you can reinstall the appxbundle again manually.

Classic Lumia Camera is available for download directly from the Win10 store for 1020 users. No need for sideloading apps.

With this new update the camera is now fully functional on the Nokia 830!

I'm on mobile 10586.00 and still got this update (spare Lumia 550). So it's not exclusive to build .63 And it's annoying that there is no update 10586.29 for me.

anyone has the download file (ISO) of windows 10 november update? both x64 and x86

The only reliable source to have an ISO for windows 10 is to use their own Media Creation Tool, you can search it for a link. It`s on MS`s website, though i believe they have it to build 10240 but i`m not sure.

Got it on my Lumia 950Xl with 0.29 and firware update .

I need full picture on the incoming calling screen

Living images available??
Anyone?

Living images never went away. You do need to have it enabled though via the camera settings app.

Hey Daniel any idea if Microsoft is working on Storyteller app version for W 10 devices similar to what Nokia offered in their phones? That was one that I used constantly and miss using.

@m logan: Geophoto is a nice app to replace lumiastoryteller and the developer answer to you if you have ideas to improve the app

Hey, Where the **** is the Rich recording with dolby5.1 And the Swype keyboard very often not working with web pages. What a crap!

I have release .29 and i got this update. Why you tell "Windows Camera app updated for Windows 10 for .63 release" ??? Ridiculous-.

Living images still not working on my lumia 950xl :/ and about time they add panorama lens... Any idea why it doesn't work and when can we expect panorama lens? Thx and enjoy guys :)

Again with no change log, leaving the fans to sift through random comments to see if anyone noticed anything. I guantee there is a guy with an Excel spreadsheet sitting somewhere at MS with everything we want to know. The full wish list of changes, sorted by priority/man hours, what was changed in this release, what is scheduled for the next releases and what is still under investigation. That guy needs a blog, and we need a link.

Camera has just become from good to worse. The focus and rich recording are not behaving properly. Hope this is fixed soon. Now we can really confirm that W10 is a Service..... One thing gets fixed and the other one deteriorates......... All the best to MS to fix this as well☺

Same here... Rich Capture not working at all and even normal images are now saved at 1280x720 px.

The main camera on Lumia 640XL still captures only 1280x720 images. Microsoft is ridiculous.
Windows Central Newsletter
Thank you for signing up to Windows Central. You will receive a verification email shortly.
There was a problem. Please refresh the page and try again.