Windows Central App gets hot-fix for comment errors and more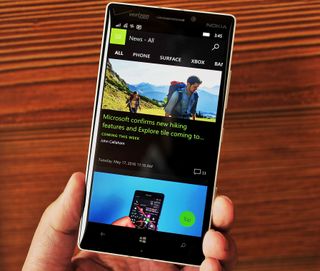 Yesterday, we released a significant update for the Windows Central App for Windows 10. While the app brought substantial improvements in performance and a decrease in crashing it did introduce a few other bugs, which are now being addressed.
Version 1.3.1 should now be live in the Store. Luckily, the changes are reflected in our new 'What's new' splash screen, but to recap what to look for:
Windows Central v1.3.1
Bug fixes:
Fixed an issue that could cause the live tile count to be off by 15 - Thanks Darren
Fixed an issue that was preventing users from responding to comments
Fixed an issue that was preventing users from responding to forum posts in the Participated section
Fixed white background when loading an article
Needless to say, some of those issues were a tad annoying if you leave a lot of comments. They should now be fixed.
We'll be addressing the 'white system bar' on the What's New splash screen in the next update. For those who had log in issues, that was not our app but an issue with tokens on our server. Those errors (CSRF_Token mismatch) should be gone for now as we rolled back the server change.
Download Windows Central from the Store (opens in new tab)
Where are Web to App links?
In an interesting developer story, we announced yesterday our app now supports Web to App links. That means that within our app when you click a link to another Windows Central article it should keep you within the app. Also, clicking a link from an email or SMS should bring you to the app instead of the website.
During development this feature worked flawlessly for us when testing side-loaded apps on our phones and PCs. However, once it hit the Store and was live for the public the function stopped working, much to our surprise. Since you cannot test an app after going through the Store until it happens, that is where we are at.
Without going into too many details, the issue appears to be a problem with Microsoft's tools and their verifier being broken. We're working with them on it to try and understand why it works one way and not through a Store submission. As far as we know, this affects all app submissions that try to enable this feature, which may be why we have not seen any apps that support it yet.
For now, we are offering a solution for those who want this feature now: sideload our Appx file.
The process is simple:
Uninstall the previous Windows Central App from your Phone or PC to ensure proper installation/reduce issues
On your phone or PC go to Settings > Update & security > For developers > Enable Developer Mode (can probably work with Sideload Apps too)
Download this AppX file from our OneDrive (WindowsCentral_1.3.1.0_x86_arm.appxbundle)
Open the AppX bundle from the Edge Downloads area by tapping it
When asked to Install app? select install
For PC you should see an installation screen. You may also need to dismiss and bypass the SmartScreen security feature. However, on the phone there is no progress indicator for the installation. Installation could take 30 to 60 seconds at which point you won't see anything happen. After some time, you should see the app return to your App list on the phone. Head to About to check the version number and make sure it matches 1.3.1.
Once installed, there is not much to do. If you click an external link to our site, you should see a dialog asking if you want to open it with our app or Edge. On Mobile, the icon for our app is gone for some reason (another Microsoft bug, perhaps), but on PC it should look like the below image. Same with browsing links within the app.
Note: This Appx file and the one in the Store are exactly the same. The only difference is one went through Microsoft's checks (and lost Web to App) and the other did not. This is why they are both v1.3.1.
Once we figure out with Microsoft the issue for Store submissions and this feature, we'll push out an update and notify users. There is no need to remove the app. When a new update from the Store comes out, your PC or Phone will see the update just like any other device as it is based on release numbers not the method of installation (e.g. sideloading). The Store update will simply overwrite the earlier build.
Windows Central Newsletter
Get the best of Windows Central in in your inbox, every day!
Daniel Rubino is the Editor-in-chief of Windows Central, head reviewer, podcast co-host, and analyst. He has been covering Microsoft since 2007 when this site was called WMExperts (and later Windows Phone Central). His interests include Windows, laptops, next-gen computing, and for some reason, watches. Before all this tech stuff, he worked on a Ph.D. in linguistics, watched people sleep (for medical purposes!), and ran the projectors at movie theaters because it was fun.
Now the live tile doesn't work at all :/

Mine has never worked... 950xl

Mine has always worked (950XL), but the update before this made it always show the number but now it doesn't show anything.

Update has been out for maybe 9 minutes. Curious how much testing you did with this new release.

I've been looking at a dead tile for 9 minutes :) I've tried turning live tile on/off, unpinned it, restarted my phone and changing live tile behaviour. I might try to reinstall if it doesn't start living again.

never mind not anymore, it was dead for a few minutes after updating the app.

The app won't update new articles either. Only when I close the app and open it again.

Should my "background image settings" be at peek or off for this to work?

It's been more than 9 minutes now. Stopped working after update. Installed, reinstalled, re-pinned tile. Not working. 950XL.

The second update fixed it. I can comment now as well without logging in multiple times. The live tile is working now as well.

Now to figure out how to turn off the email notifications lol

My live tile count also never worked...

Mine neither. Also no new articles show on the tile.

If you're referring to unread article count, mine has never worked either. I assumed it wasn't an available feature since the UWP version. I'd love to get that working, if it's supposed to be.

Working here just fine in PC and Mobile.

Works on PC but not on mobile (L830).

What should my "image display for live tile" setting be at for this to work? I'm on background now, should I use peek or off to see the counter?

The counter shows either what you choose, as long as you don't choose "off".

Mine has never worked, still doesn't ☹ 950xl

Daniel, Any chance of ever updating the 8.1 app for the vast majority of us that are orphaned on WP 8.1? Links haven't worked for about 2 years now, and the website isn't really an option since it's almost unusably laggy on WP 8.1.

Hi Daniel, for last two updates, the live tile is not working on my 950XL but working fine on laptop. Any settings that I am missing?

Working great on my Lumia 950xl DS from France running the latest insider preview (set to US). Also on my Asus G75vw with latest win10 insider preview (also set to US) works as expected.

Doesn't work for me too - 950 XL.

Darn, I was hoping the "open in App" feature would be working today. I guess I can wait a little while longer. :)

You can always sideload the app to force it to work now :)

The sideloaded app didn't open for me once. Always crashed on startup. Lumia 640 on RS2.

Same here... 950xl on rs2

Comments still don't work on Mobile. :-S

Testing... Yeah, they work :D

Testing after trying another reinstall.

Hey Dan, is it harder to develop for windows 10 mobile than android? Cuz I have no problems with the one on my galaxy s4. Posted via the Windows Central App for Android

Dan isn't the one who develop the apps though. They hire someone to do that, even that then, not sure but they may have separate person who developed for Windows and Android. Unless if the developers did developed apps for both or more platforms.

Dan isn't the one who develop the apps though. They hire someone to do that, even that then, not sure but they may have separate person who developed for Windows and Android. Unless if the developers did developed apps for both or more platforms.

Oh, ok. It's just that time and time again, I see windows phone apps having to be constantly debugged and I don't see that with Android apps. At least not the ones that I use. I'm really longing for the day that a windows 10 mobile app is released and doesn't have to be updated so much. Posted via the Windows Central App for Android

I see your point. I occasionally use my Android phone though so I can't test it fully, but yeah as far as my experience with it, the app on Android crash less (actually it hasn't crashed on mine) and fairly stable and works well. It may have less features but it's perfectly usable. The WC app though for W10M, it crashes like a daily meal unfortunately. Gladly we get updates to fix that. It makes me think that these issues isn't entirely to the app, but likely the OS which is still bit buggy in general sometimes that it makes the app misbehaving. I often have issues on MyTube lately.

Right. When I think about it though, windows phone 8xx apps didn't crash so much. In fact they were very stable. It makes me wonder if Microsoft really has the best software engineers in the world (as I've often heard) Posted via the Windows Central App for Android

Try uninstalling, I had the same issue, reinstalled fixed it (as you can see :))

It's working brilliantly. At least for me.

Me 2. One comment per login. Then I have to log out and login again for thumbs up/down or a new comment. Daniel should listen to our issues instead of being sarcastic about it. Believe it or not, we are not completely dummies.

My live tile works, but when will you introduce "save article" or Favorites...?

Nice, I can finally join in the conversation on my 950xl lol

I had to uninstall to get this to work....

Didn't fix mine even after reinstall.

There is an old app called "Tech News Now" in the store which opens links inside the app. That one does work, though. I wonder what they are using .

Just seeing 1.3 in the store.

This is routine. Give it time and check again. We can't control Microsoft's servers.

I swear. It's like some people have zero patience.

I mean some people have no patience ;)

I keem getting this error message on PC when tryong to install the appx package: Either you need a new certificate installed for this app package, or you need a new app package with trusted certificates. Your system administrator or the app developer can help. A certificate chain processed, but terminated in a root certificate which isn't trusted (0x800B0109) Had to reinstall the Store app in order to comment here

Glad to see the quick update. Keep up the great work and support. (even though you guys never respond to my emails or tweets. But it's ok :) )

Any idea when apps for websites will work as reported in the original updates? Not working

I mean, I put a whole section in this article discussing and explaining that issue.

Doesn't work Sideloading the app causes it crash.

Sorry didn't realize the article continued after the links and barcode

I don't have an article count on my live tile.

Also, not sure if the "white system bar on what's new" is the same problem I have... But I get a white bar throughout the app when other notifications come through. Just thought id mention it since your notes specifically say on the system bar.

Yeah, the white system bar is more than just on What's New screen, it's really the whole app of WC. Idk if this is just a missing UI element that forgotten (though idk why it should be forgotten, unless the structure of UWP in general causes this). I tend to feel like this is shared issue with W10M how the UI framework works which is maybe oddly implemented. Toast notification shows up then it became white, why? Because the app developer forgot to put something? Or because the way W10M manage the UI elements when notification toast slides in is the problem? Why would need a developer to manually implement a work around for that? Was it really just a bug on the app? This leaves me tons of question how MS designed UWP and W10M on its UI framework. Since these kind of issue and behaviour is rather odd to exist.

Thank you working great now

Will update. Hopefully it's good again. Stopped using this app and began using wmpoweruser app to get my windows news because this app was so bad for me.

Sadly, this hotfix didn't fix the bug preventing me from replying to Participated threads.

I reinstalled the app and my reply issue went away

Yeah, I read that and reinstalled it but it didn't fix the bug for me...

Toast notifications for comments seem to be broken while the app is in the background. Hitting the notification in AC takes you to the comment page, says " comments are filtered" but shows all the comments .

How can we activate the tile count ? ...can anyone tell me ?

Wait for WC to post something about gaming news or a sale on a wireless accessory and watch the tile count grow!

Yes! Can someone answer this please? Is there a recommended settings combination that is proven to work? The UWP has never had article counts for me. Unlocked 950.

For some reason the app crashes on launch if I sideload it.

Same here. Running latest RS2 build.

Same thing as well. I've tried a Soft Reset and still no go. Running Release Preview if that makes a difference.

Have to ask, is this app in final stages of development or is there still lots of work?

L950 Firmware on AT&T when? Shakes fist!!!

Thanks. I experienced the reply bug. Now it's working fine.

Yeah please fix the live tile, it's stuck at 15.

The app is now much more stable and way more faster than before. The app does not crash on comments scrolling. Yet to test the live tile. Hope it works fine. I am on lumia 640 xl anniversary update.

Downloading the developer version causes it to crash every time.

Live tile now working. Working well so far.....

Fixed login issue as well!!!

Thanks, it's up and running again. Seems stable now

App sideloaded from OneDrive crashes on startup:'(

Much better than 1.3 - you guys did a great job with fixing the log in issue so fast!

What happened to the animation when you open an article in mobile?

It still doesn't add my account using Facebook on PC and my Lumia 640XL can't send comments. The send arrow key doesn't work. Posted via the Windows Central App for Tecno-L8+

Article Picture on Main Page cropped on right side in Mobile app.

I resolved my inability to post a comment using my Lumia 640 XL by uninstalling and reinstalling the app. Everything about the app is angelic perfect now

The app is preventing the Camera button from launching the camera app again..

Oh, right! I had this happen to me this afternoon. It's really weird, I never experienced this with any other app!!! Let's report it, this is a major bug.

It happened before many builds ago.. I am just not sure if we should put it on uservoice..

Nah, it's just your phone is out of camera fluid..

im still having issues unable to send comments on L950
ok using laptop

Web-app links capture feature still doesn't work for me.

The reason is given in the article...

Yes had to soft reset after uninstalling and reinstalling

When opening the app directly by tapping the live tile, the notification in action center is not dismissing.

Testing...
Ok, I had to uninstall, reboot, and reinstall the app to be able to make a comment ... Working fine now

I'd ask the developers to remove the status bar from the top. Similar to MSN News. Posted in user voice already.

Hey Daniel !! You aren't alone here. My friend who made the You Tunes! UWP app wasn't able to add spotify metadata check because it was getting removed when Microsoft 'checked' the app for 'things they didn't like'.
After about a month of working he finally was able to release that to the public. :) Hope, you get it too. :) Cheers !

Live tile not working well

Reading from Windows Central app 8.1.
Very stable indeed xD

Well that didn't work! Turned on Dev mode on my 640XL on 14905.1000 and uninstalled the store version then downloaded and sideloaded the app. Now doesn't launch. No combination of reboots before or after installs or uninstalls works. Even tried moving the installer to the phone from SD Card. All installs default to phone. However, if I then uninstall, then install the store version, it launches fine!

This new version successfully launches on fast ring build 14905. Thank you!

Seemingly works for some.

Had to uninstall and do over. Should not have to uninstall to get any app working. Imagine if we always had to wipe our phones or pcs to install updates.

Idk if the live tile works now and don't really care but articles aren't closing in comments now :)
Windows Central Newsletter
Thank you for signing up to Windows Central. You will receive a verification email shortly.
There was a problem. Please refresh the page and try again.