Windows Central app for Windows 10 now with better Live Tile and title formatting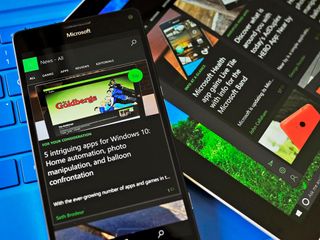 Following up on this morning's update for the new Windows Central app we're fixing a small bug introduced with that release but also fixing some other pain points for users.
Build 21 is going out to the Store about now, and it should be live as an update in the new few hours for phone and PC. Here is what to look for in this quick release.
Windows Central App 1.1.21 (build 21)
Improved Live Tile reliability
Iconic live tile for small/medium
Fixed a bug introduced by build 20 that caused hyperlinks to be blue again
Improved title formatting in articles (smaller)
Moved 'Read in browser' to ellipsis (…) menu to save space in mobile app
Format changes no longer require an app restart
Many of these improvements should make the Live Tile experience much better (fingers crossed). The Tile should now stay current with the latest stories, and if you are using small or medium-sized, you will get the iconic tile (similar to how it was in the 8.1 app) with new articles pushing images to the tile when applicable along with a badge count.
Article titles should also be smaller now, which was a bigger deal in Mobile than on PC. We also moved the 'Read in browser' function to the ellipsis menu (…) to save space. In mobile, depending on your device resolution the action bar was too crowded. Since the open in browser feature is used less often, we put it on the 'more' menu.
Additionally, you can now change fonts and article formatting and not have to restart the app to make the changes take effect.
Finally, the last build made article hyperlinks dark blue (default) and now they will once again match your app's Accent color. Many of these fixes are some of the top issues users have reported on our Windows Central UserVoice page so make sure you keep taking advantage of that tool to help us help you.
Let us know what you think of the update in comments.
Download Windows Central for Windows 10 and Mobile (opens in new tab)
Daniel Rubino is the Executive Editor of Windows Central, head reviewer, podcast co-host, and analyst. He has been covering Microsoft here since 2007, back when this site was called WMExperts (and later Windows Phone Central). His interests include Windows, Microsoft Surface, laptops, next-gen computing, and arguing with people on the internet.
So, that's how I call an app with a lot of updates. Posted from Windows Central for Windows 10

Really glad the browser launcher is being moved as a secondary app bar button. Was taking up too much space for mobile devices when the download button was also displayed as the article had said. Thanks! Zachary Bowling - ZAD Apps

I think it's wrong.i would like that button back in place. Share button and t that arrow to download apps could be hidden.

I can't believe how much better this app is. Still needs work, but I'll never go back to the old one. Landscape mode is awesome.... BTW, I don't hear anyone complaining about hamburger menus anymore.. Guess we've all gotten used to them.........

Hamburger menus are ok, if you can swipe them from the left. The way it is in Windows Store is still bad

W10M Build 164.... Where are the settings in Extras? Glance, display, Hey Cortana?... All are missing from the OS.

I have an 830 with build .164 and they all are still there, under extras. Display looks like it's still the 8.1 version, and I have no Hey Cortana, because the hardware doesn't support that on my phone, but the rest are there - display, equaliser, extras & info, glance, touch etc.

Lol. Mine are gone!.. WTF! Maybe I need to do a reset... Wish we could post pictures on here.

Too much Space left on both sides of Articles. More Noticeable in White BG. Doesn't look Good. Please Use More Space. Lumia 638 Windows 10

Has "too much space" but you want even more space. Sounds legit

Use More Space In articles. It would look Good. Currently it looks Like reading NEWSPAPER Posted from Lumia 638 Windows 10

Then post this in User Voice.

Can we now upload images and screenshots in Forums? That's all I ask for. Oh and, the use of emoticons too.

Glad to see it is updated regularly but I am really
Hoping for forum improvements and what not. As I Stoll use the old app for the forums only. Can't wait to install this app update soon :)
Sent using Windows Central for Windows 10 on my Lumia 1520

I'm hoping to be paid more. It's good to want things ;)

LOL I am sure you are paid more than I :) Though I can't say I disagree about wanting more pay :)
(we can't edit our comments on the new app, lol this is why I use both ha)
Sent using Windows Central for Windows 10 on my Lumia 1520

Oddly, text size and live tile have never worked for me. Wonder if deleting the old app will help? Kudos for the frequent updates guys.

Update to this build and see if it helps. Article formatting no longer requires a restart for build 21, so should be a significant improvement.

Hey your app is looking fantastic! You and Mr. Rubino are doing a pretty great job, despite all the work that still needs to be done. The Windows Central Universal Application for Windows 10 Mobile on a Nokia Lumia 830

Build 20 was noticeable improvement in stability and refreshing. Looking good. Might give it a couple more updates and then remove the 8.1 app. Promoting W10M 8-bit tile art

What i have noticed is... Text size in comments section is too small.. Allow to change text size in comments as well

Bout time they updated the new Instagram app....been ages! Posted from Rebel Base, Hoth.

Thank you Gary for your continued professionalism. Posted from Windows Central for Windows 10

I'm good Daniel. He's bad Daniel.

I'm the one that gets the bills paid Daniel :P

I'm the one that sends the bills Daniel

Will the app crash when I add this comment?

But which one of you is the danger?? The one who knocks??

Daniel Robino is the Danger, cos his brain usually touch sometimes. Makay Chapulets | MTN CCR
Posted from my Lumia 640XL running Windows 10.

The dev for this app should work on all of Microsoft's apps... Then they would get good updates multiple times a week which they could all use...i kid... But seriously +640/Win10

Oh yeah, and changelogs even if it is small +640/Win10

Make sure and tell Microsoft this!

Haha, ask Dan probably...he's got more insider power than me lol.

Thanks for all you do. The app gets better and with each update!

I can see it now, new insider feedback "bring on Daniel Gary to lead app development of Microsoft apps for phone and pc. Lol +640/Win10

Nice work and more importantly frequent updates. Thumbs up.

It needs improvements and upgrades. Cause this new app doesnt quite function as the prior app. I still use the old one. And have this new one pinned, waiting for it to be practically usable.

It's getting there, though... And fast! What takes MS so long?

Me too, live tiles still not reliable Posted from Windows Central for Windows 10 mobile

Well done@window Central devs. It's getting better and better

I'm amazed at how fast it's improving... Why cant the FB for 10 app get this many updates?

Now this app feels whole.. Still want to see WC links be opened within the app.. Posted from Windows Central for Windows 10 Mobile on Lumia 950

Need "save to offline" also

So many updates,,,,,,,,nice

Still the article font is way too bigger and line spacing too.

Maybe they should just let us adjusts it ourselves, since everyone has a different opinion..

That would be great Posted from Windows Central for Windows 10 mobile

Share article is also not used much. Move it to the elipsis menu too. And don't make title bold. Make it regular or at least semibold. Also reduce the font size of the Author's name below the title. Waiting patiently for a big forums update as well. Too much greedy, aren't I? :P Can't help as the updates as so frequent!

Oh finally twitter auth works :)
Thanks

Win10mobile camera update now

Two updates in one day? Awesome. It's looking Mr. Rubino. Congratulations on the progress. The Windows Central Universal Application for Windows 10 Mobile on a Nokia Lumia 830

I would edit the word "good" into there if editing comments was a thing haha (hint hint). The Windows Central Universal Application for Windows 10 Mobile on a Nokia Lumia 830

The last update that was pushed out a few min ago keeps crashing at start up

Try an uninstall then reinstall Posted via the Windows Central App for Android

Its a real issue Daniel... After minimizing and after some time when opening app it mostly force closes.. Facing this frequently.. Uninstall and reinstall doesn't solve this...
Also live tile still not update properly.. Most of times it seems blank plain tile.. I think this force closing issue cause live tile to stop working.. This is my opinion though..
But i also facing these two issues and uninstalling and reinstalling doesn't solve these issues

Exactly the sae problem am facing, have told dan gary on twitter hope he listens Posted from Windows Central for Windows 10 mobile

Here too Lumia 950 (non-XL) DS on Insider Fast Ring Redstone 1004. Till the recent update it worked like a charm.

It's a lovely new feature.

It's gooooooood Posted from Rebel Base, Hoth.

Whelp..now both the PC and mobile app crash when I try to start them

Yeah, I needed to restart my phone - then it worked great.

Not in my case. Still crashes.

Sorry to hear it. That's what I did. But I let the phone be for an hour or so after install too. Can't say what did the trick: Soft reset it waiting.

Uninstalled then reinstalled and that solved the problem.

Yeah. The app is crashing a lot more now.

Uninstall then reinstall.

Well it's been a great week for updates all round Sent from Lumia 950

What about bringing this app to Windows Phone 8.1 that is the current official Windows Phone release?

A Windows Central app for 8.1 already exists

Why they don't update this one then? This makes no sense, as well as Ms abandoning wp8.1 Facebook app and only updating 10m version

Okay, if your take from this is that Microsoft s abandoning 8.1, then I don't see the point in trying to have a rational discussion with you. --------------------------------------------------------------------------------------
Motorola Q9H, Samsung Focus, HTC Titan II, Lumia 925, Lumia 640, Lumia 950
--------------------------------------------------------------------------------------

Any progress for direct open article from notification ?? Posted from Windows Central for Symbian Belle

@danielgary: Is improving forums on the immediate road map? As an ambassador most of my WC time is spent in the forums. And thanks for bringing updates quickly, I'm really looking forward to switch to this app from the 8.1 which I primarily use for forums only.

It's no longer opening after build 21 :( I tried to restart and reinstall again..

Try an uninstall then reinstall and report back! Posted via the Windows Central App for Android

It worked. I reinstalled the all

Same bug I reported in 1.1.10.0 is still present in the 1.1.21.0 build. Check for yourself. 1. Open app and pick Forums from the Hamburger menu. 2. Pick any forum you like. 3. When you get a list of the posts in the forum on the screen, turn your phone sideways to landscape mode and viola! The formatting on the left side of the screen is utter garbage.

When i will be able to save images , pls give that feature. U Are unhearing the great talks by folks like us. :(( Posted from Windows Central for Windows 10

Nice to see improvements. looking forward to when it doesn't open to a blank page and doesn't freeze while loading articles.

Still strange that swiping to the next article is only possible when opening the comments section.
So while I really appreciate the hard work, I would recommend a focus on the core experience before implementing even more features.

You guys are on point with app updates, I also use Winbeta, but they NEVER update their app, and their app pisses me off, if you hit the back arrow on the phone, it closes the app. So kudos to you guys for caring about the user, and updating the app frequently, and making it better and better!! Posted From Windows Central for Windows 10 Mobile on Lumia 1520

Still crashes a lot..on Lumia 830, win10.

Remove the empty space after the last comment. Now after last comment there is a lot of blank space. Posted From My Lumia 720 W10M

Daniel gray giving competition to Rudy of 6tag.

I wish they bring some audio control features within app so that it can be used handsfree

I can't install on Surface3, it states "this app needs hardware your device doesn't have...". Anyone else having this problem???

Question, will my phone update my current windows central app once the new one is finalized or should I just download it

Two different apps, same name but recognized by different logo size.

Hope In Next Build Give option Like Vibrate after contents loading...

Saddly I dislike this build at all, becuz it crashes over and over again every time I open it on both my Lumia 950XL and Lumia 1520 with Windows 10. I rebooted my phones or reinstalled this app and it still fails to load and automatically closes. It's hoped that a new build without this bug will be released to us shortly. Thanks.

Please add JUMP TO LAST COMMENT button :D

Two issues - I posted a comment here with the new app but it vanished (not my reply to Yasin which I did with the original WC app), second the hyperlinks are still showing as dark blue for me (my accent colour is light blue). I think it would be better to pick link colours that work well with each theme colour & background combination, as the accent colour isn't necessarily the best choice for readability.

Live tile now working, just the counter to add, great job

How do I keep the Windows central app running in the background(For phone), it always quits when I switch to another app or lock the screen. Have kept it on in background apps but still it quits. Posted from Windows Central for Windows 10

No matter if it quits u will still get notifications

Yeah of course i will, but if im in the middle of reading something and i get a whatsapp msg or i lock the screen and come back, i have to start all over, launch app, open the article, scroll to that comment where i was previously Posted from Windows Central for Windows 10

Nice! http://behance.net/kevingates

I like the app, but most of the time when I open it, it's just blank. Is there something I'm supposed to do to make it work better? I find myself using the old app more because of this.

Live tiles is still less responsive, crashes sometimes Posted from Windows Central for Windows 10 mobile

My notifications automatically gets turned off after i close the app

it'd be good if the notifications to the comments took us directly to the post instead of just opening the app.. and should make easier to find our comments. just like the "participated forum" option ~DheeraJ~

Crashes immediately on my 950XL

Doesn't work after updating, keeps closing

Still crashes and the live tile doesn't show notifications and also the action center.What happened with jay?Why isn't he working on the wm10 app?

Everytime I start app it crashes and I have to restart it sometimes 2X to get it to actually start up. Great for the improvements but are these for the phones running windows 10 like the L950-550 as mine is a L920 getting these issues. Guess we all should look to upgrade to default w10m devices if we expect for any of these updated/updating apps to work as expected.
Windows Central Newsletter
Get the best of Windows Central in in your inbox, every day!
Thank you for signing up to Windows Central. You will receive a verification email shortly.
There was a problem. Please refresh the page and try again.