Get Ready... the next Windows Central Hidden Gems series begins on June 10th and you won't want to miss it!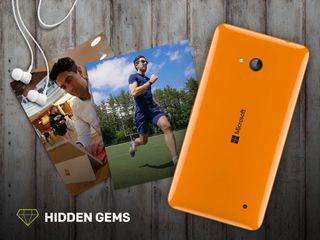 Hidden Gems: A Week In The Life
Editor Dan Rubino reveals the Windows apps that power his busy life
With support from Microsoft (opens in new tab)
Windows Central Hidden Gems begins on June 10th!
Yes, you heard that right! Hidden Gems is back, and it starts NOW. Be sure to watch the video above for the official kick off, and then keep reading for the full details. Watch that. Read this. Do it. Do Watch it now.
I hope you enjoyed the teaser video. As you have now figured out, we're taking things to a whole new level with a Week in the Life of Hidden Gems, made possible with the support of Microsoft. In case you're not familiar, Hidden Gems is our online editorial series where we spend a few weeks highlighting lesser known yet awesome apps for Windows. These apps are the Hidden Gems in the Windows Store, and they deserve their time in the spotlight. That's what Hidden Gems is all about. We're going all out on the production value with all of the content published, and we're making it a community event, complete with sweepstakes and awesome prizes to be won from Windows Central.
This event is our third installment of Hidden Gems. However, this time around we're going to take you behind the scenes of Windows Central as I show you how I use Hidden Gems apps in my everyday life. We're making video a BIG part of this series -- we even bought a Drone for extra must-watch video awesomeness -- with each day's article featuring a video you will definitely want to watch and share. June is a busy month for me, complete with a trip to Los Angeles to cover E3 (the big gaming conference) for Windows Central. Because of this you'll really get a chance to see Hidden Gems apps used in their true setting while getting a behind the scenes look at the life of a busy editor and tech blogger. I hope you join me for the journey. It is going to be a blast!
What to Expect:
Beginning on Wednesday, June 10th we will start publishing a new Hidden Gem feature every other weekday (think Monday / Wednesday / Friday). As you would expect in a week of life series, there are a total of seven Hidden Gems features.
With each feature article, we'll also be running sweepstakes to win prizes related to that day's theme. Participation is easy - you'll just need to login to Windows Central and leave a meaningful comment on the Hidden Gems feature for your chance to win.
For those of you who follow @windowscentral on Twitter, we'll also be taking the Hidden Gems conversation social. So if you are not yet following us, you should!
Spread the Word!
We love and enjoy running events like this that are fun for the community and help bring the awareness of the awesome apps available in the Windows Store to a broader audience.
A huge thanks goes to Microsoft for once again supporting us in running Hidden Gems. We are confident everyone, whether or not you are currently a Windows device owner, will enjoy the series. We are not expecting you to love everything we cover, but we are sure you will find something that you like.
Help us make this a fun series – be sure to join in and spread the word!
Follow Daniel for even more Hidden Gems
Twitter: @Daniel_Rubino
Instagram: daniel_rubino
Daniel Rubino is the Editor-in-chief of Windows Central, head reviewer, podcast co-host, and analyst. He has been here covering Microsoft since 2007 when this site was called WMExperts (and later Windows Phone Central). His interests include Windows, Microsoft Surface, laptops, next-gen computing, and for some reason, watches. Before all this tech stuff, he worked on a Ph.D. in linguistics and ran the projectors at movie theaters, which has done absolutely nothing for his career.
Daniel,
Why do you have to put your picture in every opportunity?
Not nice and not professional ... in my view.
Other than that, 'Hidden Gems' sounds like very good idea.

A picture of Fabio ain't pro, bro'...

Except you wont win shit now.

He gets hotter everyday, so... Yeah...
*saves.picture.to.phone*

Ohhhhh yeahhhhh !!!!!!!!!

Don't run, seems you are escaping from someone

If you read the comments on "Facebook Connect features shut down for Windows 8.1 and Windows Phone apps" you'd run too. The level of reading comprehension is stunning.

Isn't that the case with the comments section in so many WC articles these days?so sad.

as luck never work to win from you excited to take part . hope to win first time from windows central .

So if we win, what we win?

NICE!
Are the sweepstakes available worldwide?

Like the last Hidden Gems event, sweepstakes prizes are only valid for US/Canada residents. We'll make up for it with some other "global" contests though this month (like the Beardify contest currently running!). That said, even if you can't take delivery of a sweepstakes prize, we're hoping you participate in the discussion and spread the word. It's a great event for Windows Central and for Microsoft - the more support from the enthusiast community around the globe the better for everyone!

Hey....it's Kage Michaels! Hangin' with the windows crowd today, eh?

Of course ;)
I find the Hidden Gems articles extremly helpful
Just wondered since the first Hidden Gems had a global contest


Just awesome... Hope there will be wp phones in prizes ...

Wow, great video. I'm so happy that Hidden Gems are back! Two typos you'd want to fix: "Microsoft. ." and "makinge".

Awesome and love the style of this video Mark. Excellent work.

Glad you like the style! More videos to come

Agree, this vid was very well done.

Are you kidding?! The mobile site tells me to get flash to view the announcement video?

Change your internet explorer on your phone from desktop view to mobile.

@Chris Turek:
Thanks. That actually did the trick.
But now it won't stop playing...
Isn't it a bit stupid though, that the video player didn't change to a mobile format, if I type the address of the mobile site manually?!

Nice :D I really like all the recent changes of this site and the increase of the production value of videos :D

Thanks! The video stuff is all Mark Guim.

Nice! But a new Windows Central app is probably better. And bring other mobile nation apps..

Wow this looks interesting ill be tuned in!

Good to see these back! Hope we can still enter using the comments to an article...... Just watched the video, nicely done guys. By the way, you taking anyone else to e3?

Is it gonna be worldwide like the first one Hidden Gems or limited like a second one?

It'll be limited as Kevin mentioned above.

It's not mentioned anywhere in the article - you can't expect everyone to meticulously scour through the comments to find out something that should already be in the article.

Wow, can definitely see the huge amount of effort that's gone into organising and preparing for this, I'm looking forward to when it starts! Hopefully anyone worldwide can enter? I'll definitely be taking part if so.

Apparently non-US people miss out again

Hahah its again.... I tried last time but didn't get anything... Gonna take part again !! Let's see what happens

This is fabric! It's always great to find new apps that your might miss on the store, thanks for doing this again guys

I never get the chance to win

Well, now you have 10 chances

May be I can win this time. ;) May be not. Will give it a try again. :)

QUOTE:"Participation is easy - you'll just need to login to Windows Central and leave a MEANINGFUL COMMENT on the Hidden Gems feature for your chance to win." Now, you're just expecting too much from the online generation.

Awesome video Mark
And kudos for starting this again

Glad you like it! This was so much fun to shoot!

No thankyou. Everyone's excited for WWDC.

It's always fun to discover new apps. Will participate regardless of the fact that sweepstakes are limited to US/Canada!

"A week in the life of Daniel Rubino" sounds awesome

Windows Central after dark for all the R-rated Daniel Rubino goings on.

So pumped for this. Ive learned about a great many apps this way!

I love hidden gems session, why did it stop? ;-;

Im ready!! Im Ready!!! Mark very nice video! So thats what youre doin on your teaser photo. Forgot to ask you that time what software you are using when you post the photo on IG.

Thanks! Hopefully you enjoy the next videos too.

Hey Daniel! ARE THESE SWEEPSTAKES WORLDWIDE OR ONLY FOR THE U.S. PEOPLE???????

WHAT'S WITH ALL THIS SHOUTING?!?!

Why Windows Central does a better job of marketing Windows Phone than Microsoft itself? They seem more passionate than Microsoft. Even Rudy Huyn sells Windows Phone better.

the video is so great. :D

http://www.maglol.com/ visit this site and get updated from Bollywood (Indian cinema), where you'll find movie reviews, related news, controvercies etc.

This is my first time using Hidden Gems, so I guess I'll just have to see what it's like...

Wow, awesome prize! Has a review been done on Windows Central yet?

My heartbeat would skyrocket were I to win. I'd be able to prove it too...

I don't know what i comment on which topic....

Great Video. Will see the next videos. Thank you.

This is my first time being around for Hidden Gems since I started reading Windows Central last year. Looking forward to it, it looks really interesting!

Love both fitness apps! Thanks!

Great info! The BodBot App sounds like it would be perfect for myself and my teen child. We just joined a fitness club to loose weight and get fit. Like most people, we tend to under-estimate how much we need to work out to burn off the calories. This app would help me achieve my goal. I like that it includes instructionals. Also like that it adjusts to my lack of good sleep. And, since I just bought a Fitbit, I think it's great that will sync with it. Thanks for informing me of this great app! I'm not terribly tech savy and never would have found it on my own.

I participated in the last Hidden Gem and it was fun. I will definitely be participating again!

Thanks for the info and contest!! Today's the day I really hope to win!! Daddy wants a gopro!!!

Wow! I missed this before! But really excited about this year's series!

I would love to win a tablet for my 78 yr old MIL, so we can help her into the 21st century. :)

What a great article.I enjoyed seeing how you use the Hidden Gems available and how I could do more with this tool! Thanks for sharing.

I love the Beardify app. The Text Candy app looks ravishing as well!

another hidden Gem Stickers FREE For WhatsApp,Facebook & All SNS https://www.windowsphone.com/en-us/store/app/stickers-free-for-whatsapp-...
Windows Central Newsletter
Thank you for signing up to Windows Central. You will receive a verification email shortly.
There was a problem. Please refresh the page and try again.