Windows Central Podcast 131: WCOS for HoloLens 2
By Zac Bowden last updated
This week on the Windows Central Podcast: Surface Hub 2S, WCOS for HoloLens 2, Xbox Digital Edition, and more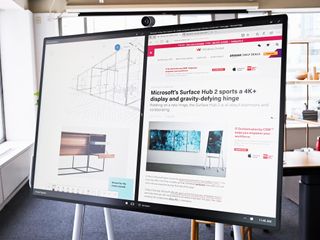 (Image credit: Windows Central)
Surface Hub 2S is here! Zac Bowden and Daniel Rubino have all the details on this business-focused device. Also targeted at business users, a HoloLens 2 emulator is now available to developers so they can begin working on new apps.
They also talk about Xbox One S All-Digital Edition — It's a good idea that makes sense for some users, but it's marred by an unattractive price and form factor that fails to differentiate it from other Xbox One models. Something that is great all around, however, is Xpotify. It's a PWA version of Spotify that provides the best experience for Windows 10.
Finally, Samsung Galaxy Fold will be available on April 26th. The team discuss the screen failure experienced by several users, and look at Microsoft's own attempts at multiple screen devices.
This episode of the Windows Central Podcast was recorded on April 19 2019.
Links:
Watch Microsoft's full Surface Hub 2S reveal here
Subscribe to the podcast
Hosts
Make this show great by participating!
Send in your comments, questions, and feedback to:
Zac Bowden is a Senior Editor at Windows Central. Bringing you exclusive coverage into the world of Windows 10 on PCs, tablets, phones, and more. Also an avid collector of rare Microsoft prototype devices! Keep in touch on Twitter: @zacbowden.
I'm digging this steady stream of podcasts.

Yes, for me this digital-only console should be 150 bucks. They sold us the XB1s at 189$ way back in 2017.
This was about making a statement. They should be willing to sell this at a loss even because this is 100% benefit to them. People owning this console MUST use Xbox store for games.
- MS gets a monopoly cutting the shares of retailers, manufacturer, transport of physical games.
- MS prevents people from selling games or buying used games.
- MS prevents people from lending and borrowing games.
- MS controls prices for these people. No matter what happens elsewhere their prices will always be the lowest .

The digital console will likely have sales for ~$150, just like the original goes on sale for $189. That is different from the retail price. Microsoft already has a monopoly on XBox games, just Sony and Nintendo have monopolies on their games. You cannot create and release games without their approval and paying them for the license. That isn't a good argument for physical media. Just let it die. It is only a matter of time.

We'll see about sales when they arrive.But let's be honest if they managed to do the XB1s for $189 2 years back. You would expect the digital-only XB1 much cheaper than that. So logically it should be cheaper than 189-50 so less than $139. When I talk about monopoly, I talk about the only store they can get the game is XBStore. Meaning gamers can only buy the games from them. They are the ones controlling the price. Right now a retailer can sell Battlefield V for $29.99 like how it is now on amazon. That will always be cheaper than the $59.99 MS price.
In fact someone could just sell it for 10 bucks if he wanted. And that is also directly competing with XB's store.
Here they'll have total control. They are the ones who mostly decide on the price. If someone wante to play Battlefield V, he would be obliged to pay 60 bucks for it or wait for whenever MS are kind enough to reduce the price.

You continue to compare sale prices with retail prices. They aren't the same. You see digital codes on Amazon and other retailers. What are you talking about? There will be a large change it retail sales when everything is digital. It won't be the same as today. You certainly don't see PC gamers wishing for the old days of physical media.

Hell has just frozen over... I actually agree with something you've said!

We can get the s sells for around 200-210.
For me, this should be at the most 100 bucks cheaper than this price. We got to look at few things here.
1) When the S came out 4K UHD drive was such a major point, all the fans and MS were hyping it so much. They were talking of value and how the S is worth it for the 4K UHD alone.
When they finally cut just 50 bucks out of it, it just shows that they were feeding us bs. That thing was just worth 50 bucks for them.
2) Here, they are taking out something from the console. An important feature that gives the gamer the choice of getting games anywhere they want. Here gamers are allowed to use only one store. Games will obviously be more expansive and ofc it removes the ability to sell and buy used games. The 50 bucks will quickly burn away when the person buys few games.
3) Like I said this is ALL WIN for MS. This should do everything possible to sell it even if it means cutting profits made on it and even selling it at a loss.
4) The choice of games is weird, also going for the lazier/cheaper design choice, and not adding additional HDD knowing that this is a digital-only. This for me is an overpriced product. And let's be honest most people also think it is. You know things are bad when even MS talks about future sales price when they were presenting this console. Do you know how much retailer code compares to the actual games bought on the XB store? You just can't compare the two in terms of numbers. Also looks like you're trying to ignore the used games market. The used games market that helps regulate the cost of games. A bad game will quickly drop in price thanks to this market. That's what we saw with Fallout 76. Retailers quickly had to drop their price. MS were forced to follow even though it's still at $45 (sale price) compared to amazon's $25. And please don't talk of PC gaming. These are two totally different markets.
PC gamers have advantages that console gamers don't have and similarly console gamers have advantages that PC games don't have.
One example is that PC gamers can play online for free.
Console gamers has physical as well as digital games. Here the question is not physical vs digital.
It's physical + digital vs Digital-only.
People who prefer physical games aren't shouting for physical-only. We want physical+digital.
Why support less choice for consumers and help these major corporation have more control?
What's your priority here bleached? Gamers or the interests of a major corporation like MS?

I kind of just skimmed this comment, but when I listened to the podcast they seemed to kind of agree with at least some of your criticisms. I remember you were talking about this in another article and I had told you to listen to an older podcast episode discussing the price strategy. Seems like given essentially no change in hardware, they more so agree with you about charging less and/or making it a little different.

@Guest_aotf, just on the cost point (and I think we all agree the price should be lower) -- the cost of a 4k UHD drive is probably only about $50 (I see Newegg has writeable drives in single quantities for $58, so in bulk w/o write capabilities, seems likely to be $50 or less), so, if you figure a 40% markup for retail, that would correspond to maybe a $70 price drop. Given the uncertainty on the cost savings, I'd think anything between a $50 and $100 lower list price is reasonable, all else being equal (including the bundled games) as a final settling price point. For launch, where prices are always higher than the price the unit settles at after a few eager buyers pay the initial price, probably a $20 - $50 discount off a similarly equipped S would be appropriate.
Windows Central Newsletter
Get the best of Windows Central in in your inbox, every day!
Thank you for signing up to Windows Central. You will receive a verification email shortly.
There was a problem. Please refresh the page and try again.