Xpotify review: Quite possibly the best Spotify experience on Windows 10
Spotify already has an app on Windows 10, and you can install Spotify's PWA through your browser, but is Xpotify better than either of those options?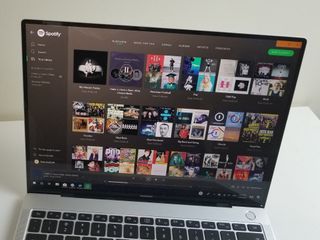 Progressive web apps (PWAs) are becoming more popular among developers and companies, but some of the best PWAs aren't available through the Microsoft Store. Spotify has a PWA that looks great, performs well, and sounds good, but the only way to "install it" is through a browser, such as Chrome or the new Edge. Now, a developer has wrapped that Spotify PWA experience inside Xpotify, a UWP app that enhances the Spotify experience by merging the PWA with Windows 10 features.
Xpotify is free and works with your Spotify account. You can log in as normal and have access to either Spotify's free version or Spotify Premium, depending on whether you're a subscriber.
Related: PWAs - What they are, and what they mean for Microsoft
I've been in touch with the developer of Xpotify during the app's development and got to use it leading up to its release. The application was submitted to become visible in the Microsoft Store in conjunction with this article, so you can search the store to find it. If you're unable to find it in the Microsoft Store by searching, you can download it using the links in this article.
Stream, listen, enjoy
(opens in new tab)
An attractive and functional way to enjoy Spotify

Xpotify allows you to stream all of your Spotify music and is packed with features including Compact Overlay, Media Bar support, and pinning playlists to the Start Menu.
Streaming music
Xpotify at its core is a wrapped version of Spotify's PWA. It has several Windows 10-specific features added to it, but the first thing to do is compare the portion of the app that is made from Spotify's PWA to Spotify's Desktop app. The PWA doesn't replace the desktop version of Spotify, but in many ways, is better. It feels faster, arguably looks better, and is very responsive when navigating. You can listen to your playlists, music, albums, and artists, and search Spotify's catalogue for more content.
Visually, Xpotify looks more modern than Spotify's desktop app, and Xpotify is also easier to use with touch thanks to its larger icons and spread out interface. Xpotify is more visually reactive than Spotify's desktop app. When you open up an album, the background color changes, for example. When you navigate the application, there are animations that make it feel both smooth and snappy.
The biggest fault of Xpotify is that it doesn't have offline music support. For me, that doesn't matter, because I always stream my music, but I recognize that for some users, such as frequent air travelers, the lack of offline support is a deal breaker. I also noticed that on Xpotify I can play Spotify radio stations but can't browse the stations I've made in the past. Both of these issues stem from Spotify not supporting the features through their PWA, not the developer of Xpotify, but they're still issues that you'll have to deal with in the app.
A 'PWA+' for Spotify
Windows 10 already works well with PWAs. You can install them through Chrome and the latest insider versions of Microsoft Edge. When I reviewed Pinterest's PWA in the Microsoft Store, I pointed out that it was essentially the same as Pinterest installed through the browser. Thankfully, that's not the case with Xpotify. Xpotify adds many Windows 10-specific features that make it a better experience than just using the PWA, and in my opinion, a better experience than using Spotify's desktop app.
Xpotify supports media keys, media bar integration, and taskbar integration. These, and other features make it easy to control your music. You can also control your music using a mini player in Compact Overlay mode or by hovering over the taskbar and controlling media.
Xpotify also adds the ability to pin specific pages to the Start Menu. You can pin artists, albums, playlists and more. Each of these tiles on the Start Menu features album or artist artwork rather than just the app's logo.
All of the features of Xpotify add up to create an excellent Spotify experience on Windows 10. I hope Spotify and other companies take note of how you can create what I call a "PWA+" on Windows 10, meaning a PWA that is wrapped into a UWP application and then enhanced with Windows 10 features.
An excellent enhancement to Spotify app
Xpotify provides a good experience for anyone who wants to stream music on their PC. While it doesn't support offline playback, it does support a number of features like a handy mini player. It also wraps a responsive and attractive Spotify experience that in my opinion looks better than Spotify's desktop application.
If you stream music, Xpotify arguably provides the best Spotify experience on Windows 10. It makes it easy to control your music with its mini player, media key support, and other features that integrate the app well with Windows 10. It's a good app and an excellent example of how developers can improve PWAs specifically for Windows 10 users.
Pros
Free and easy to install
Scales well
Supports media keys
Supports Compact Overlay
Adds features that aren't available on Spotify's desktop app
Cons
Doesn't support offline play
Stream, listen, enjoy
(opens in new tab)
An attractive and functional way to enjoy Spotify

Xpotify allows you to stream all of your Spotify music and is packed with features including Compact Overlay, Media Bar support, and pinning playlists to the Start Menu.
Audio accessories
If you're going to stream music to your PC, you're going to want to hear it well. Here are some great options for enhancing your audio.
Bose Companion 2 Series III (opens in new tab) ($99 at Amazon)
This is a solid set of speakers that can still fill the room with sound even though they are in a relatively small package.
TaoTronics Bluetooth 4.2 Computer SoundBar (opens in new tab) ($50 at Amazon)
This soundbar can fit under your PC monitor. It connects via Bluetooth so it can work with your PC, phone, or tablet.
Zrtke Bluetooth headphones (opens in new tab) ($23 at Amazon)
These lightweight headphones are waterproof, sweatproof, relatively inexpensive, and connect with Bluetooth.
Windows Central Newsletter
Get the best of Windows Central in in your inbox, every day!
News Writer and apps editor
Sean Endicott brings nearly a decade of experience covering Microsoft and Windows news to Windows Central. He joined our team in 2017 as an app reviewer and now heads up our day-to-day news coverage. If you have a news tip or an app to review, hit him up at sean.endicott@futurenet.com (opens in new tab).
I just installed and tried it. Some aspects really do look ad perform better than UWP Spotify. Unfortunately it can't access local files. Is there even a way for PWAs to do that?

It took me like 1 second to observe that the sound quality is a lot worse then the official spotify-app

Disagree. It isn't as good, but not that bad.

Sounds fine to me, I hear no difference. According to Spotify premium web player runs at 256 kbps, which I think is fine for most people, but it's true the "app" can do 320 kbps for premium.

How do I download it? I cannot find anywhere on google the name "Xpotify" except in this review...

There are links in the article if you click "Free at Microsoft." They sometimes don't show up if you have an ad blocker on.

Just open with Windows Store on your computer, and search "Xpotify".

This is quite likely the worst written article I've ever read.

And if it's one thing we all know is MainioSukka reads some really, really, really, really, really, really, really, really, really, really, really, really, really, really, really, really, really, really, really, really, really terrible articles daily on the internet, so he'd be a good judge, believe you me. Seriously, he reads some of the worst stuff...things 4chan rejects.

What was I worried about, totally gonna top this

How does the developer make money?

Perhaps from the data they skim from your listening habit.

That...can't just happen. You would need Spotify to have an open API for that and I'm very doubtful that Spotify would give out that data.

It doesn't have all the features of Spotify but as strictly for playing songs/playlists it opens much quicker and works well enough. Strange that the icon on the taskbar is exactly the same as Spotify. I would have thought it need be different.

Nice bit of work, but whether or not it looks better is arguable and I've never found myself thinking that the desktop app needs speeding up. So right now I'm afraid that the lack of certain functions means I won't be switching.

why installing the PWA only through Chrome and New Edge? thought all PWA works on Edge on Wndows 10 Mobile

I'm 98% sure PWA's work only on Chromium, and since Edge is now on Chromium (at least in insider builds?) they now work on Edge as well.

Allow me to clarify :)
According to either Daniel or Zac ( I forgot which one ), Edge based on Chromium takes PWAs a step further by allowing you to "install" and run these PWAs as if they were apps. If I remember corrently, you can even run these PWAs without opening Chromium, so they open like any other app on Windows - But this last part I am not sure about 😁 With the original Microsoft Edge, you could only access these apps through Edge, and while you were able to pin these websites to the taskbar, I don't think they integrated with the all apps list and so on :)

Gave it a try and compared it to the official web-based one.
First the good stuff: It looks so beautiful 😍
It IS as fluent as I expected in everything but when switching to another "page" in the app. The bad stuff
Podcast experience was very buggy. Whenever I pressed play on the episode I was currently listening to, nothing happened. I tested it in Edge based on Chromium with the official PWA, and that worked. So this seems to be a bug specific to Xpotify. Neither of them plays where I left of, only from the beginning - but, again that's on Spotify and not Xpotify. Wishlist
- A light mode would make it absolutely perfect - but I am guessing that also means the official one has to do that...
- The same settings page on desktop, and with it 320 kbps support 😉 Final words
I don't agree that it's the best Spotify experience on Windows 10.
While the design is superb and the reaction time better, I need flawless podcast experience, and the UWP lacks these capabilies, though some of that is, again, on Spotify. I also miss the settings page. Most of the issues here are not on the developer, and from that aspect I agree with the 4,5 rating - but on a regular comsumer level I would give it 3.5 out of 5. Fix the podcast issue, and I'll gladly update that to 4 😊
Windows Central Newsletter
Thank you for signing up to Windows Central. You will receive a verification email shortly.
There was a problem. Please refresh the page and try again.